The Surprising Reason Pedro Pascal Kept Asking To Talk To Katee Sackhoff On The Mandalorian - Exclusive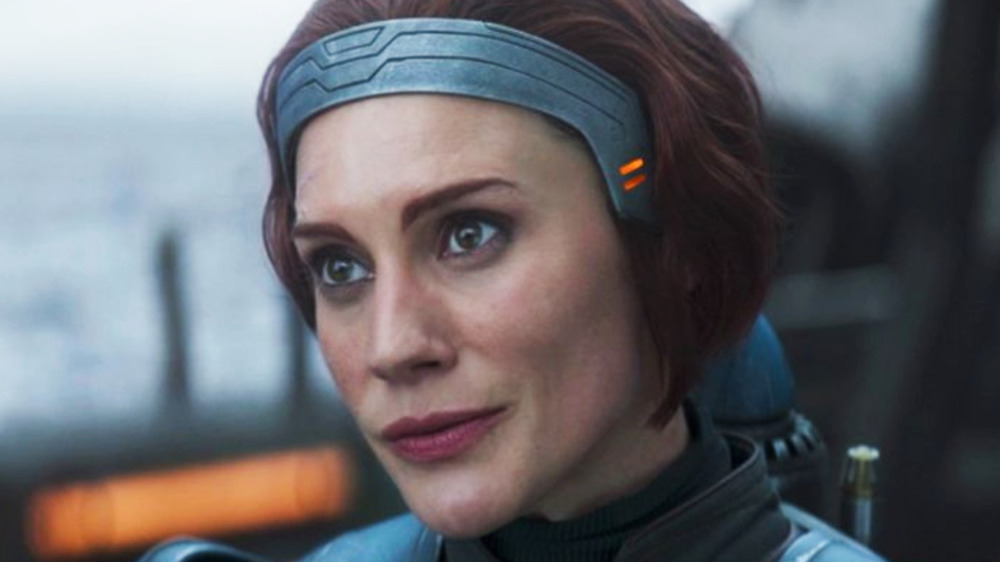 Lucasfilm/Disney+
By this point, actress Katee Sackhoff is basically sci-fi royalty. She fought against Cylons as Starbuck in Battlestar Galactica. She battled aliens alongside Vin Diesel as Dahl in Riddick. She menaced the Flash and the Bionic Woman as villains in their respective series, while her latest ongoing series, Another Life, takes her back to the stars — this time with a young crew of hotshots in tow.
And then, of course, there's Star Wars. Sackhoff has been voicing Bo-Katan Kryze, a fearsome warrior and a member of Mandalore's royal family, in various Star Wars cartoons since 2012, when the character made her animated debut. In 2020, both the actress and her Star Wars character took a big step: With Sackhoff in the armor, Bo-Katan made the leap into live-action, appearing twice in the second season of The Mandalorian.
It was just another memorable milestone in a career full of them. As Sackhoff tells Looper in an exclusive interview, she's loved science fiction since she was a child, thanks to her father. "We had this sort of love affair with film, and my dad loved [the] genre," Sackhoff says. "His favorite movie of all time is Forbidden Planet. And so, he raised me on this stuff." 
Now, before Sackhoff accepts a role, it has to meet one big criteria: Will her dad like it? As evidenced in a sweet photo Sackhoff shared on Instagram, her father more than approves of her part on The Mandalorian. He's far from the actress' only admirer. After all, Sackhoff has been a fixture on the sci-fi scene for over a decade and a half, and at least one of her Mandalorian co-stars considers himself a big fan.
Pedro Pascal revealed himself to be 'a big Battlestar Galactica fan'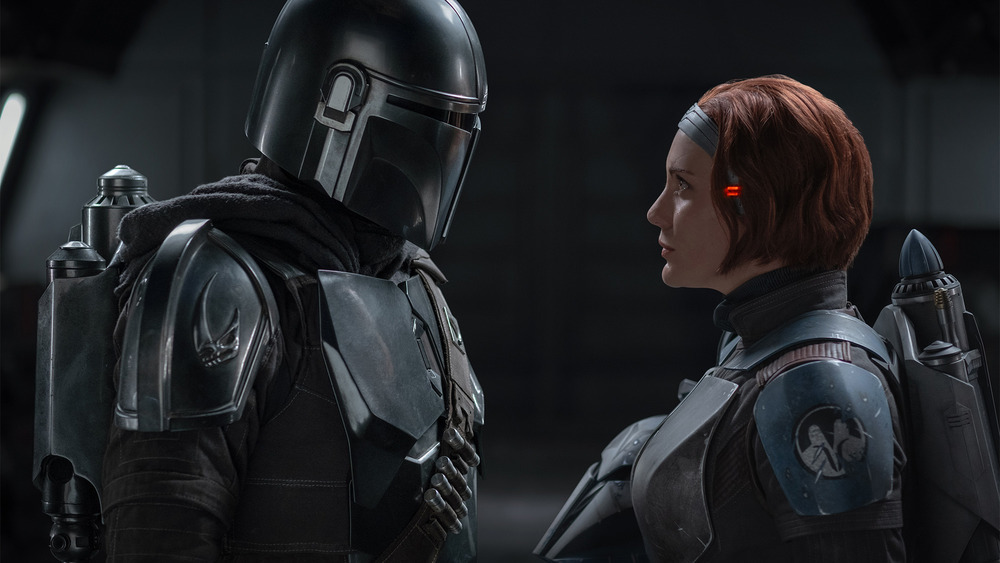 Lucasfilm/Disney+
Sackhoff and The Mandalorian lead actor Pedro Pascal shared a considerable amount of screen time together. In Sackhoff's first episode, "The Heiress," Bo-Katan enlists the titular Mandalorian's aid while capturing an Imperial freighter, giving him the information he needs to find former Jedi Ahsoka Tano (Rosario Dawson) in exchange. In The Mandalorian's season 2 finale, "The Rescue," Bo-Katan helps Din Djarin rescue young Grogu (aka Baby Yoda) from the clutches of the evil Moff Gideon (Giancarlo Esposito), only to find that Din has accidentally claimed her ancestral birthright: the Mandalorian relic known as the Darksaber.
Sackhoff has nothing but kind things to say about her Mandalorian co-star, who also appeared as bad guy Maxwell Lord in Wonder Woman 1984 and who was recently named one of the sexiest men alive, according to People. (And he's just one of many Mandlaorian stars who are stunning off screen.) "He's one the kindest human beings I've ever met," Sackhoff says. "We actually, before this, had mutual friends in common, so I was excited to work with him for a very long time."
As it turns out, Pascal was eager to work with Sackhoff as well — and to grill her about one of her past roles. "He is a big Battlestar Galactica fan," Sackhoff tells Looper, grinning. "There were days where he [told me], 'Hey, hey, hey, come in my room. I want to talk to you. I want to talk to you.' And it was [always] about Battlestar, so it was quite funny."
Sackhoff's YouTube channel, which gives the nitty-gritty on how she stays in shape for her action-heavy roles, can be found at Blood, Sweat & Coffee. The Mandalorian is available on Disney+.