Anthony Mackie's Most Iconic Scenes
This content was paid for by Netflix and created by Looper.
Over the course of his career, Anthony Mackie has become a household name thanks to his work in Hollywood blockbusters. While he has stolen a lot of scenes across all genres, including in period dramas, romantic films, and even holiday comedies, there's still nothing quite like seeing Mackie get into gear for a good action story.
His latest high-octane adventure is in Outside the Wire, a film that features him as Leo, a cyborg soldier who must work with a green drone pilot named Harp (Snowfall's Damson Idris). Together, the two must track down the terrorist Victor Koval (Game of Thrones' Pilou Asbæk) before he gets his hands on a nuclear arsenal. Set in a war-torn country, the film is filled with high-tension action sequences, jaw-dropping twists, and some powerful statements about the perpetuity of international conflicts.
To celebrate Mackie's latest must-see movie debut, here's a look back at some of the most memorable film scenes from his career in film so far.
We Are Marshall - "My shoulder's fine"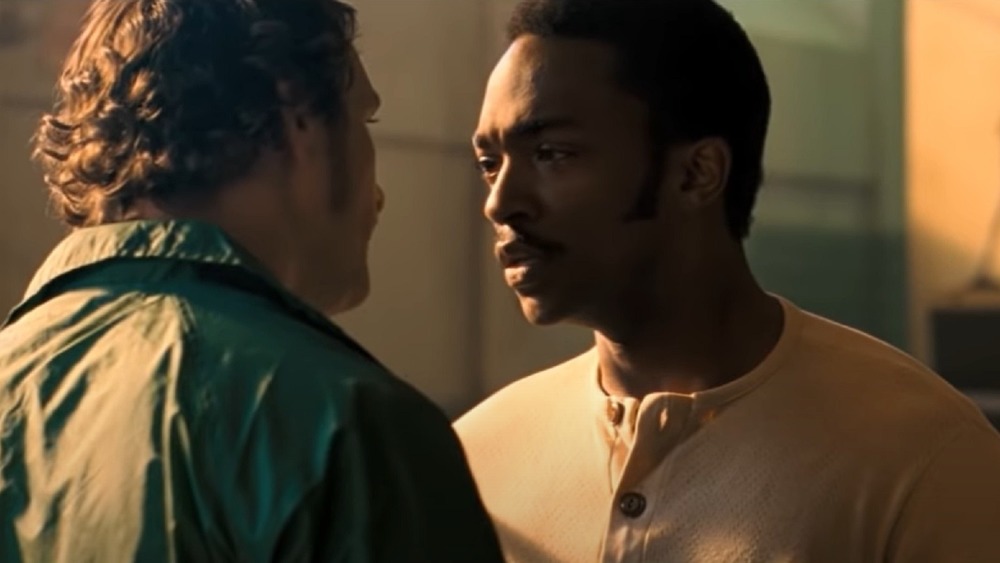 Warner Bros. Pictures
It's not uncommon for a good sports biopic to make its audience emotional, but that's especially true with We Are Marshall, McG's 2006 drama that follows the aftermath of the 1970 plane crash that claimed the lives of most of Marshall University's Thundering Herd football team, along with the coaches and staff. The film features Mackie as student athlete Nate Ruffin, who leads the players who were not aboard the fateful flight to fill out a new team, with incoming head coach Jack Lengyel (Matthew McConaughey).
Despite Nate's sense of resolve, he still suffers — both physically, from his sudden elevation to a starter, and emotionally, from the catastrophic losses he and his team have endured. In one unforgettable encounter, Coach Lengyel confronts Nate about his injury, and Nate insists he's well enough to play. As the coach repeatedly tests his pain level by slapping his shoulder, insisting that being on the field would be worse, Nate's anguished pleas that he is fit enough to play are almost excruciating to watch. Even more affecting is the moment when he breaks down and confides to his coach that he is experiencing survivor's guilt, and Mackie's delivery of the lines is absolutely gut-wrenching.
The Hurt Locker - "I'm done"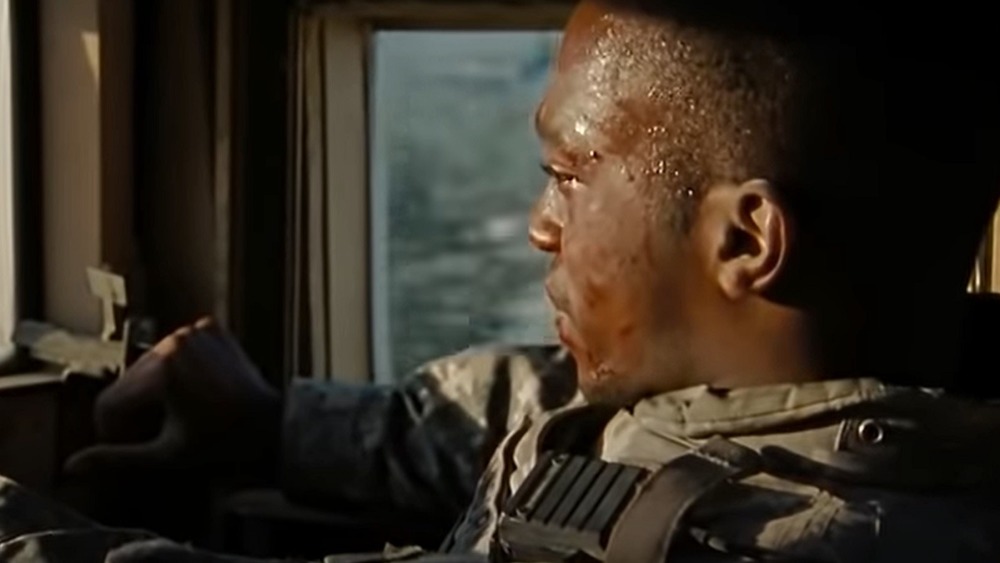 Summit Entertainment
In Kathryn Bigelow's Oscar-winning war drama The Hurt Locker, Mackie stars as Sgt. J.T. Sanborn, a member of the U.S. Army' Explosive Ordnance Disposal unit serving in the Iraq War. Alongside his fellow team members, Sgt. First Class William James (Jeremy Renner) and Specialist Owen Eldridge (Brian Geraghty), Sanborn is sent to diffuse bombs and witnesses several excruciating tragedies throughout the course of his service.
During one of their final missions of the film, Sanborn and James attempt to save a civilian from a bomb that's been strapped to him. But when they're unable to get the job done, Sanborn is deeply affected by the tragedy. He is also unnerved by how close he came to losing his own life, and in a crushing bit of monologue, Sanborn reflects on his own mortality and the fact that if he were to perish, he would have no family to miss him. With streaks of blood and shrapnel still coating their faces and uniforms, he and James then talk about the risk they take with every outing, and the scene becomes a fascinating study in contrasts by Jeremy Renner and Anthony Mackie as both absorb this existential realization in very distinct ways.
The Adjustment Bureau - "Take the stairs"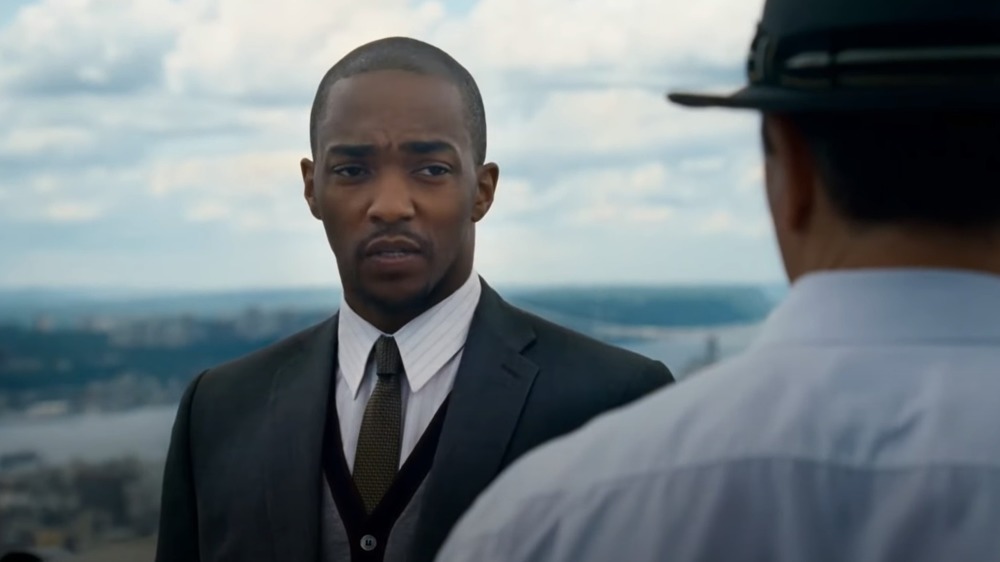 Universal Pictures
Few romantic dramas are quite as mind-bending as the 2011 sci-fi thriller The Adjustment Bureau. Based on Philip K. Dick's short story "Adjustment Team," the film centers on a congressman named David Norris (Matt Damon) who meets and quickly falls in love with a dancer named Elise Sellas (Emily Blunt). But in the process, he learns he has accidentally upset the elaborate blueprints of the world that have been written by the titular Adjustment Bureau. Mackie stars as Harry Mitchell, an official of the Bureau who accidentally sets David and Elise's love story in motion by failing to complete a task that would keep them apart.
Though the rest of the Bureau tries to intervene and course correct David and Elise's lives, the two fight to write their own happily ever after, and Harry seems to be on their side. After an incredible chase lands them on top of a skyscraper, the couple is surrounded by Bureau members and hopelessly declare themselves to each other one last time. However, Harry strolls in at the last minute to deliver the news that the mysterious Chairman in charge of it all has been so compelled by their connection that they personally rewrote their plan. As heavy as the news is, Harry caps it all off by playfully taking back his fedora from David, with Mackie showing off just how well he can toe the delicate line between gentle comedy and intense action fare.
Captain America: The Winter Soldier - "On your left"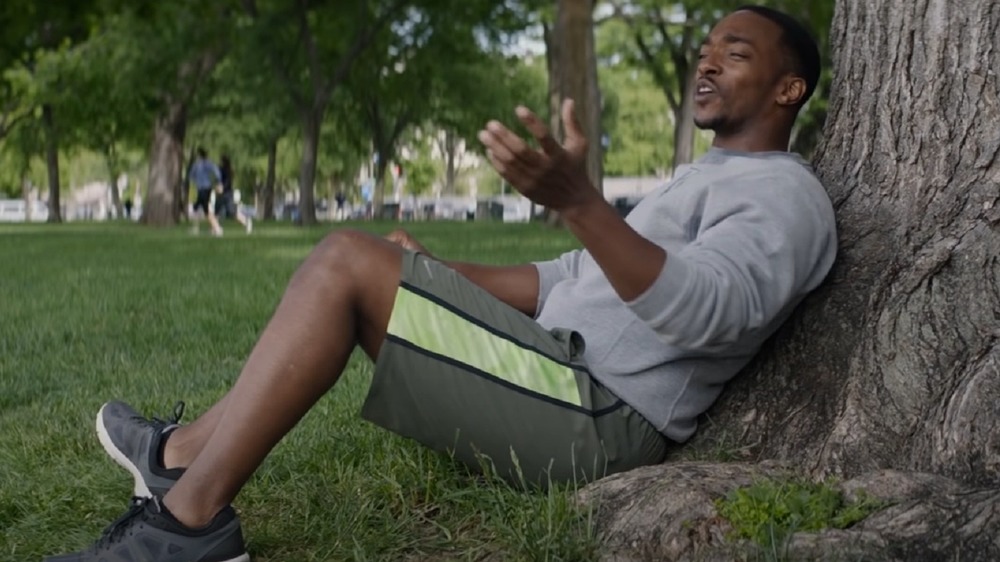 Marvel/Disney
When Steve Rogers (Chris Evans) returns in Captain America: The Winter Soldier, he desperately needs a friend, and he finds one in Mackie's Sam Wilson. Long before Sam would suit up as his superhero sidekick Falcon, the two enjoy a fairly hilarious first encounter, as Sam goes out for a pre-dawn run and gets lapped again and again and again by the speedy supersoldier who playfully taunts him by saying "on your left" every time he passes by.
Not only does this mark the start of a beautiful friendship for the two, but fans of the Marvel Cinematic Universe will also recognize that phrase as one that comes into play in a very major way. Not only are those the same three words that Cap repeats to Sam again in a later hospital scene from the film, but they also mark a major turning point in the final fight in Avengers: Endgame: After Cap is beaten, his shield is broken, and he knows he's completely outmatched by Thanos (Josh Brolin) and his army, it seems that all hope is lost. Until, that is, Sam radios in to deliver the good news that reinforcements have arrived, saying their favorite phrase: "on your left."
Shelter - Falling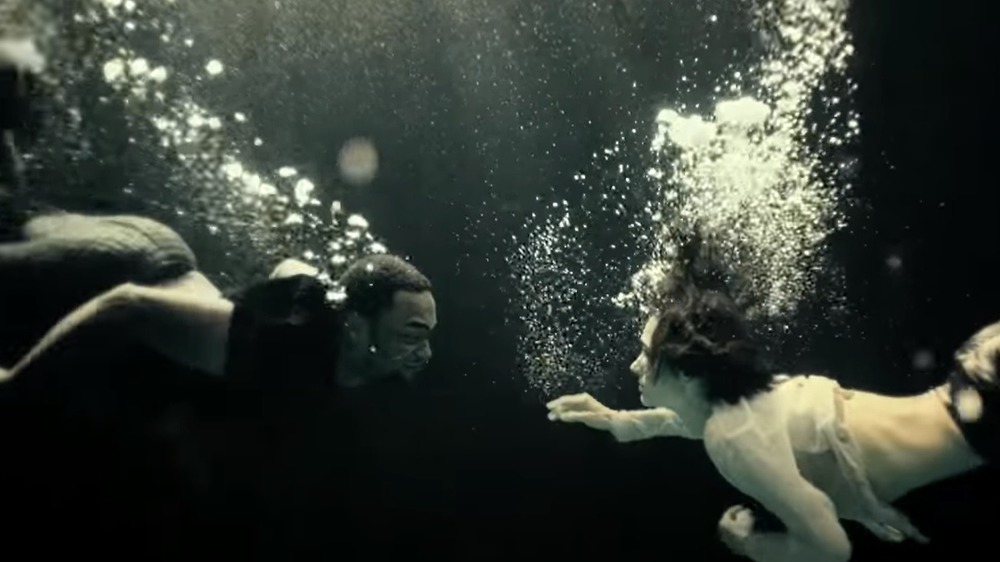 Screen Media Films
Anthony Mackie's ability to deliver some devastating scene work has been proven time and time again in many of his dramatic roles. And there's something special about what he does in Shelter, a movie which was written and directed by Paul Bettany in his debut behind the lens. In the film, Mackie stars as Tahir, a homeless immigrant from Nigeria who befriends a troubled addict named Hannah (Jennifer Connelly).
The film chronicles their friendship as they rely on each other for survival and then as they develop romantic feelings for one another. In one unforgettable scene, the two embrace the attraction they have for one another and literally fall into an ocean of their own emotions. The artistic symbolism of the setting is clear; each of these characters has been drowning due to their individual ills, but with each other they might just be able to breathe for a while.
Love the Coopers - A dramatic car ride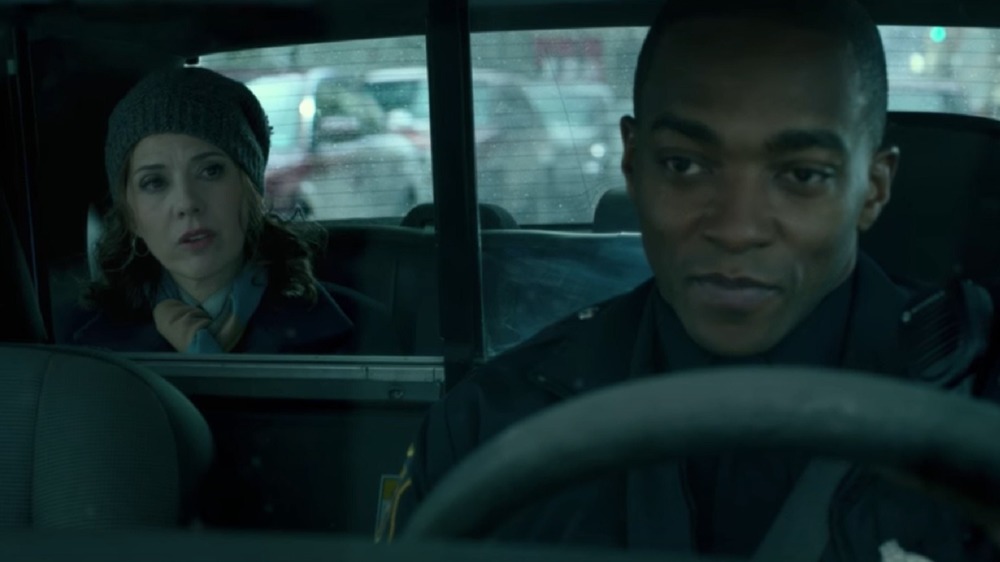 Lionsgate
In the 2015 holiday dramedy Love the Coopers, Mackie needs little more than two minutes to absolutely break your heart. He plays Officer Percy Williams, a quiet policeman who catches a woman, Emma (Marisa Tomei), stealing a brooch as a gift for her sister. Percy apprehends Emma for the theft, and in the car, she finds a way to break through to him by talking about something very, very personal.
When Emma asks Percy about his relationship with his family and whether his mother is accepting of him, Percy implies that his mom realized he was gay before he did. Unfortunately, as Emma invites him to roleplay the kind of conversation they might have had about that subject, it becomes clear that his mother was not exactly supportive and that Percy has not yet made peace with that. As Emma simulates the words of a child version of Percy, Percy responds as his mother, harshly criticizing him for everything from the tilt of his head to the size of his smile and laments the fact that he once dreamed of becoming an explorer. The overlaid images of him as a bright-eyed, optimistic child make his present-day, reserved demeanor that much more crushing, and Mackie plays that heartbreak with quiet sophistication.
Outside the Wire - "Special enough"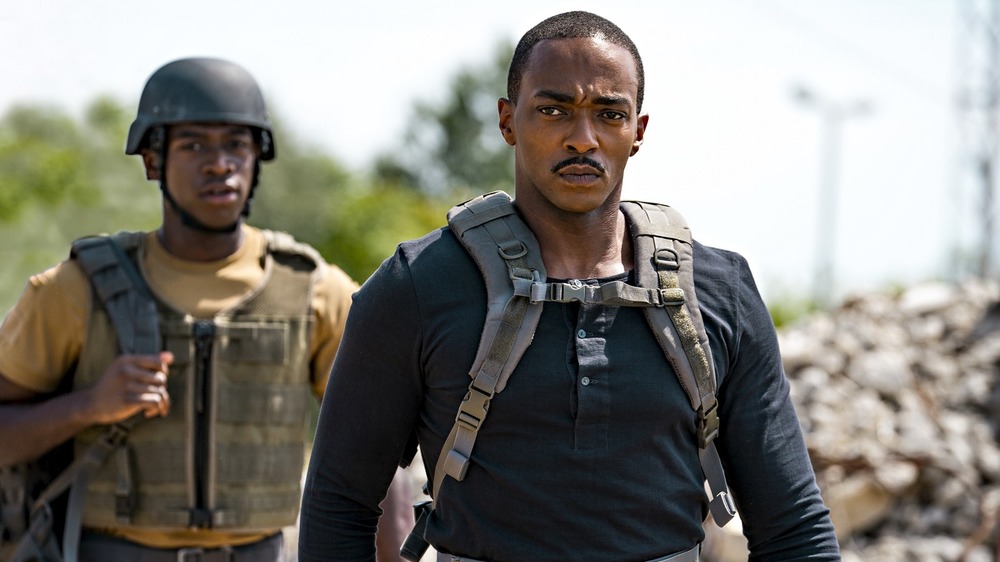 Netflix
For his latest trick, Anthony Mackie gets an all-new physique in Outside the Wire — literally. After we're introduced to Lieutenant Thomas Harp — a drone pilot who's sent to the battlefield as a punishment — we meet Mackie's Leo, Harp's charismatic new commander. Leo is an intelligent, no-nonsense officer who tells Harp that, together, they will be leaving the green zone for a humanitarian mission that is secretly an intelligence operation. When Harp reminds Leo that he's new to field work and may not be the best choice for the job, Leo reveals just how little help he actually needs by removing his shirt and showing his true interior as a robot, saying, "Don't worry, I'm special enough for the both of us."
As Harp's jaw hits the floor at the sight of his highly classified build, Leo commands him to spend just 60 seconds dealing with this onslaught of new information before deciding whether he can trust him to hit the battlefield. Because, cyborg or no, Leo is still a boss. Thanks to Mackie's sure-footed portrayal of the otherwise very human-like Leo, it's not hard to understand why Harp would still say yes, despite the shocking sight of his true form.