The Best Political TV Shows That Should Be Required Viewing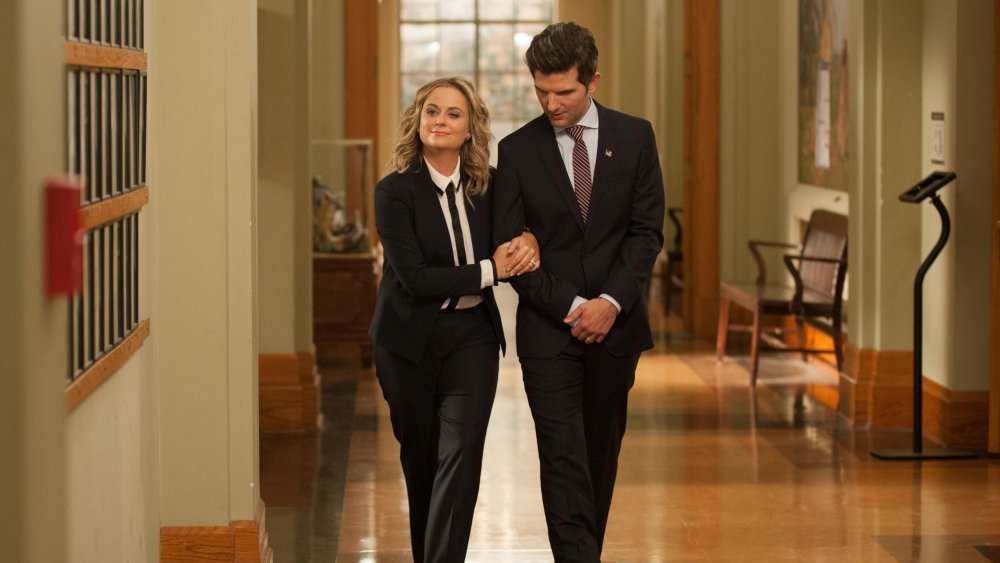 Politics is a tricky subject that most people usually try to avoid at the dinner table or during get-togethers with friends, but on the small screen, political television shows have been huge hits for decades. Especially as the political landscape grows more divisive from election to election, it makes sense; it can be comforting to escape into a much more idyllic — or just plain entertaining — version of American politics, learn more about an important chapter of America's political history, or go back to absorb an important warning to discover just how corrupted and out of touch the government could eventually become. 
With plays like Hamilton and films like Election, Vice, and The American President remaining popular for years, it's no surprise that political TV shows loom just as large as their film counterparts. From soapy Shonda Rhimes creations and Aaron Sorkin's defining White House drama to a Cold War epic and dystopian visions of America's future, here's a list of the best political TV shows that should be required viewing.
The West Wing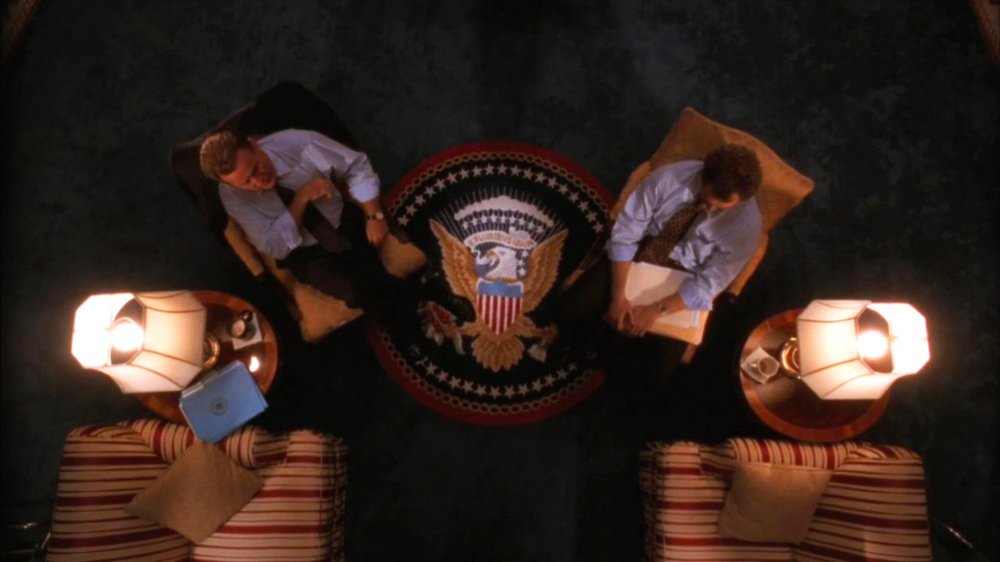 Few political shows are as well-remembered and lauded as Aaron Sorkin's masterpiece The West Wing, and it's easy to understand why. The series, which ran from 1999 to 2006, focused on the fictional administration of President Josiah "Jed" Bartlett (Martin Sheen) and the members of his knowledgeable, extraordinarily capable staff. Led by Chief of Staff Leo McGarry (the late John Spencer), Deputy Chief of Staff Josh Lyman (Bradley Whitford), Communications Director Toby Ziegler (Richard Schiff), Deputy Communications Director Sam Seaborn (Rob Lowe, who left the show after its fourth season), and Press Secretary C.J. Cregg (Allison Janney), among others, manage the daily ins and outs of Bartlett's Democratic presidency.
Despite the fact that Sorkin left the show after its fourth season, which many viewers think led to a slight decline in quality, The West Wing remains one of the most beloved political television shows in recent history, thanks in large part to its approachable takes on hot political issues, career-making performances from actors like Whitford and Janney, extraordinarily quick writing, and its signature "walk and talk" conversation scenes. If you're looking for a political show that has something for everyone, The West Wing has you covered.
Scandal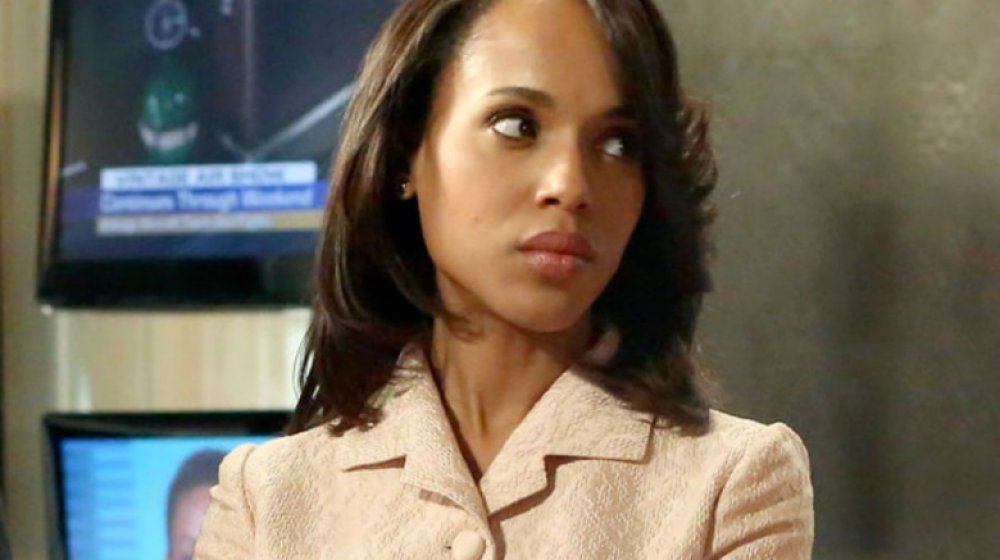 If you're looking for a soapier, intense version of The West Wing with a pronounced feminist bent, look no further than Scandal, which was launched in 2012 and ran for seven seasons until 2018. Run by Shonda Rhimes after she got her start with Grey's Anatomy, Scandal tells the intense, over-the-top story of Olivia Pope (Kerry Washington), a Washington "fixer" brought in to mitigate even the most intense political scandals. Right off the bat, Olivia and her associates seem like the good guys, but as the show continues and gets much darker and way crazier, the line between "good" and "bad" begins to blur — especially when viewers discover early on that Olivia is having a longtime affair with Fitz (Tony Goldwyn), the President of the United States.
As each person around Fitz, from Olivia to his First Lady Mellie Grant (Bellamy Young) to his Chief of Staff Cyrus Beene (Rhimes regular Jeff Perry), manipulates the President into furthering their own agenda, Scandal's complicated web of lies and secrets only becomes more and more intense. Beyond all of that, Olivia is a seriously strong female character — and in real life, Washington made history with the role as the first Black female lead in a network drama in nearly 40 years. If you like a side of serious heightened drama with your political intrigue, Scandal is the show for you.
House of Cards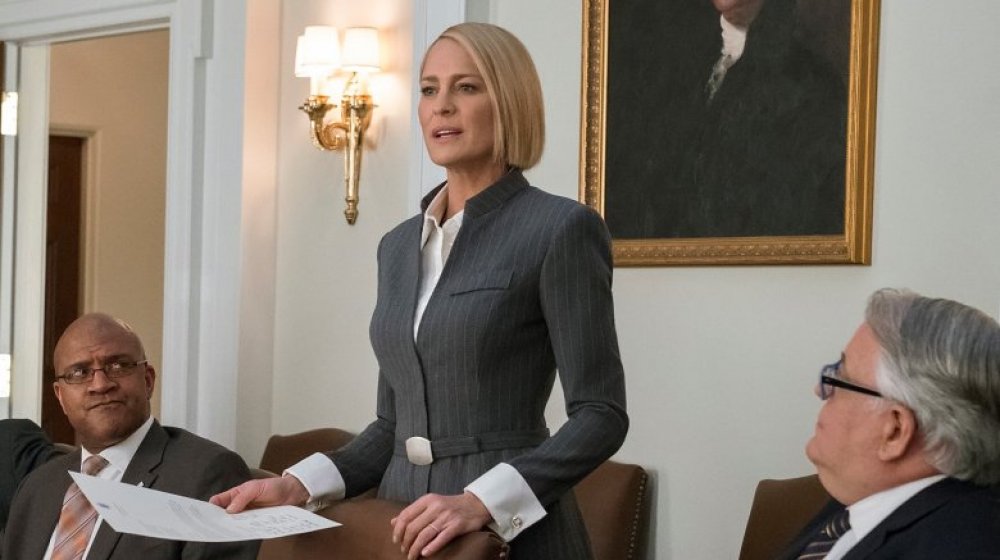 Netflix's flagship original show combines all the serious political machinations of The West Wing along with the soapy indulgences of Scandal to create House of Cards, an intense political drama created by Beau Willimon and based on the British series of the same name. In the American version, all of the drama initially centers around Frank Underwood, played by Kevin Spacey. Desperate to gain power and rise to the office of President, Frank, along with his clever and conniving wife Claire (Robin Wright), figures out a way to achieve his goal by any means necessary, stepping on anyone and everyone in his path to get his way.
After news broke in 2017 regarding a battery of serious sexual misconduct accusations focused on Spacey, he exited House of Cards, leaving Wright to take center stage and close out the series after Frank died offscreen. Ultimately, after years of acclaim for Willimon's series, the show came to an end in 2018 with Claire as President, bringing the narrative full circle and honoring one of its most fascinating and vital characters. House of Cards may have ended with a real-life scandal looming over its narrative, but maybe that's appropriate given the tone of the series itself.
Veep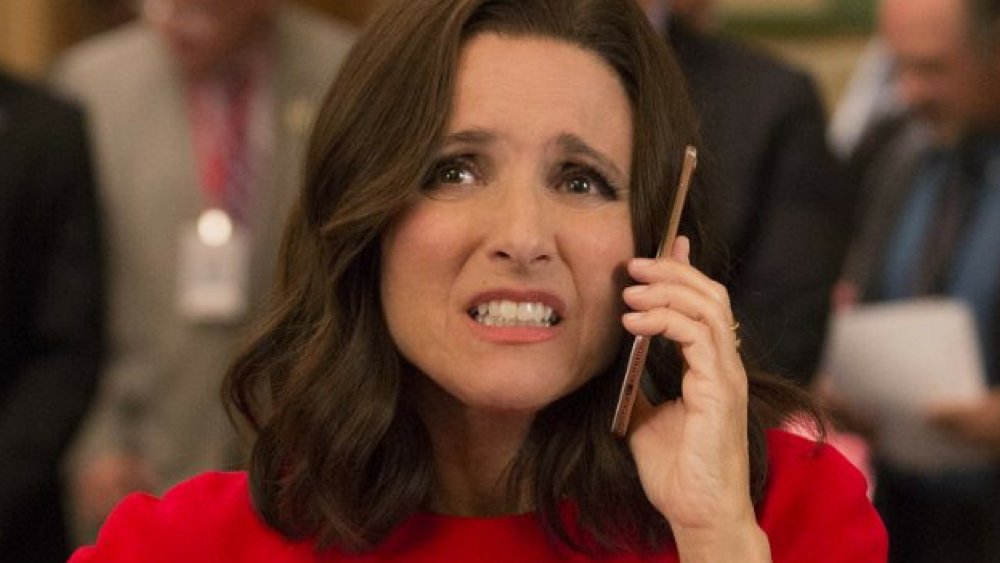 One of the funniest and most profane political shows in recent memory, HBO's Veep, which was created by Armando Ianucci and led by the unmatched Julia Louis-Dreyfus, gave audiences a glimpse into the hilariously twisted world of Washington from the Vice President's point of view. As Selina Meyer, who begins the series as a lame duck Vice President with big dreams, Louis-Dreyfus gave the performance of a lifetime — which, considering her long-running and beloved stint on Seinfeld, is saying something — alongside a cast of comedy legends like Tony Hale, Matt Walsh, Gary Cole, Timothy Simons, Reid Scott, and more.
As Selina keeps trying to win the Presidency, she only becomes more craven and corrupt, sacrificing the happiness and well-being of her staffers and her family as she claws her way to the top, always in the funniest way possible. From its pitch-perfect pilot to Louis-Dreyfus' multiple Emmy wins to the stunning series finale it aired in 2019, Veep is a scathing and hilarious indictment of what really happens behind the scenes in Washington, and just how far people will go in pursuit of ultimate power.
24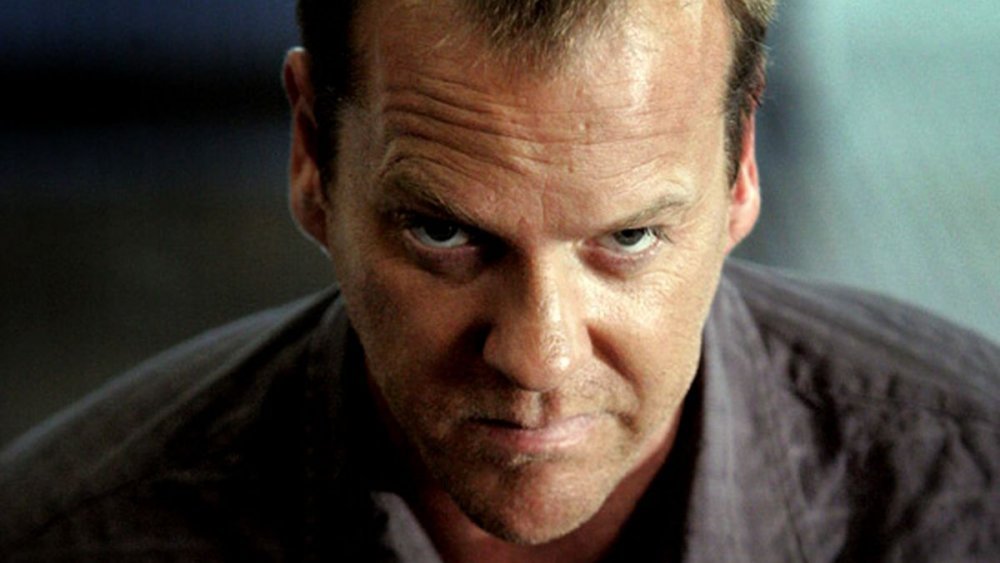 A politically charged show with a completely unique concept, Fox's 24, which ran from 2001 to 2010 and spawned several spinoffs, starred Kiefer Sutherland as secret agent Jack Bauer, whose career is marked by several ridiculously busy days. Each 24-episode season of the series' original run takes place over the course of 24 hours; ultimately, it's always up to Jack to save the President, protect his daughter, save the country from terrorists, and sometimes, all of the above.
When 24 premiered, it came right on the heels of September 11, 2001, and on both sides of the real-life political spectrum, watching Jack Bauer systematically pummel and defeat terrorists was a cathartic way to deal with the fallout of the most devastating terrorist attack on American soil. That was a long time ago and many viewers have changed their perspective on that harrowing time, but in a lot of important and fundamental ways, 24 still holds up after all these years. Better still, once you finish the show's original ten seasons, you can check out the one-off reboots, including Redemption, Live Another Day, and Legacy, or even keep your ears to the ground about a rumored prequel series.
John Adams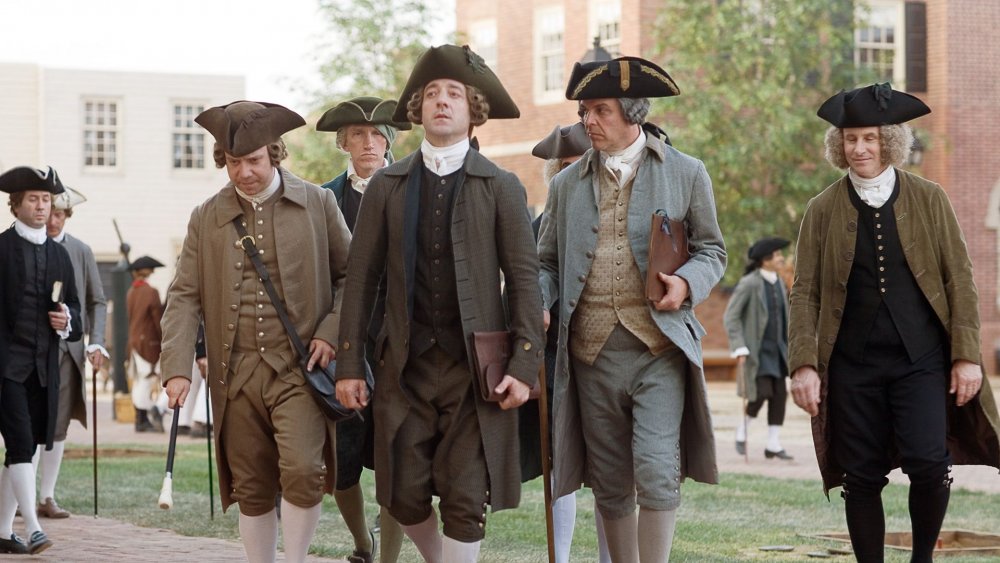 By now, the life of nearly every American founding father has been explored and studied on film, and in 2008, HBO threw its colonial cap in the ring with a miniseries chronicling the life and political career of John Adams. With Paul Giamatti in the title role, the limited series, which was directed by future Academy Award winner Tom Hooper and adapted from David McCullough's 2001 biography of Adams, charts Adams' journey over seven episodes, starting in 1770 with the Boston Massacre.
Thanks to a defining central performance from Giamatti — and an assist from Laura Linney, who portrays Adam's First Lady and closest advisor Abigail Adams — as well as turns from Stephen Dillane (Game of Thrones), Tom Wilkinson, and more, John Adams became one of the most celebrated miniseries in television history, winning four Golden Globes and a whopping 13 Emmy Awards. If you're looking for a deep dive into the life of one of the country's first Presidents, John Adams is a faithful, beautifully acted, and admirably comprehensive option.
Madam Secretary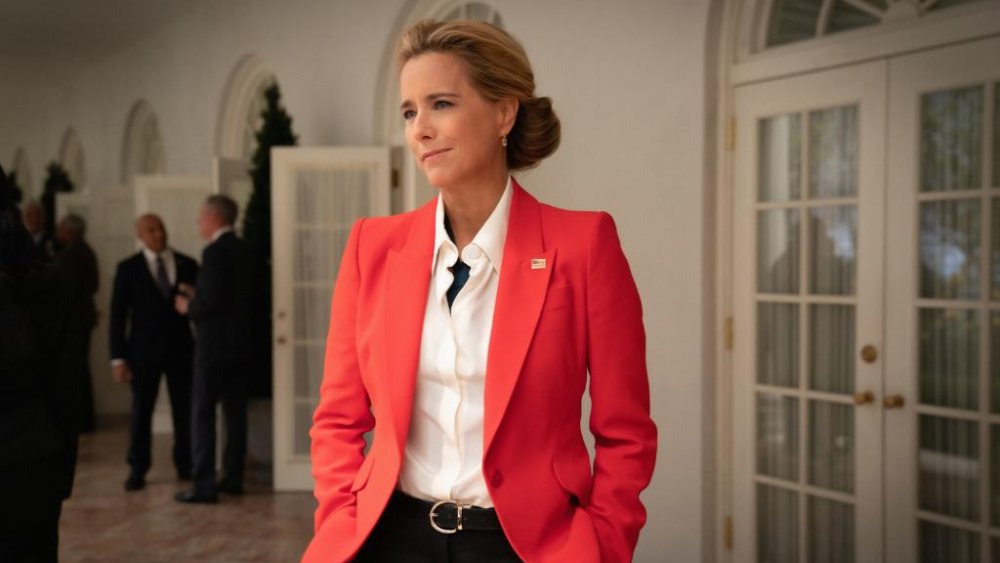 Madeline Albright and Hillary Clinton's tenures as Secretary of State were a clear influence on the creation of Madam Secretary. The series, which ran on CBS from 2014 to 2019, stars Téa Leoni as Elizabeth McCord, a CIA alumna and former political science professor who becomes Secretary of State in the administration of President Conrad Dalton (Keith Carradine) before ultimately succeeding him to become the President herself. Throughout six seasons, audiences watched Elizabeth navigate international diplomacy, ascend to the Presidency, and balance her career with her personal life, including her longstanding marriage to CIA veteran Henry McCord (Tim Daly) and their shared responsibility to their children.
Over the course of 120 episodes, Madam Secretary attracted a loyal following and plenty of acclaim, thanks in large part to Leoni's excellent, grounding performance as Elizabeth. If you want to see what it's like to work your way through the very highest ranks of the United States Government, Madam Secretary is an excellent pick.
The Americans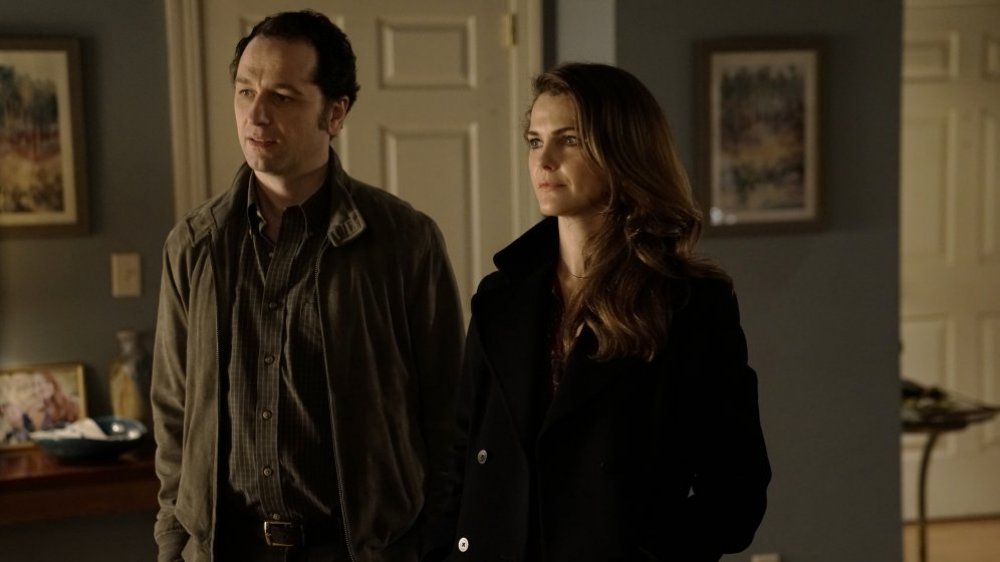 The story of two Russian spies masquerading as everyday Washington suburbanites during the Cold War, FX's The Americans ran from 2013 to 2018 and starred Keri Russell and Matthew Rhys — who later got married offscreen after meeting during the show — as Elizabeth and Philip Jennings, KGB officers trying to infiltrate the United States government. Their secret, which becomes harder to maintain as their story continues, stays between Elizabeth and Philip for as long as possible; even their children, Paige (Holly Taylor) and Henry (Keidrich Sellati), have no idea as the show begins, and the Jennings' next door neighbor, Stan Beeman (Noah Emmerich), is also in the dark — fortunately for the Jennings, seeing as how Stan, aside from being one of their best friends, is also an FBI counterintelligence agent trying to uncover Russian spies in the States.
Throughout its six-season run, The Americans was consistently one of the most critically acclaimed shows on television, with many critics bemoaning its lack of awards early on, though it eventually won Emmys for writing and Rhys' performance in the aftermath of its final season. On top of that, its stunning, chilling ending in 2018 only cemented this dark, edgy show's legacy as one of the best political thrillers ever to air on the small screen. If you're looking for intrigue and drama and a bevy of excellent performances, The Americans is definitely the right choice.
Homeland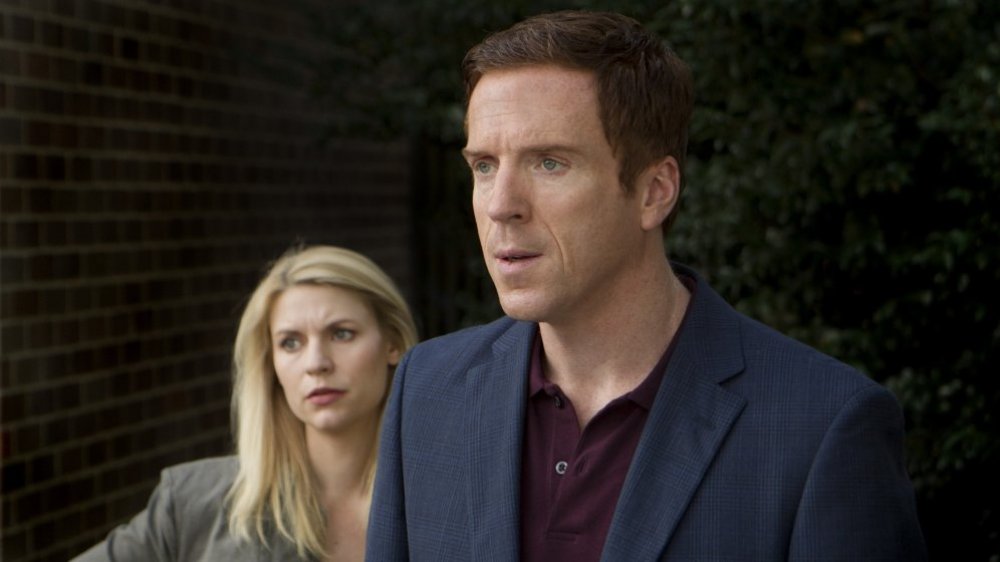 Led by Claire Danes as CIA officer Carrie Matheson, Showtime's Homeland spent its eight-season run exploring political intrigue, mental illness, and the very concept of loyalty by exploring Carrie's career, life, and loves during her increasingly fraught time in the agency. Adapted from an Israeli series called Prisoner of War, Homeland opens by focusing on Carrie's dealings with Nicholas Brody (Damian Lewis), a former prisoner of war who some suspect may have been "turned" by al-Qaeda during his captivity. Alongside Saul Berensen (Mandy Patinkin), Carrie must work to figure out if Brody really is disloyal to the United States as the veteran struggles with ongoing PTSD, and Carrie grapples with her own bipolar disorder diagnosis.
After an explosive first season, Homeland had no shortage of storylines to explore thanks to Brody and Carrie's initial work together, and ultimately, when the show came to a shocking end in April of 2020, Carrie's loyalty faced an important test as she and Saul raced to uncover secrets about the other that could change everything. Homeland always kept fans and critics guessing throughout its run; see if you can figure out where each character's loyalties lie as you make your way through the series.
The Good Wife & The Good Fight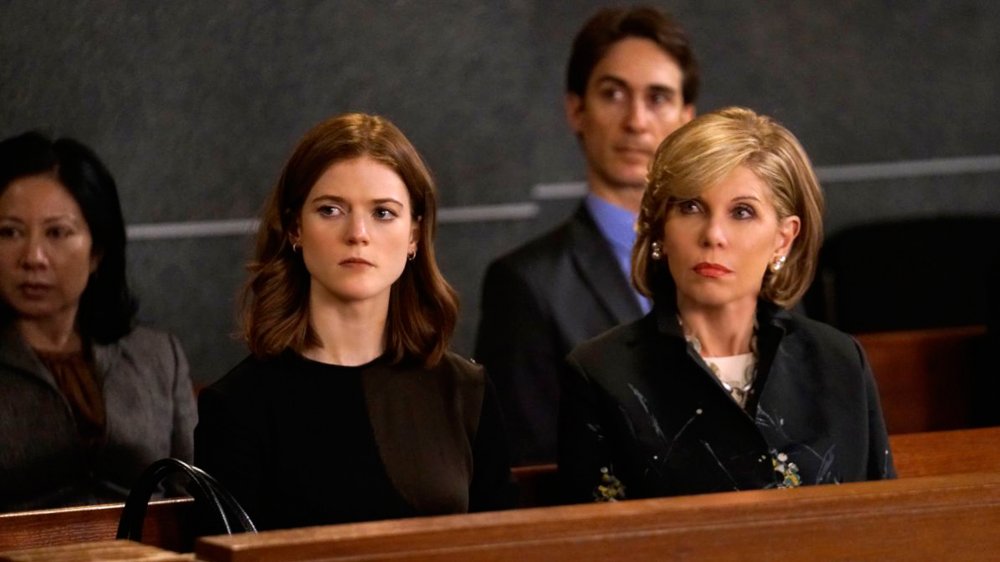 CBS' The Good Wife, starring Julianna Marguiles as Alicia Florrick, the wife of disgraced state's attorney Peter Florrick (Chris Noth), premiered in 2009 and immediately made waves, thanks to its unflinching look at political corruption in Chicago and its excellent cast. Flanked by veterans like Christine Baranski, Josh Charles, Alan Cumming, Archie Panjabi, and more, Marguiles — who won several Emmys throughout her tenure as Alicia — led this legal drama beautifully, with each episode centering around Alicia's personal life as well as her return to the legal profession. Alongside her colleagues Diane Lockheart (Baranski) and Will Gardner (Charles), Alicia grappled with all kinds of clients and cases, some of which brought her own problems to the surface.
Ultimately, the success of The Good Wife led to a spinoff, and in 2017, The Good Fight, led by Baranski reprising her role as Diane alongside newcomers to the franchise like Game of Thrones' Rose Leslie, premiered on CBS All Access, the network's streaming service. As a modern-day counterpart to The Good Wife, which ended its run in 2016, The Good Fight often comments on the real-life political landscape with its storylines, earning acclaim for their clever take on current American politics. Whether you watch one or both, you won't be disappointed.
The Handmaid's Tale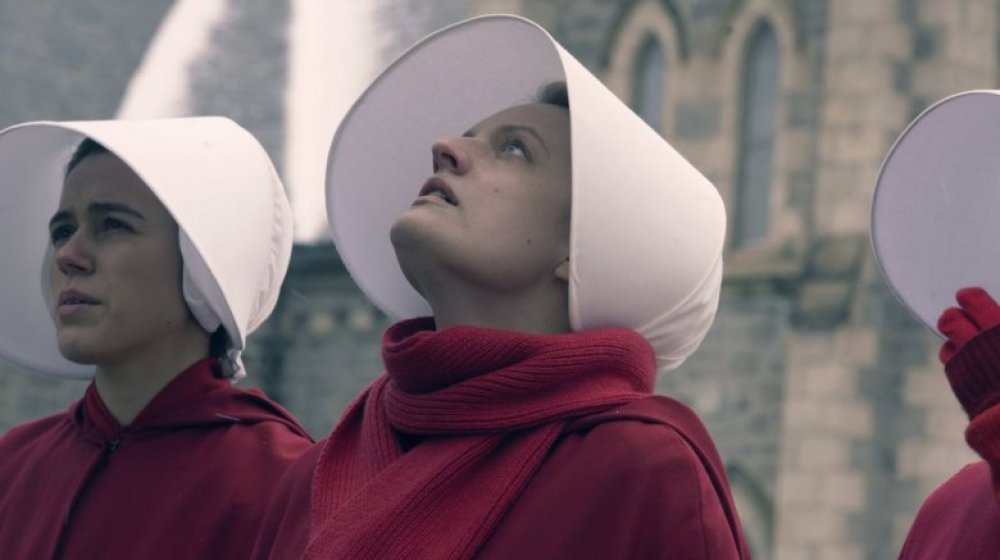 One of the darkest looks at a possible political future for America, Hulu's original series The Handmaid's Tale, which is based on Margaret Atwood's classic dystopian novel of the same name, is set in the post-American landscape of the Republic of Gilead, in a world where an extreme religious sect has taken over the country and forced the populace to bend to their will. Emmy and Golden Globe winner Elisabeth Moss centers the show as June — whose name in Gilead is "Offred" — who endures servitude as a "Handmaid" due to the fact that she's one of the few remaining fertile women in the new country. Desperate to escape her reality, June joins the resistance, but her journey to freedom is nothing short of harrowing.
After sticking to Atwood's book for the first season, the second and third seasons of The Handmaid's Tale veered into new territory — with Atwood remaining on hand as an advisor for the continued narrative — and as the show has continued, it's only become more prescient and terrifying. It also remains one of the most critically acclaimed shows on television; its first season alone won eight Emmy Awards, including one for Outstanding Drama. The Handmaid's Tale isn't an easy watch, but it's a chillingly believable vision of what can easily come to pass when civil rights are curtailed.
Parks & Recreation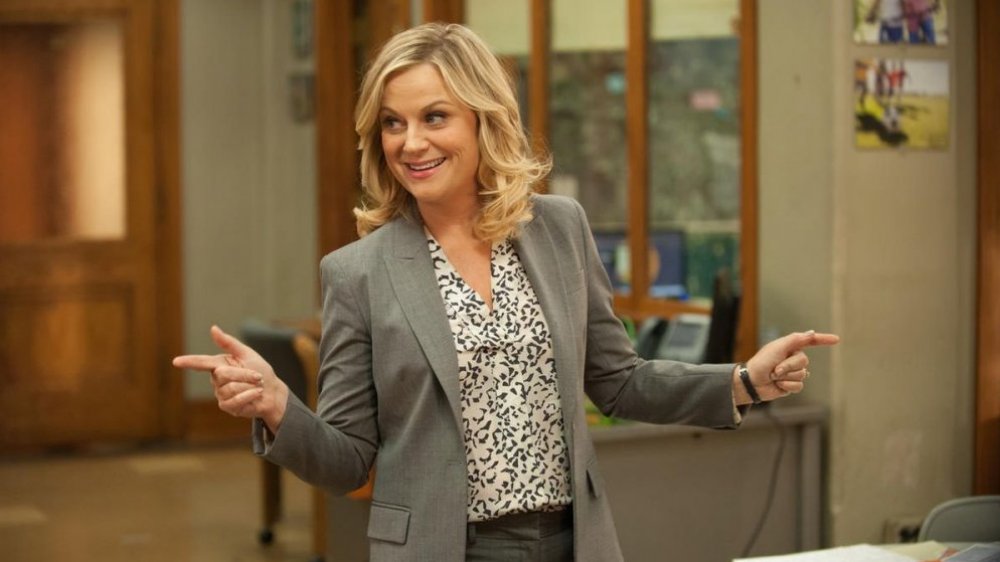 Nobody on television believes in the power of politics and government quite as optimistically as Leslie Knope (Amy Poehler) of Parks and Recreation, who spends her days working hard to make sure that her small town of Pawnee, Indiana continues to thrive. Aided by her coworkers, including gruff Ron Swanson (Nick Offerman), sarcastic April Ludgate (Aubrey Plaza), doofy Andy Dwyer (Chris Pratt), ambitious Tom Haverford (Aziz Ansari), loyal friend Ann Perkins (Rashida Jones), and more, Leslie does her very best to support and lift up every single citizen of Pawnee, no matter how hard the town's irritable occupants argue against her.
For seven seasons on NBC, Leslie and her friends — including late additions Chris Traeger (West Wing alum Rob Lowe) and Ben Wyatt (Adam Scott), who bring great new energy to the cast at the end of the second season — try to make government work for them, and even as Leslie rises and falls on the political spectrum, she always remains positive and hopeful. If you're feeling glum about divisive politics and the state of the world, Parks and Recreation will definitely make you feel better about the power of public service — and when you've finished the series, you can also check out the socially distanced reunion special that aired on NBC during the COVID-19 crisis.