Lines In Hamilton That Mean More Than You Realize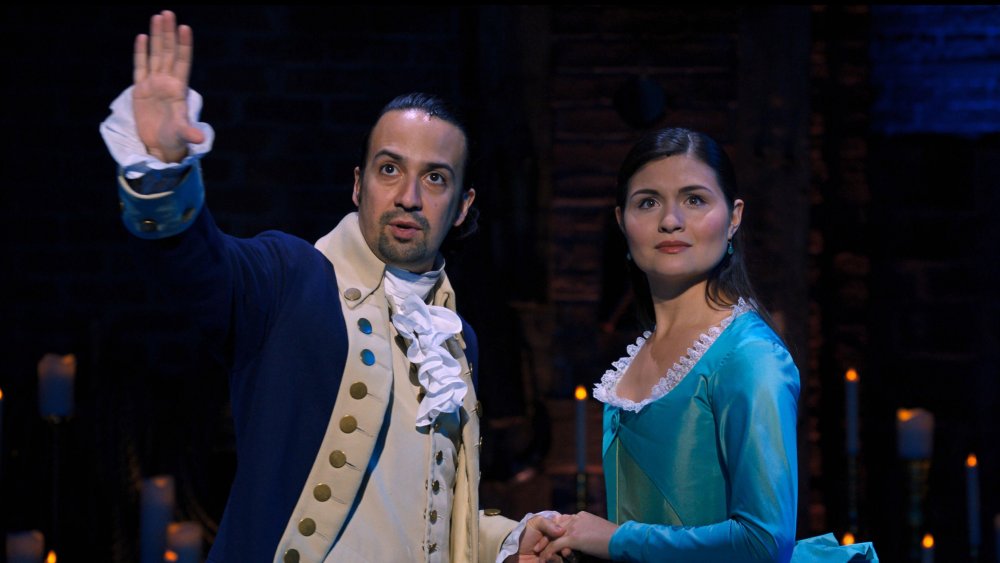 Disney+
Since it premiered on Broadway in late 2015, Lin-Manuel Miranda's musical masterpiece Hamilton has remained firmly in the spotlight — attracting fans like Beyoncé and President Barack Obama and winning an armload of awards, including several Tony Awards, a Grammy, and even the Pulitzer Prize for Drama (but no Oscar). Miranda's retelling of the life and political career of Alexander Hamilton — the Founding Father who emigrated from the Caribbean and ultimately rose to become the first Secretary of the Treasury and essentially create the United States' financial system — puts a twist on the story by casting actors of color as Founding Fathers like Thomas Jefferson, George Washington, and Hamilton himself (a role originated by Miranda and Javier Muñoz, who are both of Puerto Rican descent). As Miranda once put it, Hamilton is meant to represent "the story of America then told by America now."
If you're somehow not yet familiar with Hamilton – which gained a much wider audience after it premiered in film format exclusively on Disney+ on July 3, 2020 — prepare yourself. This incredibly dense, fast-paced musical incorporates rap and hip hop styles to tell its story ... which spans a whopping 20,520 words. (For comparison, many other popular musicals average anywhere from 5,000 to 7,000 words.) However, some of those words and themes repeat over and over again, signifying just how important they are to the show's overall themes of legacy, history, and the dreams we all hope to accomplish during our lives. Here are just a few of the lines in Hamilton that mean more than you realize.
Warning: Spoilers for Hamilton are ahead!
"I'm only 19, but my mind is older."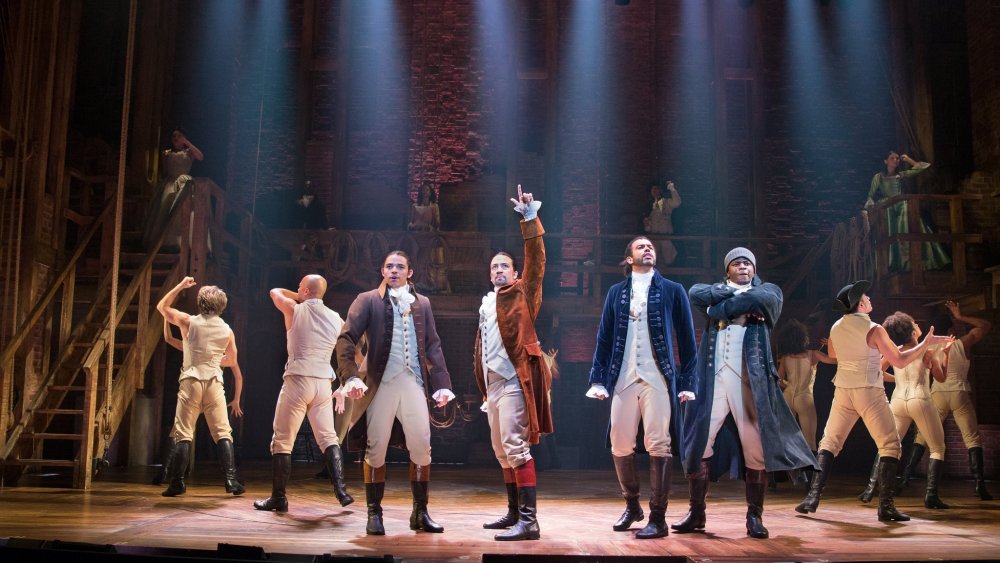 Disney+
From the very beginning, Hamilton charts the founder's rise from tragedy to success. When Hamilton was a child on the island of Nevis, his father abandons him and his mother dies, leaving the boy without much hope for the future. But Hamilton puts his considerable intelligence to work and finds a way out of the Caribbean and into New York City. From there, he meets Aaron Burr (Leslie Odom Jr.), who will eventually become his friend, his colleague, and then his nemesis.
Hamilton's third song, "My Shot," gives the titular character the chance to show off his smarts to Burr and his cohorts Marquis de Lafayette (Daveed Diggs), John Laurens (Anthony Ramos), and Hercules Mulligan (Okieriete Onaodowan). In the tune, Hamilton reveals he's still a young man, singing, "I'm only 19, but my mind is older." Not only is this meant to show off just how precocious Hamilton is, but it also serves as one of Miranda's many hip-hop based Easter eggs throughout Hamilton. Fans of Mobb Deep probably found this line familiar: In the rap duo's 1995 single "Shook Ones (Part II)," Prodigy raps, "I'm only 19, but my mind is old."
Later in the musical, Hamilton's son Philip (also played by Ramos) repeats the line when he tells the audience that he has the good looks and quick wit of his father before him. This line comes shortly before Philip embarks upon a duel that — spoiler alert – leads to his untimely death.
"History has its eyes on you."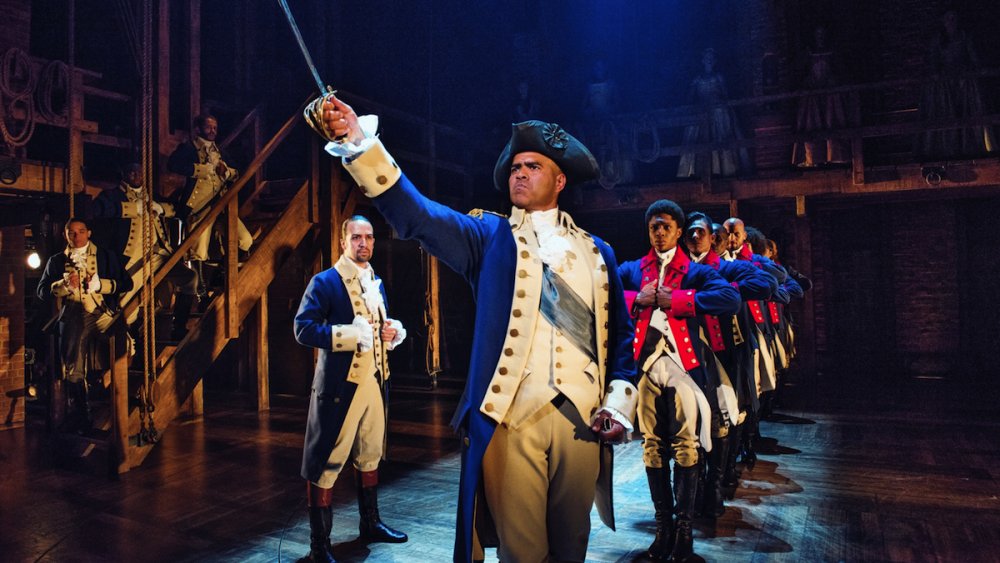 Disney+
Considering that Hamilton, the story of one of the somewhat-forgotten Founding Fathers, is a musical about how the historical record will remember you when you're gone, it makes sense that one of George Washington's (Christopher Jackson) lines represents the entire theme of the show. 
After Washington hires Hamilton to be his secretary, he recognizes the young man's thirst to prove himself, and warns him against aiming too high or acting recklessly. In the show-stopping ballad "History Has Its Eyes On You," Washington tells Hamilton he wishes he'd once known when he "was young and dreamed of glory," and that neither man has any control over "who lives, who dies, who tells your story."
Washington's warning is an important one that's doubly impactful considering that until Hamilton, the general public thought of Alexander Hamilton simply as the man on the $20 bill who was killed in a duel. Ultimately, Hamilton's headstrong, stubborn nature is his undoing — and for all Americans in this current day and age, recognizing that history will remember how we behave during moments of national crisis is a solemn and vital reminder.
"Why do you write like you're running out of time?"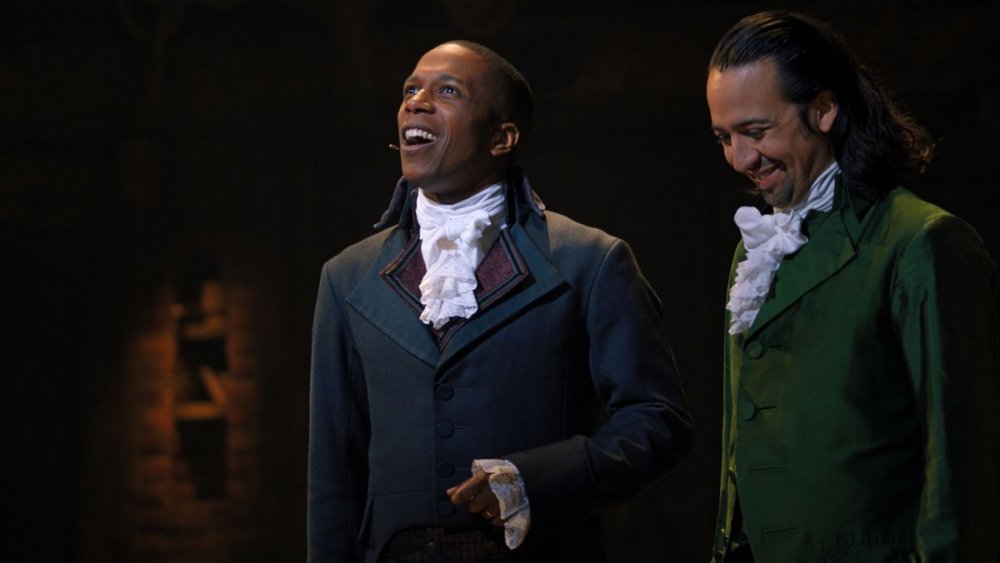 Disney+
After watching Hamilton, you'll come away knowing just how much this Founding Father produced during his lifetime, which is a very real detail about Alexander Hamilton. Throughout his nearly 50 years on Earth, Hamilton wrote an astounding number of important political documents; as Hamilton specifically notes, he wrote 51 of the 85 Federalist Papers with little to no help from anyone else.
Throughout the show, several characters — including Burr and Hamilton's wife Eliza (Philippa Soo) — ask Hamilton why he writes like he's running out of time. This is a reference to the real Hamilton's tendency to write anywhere and everywhere. The politician even had a writing desk specifically meant for use on horseback, a fact mentioned in PBS' 2016 documentary about the musical and its real history.
Hamilton never answers his wife or his nemesis' question, but the answer seems clear: Writing is Hamilton's salvation and his true legacy — from the time he "wrote [his] way out" of poverty and strife in his childhood, the time he wrote Eliza love letters until she married him, or the time he helped craft the United States of America with his carefully considered words.
"Nobody needs to know."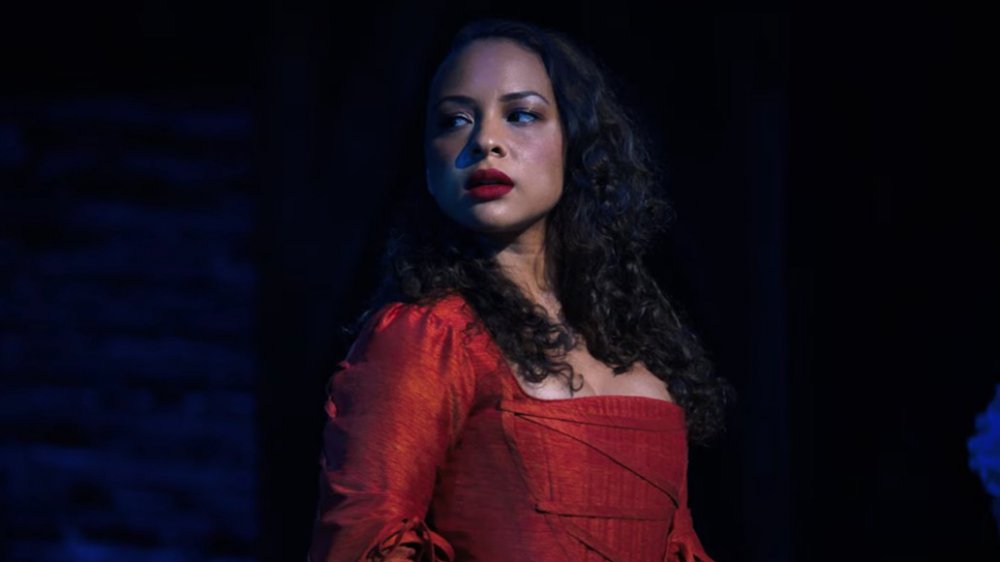 Disney+
Hamilton is packed full of references to hip hop and rap legends like Tupac Shakur, Destiny's Child, Notorious B.I.G., and more, but unless you're really into musical theatre, you might miss some of the smaller references to classic musicals. Aside from small quips, like when Washington says he's the "very model of a modern major general" in a nod to The Pirates of Penzance, one of the biggest musical theatre references in Hamilton comes at the end of "Say No to This," a song about Hamilton's marital infidelity.
After Eliza and her sister Angelica (Renée Elise Goldsberry) retire to the countryside for the summer, Hamilton finds himself buried in work. He's at a breaking point when he meets Maria Reynolds (Jasmine Cephas-Jones), a young woman who lures him into her bed. Though Hamilton swears he won't see Maria again, he does. 
Eventually, Hamilton gets a letter from James Reynolds (Sydney James Harcourt), Maria's husband, who demands regular payments or he'll reveal Hamilton's infidelity to Eliza. Struck by his own mistakes, Hamilton pauses before replying, "Nobody needs to know" — a line and tune lifted from Jason Robert Brown's musical The Last Five Years. According to Miranda, while he was writing the song for Hamilton, he contacted Brown directly to ask if he could use the line. Obviously, Brown consented, providing the perfect button for this emotionally charged number.
"I imagine death so much, it feels like a memory."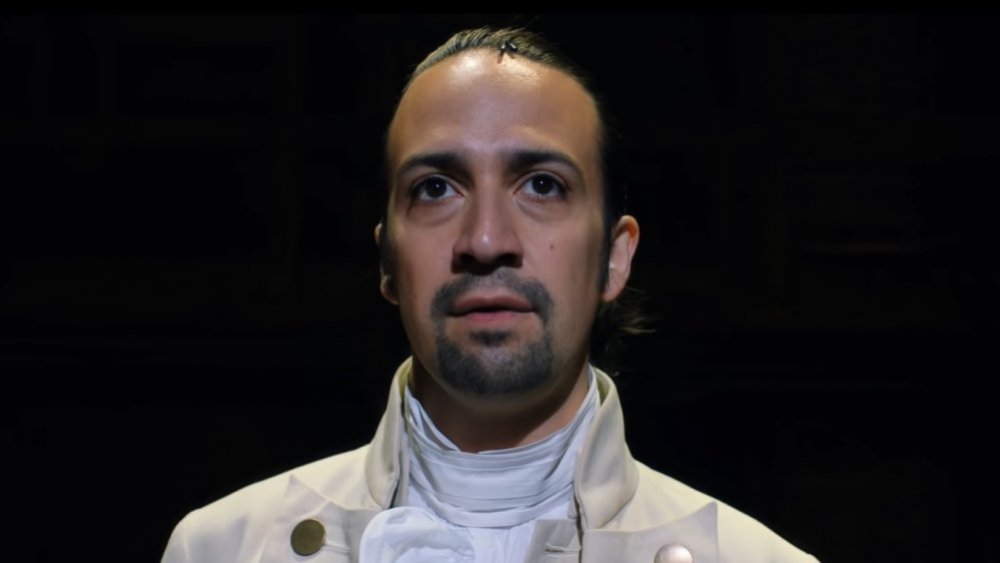 Disney+
If you're not familiar with the end of Hamilton's story, after years of political battles and feuding, the Treasury Secretary dies when Burr guns him down during a duel. In the musical, as Burr fires his fateful, final shot — even with Hamilton aiming his pistol at the sky — the moment slows for a final monologue from Hamilton himself. That song opens with a poignant refrain: "I imagine death so much, it feels like a memory."
This line repeats throughout several different moments in Hamilton, including during "My Shot" and "Yorktown (The World Turned Upside Down)," when Hamilton faces his own mortality for the first time. The concept of death is a constant for Hamilton, who has clawed his way out of dire situations time and time again. However, as his life actually ends, Hamilton is helpless in the face of death, realizing that he can join his mother, his son, and Washington on the other side. As his monologue concludes, Hamilton urges Eliza to take her time in joining him — becoming a memory himself as he sustains a life-ending injury at Burr's hands.
"Who lives, who dies, who tells your story?"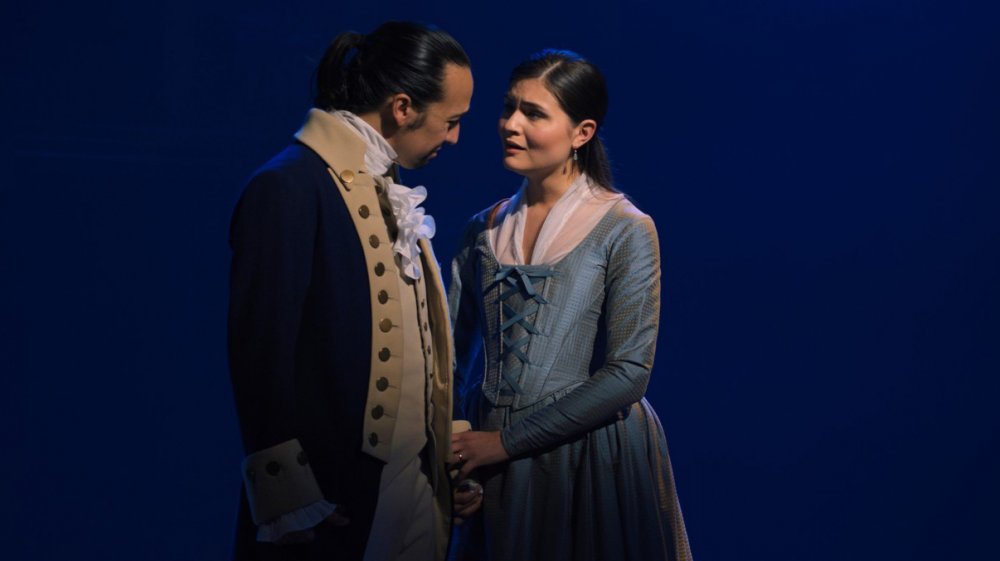 Disney+
Considering that the musical ends with a song entitled "Who Lives, Who Dies, Who Tells Your Story," it should come as no surprise that this epithet is one of the most vital lines in all of Hamilton. After Burr fatally shoots Hamilton and ends the previous song by noting that he's now the "villain in your history," Hamilton turns the spotlight back to Eliza, who "puts [herself] back in the narrative" after remaining largely absent in the wake of her husband's public scandal.
Eliza notes that she lives "another 50 years" after Hamilton's death — in real life, Eliza Hamilton lived an astonishing 97 years before dying — and tried to accomplish everything he worked towards, including speaking out against slavery, raising money for the Washington Monument, and poring through her husband's "thousands of pages of writing" to try to craft a comprehensive timeline of his life. In these final moments, it becomes clear that Eliza's work and story are every bit as important as her husband's. As the musical comes to a conclusion, the line also reinforces that when it comes to one's legacy, they may have to depend on the people in their life to share their story when they're gone.
If you want to peruse Hamilton once again to catch these important lines, the musical is streaming exclusively on Disney+.