The Handmaid's Tale Producer Says 'Anyone Could Die' In Season 2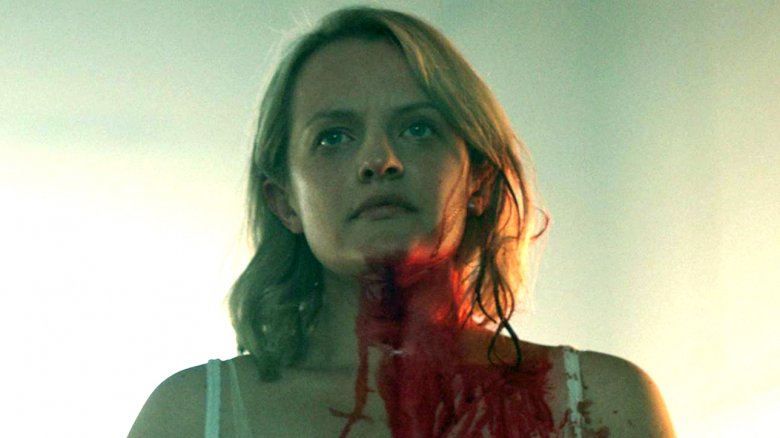 Hulu
It's not always a good idea to get attached to any one character on The Handmaid's Tale, but it'll be even riskier in the upcoming second season.
Executive producer Warren Littlefield ominously told Entertainment Weekly at this past weekend's PaleyFest that "anyone could die" during season 2. Of course, that's always sort of a given with the show set in a violent dystopian future, but you get a sense from the first teasers and photos that the new season will be especially brutal.
Plot details are still mostly top secret, but we do know a few things about what's to come. The first season reached the conclusion of Margaret Atwood's book that the acclaimed Hulu series is based upon, so season 2 will begin to answer questions that aren't covered in the novel. For one: where is Offred (Elisabeth Moss) being taken?
"It was a chance to explore what my initial reaction was to the book, which was, 'Oh my gosh, what happens next?'" said showrunner Bruce Miller. "Certain books you really feel like the end of the story is the end of the story. Here, you almost feel like the book is the beginning of the story. So we really tried to follow our own curiosity and follow what we think is cool in the book that we didn't get the chance to explore."
Miller also said that Atwood is "very involved" with the show and excited to let the producers go beyond what she originally wrote.
"She was happy for us to have our own plan," Miller said. "So that kind of encouragement really helps, when you have an author who we respect and love to have as part of the process, to have her blessing on our continuation of her world gives you a large amount of freedom and takes a lot of that pressure off. I think a lot of that pressure is worrying about making people mad, because I don't know about you, but I don't want Margaret Atwood mad at me."
Some of the new aspects to be explored include life in the Colonies (which will be featured in the second episode of season 2), and flashbacks to reveal how Gilead came to exist. "'How did this happen? How did we go from what looks like America to Gilead?'" Littlefield said.
Still, there's plenty of drama going on during the show's present day. It was revealed in the season 1 finale that Offred is pregnant and her daughter Hannah is alive, which means she has renewed determination to survive. "The theme of motherhood is very, very powerful and important for year 2," Littlefield said. "[Offred] seeks freedom for herself, for her unborn child, and for Hannah. In this explosive volatile chess game of season 2, all of her moves are about Hannah and her unborn child and what the future will be for that child. Motherhood permeates the entire year."
The second season will also include flashbacks of Offred's mother, played by Emmy winner Cherry Jones, while and introduce Clea DuVall as the pre-Gilead wife of Emily (Alexis Bledel). The last time we saw Emily, she was being sent to the Colonies, where she'll be joined by Janine (Madeline Brewer). 
We'll find out much more when The Handmaid's Tale returns for season 2 on April 25.