The Truth About Ed Sheeran And Lin-Manuel Miranda In The Rise Of Skywalker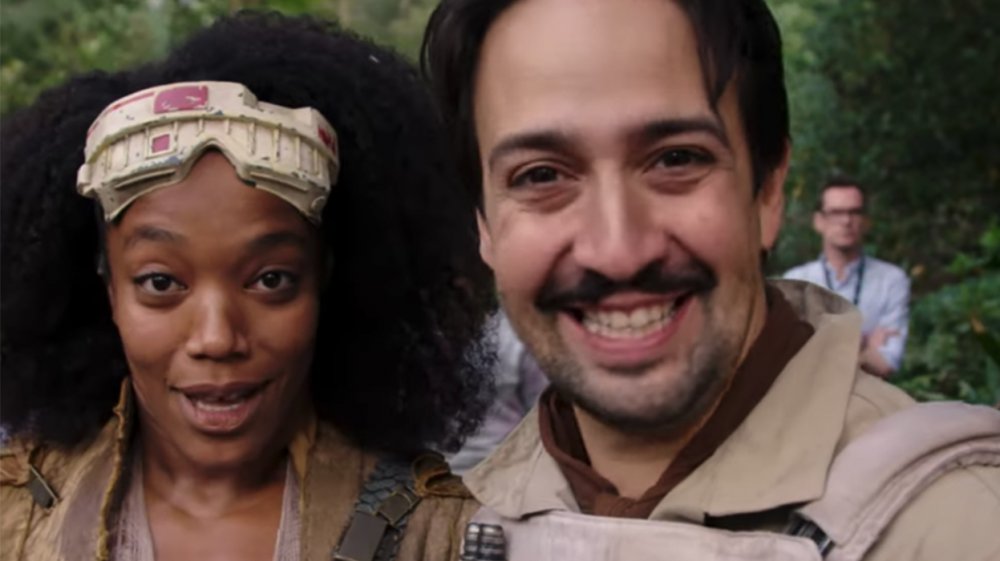 Two of music's biggest stars have been spotted in a galaxy far, far away.
In a video looking back at the rich history of Star Wars, which aired during the 2019 American Music Awards on Sunday, November 24, viewers spotted two familiar faces: Ed Sheeran and Lin-Manuel Miranda.
The ginger-haired, Grammy-winning singer-songwriter and the Hamilton scribe are both shown decked out in full Star Wars regalia: Sheeran is dressed as a Stormtrooper (albeit without the helmet) and Miranda seen sporting a Resistance-style outfit alongside Naomi Ackie, who plays a new character named Jannah in the upcoming film Star Wars: The Rise of Skywalker, out in theaters on December 20. 
So, what's the deal? Are Sheeran and Miranda actually in The Rise of Skywalker? 
While this wouldn't be the first instance of low-key-yet-high-profile cameos in the Star Wars sequel trilogy (the current but on-the-way-out James Bond, Daniel Craig, famously appeared as a helmeted Stormtrooper controlled by Rey's telepathic Force skills in The Force Awakens), Entertainment Weekly reports that representatives from Disney have announced that neither Sheeran nor Miranda will appear in the film. 
Rumors have been swirling about Sheeran's possible role in the Star Wars universe as a dark side baddie for almost a year now, but clearly, Disney either wants to nip that talk in the bud or attempt to keep an appearance from Sheeran a secret until The Rise of Skywalker actually comes out. Miranda's appearance, on the other hand, is more of a surprise; though he previously composed music for the Star Wars sequels (including a spiffy new cantina song), there has been no word — rumors or otherwise — at any point about him appearing in The Rise of Skywalker.
Miranda quickly took to social media to (kind of) confirm that he will not appear in The Rise of Skywalker, tweeting, "I went to visit the set on a day off from Wales and JJ [Abrams, the film's director] threw me in a costume... one of the best days of my life to watch the magic happen but I'm pretty sure I'm not in it." Miranda has been spending time across the pond lately, rather than his home base in New York City, to film the second season of HBO's His Dark Materials. 
Whether or not Sheeran and Miranda were really just goofing around behind the scenes of The Rise of Skywalker or are trying to keep the surprise alive remains to be seen, but in any case, it's heartwarming to see these two Star Wars fans live out their childhood dreams by spending time on this top-secret set.
From Westeros to Wales?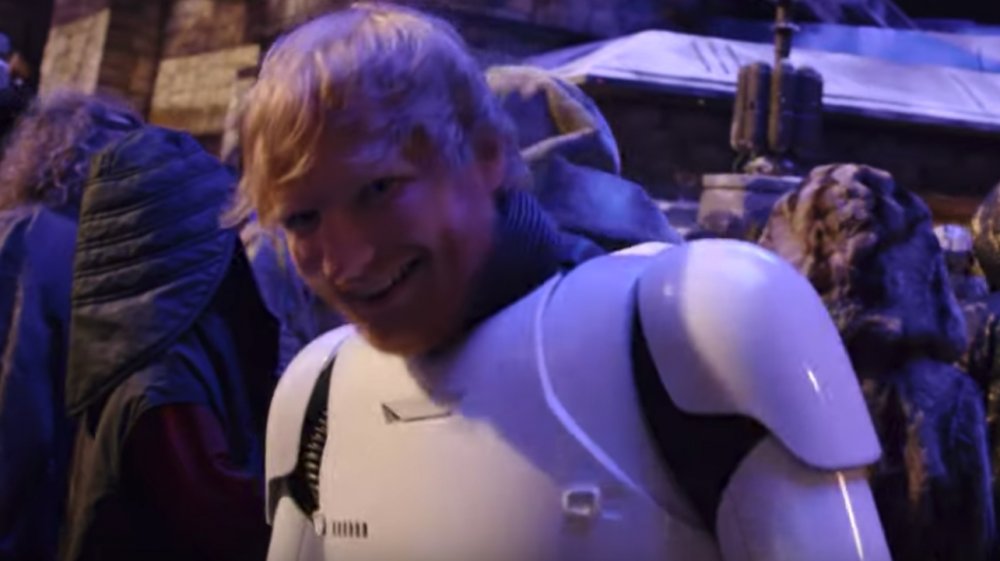 If Sheeran and Miranda do eventually turn up in Star Wars' fantastical universe, it wouldn't be the first otherworldly outing for either star — both of them have popped up in other huge fantasy and sci-fi projects before.
Sheeran made a controversial cameo on the seventh season of Game of Thrones, on an episode in which he played a musical Lannister soldier who runs into a vengeful Arya Stark (Maisie Williams) as she makes her way to King's Landing to, as she puts it, "kill the queen." Many viewers wondered how and why Sheeran scored such an obvious and awkward appearance (that ultimately pushed Sheeran off social media due to backlash)  – and to this day, it remains one of Game of Thrones' most confusing attempts to connect Westeros with modern pop culture. The show even made a joke about it on the final season, saying that the ginger Lannister soldier had sustained some seriously gruesome injuries after his sole appearance, a fate Sheeran hinted at long before Thrones season 8 aired.
For his part, Miranda has been racking up plenty of on-screen appearances ever since he broke onto the scene with musicals like In the Heights and Hamilton, both of which won him tons of Tony Awards as well as worldwide fame and acclaim. After his film debut in 2018's Mary Poppins Returns alongside Emily Blunt, Miranda took to television, and is currently appearing as the friendly-but-intrepid aeronaut Lee Scoresby on HBO's His Dark Materials, filling out a star-studded cast that includes names like James McAvoy, Ruth Wilson, and more.
With resumes like these, it might make sense for Sheeran and Miranda to show up in the world of Star Wars, but ahead of the release of the final film in the long-running Skywalker saga, Abrams and his team have been understandably tight-lipped about super-specific details. However, as the film's release inches closer, fans have received a few tantalizing tastes of what they might be able to expect in The Rise of Skywalker, including some promotional shots that reveal small details while still keeping the film's overall mystery alive. 
In any case, fans can likely rest easy knowing that if Sheeran and Miranda are in the film after all, their cameos will be handled carefully and respectfully — much like Daniel Craig's decidedly unflashy appearance in The Force Awakens.
The Skywalker saga will conclude when The Rise of Skywalker arrives in theaters on December 20.