Rise Of Skywalker Stills Reveal More Than We Thought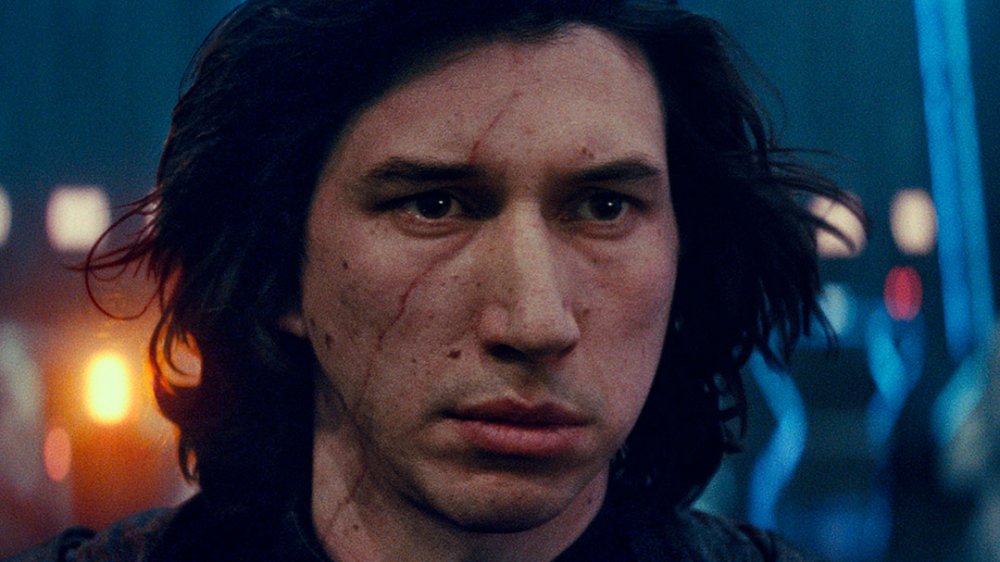 Lucasfilm Ltd./Entertainment Weekly
Star Wars Episode IX: The Rise of Skywalker will soon hit theaters, but Lucasfilm and parent company Disney aren't yet done hitting us with tantalizing teases. 
Entertainment Weekly has published a set of eight new stills from the film, and they are more than a little revealing. Teased in the images are a familiar method of Force training for Daisy Ridley's Rey, the return of a valuable resistance ally, and the appearance of a couple of newcomers to the galaxy far, far away.
Fans are sure to scour every pixel of these images for all they're worth, but we wouldn't count on the House of Mouse giving too much away. Rise of Skywalker promises to be a bonafide cultural event — the conclusion of not only the Star Wars sequel trilogy, but of the nine-film Skywalker Saga, which began with the very first movie all the way back in 1977. Having already pulled off one epic conclusion to a massive cinematic saga this year already with Avengers: Endgame, Disney looks to finish off 2019 by raiding the wallets and yanking on the heartstrings of Star Wars fans the world over — but first, the entertainment megalith would like to set our heads on fire speculating as to what these stills could mean, and how they'll fit into the movie's narrative.
We feel compelled to point out that Disney in general, and subsidiary Marvel Studios in particular, have drawn a bit of online fire in recent years for, well, just straight-up lying to fans with trailers deliberately designed to throw viewers off the scent of certain movies' plots. We suppose it's within the realm of possibility that these stills could be part of a similar secret mission of obfuscation, and we certainly won't blame you for taking with a grain of salt certain narrative elements that they suggest.
With that disclaimer out of the way, let's check 'em out.
The new Rise of Skywalker stills suggest an epic conclusion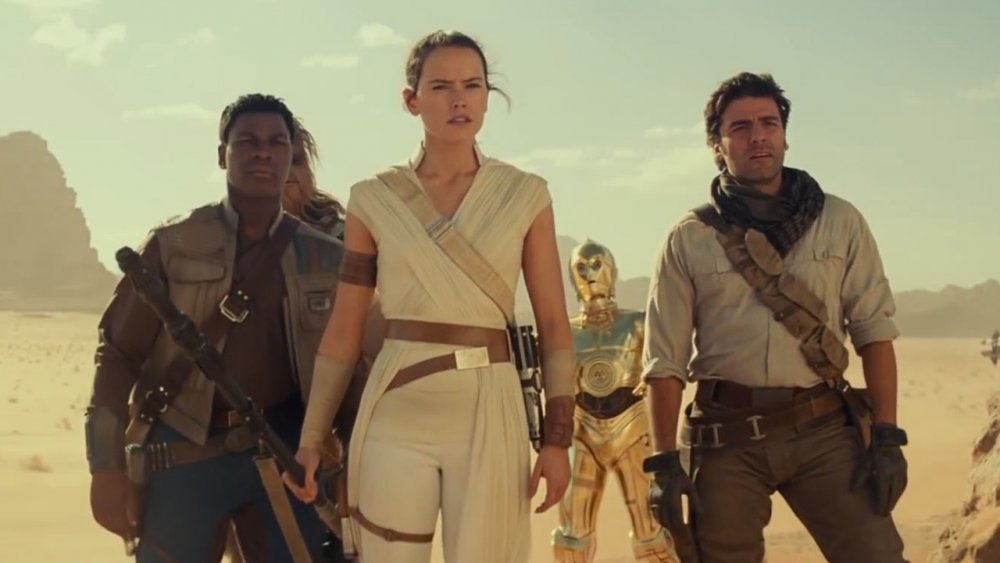 Lucasfilm / Disney
The new Rise of Skywalker images tease a wealth of new settings, new characters (friend and foe alike), and perhaps one more harrowing, stomach-flipping ride aboard the Millennium Falcon. We begin with an image which teases the fact that the First Order's new Supreme Leader Kylo Ren (Adam Driver) will have quite a bit of backup as he faces off against the Resistance forces led by Rey, Finn (John Boyega), and Poe Dameron (Oscar Isaac).
It's unclear whom Kylo is facing off against here, but he certainly looks like he means business — and so does the phalanx of First Order Stormtroopers which we can see assembled behind him. Of course, he won't be the only one looking to tip the scales of light and dark in the galaxy — and a certain young Force-sensitive, with whom Kylo has a strange connection, is looking like she means business as well.
Here's Rey engaging in a time-honored method of honing one's sensitivity to the Force: doing battle with a training remote, the same sort that got in a few good shots on Luke Skywalker early on in Star Wars Episode IV: A New Hope. Here's the question we have: with Master Luke having become one with the Force (see: sacrificed himself to save the day) at the conclusion of Star Wars Episode VIII: The Last Jedi, where did this remote come from? Who, exactly, is training Rey at this point?
Here's one of those new characters we mentioned: First Order Allegiant General Pryde, portrayed by Richard E. Grant (A Series of Unfortunate Events). The character was teased in a set of photos published by Vanity Fair back in May; Pryde apparently serves alongside General Hux (Domhnall Gleason), and it seems likely that the pair will butt heads with Ren as the First Order undergoes a bit of a transitional period after the death of former Supreme Leader Snoke.
Here's Finn with another new face: Jannah, an apparent friend of the Resistance who may or may not be the daughter of Lando Calrissian. She's portrayed by British actress Naomi Ackie, who can be seen in the second season of the acclaimed BBC/Netflix series The End of the F***ing World.
We have a sneaking suspicion that this is more of a set photo than an actual still from Rise of Skywalker, since Rose Tico (Kelly Marie Tran) appears to be looking straight at the camera. Finn and Poe sure look ready for action, though.
Here we see Finn, Chewbacca, Rey, and Poe creeping into what is almost certainly mortal danger, but we submit that the dimensions of this photo are a little weird. They are, in fact, such that it's difficult to tell who is holding the lightsaber: is it Rey, Finn, or Poe?
Well, this is an interesting scene: First Order Stormtroopers accompanied by what appear to be updated versions of the Snowtroopers that mounted the assault on Rebel forces on Hoth during the events of Star Wars Episode V: The Empire Strikes Back. It sure looks like a wintry wonderland in this shot, further indicating that our heroes are going to find themselves pursued all over the freakin' galaxy by Ren's forces.
Finally, here's Chewie, Finn, and Poe apparently encountering one heck of a surprise, and probably not a pleasant one, while piloting the Falcon. What could be going on here? Poe's eyes are the size of dinner plates, Finn's face is full of grim resolve, and even Chewie somehow looks surprised. Something tells us that the trio will be facing down some grim odds in this scene; let's hope Finn and Poe are aware that Chewie, like his old friend Han Solo, isn't fond of being told the odds.
All in all, these new images are pretty spectacular — and while it would be tough to get any more psyched for Rise of Skywalker than we already were, we've got to admit that the old Psychometer has indeed climbed a few notches. Let the debate, speculation, and flat-out arguments about these images commence — but do keep in mind that you don't have very long before all is revealed. Star Wars Episode IX: The Rise of Skywalker finally hits theaters on December 20.