Ed Sheeran Thinks His Game Of Thrones Character Is Dead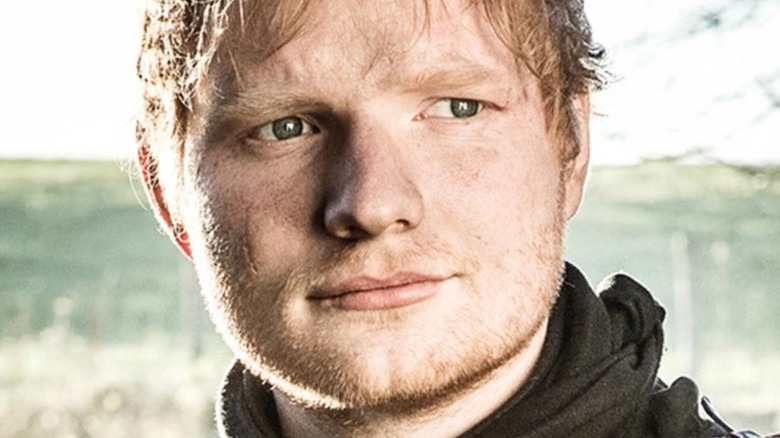 Entertainment Weekly
While fans and critics were roasting Ed Sheeran off screen, dragons were probably burning him to a crisp on screen. 
Speaking with MTV, Sheeran opened up about his cameo appearance as a House Lannister soldier in the season seven premiere episode, "Dragonstone," stating that he believes his on-screen persona ended up a victim of the dragon-doled carnage seen in episode four, "The Spoils of War."
"We were all quite young, those soldiers," Sheeran said of his character and his crew. "I doubt I'm going to survive for that long, to be honest, when there are dragons in the world."
The "Shape of You" singer also hinted that he knows his appearance in the acclaimed fantasy series was a highly polarizing one, and that he understands some Game of Thrones fans wouldn't mind that his character died. "No one wants to see me come back. I wanted to be a cameo in it, and I've done the cameo. I'm cool with it, though. I enjoyed it."
Though news of Sheeran's cameo role was hardly a secret, as it was announced months before the series returned to HBO in July, it still came as a surprise to many, and wasn't exactly well-received. The response was so intense, in fact, that it prompted Game of Thrones director Jeremy Podeswa to come to the singer-songwriter's defense. "He came into [the show] with only lovely intentions to come and do a good job and sing well, so I think that's the only drag," Podeswa explained. "If people didn't know who Ed was, they wouldn't have thought about it twice. The hoo-ha seems to be from things that are outside of the world of the show. In the world of the show, he did a lovely job, and he looks like he belongs in that world."
Sheeran deleted his Twitter account shortly after the season seven premiere aired as well, causing many to believe the move was a direct result of the backlash. However, he denied the speculation, explaining on Instagram that it had nothing to do with his appearance on the show. "Last I'll say on this. I came off Twitter [because] I was always intending to come off Twitter. [It] had nothing to do with what people said about my Game of Thrones cameo, because I am in Game of Thrones. Why the hell would I worry what people thought about that? It's clearly f***in' awesome. Timing was just a coincidence, but believe what you want," Sheeran wrote.
While Sheeran's cameo is one that's hard to miss, and has even become quite infamous, there are a ton of stars whose appearances on the show flew under the radar. Check out the Game of Thrones cameos you probably missed.