Celeb Cameos You Missed In The New Star Wars Trailer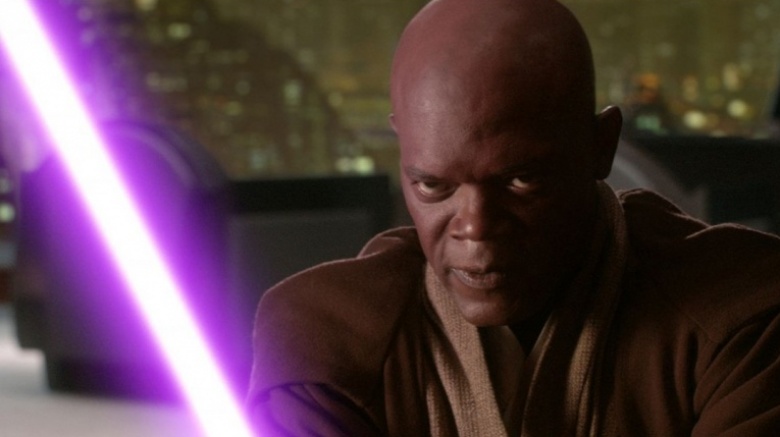 It's a well-known fact that Samuel L. Jackson got the part of Jedi Master Mace Windu in the Star Wars prequels by simply asking George Lucas if he could have a part. One purple lightsaber later, and Jackson scored the ultimate celebrity movie cameo, becoming one of the franchise's most important characters. Well, it seems that J.J. Abrams, director of Star Wars: Episode VII – The Force Awakens, is on plenty of celebs' speed-dials himself. The final trailer for the latest installment in the Star Wars saga is chockablock with celebrity cameos—here are a few "blink and you'll miss it" appearances that you've got to check out right now.
Wilford Brimley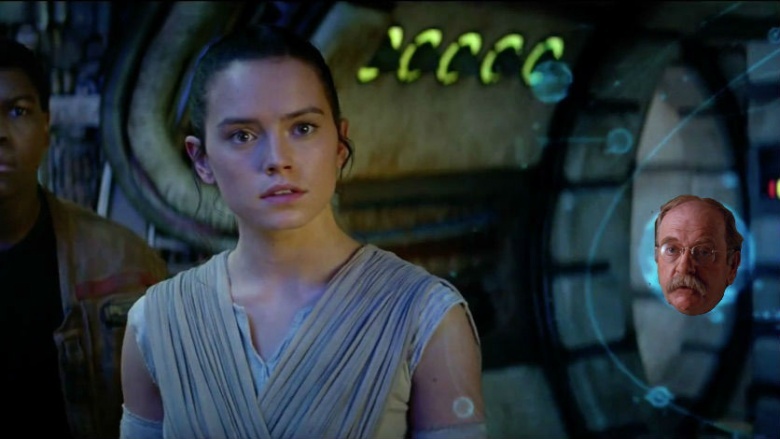 The star of sci-fi classics including Cocoon and The Thing, Wilford Brimley's been out of the public eye for a while now. Well, word has it that he's sick of simply being known as "the diabeetus guy," and it seems that he'll be showing up in The Force Awakens in an effort to revitalize his career. As you can see in the image above, he was spotted in a scene that looks like it takes place on the Millennium Falcon. Perhaps his placement on that holographic planet represents a position of power—maybe a member of the new Galactic Senate?
Arnold Schwarzenegger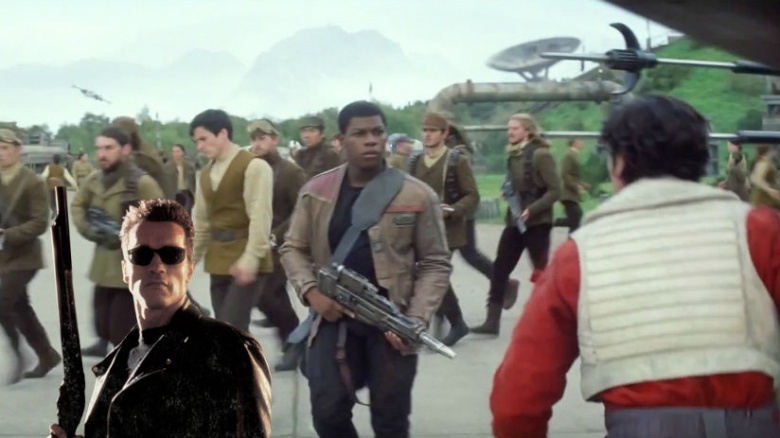 As we've seen from his roles in Terminator: Genisys and Maggie, Arnold Schwarzenegger is officially un-retired from acting—and we couldn't be more thrilled. Now that he's done with politics, we're ready to see Arnold back on the big screen, flexing his muscles, and showing everyone why he was a bankable star for so many years. In the trailer, Schwarzenegger looks to be involved in some kind of impending battle involving both Finn and Poe Dameron, two of the film's major new characters. Arnold probably plays a grizzled general, there to show these new kids how action is done.
Rick Moranis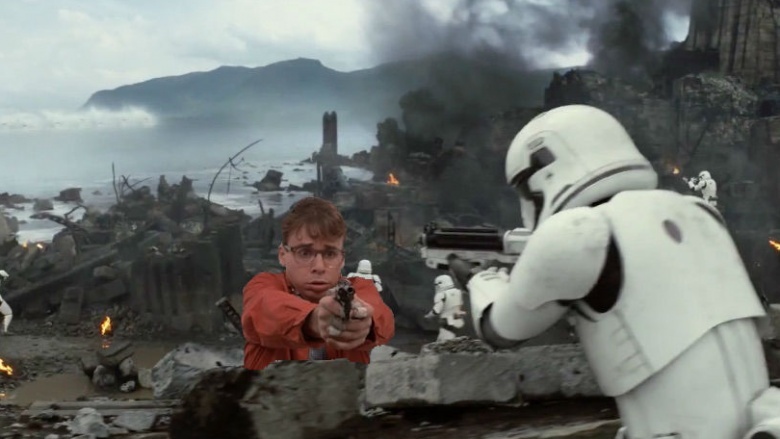 The Toronto-born funnyman has stayed away from acting on the big screen for quite a few years, even having reportedly turned down a small role in Paul Feig's Ghostbusters reboot. Moranis just wants to make sure he takes on the right projects—and it sure does seem like he made the right move by holding out for Star Wars! In the preview, it looks like he's wound up on the wrong end of a fight with a whole bunch of nasty looking Stormtroopers. Watch out, Rick!
Donald Trump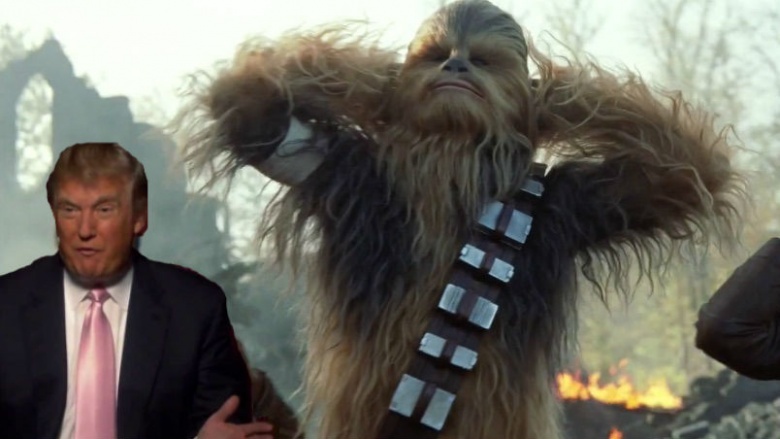 It's no secret that Donald Trump's profile has gone way, way up since he launched his campaign for the 2016 Presidential election. But there's been some major damage along the way—specifically, the Donald's long-running television show, The Apprentice. Not one to rest on his laurels, Trump has ensured his legacy with an exciting role in the new Star Wars flick. As you can see, he's going to play the same type of lovable rapscallion that we've always known him to be, appearing alongside those other two space scoundrels, Han Solo and Chewbacca. Maybe Han wins the Falcon back from Donald on a bet! That's a classic Trump move, y'all.
Justin Bieber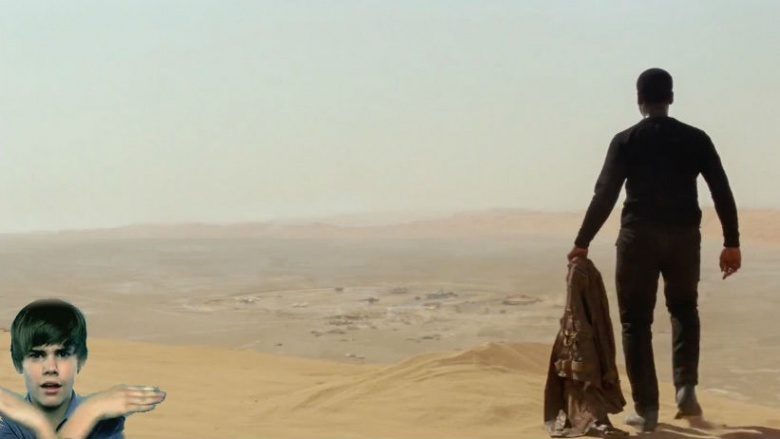 You know him and you love him: Justin Bieber is America's sweetheart. With his awesome dance moves and his beautiful singing, there's literally no one on planet Earth (or any other planets!) who doesn't want more of the Biebs as often as possible. J.J. Abrams knows this, and decided to give him a role in the new Star Wars flick right alongside Finn. Chances seem good that Justin will dance his way across the sand in an effort to show Finn how the galaxy works. And rumor has it that the Biebs may even have a nude scene in the film, apparently inspired by recent photos of him that leaked online. Sure, Star Wars is a Disney film, but we're pretty sure they're ready to take a chance with Justin.
Caitlyn Jenner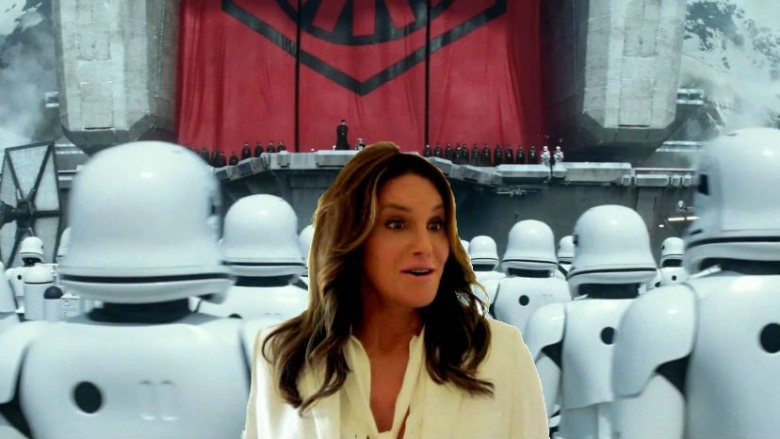 Since the ratings on I Am Cait haven't been as strong as E! had hoped, Caitlyn Jenner is out there looking for new ways to earn a living. Reality TV can only work for so long, right? That's why Jenner is going for longevity, finding her way into the new Star Wars flick. The screengrab we caught from the new trailer seems to indicate that she'll be working with the Stormtroopers in some unspecified capacity. Don't be shocked to see her training them and putting them through intense fitness regimens—this is a former gold medalist, after all!
Jar Jar Binks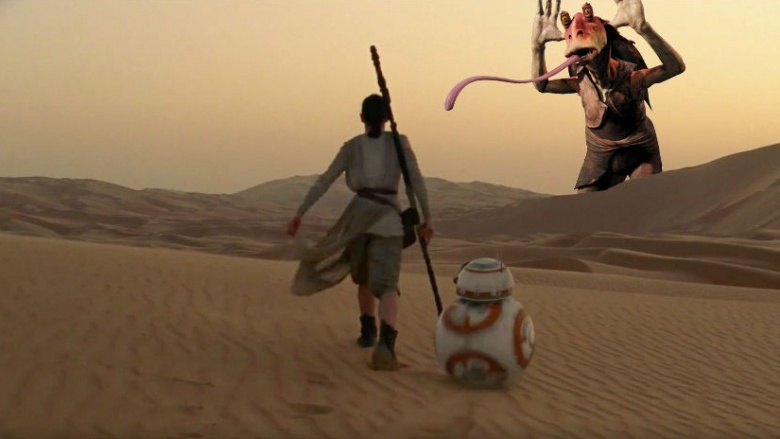 Finally, we get to the celebrity appearance everyone's most excited about—the man, the myth, the legend, Jar Jar Binks. That's right, the breakout character who stole the prequel trilogy (and stole our hearts) is set to make a comeback appearance, but this time as a gigantic, 15-foot sand monster. It's not totally clear yet how he's achieved this transformation, or what he was up to in all the intervening years since we saw him last, but one thing's for sure: fans are going to be completely stoked that Abrams wisely brought him into the fold. Get ready to try this catchphrase out as soon as you can, because it's going to take off like crazy: "Meesa back, b!#%@es!"