The Real Reason Daniel Craig Is Quitting James Bond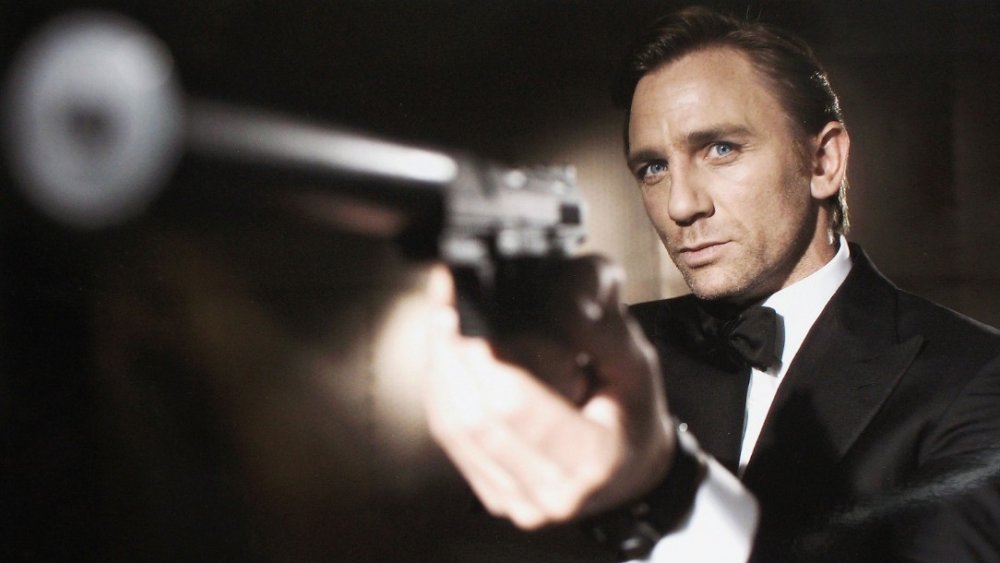 Columbia Pictures
The next chapter in the James Bond saga may be titled No Time To Die, but it appears it is indeed time for Daniel Craig to say his official goodbye to the spy life.
After months — make that years, really — of speculation surrounding his inevitable departure from the franchise, the man who has portrayed 007 on the big screen since 2006's Casino Royale has for the first time confirmed that the next Bond film will be his last. As reported by Esquire, the statement came after an interviewer with German news outlet Express asked Craig point blank if he was finished with Bond after No Time To Die. 
Though the actor has no doubt been asked that question hundreds of times in his almost 15-year run as the suave special agent, he's traditionally dodged it altogether. Perhaps feeling that the time is finally right to make it official after recently wrapping producing on No Time to Die, Craig this time answered with a simple, "Yes — someone else needs to have a go."
Again, the news will hardly come as a shock to most Bond fans (like many, we were frankly a bit surprised he came back for this new film), but it is indeed the first time Craig himself has confirmed that he's done with Bond. Just in case there was any question as to whether he might consider a return to the franchise in the director's chair, he quickly put that notion to bed, as well. 
"For God's sake, no! I want to come home, eat something and then go to bed," the actor said. "If you're a director, then at night you're still with the producers, screenwriters, and what do I know on the phone. And then after two hours of sleep, you have to go back up to the set. No thanks!"
Though steadfast fans of the franchise will certainly be sad to see Craig leave his signature role behind, they'll also be quick to admit that the actor's run as Bond has been very hit-or-miss to date. While he certainly brought more gravitas to the role than many previous Bonds, the franchise's creative team has often let the actor down. 
In 2006, Casino Royale took a fascinating new approach to the world of Bond, with Craig delivering an unexpectedly personal take on the role, and director Martin Campbell bolstering the film's immediacy with a more gritty approach to the action. Sadly, the 2008 followup Quantum of Solace squandered much of Casino Royale's ingenuity by delivering a bloated Bond story empty of emotion or intrigue. 
Expectations were again heightened for 2012's Skyfall, mostly because American Beauty helmer Sam Mendes was directing the film. Mendes and company more than delivered the goods with Skyfall, unquestionably one of the best James Bond movies ever — but even that team dropped the ball in a major way when they returned for the abominable snore-fest that was 2015's Spectre.
Still, there's legitimate hope that Craig will be able to leave the franchise on a high note with No Time To Die. The film sports formidable behind-the-camera talent with indie auteur Cary Joji Fukunaga (True Detective season 1) shepherding the action, and Killing Eve and Fleabag mastermind Phoebe Waller-Bridge having touched up the screenplay. Meanwhile, Craig will be joined on screen by Bond newcomers Rami Malek (Bohemian Rhapsody) and Ana De Armis (Blade Runner 2049), with the likes of Ralph Fiennes (the Harry Potter franchise), Léa Seydoux (The Lobster), Naomi Harris (28 Days Later), Jeffrey Wright (The Batman), and Christoph Waltz (Inglorious Basterds) all set to reprise their roles from previous Bond efforts. 
Who should step into the role of James Bond now that Daniel Craig is stepping away?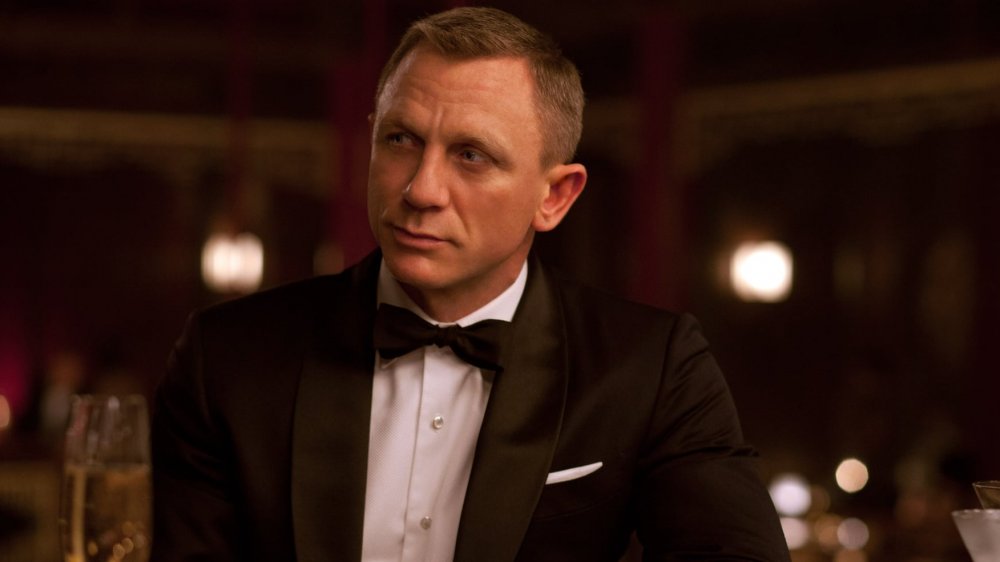 Columbia Pictures
Of course, in the world of 007, the only role that really matters is that of James Bond himself. As Daniel Craig has now made his imminent departure from the world of Bond official, we can finally get down to the complicated business of trying to figure out who will step into the finely tailored role of cinema's favorite debonair-yet-deadly spy. Here's a short list of actors who may or may not become the next James Bond.
Idris Elba
Yes, we'd absolutely love to see a person of color step into the coveted role of James Bond — and if there ever were ever any actor worthy of the role, it is the inimitable Idris Elba, who has long been seen as one of the most compelling British performers around. His dashing good looks and crackerjack wit would also seem to make him an ideal fit for the part — so much so that fans have been beating the drum for Elba to take over the role of Bond for the better part of the past decade. While there's clearly a good chance Elba would get some serious consideration to take over as Bond, his chances might be hampered by the fact that as recently as earlier this year, he's said that he probably wouldn't take on the role. (via Daily Mail)
Henry Cavill
In a recent interview with Men's Health, Henry Cavill let slip that he was very much in the running to play Bond when Martin Campbell was casting Casino Royale. Unfortunately, it seems the now beyond-ripped actor was deemed a little too pudgy for the part back then, eventually coming in second to Craig. The years since have seen Cavill become a known Hollywood commodity thanks to his breakout role as Superman in Man of Steel, and his turn as a duplicitous CIA agent opposite Tom Cruise in Mission: Impossible — Fallout. Still, his dramatically raised profile hasn't quite made him a household name (so much so that most American audiences don't even know he's actually a Brit). He was on the short list in 2006, so it wouldn't be all that surprising to see Cavill finally become Bond.
Richard Madden
In terms of under-the-radar picks, former Game of Thrones star Richard Madden would seem to fit the bill to a T. After his character's unforgettably brutal dispatching from GoT in 2013, Madden has kept a relatively low profile professionally, recently getting back on the public radar with winning turns in Netflix's action series Bodyguard and the Elton John biopic Rocketman. While Madden certainly has the chops and the training to take over as Bond, he's recently claimed his first role in the Marvel Cinematic Universe, and is currently preparing to appear opposite Angelina Jolie in the upcoming Eternals movie. Needless to say, his MCU commitment will likely mean that Madden's free time is very much in question for the foreseeable future. 
Tom Hardy
Look, we're not gonna waste a lot of time trying to convince anyone why Tom Hardy is such a solid fit for the role of James Bond. If you've seen the actor in pretty much anything over the years, then you already understand beyond a doubt that he's suave enough, tough enough, and skilled enough as an actor to play the part. Still, one has to wonder whether or not Bond would be intriguing enough a character for Hardy to really be interested in climbing aboard the 007 train. It could happen, but we'd honestly be a bit surprised if Hardy stepped into the role. Besides, he's already got a franchise in the works with Venom.
Nicholas Hoult
Speaking of fresh faces, if Bond producers are looking to go younger when they recast the role, they'll almost certainly look at the chiseled features of Nicholas Hoult. Not only has Hoult established himself as one of the more skilled actors of his generation since breaking onto the scene with 2002's About a Boy, he's also become one of those versatile types who is just as effective in no-budget indie fare (A Single Man, Equals) as he is in the realm of blockbuster bombast ( X-Men: Days of Future Past, Mad Max: Fury Road). So yeah, Nicholas Hoult is British, he's devastatingly handsome, he looks good in a tux, he's accomplished, and he can handle himself in a big budget action piece. He's also an actor who is decidedly not too big for the role. Call us crazy, but it seems like he's checking all of the Bond casting boxes.
Naturally, there are still a million or so other actors who could potentially step into the role of Bond, and there's always a chance that producers could go with a complete unknown this go-round, too. For now, all we really know is that the hunt has officially begun to find the next 007, and that we should all relish the chance to see Craig don the tux one last time in the role that made him a major star. 
No Time To Die will hit theaters on April 8, 2020.