Will Yellowstone End After Season 3?
Yellowstone season 3 is already on the way, but will it be the series' last?
Fear not, fans — it sounds like lead actor Kevin Costner is revving up to reign over Big Sky Country's most coveted ranch for many years to come.
Only two seasons into its run, the soapy, modern-day Western series Yellowstone has already made quite the name for itself in cable land. Not only is the Taylor Sheridan-created series breaking the mold for what a modern Western can be, but it's also becoming one of the most-watched shows on cable television. Many thought Yellowstone might be a limited run series when it donned on Paramount Network in the summer if 2018 (much like Paramounts' critically adored Waco), but the network surprised fans with a second season that saw the dude ranch drama raise the bar in terms of scope, narrative, and yes, melodrama. 
So impressed were Paramount executives by the second season of Yellowstone, they actually green-lit the third seasonthe very day the second premiered. With season 3 heading into production, new stories and fresh faces are officially on their way. While we wait to see what Sheridan and co. have in store for Yellowstone season 3, the question on most fans' minds now becomes this: "Will Yellowstone end after the upcoming third season?" 
Rest assured that Costner and the rest of the Dutton clan won't be leaving the airwaves anytime soon.
Per a recent interview with the folks at Deadline, Paramount Network's President of Development and Production Keith Cox assured fans that season 3 of Yellowstone will be "great and even bigger than season 2." When questioned about whether or not the show would run beyond its upcoming third season, he offered even more encouraging news, stating, "There is a life span; Taylor has an ending, he knows how he wants to wrap the series with a satisfying ending for the family over many seasons."
How many seasons of Yellowstone will there be?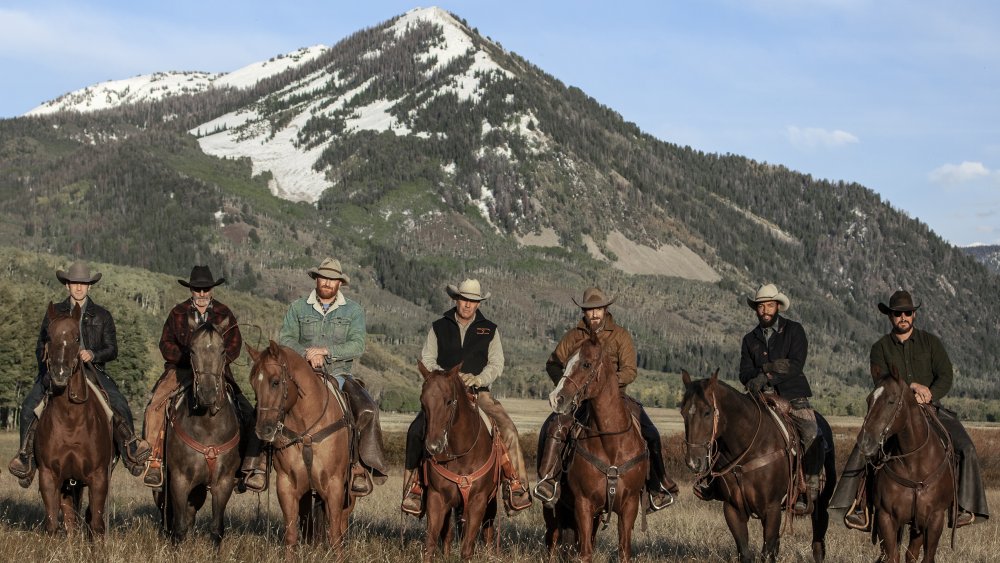 That'll be more than welcome news to the ever-expanding Yellowstone fanbase. If you're not yet among them, Yellowstone centers around Costner's John Dutton, the paterfamilias of a family that owns the largest independent ranch in America. As the Dutton Yellowstone Ranch shares borders with both the titular national park and the Broken Rock Reservation, it's constantly under attack from dirty politicians, greedy land developers, and billion-dollar oil and lumber operations. Willing to fight tooth and nail against outsiders (and even amongst themselves) to keep what's theirs, the Duttons have faced many trials and tribulations over the first two seasons of Yellowstone. And it's been confirmed they'll keep fighting for at least a few more years. 
What's particularly intriguing about the "many seasons" part of Cox's statements isn't just that Sheridan already seems to know how he wants to end Yellowstone, but also that he seems to have a good idea of when. If Cox is to be believed, the "when" in that equation may be a lot further down the road than anyone could've expected. Though neither Cox nor Sheridan will confirm the exact timeframe for when Yellowstone will end, Cox did mention that the pair are already planning out season 4's narrative, and that the series itself could run for as many as seven full seasons.
Given Yellowstone's impressive ratings and its status as the flagship series for Paramount Network, that news in and of itself is hardly surprising. Even less so when you factor in the level of talent involved. Beyond the big names like Kevin Costner and Taylor Sheridan, Yellowstone features stellar work from lauded stars Kelly Reilly (Sherlock Holmes), Luke Grimes (True Blood), Wes Bentley (American Horror Story), Cole Hauser (2 Fast 2 Furious), Gil Birmingham (Wind River), and Danny Huston (HBO's Succession). Season 3 is set to add to that stacked cast Josh Holloway (Lost), Q'orianka Kilcher (The New World), and Eden Brolin (daughter of Avengers: Endgame's Josh Brolin).
It's interesting to think about a seven-season run for Yellowstone from a financial standpoint. The show already has big-budget aspirations (Costner alone is reportedly raking in $500,000 per episode), and the expensive look and feel of Yellowstone play an enormous role in what's made the show such a joy to watch. Will Paramount Network have the dough to keep Yellowstone going for such a long run? Can Sheridan and his creative team can keep the Yellowstone profits train running long enough to ensure they get to the finale they're currently planning? It's highly likely, especially as the series continues to build viewership. 
If nothing else, Yellowstone is always gorgeous to gaze upon. And hey, if you happen to get a little low-grade cowboy melodrama while you're gazing, well, there's nothing really wrong with that, right? 
However you answered that question, just know there's plenty more Yellowstone goodness to come. The cast will indeed saddle up to ride the gilded Yellowstone plains for the foreseeable future. Yee-haw, everybody!