Rumor Report: Will Morbius Connect The MCU And SUMC Through Spider-Man?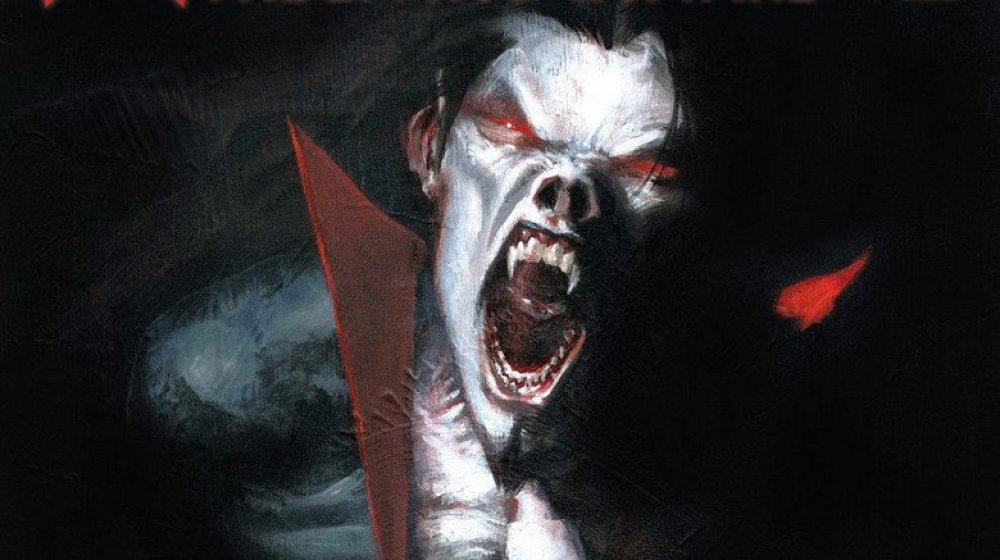 Marvel Comics
Can one Living Vampire bring together two cinematic universes?
A recent report by the rumor-mongering website We Got This Covered asserts that the upcoming Jared Leto starrer Morbius will connect the Marvel Cinematic Universe and the Sony Universe of Marvel Characters with a cameo from Tom Holland's Spider-Man.
Before we begin, it should be noted that WGTC's "inside sources" are notoriously hit-and-miss, and as of late, they have fallen down pretty firmly on the "miss" side of that equation. Having said that, this report would be pretty exciting if accurate, as it would essentially confirm that the MCU and SUMC are one and the same — and also because Peter Parker wouldn't be the only significant character making an appearance.
According to the report, Parker won't actually be seen in person, let alone in action, during the events of Morbius. Instead, he'll be featured in a news broadcast, as Leto's Dr. Michael Morbius (whose attempts to cure himself of a rare blood disease instead imbued him with bizarre, vampire-like superpowers) is being interviewed for a segment. The interviewer? None other than J. Jonah Jameson, who appeared at the conclusion of the MCU-set Spider-Man: Far From Home.
In that film, Jameson was seen ranting on his DailyBugle.net video blog about (what else) the Spider-Man menace, presenting doctored footage which made it appear as if Spidey had not only been behind the elemental attacks that drove the movie's plot, but had also murdered the real culprit, Mysterio (Jake Gyllenhaal). Through said footage, Jameson outed Parker as Spider-Man to the entire world, setting up a heck of a cliffhanger to be resolved in the wall-crawler's upcoming third MCU solo flick.
If this report is correct, it's pretty likely that Jameson will still be in the Spidey-bashing business in Morbius — meaning that not only could the movie serve to merge the two universes, but it could provide a bit of connective tissue between Far From Home and the as-yet untitled third Spider-Man film, which will almost certainly see Parker attempting to clear his name while dealing with some new threat. (All while Jameson antagonizes him from the sidelines, as he is wont to do.)
It all sounds pretty cool, and it would be a neat way to bridge the gap between the MCU and SUMC if it's true. So... is it?
Will Morbius really bring the two universes together?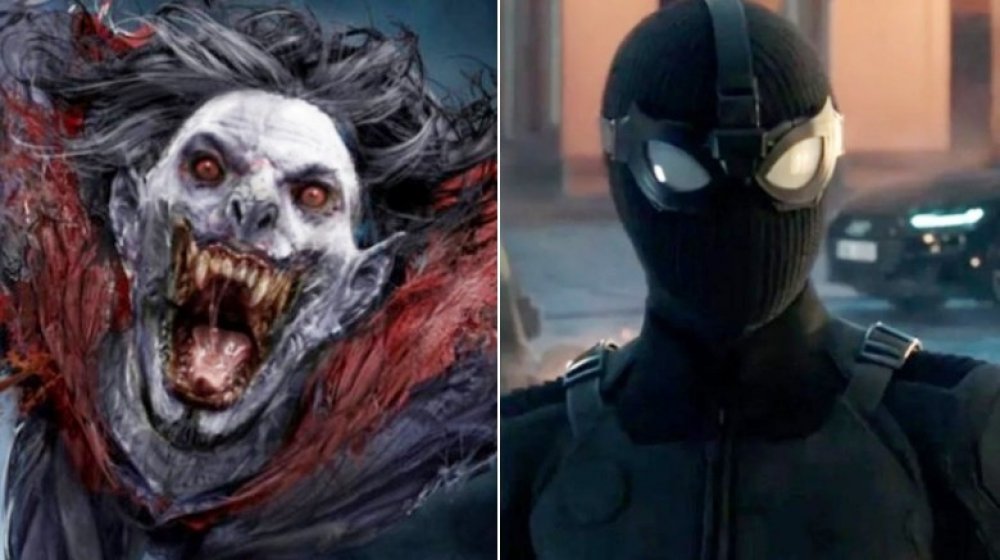 Marvel Comics/Sony
Well, we are of the opinion that it would definitely best serve the fans to merge the MCU and SUMC, bringing Tom Hardy's Venom, Woody Harrelson's Carnage, and Leto's Morbius into the same universe with their web-slinging nemesis where they belong. Therefore, we would love to believe that there's something to this report — but, unfortunately, we do not.
There are several reasons for this, but let's just start with the fact that Morbius is an unknown quantity for Sony Pictures, and if the studio were going to pick one of its SUMC pictures to facilitate such a significant crossover, it probably wouldn't be the one. Leto's last turn in a comic book film — as the Joker in 2016's Suicide Squad — was about as poorly-received as it gets, and the recent revelations of his grousing to his agents about the very existence of Joaquin Phoenix's smash hit Joker movie has done little to remedy the perception that his undeniable talents may not match up well with the superhero world.
Morbius has been seen as a bit of a gamble from its inception — not only because of Leto's involvement, but due to the fact that the character isn't exactly a household name. (We're being charitable; outside of hardcore Spider-Man fans, literally nobody knows who he is.) Compare and contrast with Hardy's Venom, which featured a near-universally beloved actor as a fan-favorite character, and which consequently took home over $850 million dollars at the worldwide box office.
We think it's safe to say that if a Spidey crossover were brewing at this time, it would almost certainly be happening in next year's Venom 2 rather than Morbius — and for the record, that almost certainly isn't happening, either. That flick is reported to be going before the cameras this month, and we've gotten nary a whisper of Holland's possible involvement.
This leads us to our next point: WGTC and their mysterious sources are thus far the only ones floating this rumor, and that usually does not bode well for the accuracy of any such rumor. When multiple media outlets jump on an unconfirmed piece of news — like, for instance, the entire internet did when Robert Pattinson was circling the role of Bruce Wayne in the upcoming The Batman — then the chances are quite a bit better that there's something to the report. That is decidedly not the case here, and considering that the merging of the MCU and SUMC would be a rather earth-shaking development in the world of entertainment, we find it unlikely that the anonymous sources of a single website — one which doesn't have the greatest track record when it comes to accuracy — are the only ones that know about it.
Finally, consider that despite the fact that Sony and Marvel Studios parent company Disney are playing nice now, the cinematic future of Spider-Man is till very much up in the air. Under the terms of the new deal, we know that Holland is slated to appear in one more Sony-produced, MCU-set solo film, as well as one more Marvel Studios offering — and that's it. If there are any more facets to the deal, they haven't been publicly disclosed. While it is true that involved parties from Marvel Studios head honcho Kevin Feige (who called Spider-Man "the only character with the power to cross cinematic universes") to Far From Home director Jon Watts (who opined that the MCU and SUMC are "[not] so different") have teased a crossover at some point in the future, we have no concrete evidence pointing to the fact that one is in the works right now.
All of which is to say that we're going to have to go ahead and reluctantly file this rumor under "not bloody likely." Hopefully, we'll get some official word about a crossover between or merging of the MCU and SUMC sooner rather than later, and if so, we'll be beating down your door with the news.
Morbius hits theaters on July 31, 2020.