Tom Holland And Marvel Fans React To Spider-Man Returning To The MCU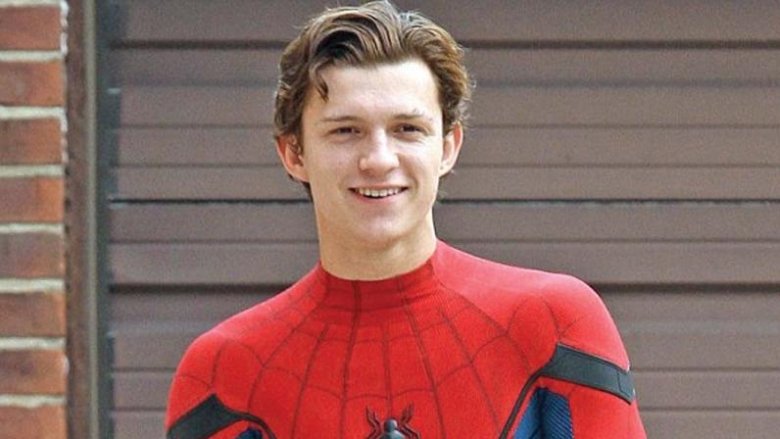 Marvel fans across the globe are celebrating — and Tom Holland is right there with them.
The star of Spider-Man: Far From Home joined the entirety of Twitter in reacting with pure elation to the news that Sony Pictures and Disney, the parent company of Marvel Studios, have reached an agreement to keep the wall-crawler in the Marvel Cinematic Universe.
Before we hear from Mr. Holland — whose reaction to the news was nothing less than pure gold — let's check in with the Twitterverse, and the thousands of fans who have endured over a month of heartbreak as Spidey's future in the MCU has languished in limbo. In recent weeks, the outlook for ol' web-head's potential return has been particularly grim; Sony Pictures chairman and CEO Tony Vinciquerra publicly stated that the "door [was] closed" on re-upping the deal between the two studios, and the recent news that Marvel Studios head honcho Kevin Feige would be hopping across the hall to produce a Star Wars movie left many fans with the impression that he only had time to do so because of the distinct absence of a third Spider-Man movie to produce.
This thankfully turned out not to be the case, and of course, Spidey fans are thrilled. In the immediate aftermath of the announcement that Sony and Disney had agreed to play nice, Twitter absolutely exploded with an outpouring of jubilation from fans and media outlets alike.
Perhaps the most clever post came from CinemaBlend, who posted a short clip of Peter Parker disintegrating in the arms of Tony Stark near the end of Avengers: Infinity War — but in reverse. The caption? "Mr. Stark, I feel good." (We submit that an opportunity was missed with the failure to include an audio clip of a certain James Brown song along with this post, but perhaps that's just us.)
Another ingenious reaction came from user @mrjafri, who posted fan art depicting the famous scene from Spider-Man: Homecoming in which Spidey attempts to keep the Staten Island Ferry from splitting in half using nothing but his webs, super-strength, and sheer determination. In the rendering, the two halves of the ferry are marked with banners featuring the respective logos of Sony and Disney; the caption reads, "Mr. Stark... I did it for you!!"
Of course, the name and image of Parker's late mentor was invoked early and often in all of the reactions, and we're not going to lie: it started getting tough to peruse them all while pausing every five seconds to wipe away tears and blow our noses with powerful, bleating honks. One that really got us: user @AzriiantoTeguh posted a still from Avengers: Endgame in which a dozen different emotions are visible on Stark's face as he embraces his young protege, who had just recently returned from being dusted for five years. The caption: "WE DID IT MR. STARK! WE DID IT SIR!"
User @sebasaga posted a similar still of mentor and mentee embracing with the focus on Parker's face, along with the caption, "Welcome back, kid." Yes, this stuff kind of writes itself, but that doesn't make it any less poignant. 
Some users took a slightly more subtle approach to relaying their emotions, such as @ggiannallaperna, who posted a short clip of Thanos finally relaxing after accomplishing his goal of wiping out half of all life in the universe at the conclusion of Infinity War. Her caption read, "How I feel knowing that order is restored and Spidey is back in the MCU."
Others simply felt like partying, such as user @miasthermopolis, who asked, "SPIDEY STANS, HOW ARE WE FEELING?"  A series of four images followed: Thor: Ragnarok director Taika Waititi raising a glass of wine, Holland looking like his mind has just been blown, Bruce Banner actor Mark Ruffalo swigging from what appears to be a gigantic bottle of champagne, and Holland again looking completely blissed out in front of a background of dozens of multicolored hearts.
Meanwhile, Holland's Far From Home co-star Zendaya chipped in with a low-res GIF of Spidey dancing his webs off — but as fans expected, the single greatest reaction to the best news they've heard in a month came from Holland himself.
The star posted a short clip from Martin Scorsese's The Wolf of Wall Street featuring Leonardo DiCaprio as the notorious stockbroker Jordan Belfort. In the clip, Belfort clutches a microphone and addresses a room full of his peers. He first says quietly, "You know what? I'm not leaving," causing a stir in the room; he then repeats, ever-so-slightly more loudly, "I'm not leaving," and as the room falls dead silent, he shouts, "I'm not f***ing leaving!", causing the entire room to erupt into a torrent of cheers. As everyone present continues to lose their freaking minds, Belfort punctuates his statement with, "The show goes on!"
Holland's post was commented upon by a bevy of celebrities, including Ruffalo, who wrote, "Back in a snap! Had a feeling we would see you again," followed by a green heart emoji. Tony Revolori, who portrays Flash Thompson in the Spidey solo films, commented, "Perfect!" 
But perhaps the best comment of all came from none other than Dwayne Johnson, who summed up the feelings of every Spider-Man fan on the planet today with only two words: "F***. Yes."
We could not have said it better ourselves.