The Best Horror Movies Streaming On Shudder Right Now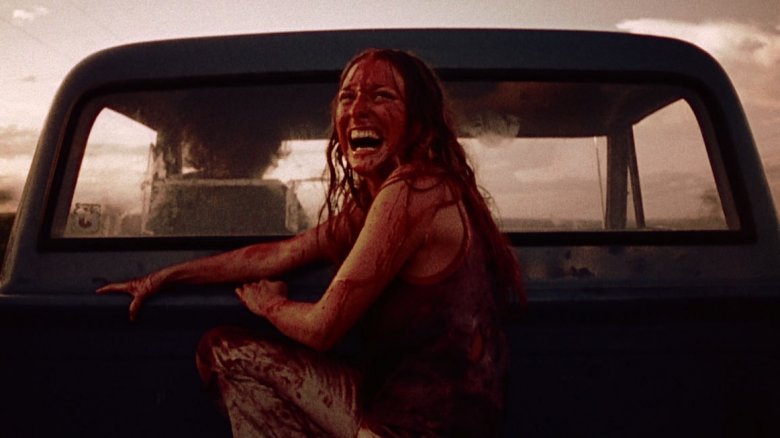 These days, there's no shortage of streaming sites and services out there that are just dying to get their content into our precious little eyeballs. Still, for those of us who have a penchant for exposing those eyeballs to tales of knife-wielding maniacs, ghastly ghouls, and all manner of blood-splattered insanity, pickings can often be a bit slim from one streamer to the next. Luckily, Shudder is here with a genre-centric slate of flicks built to sate even the most monstrous appetite for cinematic bloodletting, and scare the ever-loving s**t out of horror gurus from any generation. 
With a lineup ranging from timeless genre staples (Night of the Living Dead, Halloween) to modern classics (Mandy, Revenge, The Wailing), it's not exactly a challenge to find a winner among Shudder's ever-expanding collection of unhinged offerings. There aren't many stinkers in the mix here. In fact, the bigger problem is knowing where to start.
Feeling overwhelmed? Worry not, because we're here to help you sort through all the virulent vitriol to find the best of the best among Shudder's sinister slate of unholy shockers and psychotic slashers. These are the best horror movies streaming on Shudder right now.
Wes Craven's New Nightmare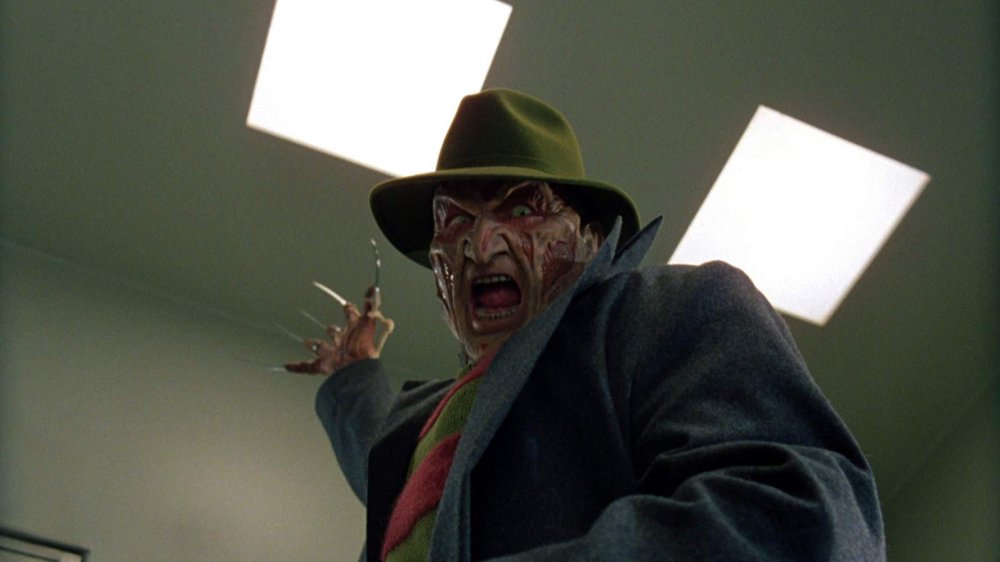 Wes Craven's A Nightmare on Elm Street was instantly hailed as a bold, inventive new addition to the slasher genre with style and substance to burn upon release in 1984. So successful was the film that producers immediately greenlit a sequel. Unfortunately, Craven had little interest in venturing back into Freddy Krueger's ghastly dreamscapes for that sequel. Nor did he sign up to write or direct any of the franchise's subsequent films. A full decade passed before Craven finally returned to Elm Street. When he did, he brought some deliciously manic magic back to the series, and delivered an Elm Street film as refreshingly inventive as the original. 
Some folks even believe Wes Craven's New Nightmare might be the superior effort. While we're not entirely on board with that faction of A Nightmare on Elm Street fandom, it's hard to argue that Craven's marvelously meta New Nightmare isn't at least on par with the original.
Featuring the return of the O.G. Elm Street final girl Heather Langenkamp (appearing as a fictional version of herself alongside Robert England and Craven himself), Craven pits his New Nightmare as a truly horrific "life imitates art" creeper with the words in his latest Elm Street script bleeding violently over into reality. Yes, that means Freddy finally gets to bring his nightmarishly quippy persona into the real world. And yes, that setup is as wickedly ingenious and ferociously frightening as it sounds — all of which makes New Nightmare not just the best Elm Street sequel, but one of the greatest horror sequels ever produced.  
The Transfiguration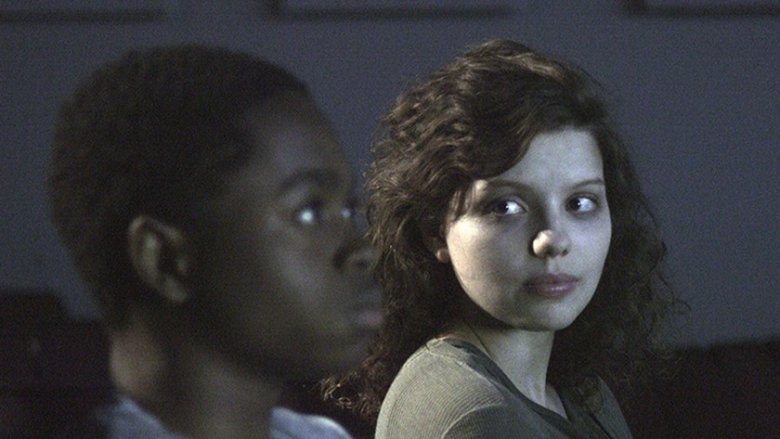 Given the stigma that's generally accompanied the vampire genre since a certain sparkle-skinned seed of night shimmered in and out of pop culture infamy, we'll go ahead and give you a free pass for having likely missed Michael O'Shea's relentlessly bleak, genre-redefining debut The Transfiguration. But please understand that one pass is all you're gonna get, and every single day that you live having not experienced this miraculous no-budget vampire flick is costing you some serious cred in horror circles.
We could not be more serious about that, though we're still a bit hard pressed to describe the film to those who haven't seen it. In short, The Transfiguration follows a desperately lonely young New Yorker with a seriously misguided affection for vampire fiction. Gritty, ponderous, and altogether mystifying, O'Shea's stunning little indie drama is at once a daring, wildly insightful examination of inner city alienation, a torturous exploration of post traumatic stress, a tenderly observed tale of adolescent love, and an obsessive exploration of a fantasy life taken far past the edge of sanity. 
For the record, The Transfiguration is also a gruesome, bloody exploration of urban decay that's wholly unafraid to dwell in scorched shadows and filthy back alleys. Pitch-perfect performances from newcomer Eric Ruffin and up-and-comer Chloë Levine help ground this moody, profoundly unsettling tale in a heightened state of reality that often feels a little too real for comfort.
Hagazussa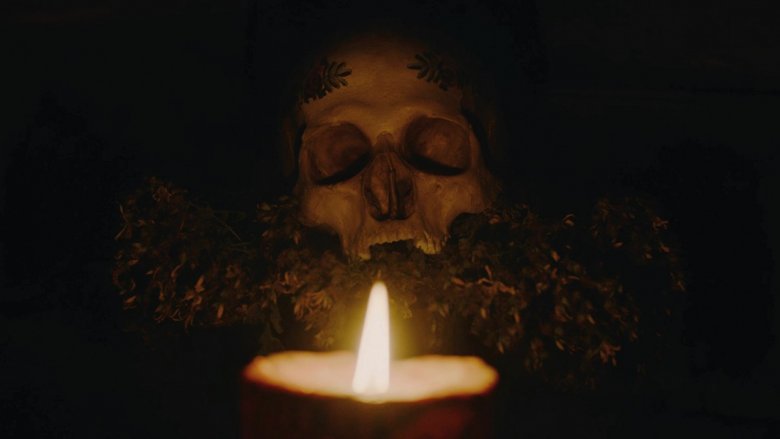 There are horror movies that indulge in the fleeting pleasures of jump scares and blood lust, and those which seek to expose you to things that will unnerve you in ways you didn't think possible — the sorts of things that stay burned into your brain for months and years after you've seen them. Hagazussa is 110% of the latter school, and its soul-shattering blend of brood and mood has already landed it a spot on our list of "Most Disturbing Movies of 2019." If you've yet to experience Lukas Feigelfeld's gothic folk nightmare about an isolated woman struggling to maintain her sanity and raise her infant daughter in the wilds of 15th Century Europe, now's the time to dive in.
Just know that the film's glacial pacing gives new meaning to the term "slow burn." Know as well that Hagazussa's slow-core approach is certain to test the mettle of horror fans who get their kicks from cheap scares and buckets of fake blood. Truth be told, there's hardly an ounce of fake blood to be seen in Hagazussa's 102-minute runtime. We can assure you that what this film lacks in gore-fueled mayhem, it more than makes up for in ominous energy and gothic imagery. We can also assure you that Feigelfeld uses a heavy dose of both to lull you into a trance-like state before bringing the hammer down with a shocking finale that's certain turn the stomach of even the most hardcore horror fan. Consider yourself warned.
Blood and Black Lace
Few horror sub-genres have cast quite as long a shadow as that of Giallo Horror. And yes, in the case of stylized, slasher-centric genre subsets, this is one case where Italians actually do it better, having served up iconic horror fare like Argento's Suspiria, Martino's All the Colors of the Dark, and Fulci's Don't Torture a Duckling. While Shudder rightfully sports one of the more impressive slates of Giallo flicks (including a few of Argento's non-Suspiria classics, and those gems from Martino and Fulci), we'd urge you to forgo revisiting those until you've seen the Giallo entry most commonly credited with birthing the genre.
That flick is Mario Bava's stylish, visually arresting murder mystery Blood and Black Lace. Set largely within the confines of a posh Italian couture house, this crafty, blood-soaked thriller takes a relatively formulaic "whodunnit" narrative about a killer offing models, and spins it into a lustful, savage takedown of the world of high fashion. Along the way, Bava employs all the trappings we've come to regard as Giallo staples — expressive photography, bold use of colors and lighting, a masked psychotic killer with an affinity for leather gloves, and a dose of unabashed sexuality — and almost unwittingly transcribes the formula for Giallo horror as we know it. In doing so, Bava also made a first-rate slasher flick that influenced every genre gem that came after.
The Void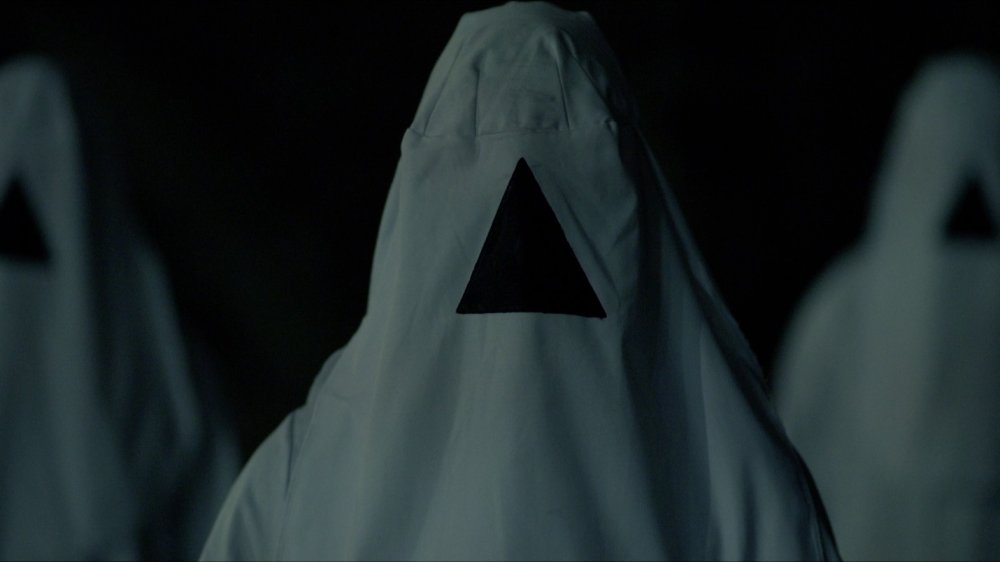 When Jeremy Gillespie and Steven Kostanski unleashed The Void on the general public back in 2017, the film was met with both wild enthusiasm and outright derision by the horror community. Those who loved it were quick to point out The Void's jaw-dropping (often stomach churning) practical effects, its staunch command of mood and tone, and its clear Lovecraftian influences. Those who weren't feeling it were equally vocal about The Void's lack of character and narrative intrigue, and it's too-obvious nods to the otherworldly works of H.P. Lovecraft.
The fact is that both factions are sort of right. Yes, The Void is a deliciously gore-forward slice of genre fiction. Yes, The Void relies a bit too much on special effects set pieces, often at the cost of character development and narrative thrust. And yes, the film is an unabashed nod to occultist Lovecraftian horror that occasionally leans a bit too far into that influence. 
But all that really means is The Void knows better than most horror flicks exactly what sort of horror flick it wants to be. To their credit, Gillespie and Kostanski are happy to let The Void be what it is — an insanely over-the-top, blood-soaked pressure cooker of an occult thriller rife with killer creature creations, some truly eye-popping gothic imagery, and an unapologetically "late-night cable circa 1993" sci-fi horror vibe. All criticisms aside, we'd simply like to offer that if loving The Void is wrong, we really don't want to be right. 
Black Christmas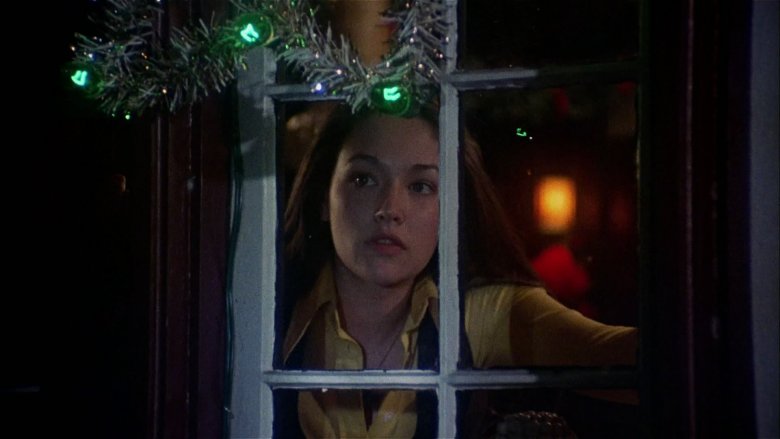 Holiday horror has been a tradition for years, with filmmakers, studios, and streaming services using the concept to reign bloody terror over every holiday from Thanksgiving to April Fools' Day. But back in 1974 — a full four years before Halloween helped make holiday horror legit — that was not the case. So it was that not many people really knew what to do with Bob Clark's menacing holiday slashterpiece Black Christmas upon release. 35 years later, people still don't quite seem to know what to make of Clark's wicked little holiday nightmare. 
That's partly because Clark's name is typically associated with a holiday film he made a decade after Black Christmas — a yuletide charmer about a boy who really, really wants Santa to leave him a carbine-action Red Rider B.B. gun under the tree. Yes, the guy who directed Black Christmas also directed the iconic, family-friendly holiday fable A Christmas Story — though we'd fervently argue that Black Christmas is the better movie.   
It's also widely regarded as one the first full-on slasher flicks — one that finds a bevy of sorority girls (fronted by Olivia Hussy and a never better Margot Kidder) who are being terrorized by a madman over Christmas break. From that classic slasher setup, Clark and screenwriter Roy Moore craft a bleak, breathless, socially-conscious drama overflowing with the sort of shocks and twists you've come to expect from slasher fare — only Black Christmas (and its ingenious, pitch-black finale) is so much smarter.
Starry Eyes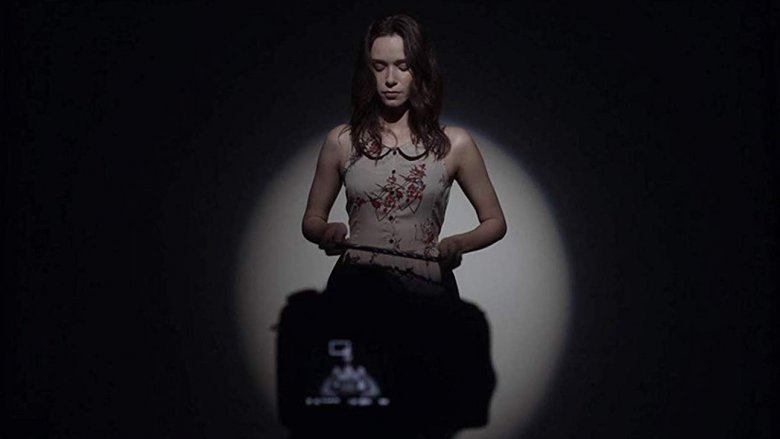 If the past few years have taught us anything, it's that the so called "Hollywood dream factory" is an absolute nightmare for aspiring young actors. Even still, thousands of would-be starlets flock to Tinseltown every year in hopes of becoming the next big thing. Most of them will fail miserably. And those who make it may be forced to sacrifice parts of themselves they cannot get back.
Released in the fall of 2014, Kevin Kölsch and Dennis Widmyer's harrowing Hollywood drama Starry Eyes is a film painfully aware of those facts. As such, it now plays as a near-prophetic piece of horror fiction that — even in its unbridled, brutalistic insanity — somehow doesn't feel like it's all that far off the mark. 
On the surface, of course, Starry Eyes really could not be more realistic, as it follows the talented young Sarah (Alex Essoe in what really should've been a star-making turn) who, on the verge of finally landing her big break, has the proverbial rug pulled by a sleazy producer with ulterior motives. Turns out those motives are far more devious than anyone might've expected — a fact Sarah learns the hard way when she eventually succumbs to his advances. What follows is a ruthless, gore-tastic fever dream that's part body horror nightmare, part occult drama, and part vicious Hollywood satire. All of which likely makes Starry Eyes sound a bit nutty. Believe us when we say it is — and in all the best ways.
Audition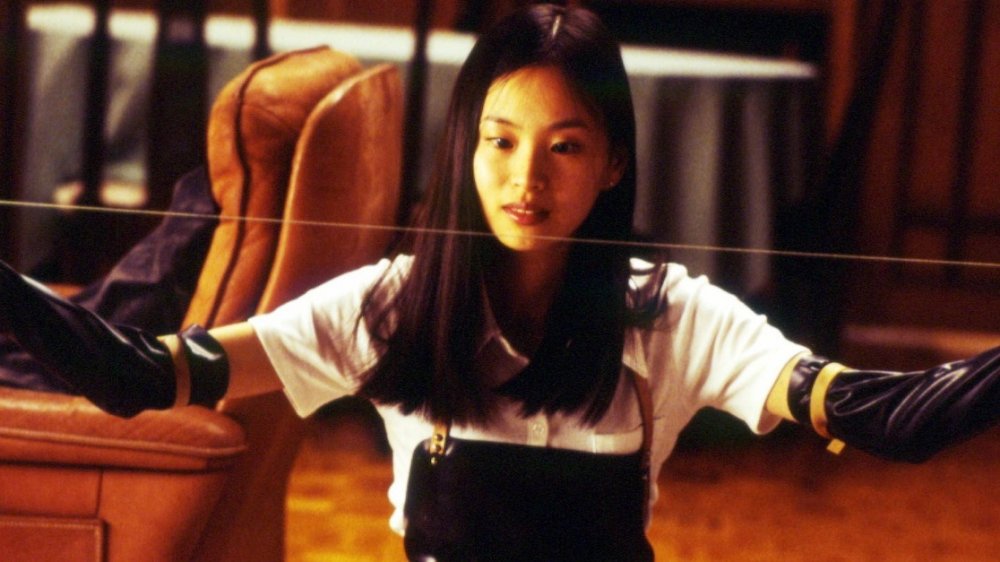 Over the past three decades, Takashi Miike has been one of the most prolific filmmakers on the planet. In that time, Miike has claimed the director's chair on no fewer than 103 film, video, and television projects ranging from hardcore gangster fiction (Ichi the Killer), gonzo spaghetti westerns (Sukiyaki Western Django), and samurai epics (13 Assassins). Of course, the well-seasoned Miike has always had a certain affinity for the horror genre. Thus it was that in 1999, the director delivered one of the most audacious and deeply disturbing offerings the genre has ever seen in Audition.
We're assuming you're already aware of Audition's grisly legacy, if only because Quentin Tarantino has claimed it as a personal favorite, even hailing it as a "true masterpiece." If you've yet to experience Miike's unmercifully tense masterwork, you should know that Audition hardly presents itself as a horror film. In fact, the first half of the film plays out like a hushed, character-driven romantic drama about a lonely widower named Shigeharu taking unusual steps in his search for new love. 
That search involves his producer buddy setting up a fake casting call to screen potential partners. Enter Asami, whose fragile beauty and shy exterior instantly catch Shigeharu's eye. Those features are also masking a seriously sinister side, and once Shigeharu is caught in Asami's web, Audition swings so swiftly and savagely into horror you'll hardly have time to catch your breath or cover your eyes. Trust us when we say you'll want to.   
Darling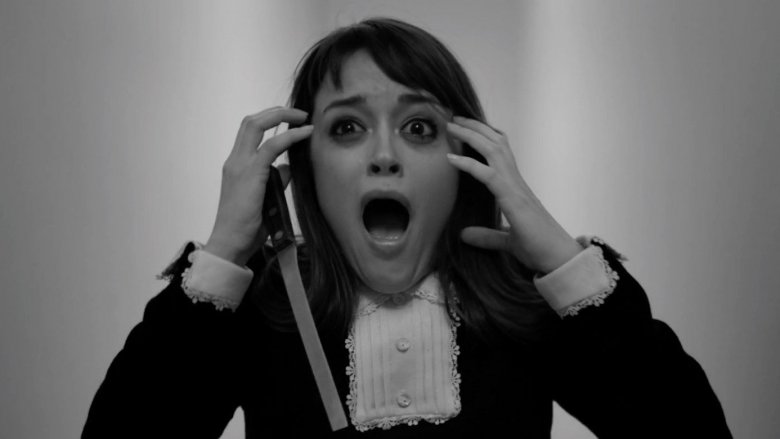 Over the past eight years, writer-director Mickey Keating has quietly crafted one of the more intriguing genre resumes in the movie biz, with a collection of movies as wildly original (Ritual) as they are frustratingly uneven (Carnage Park). 2015 saw Keating release two feature films. The first was a flawed but fascinating family drama/sci-fi confection by the name of Pod. The second was a brooding, black-and-white beauty about a young woman's spiraling descent into murderous madness.
Titled simply Darling, that film is as close as Mickey Keating has come to a legit horror masterpiece in his still young career, and it features a positively electrifying performance from up-and-coming star Lauren Ashley Carter.
As for the Darling's plot, it first presents itself as a simple haunted house chiller following Carter's Peggy as she signs up to play caretaker to a gothic-styled brownstone — which naturally sports all manner of creepy backstories about hauntings and occult activities. There's even a locked room that Peggy is forbidden from entering. From that admittedly cliched setup, Keating spins a sinister, surprisingly gory, and wonderfully complex psychological thriller in the vein of Repulsion and The Shining. 
While Darling doesn't quite reach the iconic level of those films, when a horror flick looks this good, is acted this well, and is so lovingly assembled, it hardly needs to. Did we mention that Giona Ostinelli's marvelously menacing original score is the overlooked gem in the horror game from the past decade? 
Images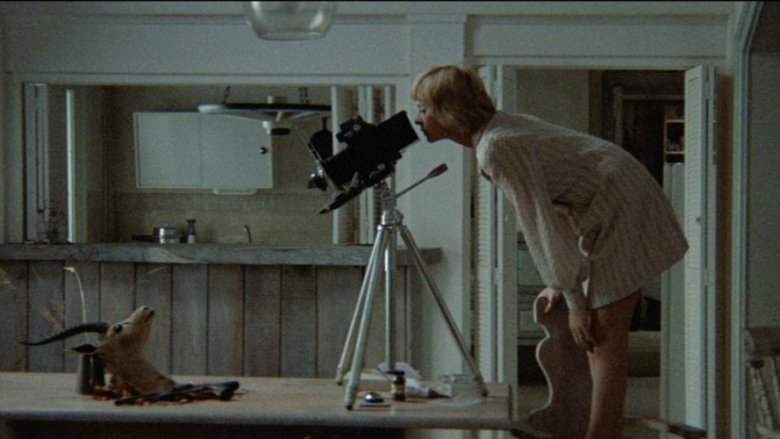 If Repulsion-style "woman on the verge of a violent breakdown" psychodramas are your cup of tea, Robert Altman's Images is a legit must see (and would make a killer double feature with Darling). Released to little fanfare in 1972, Images was the middle film in Altman's unofficial "Gothic Trilogy," sandwiched between two deeply simpatico female-centric character studies: That Cold Day in the Park (1969) and Altman's too-oft overlooked masterwork 3 Women (1977). 
Like those films, Images puts a disturbed woman center stage and surrounds her with Altman's signature style (long takes, slow pans, slower zooms, and flourishes of overlapping dialogue). Unlike its sister films, Images utilizes style and setup to cast an unflinching sense of anxiety over the action, fleshing out the dark impulses awakening within a tragically fractured psyche. 
As for the story, we'll simply tell you that it plays out like a schizophrenic doppelgänger nightmare with the woman in question — a children's author played with frantic fervor by the amazing Susannah York — losing her grip on reality, and finding men from her past and present blurring in and out of seemingly dual realities. 
You'll know a few minutes into Images that the woman is likely doomed. And you'll spend the rest of the movie marveling at Altman's dexterous approach toward bringing her tragedy to fruition. Somewhere in the mix, you'll find yourself embroiled in brutal, psycho-sexual drama with more than a few tricks up its sleeve. It doesn't hurt that it was shot by legendary cinematographer Vilmos Zsigmond and scored by a pre-Jaws John Williams.
Spring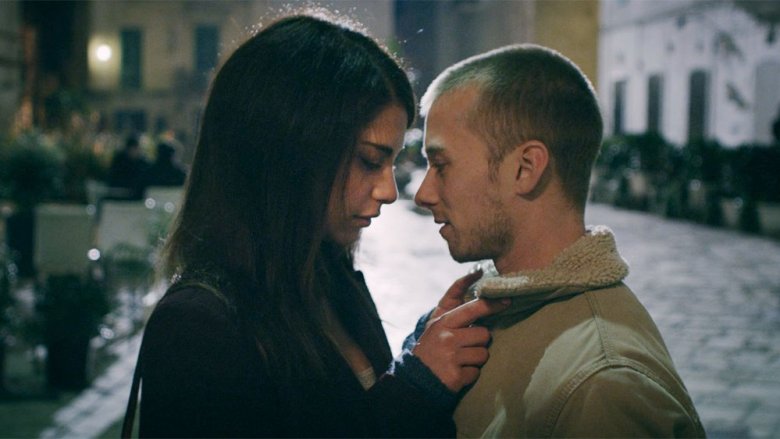 With 2018's ruminative sci-fi chiller The Endless, Justin Benson and Aaron Moorehead officially announced themselves as visionary indie filmmakers bent on wholly reimagining what genre fiction could be. Of course, savvy cineastes who happened upon their bone-chillingly beatific 2014 cult classic Spring were well aware of the duo's wickedly noble intentions. And those intentions helped make Spring a transcendent, genre masterpiece that felt like an unholy hybrid of Richard Linklater's brazenly romantic Before Trilogy, and the fevered, relentlessly gothic tales of H.P. Lovecraft.
Yes, that wicked blend of genre is every bit as intriguing as you'd imagine. And yes, Benson and Moorehead meticulously build key elements from both worlds into the genetic fabric of Spring. In the process, they craft a brooding beast of a romantic drama about a troubled American who flees to Italy in the wake of his mother's death, only to fall for a beautiful woman with a complicated past of her own — not to mention a deep, dark secret that... well, sorry, but if you're looking for more of a plot synopsis, you're looking in the wrong place. 
Like so many of the best genre offerings of late, Spring is a film possessed of horrifying mysteries and soul-shaking revelations that'll leave you quivering on the floor in a puddle of unbridled fear and dismay. Unlike its genre counterparts, Spring is also possessed of a romantic streak capable of making your heart flutter. Frankly, you're just going to have trust us that Spring is a mystery worth exploring with as blank a slate as possible.
The Texas Chain Saw Massacre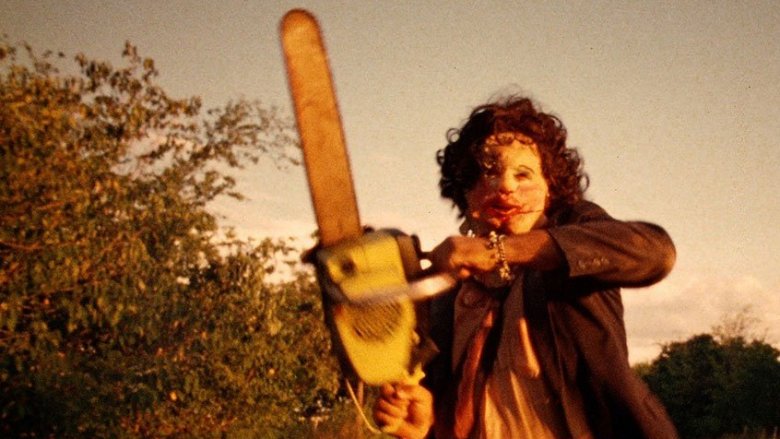 Whether you first caught Tobe Hooper's game changing sophomore effort in a dingy theater back in the '70s, discovered it on VHS sometime in the '80s, or stumbled unwittingly upon it via some random cable station at 4 am, we're certain of one thing — there was your life before you saw The Texas Chain Saw Massacre, and there was your life after it. And if you're anything like us, your life was never quite the same after experiencing the visceral, relentlessly brutal freak show that is Hooper's The Texas Chain Saw Massacre.
Yes, some things, it seems, one just can't unsee, and to see The Texas Chain Saw Massacre is to come as close to seeing an actual snuff film as most of humanity is comfortable with. Shot with virtually no budget on gritty 16mm, featuring no name actors, and possessed of a near suffocating sense of hyper-reality, that snuff film effect is exactly what Hooper achieves with his twisted tale of cannibalistic hillbillies out to snack on an unwitting group of youngsters. 
As for the things one simply cannot unsee, well, if you've already experienced The Texas Chain Saw Massacre, then you hardly need us to tell you about them. If you haven't, we wouldn't dream of spoiling the grisly delights that await you within the movie's sweaty, white-knuckled 83 minutes. We'll see you on the other side, friends.
Take Shelter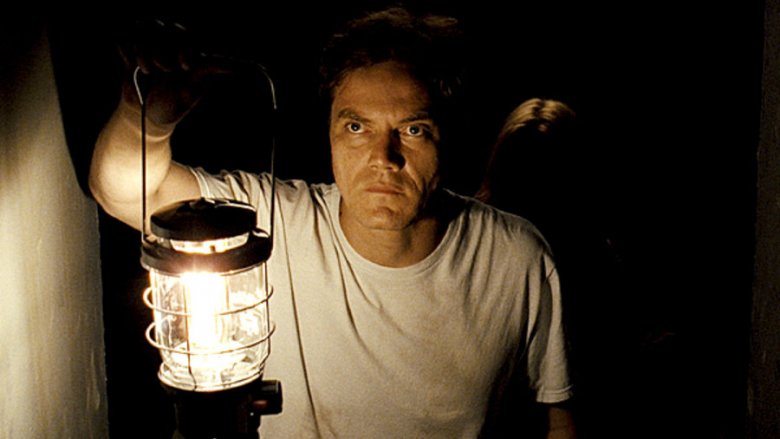 Over the years, there have been a handful of legendary actor/director pairings in the world of cinema. Scorsese has DeNiro (not to mention DiCaprio). Anderson has Murray. Carpenter has Russell. One of the more unsung pairings — and also one of the most fruitful — is that of Jeff Nichols and Michael Shannon. To date, Shannon has featured prominently all five of Nichols' features. With each new project, the pairing only seems to get stronger and more rewarding. If you want to see the duo at their absolute best, look no further than their chilling, apocalyptic psychodrama Take Shelter.
Part rural family drama and part doom-fueled psychological thriller, Take Shelter follows a farmer (Shannon) plagued by horrific visions of a coming cataclysm. Fearful of what lay ahead (and of his own mental well being), the man's hard-wired paranoia leads him to build an elaborate shelter in his back yard — a course of action that threatens to tear his family apart before the end of days can. 
Featuring career-best work from Shannon and a star-making turn from Jessica Chastain, Take Shelter finds Nichols playing in genre tropes with the precision of a horror master, building the madness to fever pitch before giving way to... well, you'll have to find out for yourself. Just trust us when we say Nichols deftly leads the action to unforeseen places, and headlong toward a shocking finale that'll leave your heart in your throat and your jaw on the floor.
Most Beautiful Island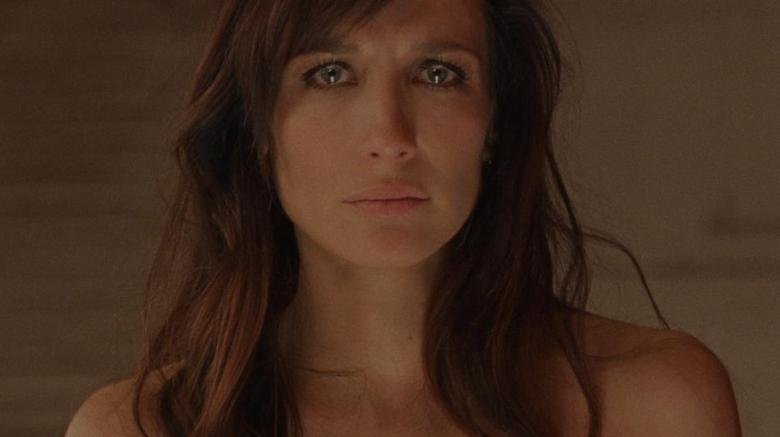 The Big Apple has long been ground zero for cinematic tales of immigrant life. Still, the plight of migrants on the mean streets of New York has rarely been ground zero for horror fare. Maybe it's a sign of the times, but immigration tales now seem like perfect fodder for a little socially conscious genre warfare, and Ana Asensio's horrifically realistic, New York-set Most Beautiful Island feels like the first stone cast in a looming battle. 
We should tell you up front that the first 30 minutes of Most Beautiful Island will feel a lot more like a deeply personal indie drama than a full-blooded horror film. Stick with it, because as the action moves along, Asensio skillfully twists and turns her "inspired by true events" tale of a doomed American dreamer into a neo-noir nightmare that will have you shaken to the core. 
Written and directed with visceral intensity and staggering authenticity by first timer Asensio (who also stars), Most Beautiful Island follows the travails of the troubled, undocumented Luciana who — in desperate need of cash — takes a mysterious job that pays a large sum of money. It seems too good to be true. And it is. 
Asensio wisely makes you wait to see what the job is, instead using her film to depict the day to day nightmare that is immigrant life in America. We find out about that job in film's final 20 minutes, and we can say with all confidence that you'll never see it coming — and that you'll spend the pulse-pounding final moments of Most Beautiful Island on the verge of a fear-induced nervous breakdown. Just FYI, you'll also be heartbroken in ways you cannot fathom. 
Session 9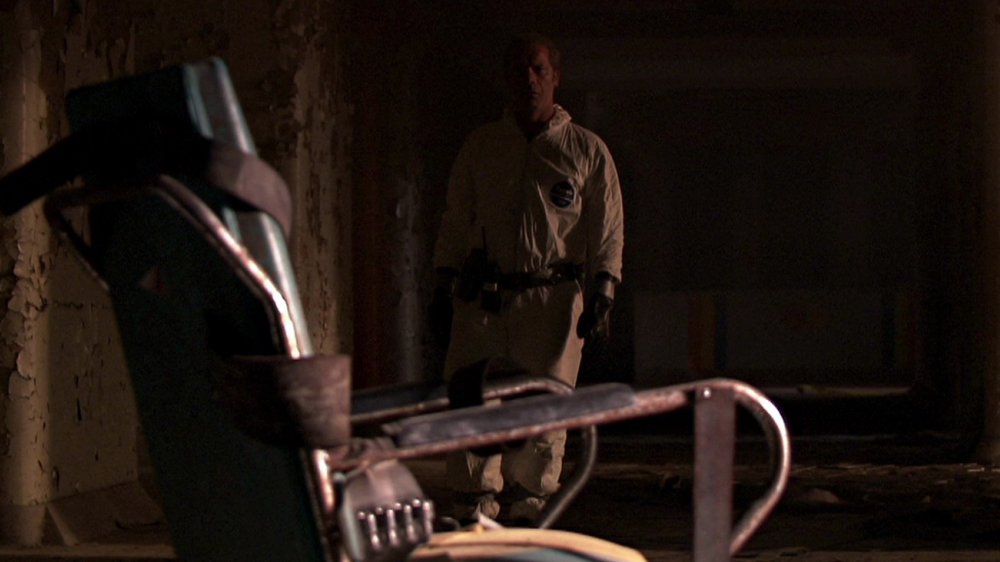 It stands to reason that after being plundered by so many books, movies, and TV shows over the years, the haunted house thriller should be beyond played out. Somehow, the spookiest of horror subgenres remains as strong as ever with filmmakers continuing to trap unsuspecting families and thrill seekers within dark, shadowy environs stalked by all manner of vengeful spirits and tortured souls. 
In the case of Brad Anderson's brooding 2001 chiller Session 9, the unsuspecting are a crew of industrial cleaners tasked with ridding a massive, abandoned mental hospital of deadly asbestos. Once on the job, tensions spike as strange occurrences begin to occur. Gradually, the discovery of unsettling recordings with a former patient shed light on the building's grisly past — a past that might be wreaking unholy havoc on one man's increasingly unsettled mind.
Less a traditional haunted house thriller than a full on psychological creep show, Anderson's Session 9 still employs its share of creaking door jump scares. Nevertheless, it's more concerned with shifting interpersonal relationships, tragically afflicted mental states, and a near suffocating sense of soul-consuming dread. As such, those coming to the compound in search of specters and ghouls will be sorely disappointed with what they find within. But if you're hunting for a relentlessly unnerving, serpentine mood fest fueled by haunting imagery, ominous tones, and a clever array of deceptively simple scares, well, consider yourself right at home within the decaying walls and fractured psyches of Session 9.