It Returning To Theaters With Chapter Two Footage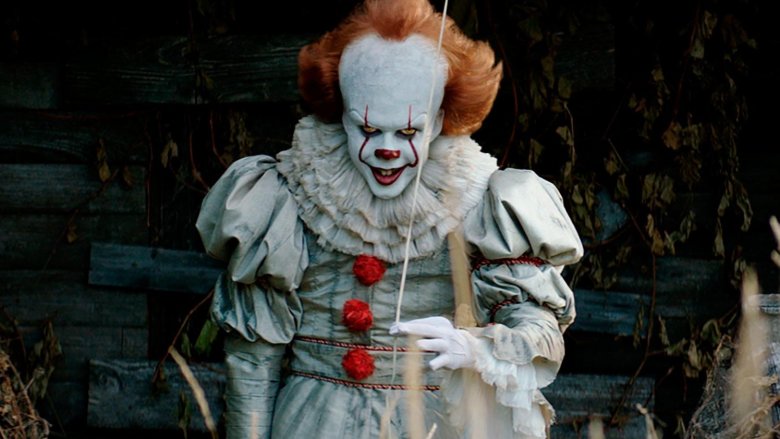 New Line/Warner Brothers
Pennywise is coming back... to your local theater.
In advance of the release of the highly-anticipated It: Chapter Two, It: Chapter One is getting a return engagement in theaters for two nights only — and it'll offer fans a sneak peek of the new movie as a post-credits scene. The re-release was announced by Fandango on the ticket seller's official Twitter account.
Tickets are now available for showings on Saturday, August 3, and Tuesday, August 6, for fans who need a little refresher before diving into It: Chapter Two. It's a novel way to drum up excitement for the new flick — and appropriate, given that the two films are really two halves of a whole.
For those unfamiliar, the movies are adapted from Stephen King's masterful 1986 novel It, which focuses on a supernatural terror that has plagued the small town of Derry, Maine, for as long as it has existed (and even before). It can take any form It pleases, but appears most often in the guise of Pennywise, the Dancing Clown — all the better to lure in young children for It to eat.
The evil entity awakens from hibernation every 27 years to sow discord and strife in the town, and to feed; It's fond of appearing as Its victims' worst fears, for as King explains in his novel, fear "salts the meat." It meets Its match in the form of a group of seven young outcasts who dub themselves "The Losers' Club," who manage to overpower and severely wound It, driving It back into hibernation — but when it awakens over a quarter century later, the Losers must return to Derry to attempt to put an end to Its reign of terror once and for all.
King's novel alternated between the two time periods, and also included historical asides illustrating Its centuries-long influence on Derry (and one terrifying chapter written from Its own point of view). For the film adaptations, director Andy Muschietti (Mama) and screenwriter Gary Dauberman (Annabelle Comes Home) wisely chose to focus on one period per movie, with It: Chapter One detailing the youthful Losers' confrontation with the creature and Chapter Two centering on the adult Losers, all of whom (except one) have since moved away from Derry and forgotten all about the horrifying events of that long-ago summer.
Suffice to say, the memories come flooding back pretty quickly, and It certainly remembers the Losers... and is all too happy to give them a rematch.
It: Chapter One's young cast included Jaeden Martell (The Book of Henry) as the Losers' de facto leader Bill Denbrough, Jeremy Ray Taylor (Ant-Man) as shy, pudgy Ben Hanscom, Finn Wolfhard (Stranger Things) as the motormouthed Richie Tozier, Chosen Jacobs (Castle Rock) as thoughtful but troubled Mike Hanlon, Jack Dylan Grazer (Shazam!) as frail, sickly Eddie Kaspbrak, Wyatt Oleff (Guardians of the Galaxy) as the pragmatic Stan Uris, and Sophia Lillis (Nancy Drew and the Hidden Staircase) as Beverly Marsh, an outgoing girl with a troubled home life. Starring as Pennywise: Bill Skarsgård, who turned in one of the most terrifying performances in recent memory in the film, and who promises that the Pennywise we meet in It: Chapter Two will be even "scarier and angrier."
Portraying the adult Losers in It: Chapter Two are James McAvoy (Glass) as Bill, Jay Ryan (the CW's Beauty and the Beast TV series) as Ben, Bill Hader (Barry) as Richie, Isaiah Mustafa (Shadowhunters) as Mike, James Ransone (Sinister) as Eddie, Andy Bean (Swamp Thing) as Stan, and Jessica Chastain (Molly's Game) as Beverly. The young cast will also appear in the new film via flashbacks.
It: Chapter One is among the finest Stephen King adaptations ever put to film, and audiences rewarded it by making it the highest-grossing horror movie of all time. Whetting moviegoers' appetites for Chapter Two by re-releasing the first film is a smart move on the part of studio New Line, and teasing them with footage from the new flick (which Fandango says will total eight minutes) seems like a pretty good way to ensure that Chapter One's record box office take won't hold down the top spot for long. In fact, we're going to go out on a limb to say that It: Chapter Two will come very, very close to becoming the first horror movie to rake in a billion dollars worldwide — and if it actually breaches that mark, we would not be shocked.
The upcoming flick has even earned high praise from King himself, who has shared via his Twitter that he found it to be "terrific" with a final confrontation that is nothing short of "epic." The climax of the novel — in which the Losers engage in a kind of psychic battle with It — is pretty much unfilmable as written, so it'll be quite interesting to see how Muschietti and Dauberman handled it to the Master's satisfaction.
Fortunately, we don't have too long to wait to find out. You'll want to float on down to the theater for one of August's encore presentations of It: Chapter One, and catch It: Chapter Two when it hits screens on September 6.