The Phase 4 Reveal Marvel Kept A Secret For Months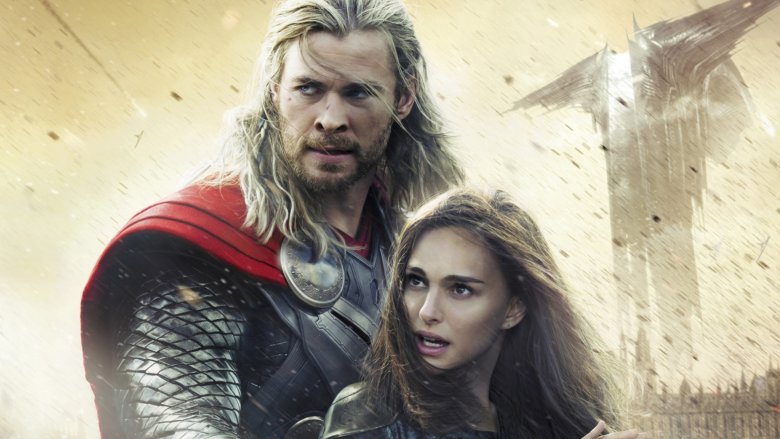 It's hardly a secret that, well, Marvel Studios likes to keep secrets, with all the buttoned lips having served as a way to keep movie spoilers from spilling. Recently, it's been revealed that Marvel's surreptitiousness has evolved: the studio kept a certain Phase 4 reveal a secret for months.
At San Diego Comic-Con 2019, the house of heroes took the stage to unveil five films (Black Widow, Eternals, Shang-Chi and the Legend of the Ten Rings, Doctor Strange in the Multiverse of Madness, and Thor: Love and Thunder) and five television series (The Falcon and the Winter Soldier, WandaVision, Loki, Hawkeye, and What If...?) that comprise the complete Phase 4 of the Marvel Cinematic Universe for the time being. A shocking announcement came during the Love and Thunder portion of Marvel's presentation, when Natalie Portman, an actress thought to have abandoned the MCU after starring in Thor and Thor: The Dark World, stepped on stage and received a prop Mjolnir from director Taika Waititi. Marvel confirmed that Portman's Jane Foster would become the next Thor in the fourth Thor flick, and the crowd went absolutely wild. 
As it happens, Portman's return to the MCU was decided upon six months before Comic-Con. Marvel Studios president Kevin Feige confirmed that the deal was ironed out in complete secrecy at the start of the year, telling The Hollywood Reporter, "One of the ideas, and perhaps the biggest, was the idea of Jane. We set Natalie and Taika up and in one meeting she agreed to do it."
The seedling of the idea started to sprout long before that fateful meeting, however. Waititi explained during Marvel's Hall H presentation at SDCC 2019 that he had been inspired by writer Jason Aaron and artist-slash-penciller Russell Dauterman's Mighty Thor comic run while he was directing Thor: Ragnarok, which debuted in theaters way back in 2017. The Kiwi filmmaker may not have met with Portman until the beginning of 2019, but he was certainly thinking well over a year ago about bringing her Jane Foster back into the MCU to become Mighty Thor – not "Female Thor," as Waititi has made clear.
Portman re-joining the MCU wasn't the only exciting bit of Thor-related news that came out of Marvel's Comic-Con panel. Tessa Thompson, who will reprise her role as Valkyrie in Love and Thunder, teased that her character's first priority as the freshly crowned king of New Asgard is to find a queen to oversee the small kingdom beside her. In a post-SDCC interview, Feige followed up on Thompson's comments, confirming that Valkyrie will become the first LGBTQ+ superhero in the MCU. It seems that this, too, was a decision made well in advance, since 1) Feige had previously promised Marvel would be improving in the representation department moving forward, and 2) Valkyrie was supposed to be confirmed as bisexual in Thor: Ragnarok before that scene was left on the editing room floor. 
Speculation of the highest degree has sparked up following these two reveals, with fans thinking that Valkyrie and Jane will become an item and rule over New Asgard as king and queen while Thor goes on his own adventure, maybe even with the Guardians of the Galaxy. At the very least, we should get some explanation as to why Thor and Jane stopped seeing each other.
Whatever story specifics writer-director Waititi decides to settle on, Thor: Love and Thunder is bound to be a hilarious, adventure-filled flick that will close of Marvel's fourth phase with humor and heart. The work Waititi did on Thor: Ragnarok not only completely revitalized the hero's trilogy, which was on the decline after Thor: The Dark World, but it also changed the entire Marvel Cinematic Universe by showing that audiences can respond well to a film that doesn't self-stylize as super-serious and leans hard into the light-hearted fun that can be had with comic book adaptations. Waititi will undoubtedly continue this trend with Love and Thunder, and now that we know he was harboring a huge secret for half a year, we can assume that he has more than a few tricks up his sleeve. 
Find out what Thor: Love and Thunder is all about when the film opens in theaters on November 5, 2021.