Game Of Thrones Actors Tie Up Series' Loose Ends At SDCC 2019 Panel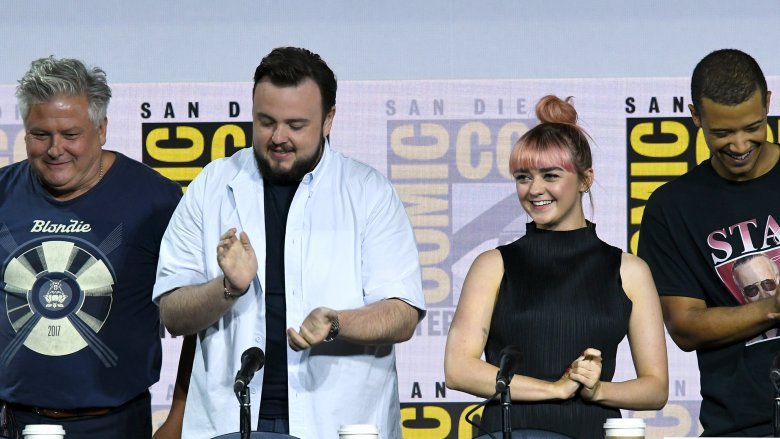 Kevin Winter/Getty Images
Game of Thrones might be over, but its legacy lives on — and during the series' panel at this year's San Diego Comic-Con, some of the show's actors cleared up a few lingering questions the final season left behind. 
Thanks to outlets like Entertainment Weekly and TVLine, fans at home can hear the answers the cast provided.
Even though a few familiar Thrones faces didn't end up making it to the event –– including Nathalie Emmanuel (Missandei), Iain Glen (Jorah Mormont), and showrunners David Benioff and D.B. Weiss –– the panel was well-attended in the end. Maisie Williams (Arya Stark), Nikolaj Coster-Waldau (Jaime Lannister), John Bradley (Sam Tarly), Conleth Hill (Varys), Isaac Hempstead-Wright (Bran), Jacob Anderson (Grey Worm), and Liam Cunningham (Davos Seaworth) all made it out to California in the finale's aftermath tie up some of the show's loose ends.
All of the panelists proudly displayed their takeout coffee cups (an obvious reference to one of two huge gaffes spotted on Game of Thrones' eighth and final season), and Bradley even addressed the water bottle that was visible in the series finale — a blunder that drew plenty of derision alongside negative reviews for the episode as a whole. 
"I've always been someone who's felt a lot of responsibility and blame for things," said Bradley. "I'm right-handed. I thought about this very strongly. I'm right-handed, so if I'm drinking a water bottle with my right hand, I was going to put it on the floor [by his right leg]. I think I've taken enough blame for this."
Many of the actors had very specific ideas about what their characters are up to post-finale, during which Bran was crowned King of Westeros. 
Bran actor Hempstead-Wright, for his part, joked that his new title has totally gone to his head and that he's making his friends and family call him "Your Grace." The actor laughed that Bran has probably turned Westeros into a "surveillance state" thanks to his all-seeing powers as the Three-Eyed Raven. 
On a bittersweet note, Anderson said Grey Worm probably did end up in Naath as an homage to his beloved Missandei, whom Cersei Lannister (Lena Headey) ordered her Frankensteinian lackey the Mountain (Hafþór Júlíus Björnsson) to brutally behead during a late season 8 episode. Cunningham also revealed that he's hoping for a spin-off series – Better Call Davos, anyone?
The Game of Thrones cast also cleared up a few things viewers still wanted to know, even though there wasn't any time for them to take fan questions in the end.
In terms of character motivation, some of the actors chimed in about a few of the final season's biggest moments: Anderson clarified that Grey Worm definitely thought that Jon Snow (Hit Harington) needed to stand trial for murdering Daenerys (Emilia clarke), while Hill said Varys was absolutely trying to poison Daenerys before his execution. Williams also chirrped up to say that, despite a popular fan theory, Jon did not tell Arya to go after the Night King –– she made that decision on her own thanks to a small "nudge" from Melisandre (Carice van Houten). Coster-Waldau then told the audience, over a few cries of dissent, that he doesn't think Brienne (Gwendoline Christie) and Jaime would have worked out had Jaime lived: "He's got a lot of baggage and she would probably find out after a few weeks, and she would go, 'I'm going to have to move onto someone else. That's too complicated.'"
Fans were plenty frustrated with the final season of Thrones as it was, but some of the stars themselves had issues of their own. During the post-finale documentary The Last Watch, Hill could be seen tossing his script and crossing his arms when he learned of Varys' fate — specifically, his execution at Daenerys' orders and Drogon's fire breath. When asked if he regretted his reaction, Hill quipped, "Well, I don't regret starting the petition." This reference to the Change.org petition disgruntled fans signed in hopes that HBO would remake the concluding chapter of Game of Thrones with different writers earned plenty of laughs from the panel's audience. Hill went on to joke, "There are ways to get fired, and that was one of the best." 
Still, both Hill and Coster-Waldau eventually defended the creators and cast against widespread criticism, with Coster-Waldau saying, "I feel so lucky to have met so many people and so many fans of this show; it has brought so many people together. If you come to an end, it's going to piss you off no matter what, and, of course, at end of day, it's absolutely fine If you hated the ending. If you loved it, that's great — just don't call people names." 
One of the panel's best jokes also came from Hill: When the actors were asked if they stole anything from set (Williams, for example, stole silicon blood from the Hall of Faces), Hill responded, "I stole most of the scenes I was in."
All in all, no huge information came to light in the aftermath of Thrones, but even these small details can provide closure for some fans, and it's still exciting to see how much love this cast has for the show that boosted their careers to unknown heights. Especially on the heels of its record-breaking number of Emmy nominations, it's clear that people won't stop talking about Game of Thrones any time soon, so this cast will likely be answering questions for years to come.