The Real Reason The GoT Showrunners Dropped Out Of Comic-Con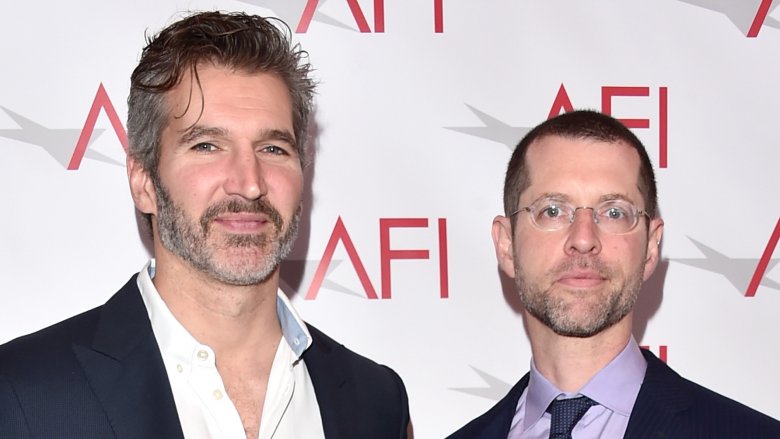 Alberto E. Rodriguez/Getty Images
San Diego Comic-Con is one of the biggest entertainment conventions ever. Each year, film and television studios, comic book publishers, big-name celebrities, video game developers, and fans from around the world gather in sunny California to find out what exciting content awaits them in the future. The 2019 edition of the convention has been hotly anticipated for two big reasons: Marvel Studios' much-awaited return after forgoing last year's San Diego Comic-Con, and the Game of Thrones panel HBO set up to celebrate the epic — and divisive — final season of the fantasy series, which also skipped out on the 2018 event.
Everything was on track for a fantastic Game of Thrones presentation in the hallowed Hall H, scheduled to take place on Friday, July 19. That is, until showrunners David Benioff and D.B. Weiss pulled out of Comic-Con altogether. On Wednesday, July 17, just a day prior to the official start of the event, HBO confirmed that Benioff and Weiss, series director Miguel Sapochnik, and stars Iain Glen (Jorah Mormont) and Nathalie Emmanuel (Missandei) would no longer attend San Diego Comic-Con 2019. 
But what was the meaning of all this? Why did Benioff and Weiss drop out of Comic-Con? 
Neither they nor executives at HBO provided an explanation at the time of the announcement, but there are a few things that may have factored into the creative duo's decision to cancel their SDCC plans. 
For starters, io9 actually managed to get into contact with a representative at HBO to inquire about the situation. The rep simply stated that Benioff and Weiss were hit with "production and scheduling conflicts" that left them with no other choice but to drop out of the panel. 
If you're wondering what the heck Benioff and Weiss could be working on since Game of Thrones has been over for months now, you may not have heard the news that they've been tinkering away at another HBO series, a controversial slavery drama entitled Confederate, since 2017. Though HBO programming president Casey Bloys stated in May 2019 that Confederate, which received a ton of criticism when it was first announced, was "not on the front burner," perhaps things have changed in the months since, and Benioff and Weiss are now focused on bringing the series to fruition. 
What seems more likely is that Benioff and Weiss might be starting to shape their upcoming Star Wars trilogy, which Lucasfilm confirmed will be the next trio of films to enter the franchise. The pair have been attached to the three films as writers and producers since February 2018, but it wasn't until late May 2019 that Vanity Fair ran a story confirming that the first of Benioff and Weiss' trilogy installments will arrive in December of 2022 — with the second and third films coming "every other year after that" (in December 2024 and December 2026). Since the Star Wars franchise intends to take a hiatus after the December 2019 launch of The Rise of Skywalker, the conclusion of the nine-movie Skywalker saga, it stands to reason that Lucasfilm may want Benioff and Weiss to use that time to put the pedal to the metal, their noses to the grindstone, and their pens to paper to solidify the stories for all three of their upcoming Star Wars films. If that is the case, one could easily understand why Benioff and Weiss would prioritize getting their Star Wars flicks mapped out in advance over attending San Diego Comic-Con 2019 for a series that's already wrapped up. 
And speaking of Game of Thrones, the chaos that thundered around the series during its final season may be the biggest reason why Benioff and Weiss dropped out of this year's Comic-Con. 
Most people are of the belief that the showrunning-directing-writing duo removed themselves from the Thrones panel because they didn't want to face a sea of attendees who have mixed feelings about how the series ended. The Comic-Con presentation was intended to be Benioff and Weiss' very first Thrones-related public appearance since the contentious, Rotten-Tomatoes-history-making finale aired on May 19. Benioff and Weiss have been open about their wariness of the masses, previously stating that they'd be staying far away from the internet while the final episode aired so as to avoid experiencing fans' reactions in real time. 
"We'll be in an undisclosed location, turning off our phones and opening various bottles," Weiss said. "At some point, if and when it's safe to come out again, somebody like [HBO's 'Thrones' publicist Mara Mikialian] will give us a breakdown of what was out there without us having to actually experience it."
Benioff added that he would be "very drunk" while the episode aired. 
With the magic of hindsight, fans know that Benioff and Weiss weren't being paranoid, and that their decision to avoid social media was a wise one. Viewers ripped the Game of Thrones series finale to shreds, taking proverbial shards of dragon-glass and tearing the episode down as rushed, unsatisfying, and completely nonsensical. Things got so bad that a scorned fan wound up creating a petition for HBO to remake Thrones without Benioff and Weiss involved and with "competent writers" in their place. The Change.org petition, which has amassed over 1.5 million signatures since its inception, reads, "David Benioff and D.B. Weiss have proven themselves to be woefully incompetent writers when they have no source material (i.e. the books) to fall back on. This series deserves a final season that makes sense. Subvert my expectations and make it happen, HBO!"
Reading those words is one thing — but potentially hearing them spoken aloud in the massive Hall H at the San Diego Convention Center, where hundreds of other attendees could be cheering in support of the vitriol? That would be difficult for anyone to handle. Though Benioff and Weiss seem to have their wits about them, there truly is a chance that the thought of facing the music (so to speak) at Comic-Con and possibly presenting a panel to people that didn't actually enjoy the end of Game of Thrones was simply too much for the two to bear — even with the 32 Emmy nominations the show received helping to cushion the blow.
In any case, the show must go on without Benioff and Weiss on board. Game of Thrones will present its San Diego Comic-Con 2019 panel on Friday, July 19 at 5:30 PM PST.