Varys Actor Frustrated By Being Sidelined In GoT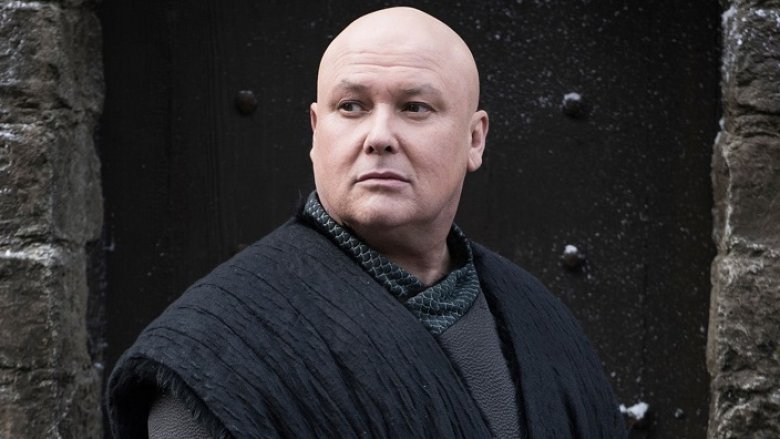 Contains spoilers for Game of Thrones season 8, episode 5 "The Bells"
Game of Thrones isn't a series known for its happy character endings. Longtime fans have often warned others just starting to watch the fantasy drama that they shouldn't get attached to anyone, since widely adored characters usually perish before their time. One fan-favorite character who defied the odds and survived to the very last season of Thrones is Varys — the eunuch, courtier, Master of Whisperers, and spymaster for the Seven Kingdoms who has had quite the journey over the years. However, the actor who plays him as a bone to pick with how Varys' story came to a close. 
Huge spoilers for Game of Thrones are after the jump. Proceed with caution. 
Speaking with Entertainment Weekly, Varys actor Conleth Hill opened up about his character's death during the fifth episode of season 8, entitled "The Bells," as well as his sidelined stories on Thrones seasons 7 and 8. 
After learning from Tyrion Lannister (Peter Dinklage) the truth about Jon Snow's (Kit Harington) parentage and thus his claim to the Iron Throne, Varys, who had bent the knee to Daenerys Targaryen (Emilia Clarke) and was serving as her Master of Whisperers, betrayed his Queen to protect the people of Westeros. Varys has, as he's repeated throughout the series, always done what's best for the entire Realm, even if the decisions are hard to make. He remained faithful to his principles, and Daenerys had him executed for it. In a gut-wrenching scene at the top of "The Bells," Dany ordered Drogon to burn Varys alive. 
Hill shared that he took Varys' death "very personally," and was "bummed" that the character "became more peripheral" in the final two seasons of the series. 
"I took it as a person, not as an actor or an artist," Hill said of Varys' fiery demise. "I understood the reactions of previous actors who had been in the same position a lot more than I did at the time. You can't help feeling that you failed in some way, that you haven't lived up to some expectation that you didn't know about. The only thing that consoles you is people who worked a lot harder than you are in the same boat. So that helps. I don't think anybody who hasn't been through it can identify with it. They think, 'What's all the fuss about? You're all finishing anyway.' But you take it personally, you can't help it."
He added that Varys' decision to betray Dany was "brilliant" and "noble." Said Hill, "He was absolutely true to his word the whole way through. All he wanted was the right person on the throne and a fair person on the throne. He said it so many times in the scripts. I don't have the distraction of love or desire or any of those things. And the people he needed to see clearly were both in love. So that makes perfect sense. And now with hindsight, I'm okay, but I really was inconsolable."
Hill then admitted that he was disappointed that Varys never had a final scene with Littlefinger (Aidan Gillen), who was killed during season 7, before his death — especially since the earlier seasons of Game of Thrones featured so many awesome Varys-versus-Littlefinger verbal spats. It was here where Hill expressed frustration over Varys being pushed to the side in favor of other characters for seasons 7 and 8, which he didn't enjoy as much as seasons past. 
"I was very bummed to not have a final scene with [Littlefinger]. I was bummed not to have any reaction to him dying, if he was my nemesis. That's been my feeling the last couple seasons, that my character became more peripheral, that they concentrated on others more. That's fine. It's the nature of a multi-character show," said Hill. "It was kind of frustrating. As a whole it's been overwhelmingly positive and brilliant but I suppose the last couple seasons weren't my favorite."
The actor continued, further noting that the last two seasons of Game of Thrones weren't as fulfilling for his character as the first six had been. Hill stated, "It just felt like after season 6, I kind of dropped off the edge. I can't complain because it's six great seasons and I had some great scenes these last two seasons. But that's when it changed for me a little." 
Elsewhere during the interview with Entertainment Weekly, which was held while Hill was still in production for the series' final season, he aired out a few more frustrations — namely that he felt Varys was acting slightly out of character during seasons 7 and 8.
"Last season and this season there were great scenes and then I'd come in and kind of give a weather report at the end of them — 'film at 11.' So I thought he was losing his knowledge. If he was such an intelligent man and he had such resources, how come he didn't know about things? That added to my dismay," Hill said. "It's now being rectified with getting a great and noble ending. But that was frustrating for a couple seasons."
Hill clarified that though it sounds like he's "dissatisfied on the whole," he isn't, and that the experience of being a part of Game of Thrones has been "brilliant," even though Varys didn't get as ample a story for seasons 7 and 8 as he did for seasons 1 through 6. 
For many, it was disappointing to see Varys die in the strange country of Westeros just as Melisandre (Carice van Houten) prophesied he would, particularly after being put on the back-burner for several episodes. Hill's expression of dismay and admittance of being "inconsolable" over Varys' death only makes it worse, but there is a silver lining to the actor's interview here. He teased that the "fan favorites" of Game of Thrones will live to see the end of the series, avoiding the same fate that Varys did on episode 5. Hill noted that he "can't anticipate" how he'll feel about the finale until it airs, but he doesn't believe fans will be disappointed. 
"I don't think they'll feel cheated," he said. "The fan favorites are all there."
At the same time, Game of Thrones showrunners David Benioff and Dan Weiss have made it clear that they're staying far away from the internet when the series' finale premieres, apparently to protect themselves from facing backlash as it comes streaming out on social media. Hopefully Hill's comments about the Thrones finale — and not Benioff and Weiss' hints about what's to come — are the ones that prove true, and Varys' death won't have been for nothing.