GoT Fans Spot Another Embarrassing Gaffe In The Final Episode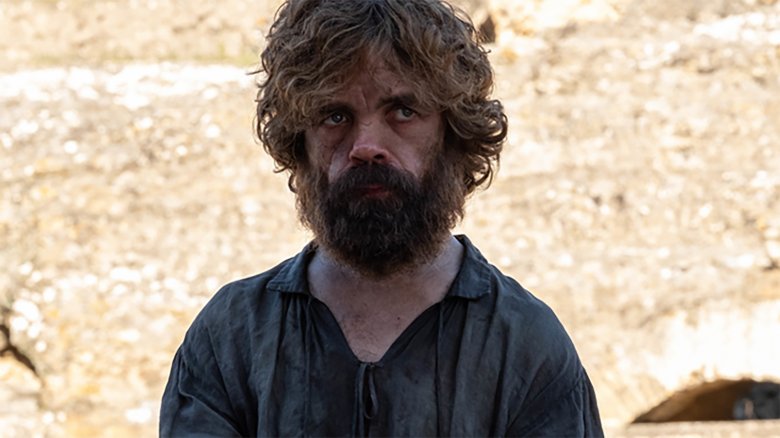 Contains spoilers for the Game of Thrones series finale
In the words of Britney Spears, oops, they did it again.
For as detail-oriented a series as Game of Thrones is, the fantasy drama has featured not one but two immersion-breaking mistakes during its final season on television. After spotting a stray coffee cup that was accidentally left in a shot of the fourth episode of Thrones season 8, viewers noticed yet another erroneous object in frame on the series finale. Ironically, the gaffe is beverage-based one as well: there's a plastic water bottle on display during a pivotal scene.
We can't talk openly about Game of Thrones committing another blunder without getting into spoilers for the finale, so we advise all who aren't caught up on the series to turn their attention elsewhere. 
With the requisite spoiler warning out of the way, we can spill the dirt on when exactly the water bottle appears on the episode. 
Following Daenerys Targaryen's (Emilia Clarke) fire-and-fury siege of King's Landing that killed thousands of innocent people, Tyrion Lannister (Peter Dinklage) resigned as her Hand and asked Jon Snow (Kit Harington) to find the strength to make a difficult decision that would ensure the safety of the Seven Kingdoms: kill Dany so she doesn't harm anyone else under the guise of "liberation." Jon wound up killing Daenerys, then joined Tyrion as a prisoner of Dany's army. Fast forward a few weeks, and Tyrion emerges for his trial — which turns into a meeting of the minds with members of the remaining Great Houses of Westeros, who decide that they will now and forevermore choose the king or queen. 
Just as Tyrion is walking up to everyone, the camera flips perspective to show Samwell Tarley (John Bradley), Edmure Tully (Tobias Menzies), and an unknown character watching the last Lannister sibling approaching. Keep your eyes on Sam during this moment, and you'll see a plastic water bottle near actor John Bradley's foot. It's about half hidden behind his boot, but it's definitely noticeable. 
Later on in the scene, a second water bottle can be spotted behind Liam Cunningham, who portrays Ser Davos Seaworth, and Joe Dempsie, who plays Gendry. More fans were focused on the bottle beside Bradley than they were this one, though. 
Water bottles are obviously very out of place in Westeros (the country is still figuring out whether there's a correlation between clean water and good health), and the first of the two errors stuck out to tons of watchers at home. Many instantly caught the mistake, grabbed their phones to take photographic and video evidence of it, loaded up the Twitter app, and let it be known that Game of Thrones goofed up for a second time this season. Just as viewers were split over season 8 as a whole, they too were divided by their thoughts on Water Bottle-gate. 
"Seven hells, they did it again. It's a plastic water bottle," one fan wrote. 
Another was frustrated to the point of all-caps-tweeting after spotting the plastic water bottle in frame. "PLEASEEEEEEEEEE. THERE WAS A PLASTIC WATER BOTTLE IN THIS EPISODE. NOT AGAIN," they posted, adding a crying face emoji followed by two skull emojis to really drive home the point that this mess-up nearly killed them. 
Voice actor Troy Hughes was equally as upset, finding it hard to believe that the Game of Thrones crew could make an oversight like this in what's inevitably going to be one of the most memorable episodes of the series. "Seriously!!! It's the finale of #GameOfThrones ... EVERYBODY is watching ... and you leave a water bottle on the set?!?!" he tweeted. 
CBS Sports writer Will Brinson felt that the bottle blunder was a microcosm of last two seasons of Thrones. He tweeted, "Game of Thrones leaving a plastic water bottle sitting there in the finale is such perfect symbolism for a show that spent the last two seasons rushing to get done and ignoring the important little details that made it great in the first place." 
Conversely, plenty of others thought that the mistake was ultimately harmless. 
"First a Starbucks coffee cup and now a water bottle. I love it! It super silly!" one viewer tweeted. Another joked that HBO must have secured a couple of sponsorships for the final season of Game of Thrones: "Let's all clap for the sponsors of this season. The plastic water bottle and the Starbucks cup."
Someone else even defended the Game of Thrones team, noting that "framing isn't easy" and the crew might have been paying closer attention to the actors' performances, the lighting, and the costumes than whether there were any water bottles visible in the shot. 
For some fans, everything that was supposed to be included on the Game of Thrones finale is more than enough to make them forget about the out-of-place beverage. For others, the water bottle mishap serves as another nail in the coffin of a season they weren't all that satisfied with. Like Tyrion Lannister said during his rousing finale monologue, there's nothing more powerful in the world than a good story — but there's nothing that can tarnish a tale like Game of Thrones as easily as an absentminded slip-up.