Game Of Thrones Set To Make One Last San Diego Comic-Con Appearance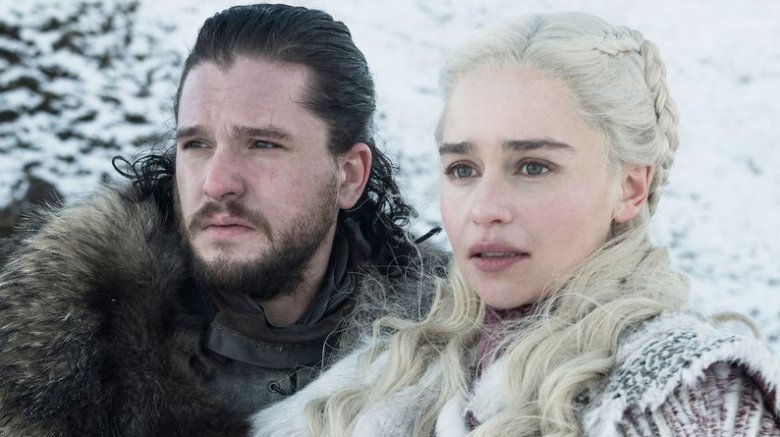 The Iron Throne has been won, the great war is done, but the game of thrones may not be over just yet. 
HBO's flagship series is expected to take a final lap around San Diego Comic-Con's Hall H this July. 
Deadline reports that HBO executives are in "the final stages" of conversations with Comic-Con organizers about bringing Game of Thrones to the convention, which kicks off on Thursday, July 18 and wraps on Sunday, July 21. Apparently, the plan is for HBO to put on a Thrones panel to celebrate the show's eighth and final season that set the internet aflame week after week leading up to its jaw-dropping finale. 
It's unclear as of this writing which cast members might attend the potential Game of Thrones presentation at this year's SDCC, though we'd place bets on the stars who made it to the final season alive being the ones to fill the panel table. Daenerys Targaryen actress Emilia Clarke and Jon Snow actor Kit Harington could take the stage, as could Tyrion Lannister star Peter Dinklage, Sansa and Arya Stark actresses Sophie Turner and Maisie Williams, Bran Stark actor Isaac Hempstead Wright, Jaime and Cersei Lannister stars Nikolaj Coster-Waldau and Lena Headey, Brienne actress Gwendoline Christie, Samwell Tarley actor John Bradley, Ser Davos star Liam Cunningham, and Varys actor Conleth Hill. Though a few of those characters died before the closing moments of Game of Thrones, they were crucial parts of fantasy epic's concluding chapter and probably have many, many things to say about what went down during the last six episodes. 
Two important people who likely won't be at SDCC are Thrones showrunners David Benioff and D.B. Weiss. The upshot? A Song of Ice and Fire series author George R.R. Martin, the mastermind behind the whole Game of Thrones world, is expected to pop up at the convention. 
These plans are, to reiterate, not yet set in stone. HBO hasn't commented one way or another about whether Game of Thrones fans can expect to see the series' stars at San Diego Comic-Con next month. If everything pans out as Deadline is reporting it will, there should be much excitement in the Thrones fandom. Game of Thrones skipped out on last year's event, given that there was nothing to show off since the final season was still about a year away from debuting. Now that Thrones is over and the biggest mystery of all — "Who wins the game of thrones?" — has been solved, cast members can converge to openly talk about how the series wrapped up and perhaps unveil some footage not included on the show or in the making-of documentary The Last Watch.
Even if Game of Thrones doesn't end up holding a panel at this year's San Diego Comic-Con, series star Hempstead Wright will make an appearance at Comic-Con Africa this September. And who knows? Maybe the show will head to the eastern U.S. for New York Comic-Con if San Diego doesn't work out.