Disney CEO: Next Star Wars Movie Will Be From Game Of Thrones Creators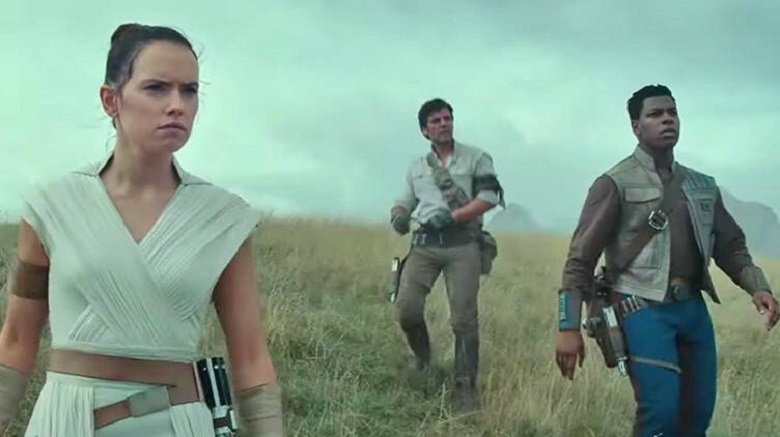 A little intrigue might be coming to the Star Wars universe.
During a call with investors, Disney CEO Bob Iger revealed that the next cinematic entry in the Star Wars saga — which won't hit screens until 2022 — will be the first of three films from Game Of Thrones creators and showrunners David Benioff and D.B. Weiss. (via Polygon)
The news adds a bit of clarity to the plans that were revealed for the franchise last week when Disney announced a plethora of release dates for some of its more high-profile properties. Back in November 2017, it was announced that Star Wars Episode VIII: The Last Jedi director Rian Johnson was developing a new trilogy of films featuring a setting and characters distinct from the current Skywalker saga, which will wrap up with Star Wars Episode IX: The Rise of Skywalker this December. It came as something of a surprise, then, when just a few months later — in February 2018 — news broke that Benioff and Weiss had also been tapped to bring their own series of flicks to the screen.
Last week's massive schedule drop included release dates for three Star Wars films to be released every other December beginning in 2022, but it was left unclear whether Johnson or Benioff and Weiss would be getting their shot first. We now know that the Game of Thrones team will be up to bat, but a few details are still open to speculation.
First, it hasn't been confirmed whether Benioff and Weiss are working on a proper trilogy, or simply a series of three standalone films. It's been heavily rumored that the duo are indeed planning a trilogy set in the world of the Old Republic, featuring narrative elements and characters made popular by the wildly acclaimed Knights of the Old Republic console and PC role playing games, but this is in no way confirmed.
Second, it's not at all clear how Johnson's films — which actually have been announced as a trilogy — will fit into the schedule. It would make sense for the Benioff/Weiss movies and the Johnson trilogy (as it will certainly come to be known) to alternate releases every year or every two years — but so far, Disney isn't saying whether this will be the case, and Iger's remarks didn't address the other two films on the schedule, to say nothing of the three for which no release dates were set.
One thing is certain, however: Benioff and Weiss will waste very little time jumping from one of the most popular, pop culture-dominating shows in the history of television to one of the biggest, most iconic film franchises of all time. The pair recently co-wrote the intriguing, Ang Lee-directed sci-fi thriller Gemini Man (currently in post-production), and they created the forthcoming alt-history series Confederate for HBO; otherwise, they have no known projects unrelated to Star Wars in the pipeline.
All is sure to become known over the next... er, three and a half years. Rise of Skywalker will mark the end of an era for the franchise in much the same way Avengers: Endgame brought a close to the Marvel Cinematic Universe's Infinity Saga, but while Marvel Studios has been running like a well-oiled machine seemingly since its inception, the three trilogies which comprise the Skywalker Saga have been produced in fits and starts over five separate decades. Disney only acquired Lucasfilm six years ago, however — and with three main series entries and two spin-off films having been produced during that time, Iger wisely chose to take a hiatus to recalibrate the Star Wars franchise before taking it into the future.
In a statement way back in February 2018, Lucasfilm president Kathleen Kennedy spoke highly of whatever it is Benioff and Weiss have cooking. "David and Dan are some of the best storytellers working today," she said. "Their command of complex characters, depth of story and richness of mythology will break new ground and boldly push Star Wars in ways I find incredibly exciting."
While we have a heck of a wait before we find out exactly what's next for Star Wars on the big screen, subscribers to the long-awaited upcoming streamer Disney+ will be able to get their fix much sooner. The Mandalorian, the series in the works from Iron Man director Jon Favreau, is generating massive amounts of excitement, with learned observers (such as Endgame co-director Joe Russo) asserting that Favreau is creating a series unlike anything ever seen before; it will debut on the service on November 12. Meanwhile, the Mouse House has an as-yet untitled series starring Diego Luna (reprising his role of Cassian Andor from Rogue One: A Star Wars Story) also in development, although no release date has been announced.
Of course, we still have Rise of Skywalker to look forward to in December, and it wouldn't surprise if Disney were to make further announcements on the future of the Star Wars flicks shortly following its release. We'll keep our ears open for any details that happen to trickle out in the meantime, and keep you informed.