Lashana Lynch Will Reportedly Become New 007 In Bond 25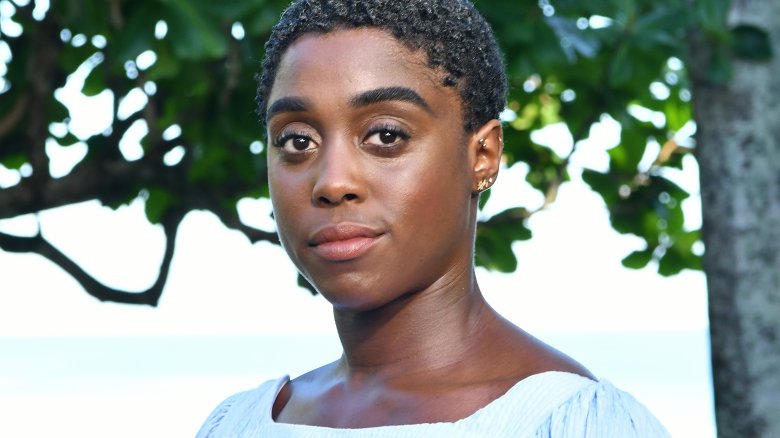 Slaven Vlasic/Getty Images
The James Bond franchise is getting shaken and stirred — at least according to a new story from The Daily Mail, that is. 
Citing an anonymous source with knowledge of the situation, the outlet has reported that the newest Bond movie, the tentatively titled Bond 25, will feature a "popcorn-dropping moment" in which Daniel Craig's James Bond retires his 007 secret agent number after leaving MI6, giving someone else the opportunity to take it. The agent in question is said to be the character played by Captain Marvel actress Lashana Lynch.
Now, this doesn't mean that Lynch is the new James Bond (if this report is to be believed, of course). Rather, it means that Lynch's character Nomi will operate using the 007 code number. An insider explained to The Daily Mail, "There is a pivotal scene at the start of the film where M says 'Come in 007', and in walks Lashana who is black, beautiful and a woman ... Bond is still Bond but he's been replaced as 007 by this stunning woman."
The source continued, detailing that while Bond is "sexually attracted to the new female 007 and tries his usual seduction tricks," they fail to impress her. Usually suave and charming, the secret agent is "baffled" when his flirtation doesn't work "on a brilliant, young black woman who basically rolls her eyes at him and has no interest in jumping into his bed." The insider did imply that Bond could end up wooing Lynch's character (his tricks don't work "at the beginning," they stated) at some point, though it seems a bit unlikely that the two would ever become any kind of item. 
Additionally, the Bond franchise moving forward will reportedly discontinue the use of the phrase "Bond girls." They will now be addressed as "Bond women," according to the source.
It appears that the catalyst for this exciting change in the Bond franchise is Fleabag, Crashing, and Killing Eve mastermind Phoebe Waller-Bridge, whom the Bond 25 team recruited to reinvigorate the film's script and set the long-running franchise on a path toward continued growth and evolution. Waller-Bridge previously explained that Bond is "absolutely relevant now" regardless of the way he treats women (i.e., often objectifies and sexualizes them), and she doesn't believe that he needs to treat women properly — because he "needs to be true to his character." The franchise, on the other hand, definitely needs to respect women, and that seems to be Waller-Bridge's big mission. Lynch's Nomi becoming the new Agent 007 is just one way in which to realize that goal.
"[The franchise] has just got to grow. It has just got to evolve, and the important thing is that the film treats the women properly. [Bond] doesn't have to," Waller-Bridge said. 
The source close to The Daily Mail shared that everyone involved with Bond 25 is excited about the franchise shifting in this new way, that Lynch is already impressing on set (and apparently rocks a safari suit that evokes the one worn by former Bond actor Roger Moore), and that Waller-Bridge's script is "as sharp and funny" as one would anticipate a story from her to be. 
Those concerned that this is too big a change should be able to drop their worries in a flash when hearing that Bond 25 will indeed pay homage to earlier films in the franchise and still possesses the characteristic qualities that make the Bond franchise what it is. As Waller-Bridge said, it's simply time, after 57 years, for the film series to evolve and feel more up-to-date with our current society. 
"This is a Bond for the modern era who will appeal to a younger generation while sticking true to what we all expect in a Bond film," the source explained. "There are spectacular chase sequences and fights, and Bond is still Bond but he's having to learn to deal with the world of #MeToo."
From our viewpoint, this is a fantastic move for the Bond franchise, and Lynch is a stellar choice to take on the 007 agent number. She dazzled as Maria Rambeau in Captain Marvel, broke onto the scene with a captivating performance in the sports drama Fast Girls, and has consistently impressed in projects like Still Star-Crossed (as Rosaline Capulet) and Bulletproof (as Arjana Pike). 
Unfortunately, not everyone feels similarly. Many have already expressed disappointment and disbelief over this decision — which, mind you, has yet to actually be confirmed by studios MGM and Universal Pictures. Netizens who were up in arms over Disney's casting of Halle Bailey, a black singer-actress, in the role of Ariel for the live-action Little Mermaid seem to be the same ones upset about Lynch's Nomi reportedly becoming the new Agent 007 in Bond 25. 
On the flip side, others are stoked to see Lynch in action in Bond 25 and are thrilled that she's the one taking over the 007 agent number in the franchise.
Hopefully when the Jamaica-set Bond 25 hits theaters in April 2020, those who cast doubt over all of this will be proven wrong and those who were anxiously awaiting the film will be satisfied.