Every James Bond Movie Ranked Worst To Best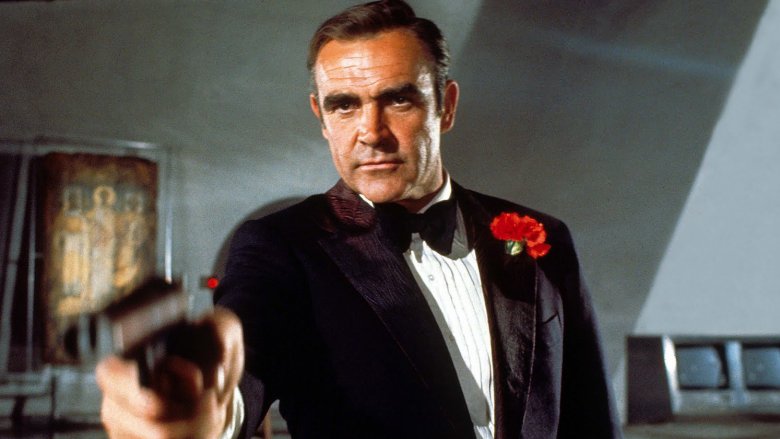 Since he first appeared on the big screen in 1962, James Bond has become a worldwide film sensation. With 24 "official" and three "unofficial" films, the franchise can be a bit overwhelming, especially if you're new to the series. Some of these movies remain classics today, while others...not so much. Let's take a look at every James Bond film ever made, and rank them from worst to best.
Casino Royale (1967)
Producer Charles Feldman acquired the rights to Casino Royale in 1960, and tried to strike a deal with Eon Productions' Albert R. Broccoli and Harry Saltzman to make the movie. They weren't able to agree on terms, however, and Feldman decided he couldn't compete with the Eon Bond movies once he saw 1962's Dr. No.
As a result, Feldman opted to make a spy movie satire with his Casino Royale rights, casting comedic actor Peter Sellers as one of many Bonds (it gets complicated) and Orson Welles as Le Chiffre. Despite being a spoof, Casino Royale is more cheesy and cringe-inducing than funny. Contemporary reviews were harsh, and it hasn't aged well. Definitely give this one a pass.
A View to a Kill (1985)
He would have preferred to go out on a strong note, but Roger Moore's final appearance as James Bond in A View to a Kill is by far the weakest. This was also the last Bond film to feature Lois Maxwell as Miss Moneypenny. Moore delivers a performance that could be described as zombie-like, dozing his way through nearly every scene.
To be fair, not all of A View to a Kill can be blamed on Moore. The plot is nearly non-existent, centered on a Silicon Valley magnate (Christopher Walken) who wants to control the market for computer chips. To put it bluntly, who cares? Although Walken and his henchwoman (played by Grace Jones) do a fine job with what they were given, it's only their performances—and the enjoyable theme song by Duran Duran—that keep this one from the bottom of our list.
The Man with the Golden Gun (1974)
While Sean Connery's second outing as James Bond was even more successful than the first, the same can't be said for Roger Moore's second attempt at Bond in The Man With the Golden Gun. Overall, the movie tries too hard to be flashy, and nearly everything overshadows Moore himself. The kung-fu scenes seem cheesy and tacked on, and there's a decided lack of typical Bond spy gadgetry—replaced with impossibilities like flying cars. On the plus side, The Man With the Golden Gun offers two of the best "bad guys" of the series: Christopher Lee as Scaramanga and Hervé Villechaize as his henchman, Nick Nack.
Octopussy (1983)
Despite doing a great job of toning down the campiness of the franchise in For Your Eyes Only, director John Glen returned to the tired old formula for Octopussy and the subsequent films he directed. Of all of the Roger Moore Bond films, this one may be the cheesiest—which is saying quite a lot.
Featuring jewelry heists, a cult, and a world domination storyline involving nuclear weapons, Octopussy suffers from an overabundance of plot and an underwhelming amount of substance. Most of the scenes could have benefited from some major editing, and there were several that could have been excised entirely—like those of Bond disguised as a clown or a gorilla. If Glen had focused more on good action sequences like the train fight or the final battle on a plane, Octopussy would have been a much better movie.
Casino Royale (1954)
Many James Bond fans may not realize that the character's first appearance was in a television adaptation. In 1954, Casino Royale was produced as an episode of the CBS anthology drama Climax! Starring Barry Nelson as Bond and Peter Lorre as Le Chiffre, the episode was mostly faithful to the novel, with a few changes. Presumably to appeal to the target audience, Bond was an American CIA agent, while Felix Leiter was his British contact. Additionally, the character of Valerie Mathis (Linda Christian) replaced Vesper Lynd.
While it's only an hour long and obviously doesn't have the production value of a film, the 1954 version of Casino Royale is definitely worth watching. Nelson does a creditable job as Bond, but the standout performance comes from Lorre as Le Chiffre. What makes the entire production more impressive is the fact that the episode was shot completely live.
Tomorrow Never Dies (1997)
Pierce Brosnan's second outing as James Bond following GoldenEye was unable to repeat the massive success of his first go-round—although Tomorrow Never Dies was box office hit nonetheless. It's worth praising the film for what it does right: Brosnan is suave and smooth as Bond again, and his onscreen chemistry with Teri Hatcher steams up every scene they share.
Jonathan Pryce also presents a much more realistic villain than normal: a media mogul who attempts to start a war in order to boost his news market share. That being said, despite the shiny exterior and new arsenal of gadgets, there's very little new ground explored in Tomorrow Never Dies. It plays things safe, which is the opposite of what a Bond movie should do.
The World Is Not Enough (1999)
GoldenEye notwithstanding, Brosnan's Bond outings are essentially the same in terms of quality. They all feature solid performances from Brosnan, and they all suffer from most of the same complaints: they're formulaic and not imaginative enough.
That being said, The World is Not Enough is better than Tomorrow Never Dies, primarily because of the supporting cast, the excellent title music by Garbage, and some of the action sequences—like the set pieces in the tower and the nuclear sub. Sophie Marceau as Elektra King remains a terrific Bond villainess, and Robert Carlyle is appropriately menacing as Renard. On the downside, there's the scantily clad nuclear physicist Christmas Jones—and Denise Richards' acting in the part. A Bond movie with many flaws, but not one you should be ashamed of enjoying.
Die Another Day (2002)
For his final stint as James Bond, Pierce Brosnan gave his best performance in the role since his debut in GoldenEye. Die Another Day was also the best-conceived story since GoldenEye, with a plot that mostly made sense (except for the improbable space laser).
Director Lee Tamahori succeeded in evoking the feel of classic Bond films for Die Another Day via throwback imagery like Halle Berry's Jinx emerging from the ocean, much like Ursula Andress in the original Dr. No. Many of the action sequences are also praiseworthy, including the fight between Jinx and Miranda Frost at the end of the film. Unfortunately, Die Another Day also relies heavily on special effects for its movie magic, and sometimes it shows—badly.
Live and Let Die (1973)
Although Roger Moore was supposed to take over the role of Bond from Connery instead of George Lazenby following You Only Live Twice, political trouble in Cambodia and Moore's previous commitments on The Saint prevented him from doing so until 1973's Live and Let Die. While fans of both Moore and Connery could no doubt argue for hours over which was the better Bond, there's no doubt that Moore took a much lighter approach to the character.
The movie's main flaws revolve around unimpressive main villain Dr. Kanaga/Mr. Big (Yaphet Kotto), and his plot to give away free heroin in order to get a corner on the market. Despite this, it's still an adequate entry in the franchise, and Jane Seymour as Solitaire remains one of the best Bond girls to date.
Quantum of Solace (2008)
Like most "second" films for a new Bond actor, 2008's Quantum of Solace wasn't as good as Casino Royale. That's not to say it's bad, or that Craig didn't play the part well. But the movie still has some fundamental flaws: namely, the villain Dominic Greene and his plot to monopolize Bolivia's fresh water supplies are kind of boring—although his death via motor oil is a satisfying end.
Quantum of Solace is a dark film, with Bond set on revenge and not a tongue-in-cheek quip in sight. Olga Kurylenko and Gemma Arterton were great as Bond girls, and the inferno and fight at the hotel in the final act is the stuff of nightmares. While it's definitely a solid entry in the Bond franchise, Quantum of Solace's main problem was that it had to live up to Casino Royale.
Spectre (2015)
After setting up the groundwork for the identity of shadowy organization SPECTRE for the last three movies, we finally see Bond come face to face with the group and its leader, Blofeld, in 2015's Spectre. At times, Spectre's plot seems a little contrived, as if to force a not-quite-necessary origin story into the James Bond formula, and it couldn't quite live up to the extremely high bar of its predecessor, Skyfall.
The action and stunt sequences rose to new heights without relying on computer-generated imagery, and Monica Bellucci is delightful as a Bond Girl (at a stunning 50 years old, no less!) In the future, the filmmakers would do well to focus on what they do best instead of creating crazy childhood backstories for Bond and the villains he must face.
Moonraker (1979)
It features one of the most unrealistic (and retreaded) plots found in a James Bond film. A spacecraft is hijacked (much like You Only Live Twice) in order to release a deadly chemical around the world (much like On Her Majesty's Secret Service). Starring Roger Moore in his fourth Bond outing, this movie marked the point where Moore's portrayal of Bond slipped from merely flippant to positively silly. That being said, Moonraker still has a lot of positives.
The campiness is cheerful, and  the cast all does a good job of selling the silliness. Fans applauded the return of Jaws (especially in the cable car scene), and it's fun to see him get a girlfriend. Finally, despite the outlandish outer-space conclusion, the romantic epilogue will still go down as containing one of the best Bond double-entendres in history when Q (Desmond Llewelleyn) remarks, "I think he's attempting re-entry!"
Diamonds Are Forever (1971)
Despite swearing off the James Bond franchise after You Only Live Twice, Sean Connery returned for 1971's Diamonds Are Forever—which, despite its title, doesn't sparkle quite as much as its predecessors. The '70s-era Vegas scenery seems a little too garish for Bond, and the movie ignores much of the source novel, including the aftermath of Tracy Bond's death.
Diamonds Are Forever isn't all bad: there are a few great chase scenes involving a red Mustang, and Jill St. John does a great job as leading lady Tiffany Case. Bond's showdown with Willard Whyte's bodyguards Bambi and Thumper is another highlight, and Shirley Bassey contributes yet another terrific theme song to the franchise. Nevertheless, there are too many flaws to consider it one of the top Bond movies.
For Your Eyes Only (1981)
After the camp and flashiness of Moonraker, new director John Glen delivered a delightfully stripped-down Bond film with For Your Eyes Only in 1974. It approaches the feel of the earliest Bond movies, and Moore gives his most serious and rugged performance yet. If you usually dislike Moore in the part, you'll be pleased by his performance, which is largely free of his glib and even silly James Bond.
The return to a Cold War threat was a smart move, as was the decision to nix any large and overly bombastic set pieces. What remains is an action-packed and smartly shot movie that does have its flaws, but is definitely an enjoyable Bond film nonetheless.
The Living Daylights (1987)
When a new actor takes over the role of Bond, the fresh face usually manages to revitalize the franchise—at least temporarily. And so it went when Timothy Dalton was tapped to replace Roger Moore for 1987's The Living Daylights. Although he was definitely less campy than his predecessor, Dalton was also criticized for being a little too uptight. Part of what helps keep James Bond films entertaining is the sardonic tongue-in-cheek wit displayed by Bond himself. For Dalton, this wit is noticeably lacking in The Living Daylights.
Despite this, Dalton does a decent job in the part, and he's backed up by good performances from Maryam d'Abo and John Rhys-Davies. The plot isn't as outlandish as most, centering on the KGB and an almost sensible tale of defection and smuggling. Add in a few good action scenes involving a pipeline and a plane, and The Living Daylights redeems itself as a better-than-average Bond film.
Never Say Never Again (1983)
Considering that it wasn't made by Eon Productions, Never Say Never Again turned out surprisingly well. One of the original writers of 1965's Thunderball retained the rights, which allowed him to make his own adaptation in 1983, directed by Irvin Kershner (The Empire Strikes Back.) The movie's title is a reference to Sean Connery's claim that he would "never again" play Bond again after Diamonds are Forever.
Even though the story is mostly rehashed from Thunderball, there's something about this movie that's more entertaining than the original. Max von Sydow delivers a wonderful performance as Blofeld, and Rowan Atkinson is nervously hilarious as Bond's handler at the British Consulate. It's comforting to see a more experienced Sean Connery back in the role he made famous, and he's clearly more comfortable and having more fun in his final farewell to the Bond franchise.
The Spy Who Loved Me (1977)
Even though it's not a great Bond film, Roger Moore started to hit his stride as the lead character in his third attempt, The Spy Who Loved Me. Moore is more comfortable than in his previous Bond appearances, and his onscreen chemistry with Anya (played by Barbara Bach) is undeniable. The film opens with a great stunt sequence, and it seems the producers learned a trick or two since the last time they did underwater shots for Thunderball.
Although it takes its name from Ian Fleming's tenth Bond novel, none of the actual plot of the book was used. While the main villain and his dastardly plans for world domination are rather lackluster, The Spy Who Loved Me did introduce audiences to one of the all-time greatest Bond henchmen: Jaws (Richard Kiel). All in all, it's a good entry in the franchise, and perhaps Moore's best outing as James Bond.
Licence to Kill (1989)
In Timothy Dalton's second (and final) performance as James Bond, the filmmakers opted to play to his strengths, resulting in a much darker and more violent Bond film. While there are definitely a few preposterous moments (like capturing an airplane with a helicopter), on the whole, Licence to Kill is also much more sensible than most Bond movies.
When Bond's longtime CIA counterpart Felix Leiter and his new wife are attacked during their honeymoon, Bond does everything he can to help Leiter track down his wife's killer—including resigning MI6 and going rogue. Like all good Bond films, Licence to Kill has plenty of entertaining action scenes. This time, there's also an entertaining plot to go along with them.
You Only Live Twice (1967)
James Bond fans got more than they expected in 1967, when two different Bond films were released. While one was the poorly-conceived satire Casino Royale, the other was Eon Productions' adaptation of Fleming's 11th novel, You Only Live Twice. Even though it has one of the most improbable plots of all the Bond films—involving hijacked spacecraft—its substantial charms are as undeniable as they are impossible to resist.
Albert R. Broccoli and Harry Saltzman deserve credit for not only filming the Japan-set story primarily in Japan, but also for casting Japanese actors and actresses in many of the main and secondary roles. Nancy Sinatra's title song remains a classic, and the movie was beautifully shot by cinematographer Freddie Young. For these reasons, it's easy to forgive You Only Live Twice's wandering script and preposterous volcano hideout.
On Her Majesty's Secret Service (1969)
Following his appearance in You Only Live Twice, Sean Connery decided to retire from the franchise. This meant that Eon Productions needed to find a new leading man, and they picked model George Lazenby. It would be his only appearance in a Bond film, but Lazenby does a fairly good job as the lead—although it's easy to tell he isn't quite comfortable in the role. Director Peter Hunt has an eye for action, however, and those action sequences (especially the ski chase) paired with the much more serious tone of On Her Majesty's Secret Service make it a keeper.
While Lazenby is at times wooden with his delivery, the delightful Diana Rigg does well carrying several scenes as his love interest, Tracy. The villain Blofeld is played convincingly by Telly Savalas, and the emotional punch of the final scene all add up to a thoroughly enjoyable Bond movie.
GoldenEye (1995)
Many Bond fans wondered if the franchise would be able to reinvent itself in 1995 for a modern audience. The resulting movie—GoldenEye—answered that question with a resounding, "yes!"  Pierce Brosnan took over the role of Bond and managed to strike all the right notes: handsome and elegant, with a tendency towards violence and a sardonic wit as dry as his martinis.
In GoldenEye, the completely original story also manages to knock it out of the park from start to finish. Involving a former MI6 agent as the primary villain Trevelyan (Sean Bean) and choosing a female actress to play M (Judi Dench) were inspired decisions. The action scenes are also entertaining, if a bit derivative (like the train fight sequence). Like many of the other James Bond movies, GoldenEye could have been a much better movie if some of the padding and filler between set pieces had been trimmed, but in this case, more Bond means more of a good thing.
Thunderball (1965)
As the fourth film in the series, Thunderball was perfectly placed to capitalize on the height of the Cold War, with a plot focusing on two stolen atomic bombs and Bond's attempt to recover them from SPECTRE. While it isn't quite as good as its three predecessors, Thunderball is still a very solid Bond movie, starring Connery reprising his role as 007 opposite Adolfo Celi as main villain Emilio Largo.
With a much bigger budget ($9 million), Eon Productions didn't skimp on Thunderball. The scenery and action sequences remain some of the best parts, lavishly set in the Bahamas with impressive underwater cinematography employed extensively throughout the movie. Along with the inflated budget came a slightly bloated film, however; if 15 minutes or so had been cut, it might have been a much better movie.
Skyfall (2012)
James Bond returns to form in one of the best films in the franchise, 2012's Skyfall. Directed by Sam Mendes (American Beauty, Road to Perdition), this movie takes a fantastic leap by exploring the past of Bond's superior, M (Judi Dench), which comes back to haunt her in the form of former MI6 agent turned terrorist Raoul Silva (Javier Bardem).
Skyfall hits all the right notes for a classic Bond film, from the exotic locales to the compelling plot full of twists and actual surprises. That's not to say there isn't plenty of action, too—a gorgeous fight scene in a highrise building stands out. It'll be hard to let go of Dame Judi Dench in the role of M, and Mendes deserves credit for finally giving her character something more to do than give Bond his assignments. The viewing audience loved it too—Skyfall grossed over $1 billion at the global box office.
Dr. No (1962)
The very first James Bond film by Harry Saltzman and Albert R. Broccoli's Eon Productions, 1962's Dr. No remains a classic. Even though it was the first entry in the massive Bond film franchise, Dr. No sets a high bar. All the elements of later Bond films were introduced here: the stylistic opening credits, exotic locales, the James Bond theme, his trademark catchphrase, and plenty of tongue-in-cheek humor.
It's an action-packed 109 minutes of danger, witticisms, and pure audience escapism. Sean Connery is suave and natural in the role of Bond, showing why he'd hold on to the part for seven different films. Only the lack of an impressive henchman for Dr. No and some pacing issues prevent this movie from topping our list. The James Bond formula was solidly established in Dr. No, and was only improved upon in the next two installments.
Casino Royale (2006)
It was meant to be a complete reboot of the James Bond franchise—set at the very start of his secret agent career—and 2006's Casino Royale was so well-executed that it ended up nearly topping our list of Bond movies. Instead of treating Bond as window dressing to go along with jaw-dropping action scenes—as had been done since the 1960s—the production team made the wise choice to actually let Bond's haunted and human personality shine through.
In the difficult position of giving life to the previously two-dimensional Bond, Daniel Craig was tapped to take the lead role. Mads Mikkelsen plays a convincing and creepy Le Chiffre, nearly channeling Peter Lorre's 1954 performance of the part. Craig's performance, as well as the writing for this adaptation of Fleming's first novel, make Casino Royale one of the best in the series.
From Russia with Love (1963)
In a rare feat for any film franchise, the second James Bond film managed to improve on the original. Returning to direct was Terence Young, whose vision in Dr. No helped shape the look of the entire series. Also returning was Sean Connery in the role of Bond. After the success of Dr. No, the filmmakers went big for the sequel, and it paid off in a big way.
The fight scene aboard the Orient Express is a standout moment, inspiring numerous other train scenes in later Bond films. And Lotte Lenya is brilliant as the villainess Rosa Klebb with her poisoned switchblade shoe. Everything is more colorful, more fun, and more action-packed, and in addition to several memorable one-liners, director Young also employed plenty of funny visual gags. From Russia With Love is a great example of Bond at his finest.
Goldfinger (1964)
Although the margin between our top four Bond films is nearly razor-thin, Goldfinger comes out on top. From the dramatic and "shocking" opening sequence to the amazing gadgetry Bond used and the unforgettable image of actress Shirley Eaton painted gold from head to toe, it was a movie that awed audiences and remains a major part of our popular culture.
You'd be hard-pressed to find a better henchman than Oddjob, and the name of Bond girl "Pussy Galore" still inspires a giggle today. The laser table and the climactic fight in the airplane are among the best Bond scenes of all time. Goldfinger also was the first Bond movie to include the line "shaken, not stirred," and the first to feature a theme song by the incomparable Shirley Bassey, establishing the opening title song tradition that continues to this day. Many other Bond films imitated the formula perfected in Goldfinger, but few come close.