Disney's Live-Action Little Mermaid Finds Its Ariel In Halle Bailey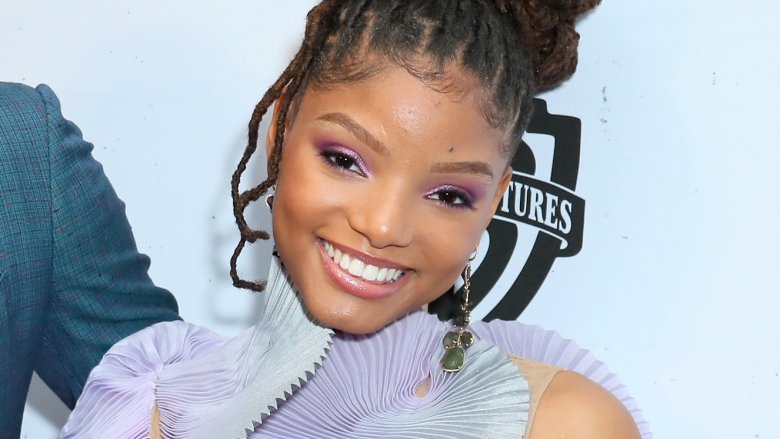 Leon Bennett/Getty Images
You want thingamabobs? Halle Bailey's the girl to go to.
Nineteen-year-old singer Bailey, one half of the contemporary R&B duo Chloe x Halle, is set to play Ariel in Disney's live-action remake of The Little Mermaid. 
Variety confirmed Bailey's casting, detailing that director Rob Marshall (Mary Poppins Returns) was blown away by the young star's immense talents. According to insiders with knowledge of the production, Bailey was a "clear front runner" for the role of Ariel, the red-haired mermaid with a love for collecting trinkets from shipwrecks and a deep desire to explore the world above the surface of the sea. Bailey had reportedly been at the top of Marshall's list of contenders "from the beginning," and her casting was made official after the director had his fill of meeting with talent. In the end, Marshall's first instinct was right: Bailey was the perfect pick for Ariel — for a number of reasons.  
"After an extensive search, it was abundantly clear that Halle possesses that rare combination of spirit, heart, youth, innocence, and substance — plus a glorious singing voice — all intrinsic qualities necessary to play this iconic role," the director said in a statement provided alongside the casting news. 
To become an official part of Disney's world, Bailey, who sings with her older sister Chloe Bailey in Chloe x Halle, joins Room breakout Jacob Tremblay and Crazy Rich Asians funny lady Awkwafina, who are up for the roles of Flounder (Ariel's fish friend) and Scuttle (the mermaid's seagull pal). There's a good chance that Bailey will also share screen time with Melissa McCarthy, who is in consideration for the role of Ursula, the nefarious sea witch who tricks Ariel into giving up her voice in exchange for a pair of legs and the chance to fall in love with the human Prince Eric. 
With songs from the original 1989 animated classic (like "Under the Sea," "Kiss the Girl," and "Part of Your World") and new music from longtime Disney composer Alan Menken and Hamilton mastermind Lin-Manuel Miranda, The Little Mermaid marks Bailey's film debut. As history has shown us, selecting fresh-faced film actors for major movies often pays off, despite the contrary seeming true. Mary Poppins was Julie Andrews' first-ever movie, East of Eden was James Dean's, Blood Simple was Frances McDormand's, and Primal Fear was Edward Norton's — the list goes on. And let's not forget the case of Jennifer Hudson: she, like Bailey, began as a singer, then landed her first movie gig starring in Dreamgirls... which she wound up winning an Oscar for. 
It isn't as though Bailey is entering completely new territory though, as she's appeared on several episodes of the series Grown-ish, starring as Sky Forster. 
What makes Bailey an even more sterling choice to flip her fins in the live-action Little Mermaid is that she can sing — and we mean really sing. Bailey and her sister gained worldwide attention with their YouTube channel, to which they would upload covers of popular songs. In the years since that humble beginning, the women went on to catch the eye of superstar Beyoncé, sign with her record label, and open for her during the songstress' 2016 The Formation World Tour and her 2018 On the Run II Tour with Jay-Z. Chloe x Halle even sang at Super Bowl LIII. Clearly, Bailey is well-versed (pun intended) when it comes to singing, which we all know Ariel loves to do.
Disney hasn't stamped the live-action Little Mermaid remake with an official release date as of this writing, so sadly, we don't know when we'll get to see Bailey up on the big screen as Ariel.