Spider-Man: Far From Home Gets Artsy New IMAX Poster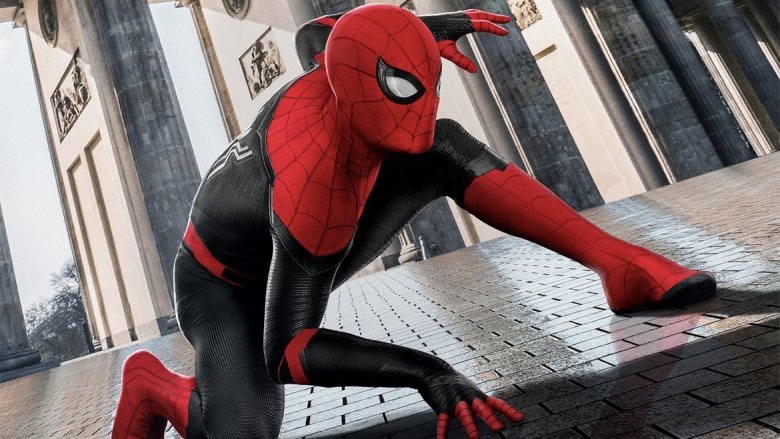 A neat little art installation is coming soon to a theater near you.
A new poster for the IMAX presentation of Spider-Man: Far From Home was released today, and it carries a distinctly artsy vibe which just may contain a few secret nods. The image was tweeted by the MCU Direct Twitter account.
This official new @IMAX poster for #SpiderManFarFromHome has been revealed! pic.twitter.com/kfxkF4lxkt

— MCU Direct (@MCU_Direct) June 11, 2019
The poster sports some... interesting little doodles and stencil-style renderings highlighting the flick's European locales, along with image assets which were obviously repurposed from previous promotional materials. It has a distinctly amateurish look to it, which we're pretty sure is intentional (more on that in a moment). However, the Twitterverse was (get ready for a shock) quick to take it apart.
this is the ugliest thing i ever saw

— dieselpunk steve rogers (@sappyrogers) June 11, 2019
Really, Dieselpunk Steve Rogers? The very ugliest? With your being a Dieselpunk and all, we find that kind of hard to believe. (Just kidding, Steve. We don't even really know what a Dieselpunk is.)
Fire your poster team

— 🆗 (@RyanTNC) June 11, 2019
Well, that's a little harsh. Poster teams need to eat, too.
this looks like something the weird girl in my graphics class made and thought she was a genius

— gracie | good omens au 📌 (@mymcrningstar) June 11, 2019
Look, Gracie, those are the people you need to be nice to. Maybe she is a budding genius, and could just use a little encouragement.
In all seriousness, we are of the opinion that Twitter has largely missed the point here. Yes, it's fair to say that the poster looks like some kind of artsy collage. In fact, it looks almost like the sort of thing a high school student would put together. A high school student who is a big fan of superheroes (but especially Spider-Man), and is very excited about an upcoming trip to Europe. Waaaait...
Yes, in fact, we can totally see Peter Parker's best buddy Ned staying up until all hours of the night working on this, totally psyched about how freaking awesome Peter's going to think it is. Why, it's almost as if that's what the poster's designers were going for!
We're even going to go out on a limb to suggest that there's something else that this one-sheet's detractors may have missed. Spidey's solo adventures in the MCU are actually produced by Sony per their agreement with Marvel Studios, and Sony's animation division recently had pretty major success with a little flick called Spider-Man: Into the Spider-Verse. The Best Animated Feature Oscar-winner featured a very distinct animation style heavily inspired by the look of the printed page, a look which this poster sort of invokes. Also, we're counting one, two, three Spider-Men — another possible nod to Spider-Verse, a film in which multiple Spideys from alternate universes must come together to battle a common threat. Oh, by the way — the trailers for Far From Home suggest that the flick will introduce the concept of the Multiverse to the MCU, and you may now be starting to share our opinion that this poster is a great deal more clever than the Twitterverse is giving it credit for.
At any rate, we think it's pretty cool, and we would be remiss not to point out that according to the poster, Far From Home — like Avengers: Endgame — should be viewed in IMAX for the most complete experience, as the large-screen format will offer "up to 26% more picture" than the standard screen presentation. Even if that were not the case, all that gorgeous European scenery getting trashed by towering elemental monsters just seems like the kind of thing one would want to view on the biggest screen possible.
Far From Home is helmed by Spider-Man: Homecoming director Jon Watts from a screenplay by Chris McKenna and Erik Sommers, who also penned Spidey's first MCU adventure (and contributed to Ant-Man and the Wasp, as well). Returning cast members include Tom Holland as Peter Parker/Spidey, Zendaya as MJ, and Jacob Batalon as Ned; joining the cast this time around are Samuel L. Jackson (reprising his longtime MCU role of Nick Fury), Cobie Smulders (back for another go-round at Jackson's side as Maria Hill), and Jake Gyllenhaal as Quentin Beck/Mysterio. The flick hits the big screen (and, well, the even bigger screen) on July 2.