Bill Murray Says He's Willing To Appear In Jason Reitman's Ghostbusters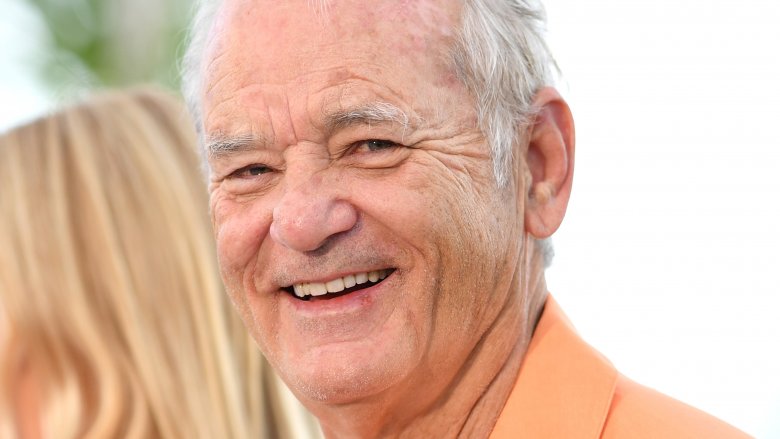 Pascal Le Segretain/Getty Images
Jason Reitman has a phone call to make.
In an interview at the Cannes film festival, original Ghostbusters star Bill Murray expressed a willingness to appear in the director's upcoming sequel to the iconic 1984 film, which is getting ready to go before the cameras. (via IndieWire)
Murray has been famously pessimistic about the chances for a Ghostbusters 3, a project which has been championed by co-star Dan Aykroyd for literally decades. He made a cameo appearance in Paul Feig's 2016 all-female reboot — but did not appear in his original role of Dr. Peter Venkman, instead showing up as a skeptic intent on debunking the whole idea of Ghostbusting. That little bit of fanservice casting simply seemed to leave viewers hungry for more Venkman, and according to Murray, Reitman — the son of original Ghostbusters director Ivan Reitman — only has to ask.
"This franchise paid for my son's college," the beloved star said. "We made this thing. We are the caretakers of it. It's a great thing and it was a really fun movie to make. It's a real movie with some really funny stuff in it." 
Murray stressed, however, that a great deal of his personal connection to the Ghostbusters flicks lay not in the films themselves, but in the experience he had working with the rest of the cast and crew. "They're wonderful people," he said. "Danny [Aykroyd], Ernie [Hudson], Harold [Ramis], Rick Moranis, Annie Potts — they're some of the coolest people and they had real careers. They treat people well. They really understand what it is to be a movie actor. It [was] a complete collaboration."
Of course, Ramis passed away in 2014, and it's not like Reitman's upcoming flick has any designs on getting the old band back together, as it has already filled out its main cast. And when it comes to Sony Pictures — the studio behind the 2016 reboot — Murray doesn't hold back his opinion (spoiler alert: he's not the biggest fan). "The relationship you have with those people as collaborators is not necessarily the relationship I have with Sony," he said. "For years, they said, 'We can't make another Ghostbusters because Bill Murray won't change the deal he made in 1984.' Well, no, I never did. And you know what? [Sony] made the [2016 film]. You're the new guys, I'm the old guy. It was good enough for [original studio Columbia Pictures], so it's going to have to be good enough for you."
Murray went on to say that he appeared in the reboot basically as a personal favor to two of its stars, his friends Melissa McCarthy and Kate McKinnon. "I was in that movie just because they asked me, and I knew if I said no, I was saying I didn't support that movie," he said. "I felt like, OK, I'm going to support [the film] because I support them as people." Even so, Murray is of the (somewhat odd) opinion that his heavy involvement in any new Ghostbusters project would likely be frowned upon by the studio.
"The big studio movies now have their own computer-generated way of doing things and [formulas] that they use," he pointed out. "I think they really do crunch the numbers of how many Twitter followers we have, and all that stuff. I think that actually is a factor, but since I have no Twitter followers, I'm not a bankable person in their world. I'm a big negative on a movie."
We're going to on record saying that Bill Murray is never a negative on any movie (well, okay, we wouldn't necessarily lobby for him to be cast as Superman, but you get the idea). The star was in Cannes promoting his latest project, the legendary Jim Jarmusch's zombie apocalypse comedy The Dead Don't Die, which is going to get a ton of butts into a ton of seats simply by virtue of having the words "Jarmusch," "Murray," and "zombies" in its logline.
At any rate, it's not too late for Reitman and co-writer Gil Kenan (who scripted the underrated 2015 Poltergeist remake) to revamp their script to include a little touch of the old Venkman magic; all he'd have to do is show up to get slimed, and audiences would lose their minds. The flick will star Finn Wolfhard (Stranger Things, It: Chapter One), Carrie Coon (Proxima Midnight in Avengers: Infinity War), and young McKenna Grace (Captain Marvel) as a family who move to a small town which harbors some ghostly secrets — including, going by the teaser trailer, the fact that the old crew's famous ECTO-1 car is stashed there. It's slated to hit screens on July 10, 2020; we'll continue to keep our ears to the ground for further details.