Avengers: Endgame EW Magazine Covers Feature The Original Six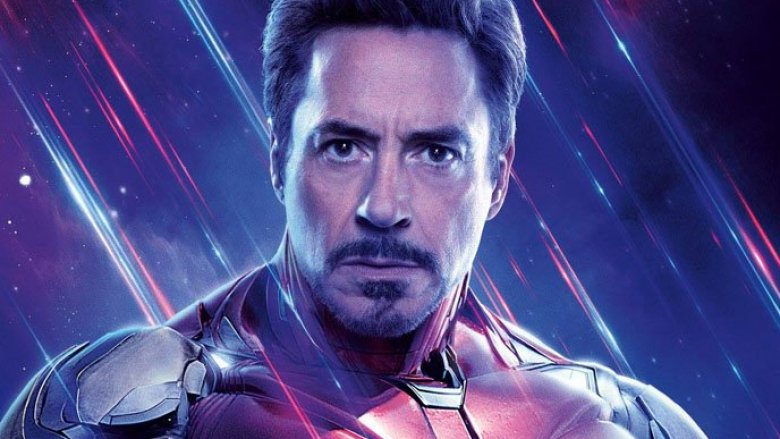 Marvel Studios
It's the end of the line, and the Original Six are prepared to give it everything they've got. 
Two and a half weeks out from the launch of Avengers: Endgame, Entertainment Weekly released six stunning covers for its print magazine, each of which feature one of the founding members of the Avengers team. Iron Man, Captain America, Black Widow, Thor, Hawkeye, and Bruce Banner make up the Original Six, as they're often called in the Marvel fandom, and they appear equal parts beautiful and bold on their individual covers. 
The first cover features Robert Downey Jr. as Iron Man, staring down the lens of the camera. Dressed in his classic red-and-gold suit, the Armored Avenger looks powerful and determined to right the wrongs that unfurled in Avengers: Infinity War, though fans know that his journey in Endgame will test his strength and resilience in a way he never thought possible. 
As the man who starred in the superhero solo film that birthed the Marvel Cinematic Universe as we know it today, Downey Jr. has experienced a wide range of emotions in the lead-up to Endgame, the most prominent of which have been gratitude and love. 
"We lived our lives looking each other in the eyes, playing these big-stakes moments, and being in trouble together, and saving each other, and worrying about each other. The smallness of our lives has been the constant in this massive endeavor, and it's impossible not to be humbled by it," Downey Jr. told EW's Anthony Breznican during an emotional sit-down interview for the magazine's forthcoming issue. He added with a laugh, "Hell, if I've been, then it's completely impossible."
Those interested in picking up the Iron Man cover of EW can do so right here.
Next up is Chris Evans as Captain America, the first Avenger. Like Iron Man, Cap is wearing his signature suit sans any facial coverings. He's beardless — a contrast to his scruffy appearance in Infinity War — and the text behind him is a crisp blue that complements his costume. 
Of his connection to Captain America, Evans compared the hero to a companion with whom he reunites each time he steps back into the role. 
"It's impossible not to take a little piece on. Anytime you play a role, when you're in a certain headspace all day, you can't help but take some of that home with you. Sometimes you play roles where it's really exhausting, and it can be a cave of darkness, something you can't wait to shed," he said. "Other times, you can't wait to get back to it. And that's the fun thing about the role [of Captain America]. Usually when you're done, you close the book and move on. This one, you just put it on hiatus because you know you're coming back ... The same way that [my castmates] are all friends, the character becomes a friend too. You're visiting an old friend."
Buy the Captain America EW cover here.
Then there's Scarlett Johansson as Black Widow, whose EW cover is splashed with shades of red to mirror the hero's changing hair color in Endgame. Normally a redhead, Black Widow donned a blonde bob in Infinity War — only to be seen sporting both a red 'do and her cropped platinum cut in the trailers for the upcoming film. Many have used Black Widow's hair as evidence that Endgame will involve time travel, so it's interesting to see her rocking a fire-to-ice hairstyle on this cover. Because she's not completely ginger or totally blonde here, it suggests that Endgame may not rewind the clock all the way back to the early days of the MCU when Black Widow's hair was all red. That we've also spotted her with blonde locks in Endgame footage signals that the film will pick up at some point shortly after Infinity War, and that she's taken on a half-and-half look as well indicates there's another timeline to explore in Endgame. 
All that hair talk aside, Johansson opened up about the ways in which she feels her playing Black Widow changed how female superheroes are presented and received in the media, as well as the personal evolution Black Widow has gone through since debuting in 2010's Iron Man 2. 
"She's come into her own as a woman, saying, 'Who am I? And what do I want? And what do I need out of my relationships and also out of my own self?' She's someone who's understanding her own self-worth. And that is such a powerful journey to see anybody take, but certainly to see a woman on screen represented in that way: a flawed superhero with a gray moral compass coming to terms with what's happened to her," said Johansson. "It's definitely shown some sort of path for these other female superheroes to be able to walk down. I certainly don't take credit for that, though."
The Black Widow cover of EW is available for purchase through this link.
Next comes Chris Hemsworth as Thor, the Asgardian god of thunder who lost an eye in his trilogy-ender Thor: Ragnarok and got a replacement in Avengers: Infinity War. The effects of those events are on full display on the hero's EW cover, as he's shown with one blue eye and one brown — the brown one resting between two scars on Thor's brow bone and cheek. Thor looks the most different to his past self on this cover: gone are his long blonde tresses, which were lobbed off in Thor: Ragnarok, and here to stay is his full beard. Just as his other heroes have endured, Thor has experienced battles and brushes with death that have changed him for good. The hammer-swinging hero isn't just physically different — he's a changed man on the inside, too. 
Hemsworth told EW that he has had an amazing time playing Thor, a character who began from a very serious place far removed from Hemsworth as a person. As time went on and the trilogy changed directors (for the better), Hemsworth put more and more of himself into Thor. 
"There was a much clearer [sense of] who the character was the first time I played it, and then... it slowly just became me screwing around and having fun. There's more of me in the character now than ever," said the Aussie star. "It's the most honest place you can operate from as an actor."
Pick up the Thor EW cover here. 
Then, we have the cover for Jeremy Renner as Hawkeye — now going by his alter-ego of Ronin. His face says it all: he's not messing around this time (not that he ever really did muck about) and will stop at nothing to undo Thanos' (Josh Brolin) universe-splitting Decimation in Endgame. After being missing in action in Infinity War, Renner's Hawkeye/Ronin will bring a needed dose of fire power to the Avengers' mission. 
Renner reflected on the enormity of the MCU thus far, and remembered the man who created the character he has had the pleasure of playing for so many years.
Of Marvel's movie world and studio president Kevin Feige, Renner said, "I wonder what the ripple effect of it will be in 30 years. 'Look what Feige's done!' How do you do a series of films? Twenty-two films! How do you do that?" 
He then spoke about Marvel Comics legend Stan Lee, who passed away in November of 2018 at the age of 95. "I aspire to be as strong-minded. The guy lived an amazing life. When you spent time with him, you just knew this guy was burning with the fire of life. He had a great sense of humor and a smart, smart mind," the actor shared. "I hope and aspire to be anywhere half of what he was as a man. It's really fantastic."
Hawkeye/Ronin fans can purchase the hero's EW cover via this link.
Last but certainly not least is Mark Ruffalo as Bruce Banner, who hasn't Hulked out since the opening scene of Avengers: Infinity War and hasn't been shown in the Endgame trailers in his Jade Giant form. Endgame will challenge all of the Original Six — plus their fellow vigilantes like Ant-Man (Paul Rudd), Rocket Raccoon (Bradley Cooper), and new-to-the-squad hero Captain Marvel (Brie Larson) — but Banner faces a massive obstacle in trying to settle his differences with the Hulk. A popular theory has it that Endgame might feature Banner becoming Professor Hulk, a more level-headed Hulk that's sort of a blend between Banner and his other side. The Avengers and co. will certainly need Hulk's presence to defeat Thanos, so hopefully the not-so-gentle giant can make amends with the genius scientist in the nick of time. 
Speaking with EW during the Endgame cast interview, Ruffalo spoke about the magnitude of Marvel movies and how storytelling in the MCU has matured over time. 
"One thing I think about these movies that's really exciting is they're forward-leaning in the narrative of good versus evil. We're able to transcend some of the divisive narratives that are happening now. These stories do touch a lot of different kinds of people with different kinds of beliefs," said Ruffalo. "I always feel like somehow we're always one or two steps ahead of the political scene. You know, the bad guys win sometimes. And we lose good people. Unless you lose sometimes, you don't value winning — and winning doesn't mean anything. I feel like that has been this final journey into our... end game."
Purchase the Bruce Banner/Hulk cover of EW here. 
The Marvel-ous double issue of Entertainment Weekly hits newsstands on April 19. Dig into all the goodness on print to pass the time until Avengers: Endgame opens in theaters on April 26.