Captain Marvel's Stan Lee Cameo Will Make You Cry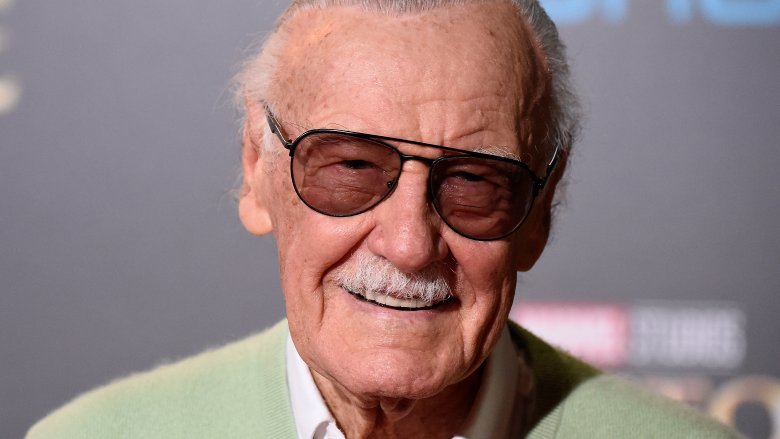 Getty Images
Simply say the name "Stan Lee," and thousands of Marvel fans around the world will start to get emotional. Show him on screen, and those teary-eyed thousands will turn to sobbing millions. 
As is tradition in the Marvel Cinematic Universe, the fast-approaching Captain Marvel does indeed feature a cameo appearance by Lee, who sadly passed away on November 12, 2018 at the age of 95. Lee has popped up in plenty of past Marvel movies in a selection of different roles — from non-MCU cameos as a hot dog vendor in 2000's X-Men, a surprised bystander in 2002's Spider-Man, and a wedding crasher in 2007's Fantastic Four: Rise of the Silver Surfer to a faux Hugh Hefner in 2008's Iron Man, a pick-up truck driver in 2011's Thor, a bartender in 2015's Ant-Man, and a snap-happy barber in 2017's Thor: Ragnarok. Even after his death, Lee remained part of the cinematic world of superheroes he helped build: viewers saw him in Sony's Oscar-winning animated film Spider-Man: Into the Spider-Verse and at the end of 20th Century Fox's PG-13 re-release of Deadpool 2, Once Upon A Deadpool. 
Nary a single Stan Lee cameo — in the core MCU and throughout Sony's Marvel flicks and Fox's X-movies alike — has been anything but magnificent and worthy of a grin and a laugh and a gasp when fans finally spot the moment he appears on screen. But Lee's impending posthumous cameo in Captain Marvel will apparently be a cut above the rest, as the film's directors have promised that it will make audiences shed a few tears. 
Speaking to Metro UK during the London premiere of Captain Marvel, the filmmaking duo Anna Boden and Ryan Fleck discussed Lee's inclusion in the superhero standalone, due out in theaters on March 8. 
Boden was the first to broach the subject, telling the outlet that the lucky people who have already seen Captain Marvel in pre-release screenings cried over Lee's cameo — and even the steeliest of hearts and strongest of wills buckled under the sentiment of it all. 
"We did want to kind of have a moment and tribute to Stan Lee in this movie, obviously. It was something that came from Marvel and when they showed it to us, there was not a dry eye in the house. It was really emotional," shared Boden. 
Of course, the co-director couldn't dish up any details on Lee's Captain Marvel moment, as the notoriously secretive Marvel would surely strike down on her in the same way it did Spider-Man actor Tom Holland, the MCU's resident spoiler-spiller, and Hulk actor Mark Ruffalo, who once accidentally live-streamed on Instagram the opening of Thor: Ragnarok ahead of the film's theatrical launch and previously revealed that "everybody dies" in Avengers: Infinity War long before the film debuted. Boden joked, "I don't want to get fired now, of all times. It would be so weird if I got fired at this point in time. So I don't want to say anything I'm not supposed to say."
Fleck jumped in from there, filling us in a bit more on what to expect of Lee in Captain Marvel. He shared that the scene in which Lee appears was the one that made perfect sense to him and Boden, who agreed that it "felt right" to include Lee at that point during the film. Again, Fleck didn't divulge any further information for fear of getting a swift kick to the backside courtesy of Marvel Studios' bigwigs, but he assured that the cameo feels natural and oh-so special. 
"You know it just, it felt right. When you look at the script and you're like, 'Where are we gonna put Stan Lee in this movie?,' that seemed like the right place. Throw him into that scene," said Fleck, who then opened up about what it was like to meet Lee and have him on the set of Captain Marvel. Though they seemingly didn't spent a whole lot of time together, Fleck shared that Lee left a strong impression on him, and was a lovely presence behind the scenes. 
"It's just great when he comes on set it's, uh, it's a real honor to meet him. He's a legend in this business and... everyone really like pays attention and people come out of the woodwork, you know, some crew member you didn't even know will come out trying to shake his hand," he stated. "Really, it's cool."
Captain Marvel isn't the only film in which the late, great Lee will appear this year. Fans are expecting Lee — the comic icon who co-created countless superheroes like Spider-Man, The Fantastic Four, and several X-Men, and helped bring to life Ant-Man, Iron Man, Daredevil, Thor, Black Panther, and many more — to cameo in Sony's Spider-Man: Far From Home, the Holland-starring sequel to Spider-Man: Homecoming, in which Lee took a turn as Gary, an old man who leans out of a window and yells at the friendly neighborhood hero, "Don't make me come down there, you punk." 
Since Lee truly ran the gamut with the types of characters he played in his MCU and non-MCU cameos — a gambler in Black Panther, a strip club DJ in Deadpool, an expert flirter in Guardians of the Galaxy, a mental institution patient in Thor: The Dark World — there's little predicting who he might appear as in Captain Marvel (and Far From Home, for that matter). Considering the film, starring Brie Larson as the titular hero, takes place in 1995, maybe viewers will get to see Lee rocking some sweet Hammer pants and dancing along to Coolio's "Gangsta's Paradise." If anyone can pull that off, it's the amazing, spectacular, incredible Stan Lee. 
Also featuring Samuel L. Jackson as Nick Fury, Ben Mendelsohn as Talos, Gemma Chan as Minn-Erva, Lashana Lynch as Maria Rambeau, Clark Gregg as Phil Coulson, and Jude Law as a character who is either Captain Marvel's most trusted mentor or her biggest enemy (the jury's still out), Captain Marvel will soar into theaters on March 8.