Aquaman 2 Gets Release Date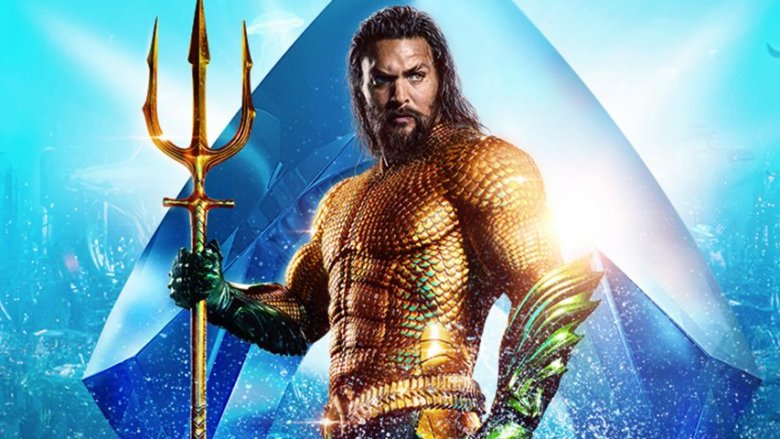 A return trip to Atlantis is on the (distant) horizon.
Warner Brothers has set an official release date for the sequel to last year's smash hit Aquaman, but here's the bad news: it'll be awhile. The flick will splash down in theaters on December 16, 2022. (via Deadline)
That Aquaman 2 (or whatever its final title may be) is getting a release during the same Christmas frame as its predecessor isn't a huge surprise. The release strategy paid off in spades for the first film, which shocked everyone by not only being very good, but by becoming the highest-grossing film based on a DC property to date. Aquaman raked in a staggering $1.1 billion dollars worldwide, largely thanks to its fantastic production design, smart and efficient direction by James Wan, and an intensely charismatic lead performance from Jason Momoa, who appears invested in his role in a way that few of his DCEU peers have been.
For the sake of comparison, the only two DC movies to crack the billion-dollar mark at the worldwide box office before Aquaman were The Dark Knight ($1 billion dollars) and The Dark Knight Rises ($1.08 billion dollars); no DCEU entry had previously come close, with former top dog Batman V. Superman: Dawn of Justice only managing $873.6 million dollars. In addition, the DCEU entry immediately preceding Aquaman — Justice League, which introduced Momoa's take on the character — performed dismally, garnering only $657.9 million dollars on its way to improbably becoming the lowest-grossing film in the entire franchise.
Considering its box office triumph, Aquaman was destined to spawn a franchise of its own, and it didn't take long for this to begin taking shape. Earlier this month, we reported that a spin-off flick entitled The Trench — set in the titular kingdom featured in the first film, which transforms those unfortunate enough to be cast into its depths into vicious monsters — was in the works, with freshman screenwriters Noah Gardner and Aiden Fitzgerald taking on the screenplay. Then, only two days later, the news broke that Aquaman 2 was officially a go, with original co-writer and frequent Wan partner-in-crime David Leslie Johnson-McGoldrick set to pen the script and Wan serving as a producer. 
It's unclear at this point whether he'll also return to the director's chair, but it seems likely; it's been reported that he won't make anything official until the script is completed, but it could just be that his availability (or lack thereof) may have something to do with the production delay. While his IMDb page lists no forthcoming directing gigs on his calendar, he has a metric ton of projects in the works as a producer; he's currently attached in that capacity to the as-yet-untitled Conjuring 3, the Stephen King adaptation The Tommyknockers, the Conjuring spin-off flick Crooked Man, and the rebooted video game adaptation Mortal Kombat. On top of all this, he's currently at work on another DC project: Swamp Thing, a horror-tinged take on the classic character which is slated to debut later this year on streamer DC Universe. The series is the brainchild of Wan and Gary Dauberman, the scribe behind Annabelle: Creation and It: Chapter One.
Whether or not Wan takes up the reins again, Aquaman 2 is already looking like a sure thing for Warner Brothers. The only other major studio release currently slated to drop the same weekend is an untitled live-action Disney flick; Illumination Animation, the studio behind the Despicable Me and Secret Life of Pets franchises, also has an untitled project scheduled for release the following Wednesday, December 21. Aquaman more than held its own against similar competition in 2018, with Disney's live-action Mary Poppins Returns and the Oscar-winning animated smash Spider-Man: Into the Spider-Verse both failing to unseat Arthur Curry from his throne.
The wait may be long, but we have a feeling it'll be worth it. Warner Brothers and DC have largely abandoned their Marvel-lite universe-building strategy in favor of focusing on compelling singular stories from dedicated filmmakers, and although it's a little early to tell just how profound of a course-correction it will be, the move appears to be paying off. On tap for this year is Shazam!, which will make only passing references to the other heroes of the DCEU (and which, by the by, looks absolutely delightful), and Joker, the Joaquin Phoenix starrer which will feature a radically different take on the Clown Prince of Crime from the one put forth by Jared Leto in Suicide Squad.
Assuming that Warner Brothers stays the course, the revamped DCEU is likely to have built up a considerable amount of goodwill by the time Aquaman 2 drops, and this combined with the flick's built-in audience of fans who loved the first film could combine to make it a box office juggernaut on par with rival Marvel Studios' most popular releases. We'll keep our finger on the pulse of this one, and report additional details as they become available over, er, the next several years.