The Punisher And Jessica Jones Cancelled At Netflix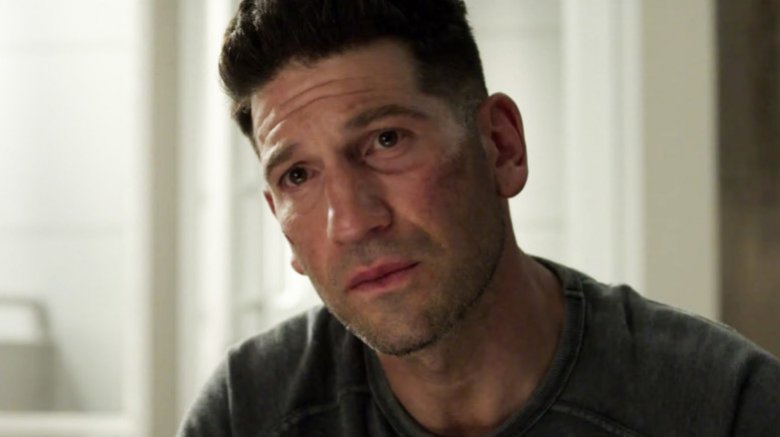 Rest in peace, the last of the Marvel-Netflix superhero series. 
Deadline has delivered harrowing news to the masses this Monday afternoon: both The Punisher and Jessica Jones have been cancelled at Netflix. 
The two streaming shows that stood strong after Netflix pulled the plug on Luke Cage, Iron Fist, and the much-loved Daredevil in an unprecedented axe-swinging session in late 2018, The Punisher and Jessica Jones helped make up the Marvel Television corner of the streamer's content library. Their cancellations mean that there are no longer any non-cancelled, Netflix-backed Marvel shows on the platform. 
The Punisher's axing comes just a month after the series, led by Jon Bernthal as the gritty gun-for-hire Frank Castle (known by his menacing moniker the Punisher), aired its highly anticipated second season to critical praise and fanfare from loyal viewers. 
After the triple-punch cord-cuttings of Luke Cage, Iron Fist, and Daredevil, many held their breath and crossed their fingers in hopes that The Punisher and Jessica Jones would live to see their upcoming seasons. The Punisher did with its sophomore turn, and thankfully, so will Jessica Jones. The standing plans are that Jessica Jones season 3 will air sometime later this year, giving the series a chance to wrap up its story, which The Punisher sadly didn't get to do. After that, Jessica Jones is officially done-zo. 
"Marvel's The Punisher will not return for a third season on Netflix," Netflix announced in a statement released to Deadline on Monday, February 18. "Showrunner Steve Lightfoot, the terrific crew, and exceptional cast including star Jon Bernthal, delivered an acclaimed and compelling series for fans, and we are proud to showcase their work on Netflix for years to come."
The streamer then shifted focus to Jessica Jones in detailing, "In addition, in reviewing our Marvel programming, we have decided that the upcoming third season will also be the final season for Marvel's Jessica Jones. We are grateful to showrunner Melissa Rosenberg, star Krysten Ritter and the entire cast and crew, for three incredible seasons of this groundbreaking series, which was recognized by the Peabody Awards among many others."
Netflix added, "We are grateful to Marvel for five years of our fruitful partnership and thank the passionate fans who have followed these series from the beginning."
Around the time formal word got out, Bernthal took to his Instagram account to address The Punisher's cancellation, sharing an illustration of his character and bidding farewell to the series. "To all who have served. All who know loss. All who love and understand Frank and his pain. It has been an honor to walk in his boots. I'm endlessly grateful to the comic fans and the men and women of the Armed Services and law enforcement community who Frank means so much to," wrote Bernthal in the caption of the photo. "Thank you to the USMC and all the wonderful soldiers who trained me. Go Hard. Be safe."
Marvel Television head honcho Jeph Loeb penned a letter to Marvel fans, thanking them for supporting the five superhero series and the ensemble show The Defenders. 
"It had never been done before. Four separate television series, each with different super-talented showrunners, writers, directors, cast and crew, coming out months apart and then... ...they would meet in a single event series all set in the heart of New York City. We called them The Defenders. And together we were thrilled by stories of Daredevil, Jessica Jones, Luke Cage, Iron Fist and even the Punisher joined in! They said it couldn't be done. But Marvel assembled amazing teams to write, produce, direct, edit, and score 13 seasons and 161 one-hour episodes," Loeb wrote. "Take a moment and go online and look at the dazzling list of actors, writers, directors, and musicians who graced us with the very best of their craft. We loved each and every minute of it. And we did it all for you — the fans — who cheered for us around the world and made all the hard work worth it."
He concluded, "So, Thank You! On behalf of everyone at Marvel Television, we couldn't be more proud or more grateful to our audience. Our Network partner may have decided they no longer want to continue telling the tales of these great characters... but you know Marvel better than that. As Matthew Murdock's Dad once said, 'The measure of a man is not how he gets knocked to the mat, it's how he gets back up.'"
Loeb teased at the very end of his letter that the stories may not completely be over yet, writing "to be continued...!" We can't make any claims or craft any theories about what exactly this means just yet since information is so thin, but it's definitely something to chew on. 
Understandably, hearing that the final two Marvel-Netflix brainchildren are over, with one killed today and the other's death scheduled to happen before the end of the year, has shaken those at home who have fallen in love with them — despite predicting that this would eventually happen. Fans readied themselves for terrible news re: The Punisher and Jessica Jones after Netflix unplugged three of the five standalone superhero shows, but are still mourning the loss of the shows and taking time to honor Bernthal and Jessica Jones lead actress Krysten Ritter for their performances in the series and contributions to the Marvel TV world. 
"The Punisher has been cancelled so can we take a moment to appreciate the incredible job Jon Bernthal [has] done as Frank Castle," one fan wrote on Twitter. "He perfectly embodied the role and put his heart and soul in to bringing the character to life. He IS the Punisher and nobody could ever have done it better."
Another said of Ritter, "Jessica Jones is one of my favorite characters ever and Krysten Ritter is a f***ing treasure and the best casting we could ask for, what a bummer."
This double cancellation comes as Disney, which owns Marvel Studios and its small-screen arm Marvel TV, prepares to roll out its upcoming direct-to-consumer streaming platform Disney+. The company has several projects brewing — including series centered on Marvel Cinematic Universe heroes Vision and Scarlet Witch (for the Paul Bettany and Elizabeth Olsen two-hander The Vision and Scarlet Witch), Loki (starring Tom Hiddleston as the trickster god and brother of Thor), and Falcon and the Winter Soldier (for a team-up series featuring Anthony Mackie and Sebastian Stan). Popular speculation is that Netflix is cutting ties with the Marvel series so that Disney can potentially scoop up the shows, revive them, and air them on Disney+ alongside the other Marvel shows. 
There are two factors complicating this idea: 1) there is reportedly a clause in the original agreement between Marvel TV and Netflix for Luke Cage, Iron Fist, Daredevil, and Jessica Jones (The Punisher wasn't listed in the original deal, as it's technically a spin-off of Daredevil) that legally bars Marvel TV from using any of the series' characters in a non-Netflix show or TV movie for at least two years post cancellation; and 2) Loeb recently entered a deal for four television series and a special with none other than Hulu, another massive streamer. 
It seems that Hulu will be the new home of Marvel TV content, a possibility made more plausible by the fact that Marvel's Runaways is already housed there. The deal Loeb inked with Hulu is for adult-angled animated series based on the Marvel Comics characters M.O.D.O.K, Hit-Monkey, Tigra and Dazzler, and Howard the Duck — and once those are made, there could be room for other shows. In saying that, though, there's no telling whether any projects Loeb and co. put in the pipeline will involve Jessica Jones (or Daredevil, Luke Cage, or Iron Fist, either). The Punisher could soon get revived on Hulu or Disney+ since it wasn't a part of the initial agreement, but the jury is still out on whether that could actually happen. If what we know about the terms of Marvel TV's deal with Netflix is correct, fans shouldn't expect to see any of the Marvel-Netflix series get resurrected — for Hulu, Disney+, or any other platform — for at least two years. This means 2020 for Daredevil, Luke Cage, and Iron Fist and 2021 for Jessica Jones.
All this said, though, a deep-dive into the circumstances surrounding Jessica Jones and The Punisher published by The Hollywood Reporter reveals the real reason why the series were axed. 
According to the report, Netflix "did not have any ownership stake" in its Marvel superhero shows (the standalones and the ensemble series The Defenders), all of which were owned by Disney. The streamer reportedly paid to ABC Studios licensing fees (that apparently carried hefty price tags) in order to produce and distribute each season of the Marvel-Netflix series. Netflix cancelling Jessica Jones and The Punisher now, plus the three other solo shows last year, signifies that Disney is hoping to reclaim the series that it doesn't have direct possession over — and those are the ones on Netflix. Look at it this way: Agents of S.H.I.E.L.D. is housed at ABC, Cloak and Dagger is set up at Freeform, the four upcoming animated series will launch on Hulu, The Runaways is also on Hulu, The Gifted calls Fox its home, and Legion is over at FX. Disney owns ABC (the company does business as Disney–ABC Television Group) and Freeform, and will soon acquire Fox, FX, and a majority stake in Hulu once its $72 billion merger deal with 20th Century Fox goes through. It's clear the House of Mouse wants to take back and maintain ownership over its television content; it's done that through the deal with Fox, and it's doing it now by clearing out its Marvel fare from Netflix's content catalogue. 
Beyond this point of ownership, THR notes that the decision to cancel Jessica Jones and The Punisher (as well as Iron Fist, Luke Cage, and Daredevil) may also have been motivated by tension between Disney and Netflix. As the outlet states, "It's easy to say that Netflix canceled its Marvel fare because of economics, [but] Disney and Netflix have not exactly been good bedfellows in the past year." 
Sources close to THR indicate that the original deal for the Marvel-Netflix series, which accounted for four solo shows (Daredevil, Luke Cage, Iron Fist, and Jessica Jones) that would run for 13 episodes plus the miniseries The Defenders, "did not have an expiration date and all of the respective series and spin-offs could have run for as long as both parties wanted." However, Netflix apparently took issue with the episode count, said to have wanted to cut down seasons from 13 episodes to 10 as a way to "tighten" Marvel TV. 
There is also an "increasing rivalry" between Disney and Netflix, which may have heated up after ABC Entertainment president Channing Dungey (whose credits include Agent Carter and Agents of S.H.I.E.L.D.) left her post and headed to Netflix. It's been suggested that Disney CEO Bob Iger and Netflix CEO Reed Hastings are at odds with one another, and that the politics between them played a part in the ultimate decision to cancel the Marvel-Netflix shows. 
Sad as everyone may be over Netflix doing away with The Punisher and Jessica Jones, the two silver linings here are that Jessica Jones will still release a third season and that we certainly haven't seen the last of Bernthal, who is headed from the small screen to the big one with The Many Saints of Newark, New Line Cinema's in-development prequel to The Sopranos. Additionally, all signs are pointing to Disney as the future of Marvel TV fare, with executives at both Disney and Marvel having reportedly stated that "the cancelled Netflix fare could live again on Disney+."