Netflix's Marvel Series Reportedly Not Going To Disney+ 'Any Time Soon'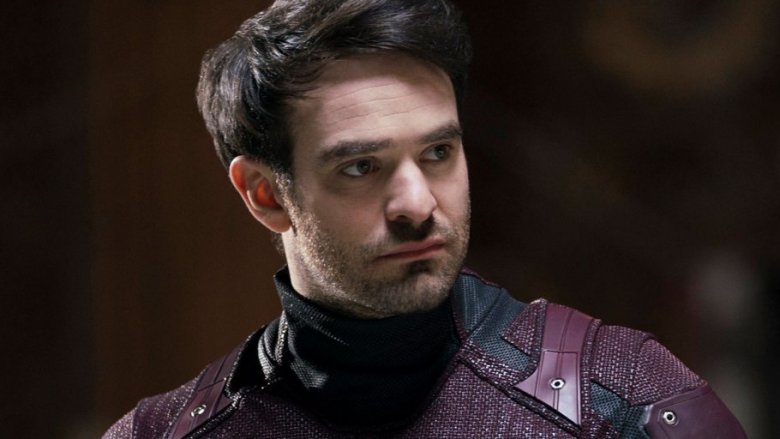 Sarah Shatz/Netflix
We hate to be the bringer of bad news, but here we are: Variety has reported that Netflix's Marvel Television series won't be headed to Disney's streaming service, Disney+, "any time soon." 
According to sources close to the outlet, the deal Netflix and Marvel Television agreed to for the four original Marvel superhero shows Daredevil, Luke Cage, Iron Fist, and Jessica Jones includes a clause that has substantial impact on what the streamer can do with the series and their respective characters moving forward. The clause details that Marvel is legally barred from utilizing the characters in "any non-Netflix series or film for at least two years after cancellation." Netflix has already pulled the plug on Daredevil, Luke Cage, and Iron Fist — shutting them down in shockingly quick succession, and with no forewarning — which means that the three series wouldn't be able to move to Disney+ until at least 2020. 
The two remaining Marvel superhero shows currently housed at Netflix are Jessica Jones, which hasn't yet been axed and is still expected to premiere its third season in the near future, and the spin-off series The Punisher, which will return to the streamer "soon" and isn't included in the original deal that called for four live-action series and an ensemble miniseries, The Defenders. 
If Netflix does decide to cancel Jessica Jones after it airs its upcoming season, Marvel couldn't move the show or use Krysten Ritter's titular superhero on a Disney+ project until 2021, at the very earliest. The same can be said for The Punisher. As for The Defenders, it's been reported that show will probably never get a second season, and with all these cancellations happening and the complexities of Marvel's rights to the characters, that show is pretty much toast, too. 
Another huge consequence of the clause is that it blocks Marvel's parent company, The Walt Disney Company, from immediately establishing an all-encompassing Marvel arm of the soon-to-launch streaming service. Disney already has plans for a series starring Tom Hiddleston's Loki, a show centered on Elizabeth Olsen's Scarlet Witch, and a team-up limited series featuring Anthony Mackie's Falcon and Sebastian Stan's Winter Soldier. But those projects only represent one-half of the overall Marvel universe — the Marvel Cinematic Universe. With Marvel unable to (per Variety's report, at least) bring Matt Murdock, Luke Cage, and Danny Rand to join Loki, Scarlet Witch, Falcon, and the Winter Solider right away, the superhero side of Disney+ won't be complete for another two years at best. 
And that begs a serious question: Is it worth it? Will Marvel and Disney even want to put effort into creating new series or movies featuring Daredevil, Luke Cage, and Iron Fist after waiting two long years for the ability to do so? 
The companies have a lot on their plate with Disney+ already — and not just with the Marvel series cooking up behind the curtain. There's also Jon Favreau's live-action Star Wars series The Mandalorian, top-lined by Game of Thrones alum Pedro Pascal; the Cassian Andor prequel show led by Rogue One star Diego Luna; untitled Mighty Ducks, Monsters, Inc., and Muppets series; as well as a new Lady and the Tramp film and a Stargirl feature, among many others. Figuring out what to do with the trio of Marvel heroes may be more trouble than its worth when it comes down to it, and, as sad as it is to say, some fans might lose interest in the characters after the two-year waiting period is up. And even those who would be down to tune into new versions of Daredevil, Luke Cage, and Iron Fist in the early 2020s could very well change their tune if Marvel and Disney hire new actors to replace Charlie Cox as Daredevil, Mike Colter as Luke, and Finn Jones as Iron Fist.
At the end of the day, we aren't privy to every detail of the Netflix-Marvel Television agreement, but this particular aspect of it doesn't sound good. The only silver lining is that, regardless of what happens from here forward, at least Daredevil, Luke Cage, and Iron Fist will still be available to stream on Netflix.