Falcon-Winter Soldier Limited Series In The Works For Disney's Streaming Service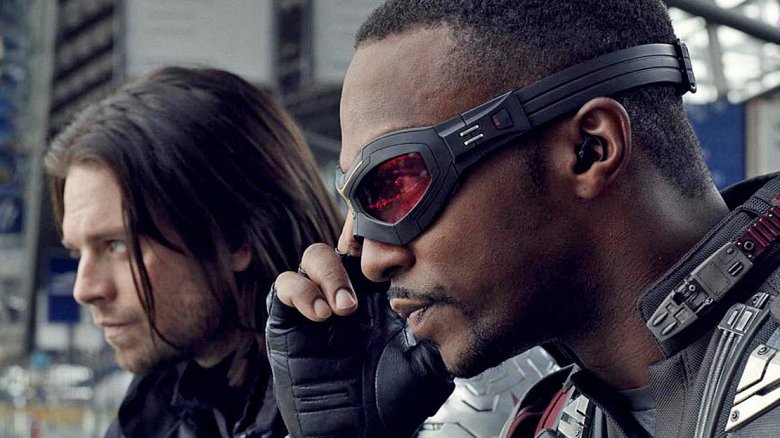 Sam Wilson and Bucky Barnes are getting back together. 
As announced by Variety, Marvel is actively developing a limited series focused on Falcon (played in the Marvel Cinematic Universe by Anthony Mackie) and the Winter Soldier (better known as Bucky Barnes, portrayed by Sebastian Stan) for exclusive release on Disney's upcoming streaming service, due to launch sometime in 2019. 
The house of heroes tapped Empire writer Malcolm Spellman to pen the series and serve as its executive producer. Marvel plans to, of course, bring Mackie and Stan on board to reprise their roles. 
Expected to run for six to eight episodes, the untitled Falcon-Winter Soldier show is the latest addition to the collection of Marvel projects Disney has brewing behind the scenes. Reports surfaced earlier this year that the Walt Disney Company and its subsidiary Marvel Studios were tinkering away at spin-off series starring Tom Hiddleston's Loki, the mischievous adopted brother of Chris Hemsworth's Thor, and Elizabeth Olsen's Scarlet Witch — both of whom had a rough go in Avengers: Infinity War, perishing at Thanos' hand in very different ways. 
When word of these projects first broke, Variety detailed that Disney and Marvel actually had several shows of this kind in the works — ones featuring "beloved superheroes who have yet to appear in their own standalone movies" — so even then, fans knew that Loki and Scarlet Witch weren't the only vigilantes poised to get the lead character treatment. It was only a matter of time before Disney and Marvel started dropping names, sources began picking up on the information, and outlets started confirming the remaining comic characters who would top-line their very own shows. With this latest report, Falcon and Bucky Barnes are two of the lucky few who will get their much-deserved moment in the superhero spotlight. 
As with the Loki and Scarlet Witch series, the Falcon-Winter Soldier buddy-up show has a very important someone standing in the wings, pulling the strings, and ensuring everything is up to snuff and operating smoothly. Marvel Studios president Kevin Feige will oversee the project — to manage the MCU actors, aid in the legalese of silver-to-small-screen contracts, and set the seal on story continuity. 
Having the head honcho on board in what's been described as a "hands-on role" is more than just a wise decision on Disney and Marvel's part — it's one that could secure the series' success. Who knows the ins and outs of the Marvel world better than Feige, the guy who's been the company prez for over a decade — starting his post a year before the Marvel Cinematic Universe was even born? We'd bet money on the fact that fans couldn't find anyone more qualified for the gig than Feige, who will guarantee that the Falcon-Winter Soldier show is as flawless as it can be. 
Additionally, Marvel Television, which produces the company's other series including Jessica Jones and Daredevil, isn't behind any of the upcoming shows set for release on Disney's streaming platform. Marvel Studios is, which suggests that the new series will look and feel more like the MCU films rather than Marvel's television fare that's housed at Netflix.
To everyday Marvel fans, news of a Falcon-Winter Soldier series is enough to send them on an joy-induced Twitter rant, posting tweet after tweet about their hopes for the upcoming show. But for those clued into all the going-ons of the Marvel world, their ears tuned to pick up even the faintest whisperings of potentially big news, it may be exciting but not entirely surprising. In past interviews, Stan and Mackie have teased their ideas for a Falcon-Winter Solider team-up movie that would dig into the unique dynamic between the two heroes, who sparked up an elbow-nudging rivalry in Captain America: Civil War that melted into a light-hearted, banter-filled pseudo-alliance in Avengers: Infinity War. (Thanos may have threatened their very existence, but that didn't stop the two from giving one another a hard time — and that's why we love 'em.) 
Speaking with Entertainment Tonight on the set of Avengers: Infinity War, Stan pitched his idea for a movie centered on his and Mackie's characters: "To me, it's like Martin Brest's film classic, Midnight Run, you know. It's really just sort of in my head, like, 48 Hours or a buddy comedy from the '80s or the '90s. That's how I see it." The actor added at the time that fans "absolutely can" get a Falcon-Winter Soldier spin-off, noting that "the right people to make that happen are certainly within feet from us right now." 
Mackie said in his own conversation with the outlet that he believed the "mutual respect" between Falcon and Bucky, paired with their hilarious rapport, makes their relationship so enjoyable — and is exactly why it would be great to see the two characters together in their own project. 
"Sebastian is a damn good actor and he's a damn good friend, so I think our relationship — really, it's the three of us, he, Chris Evans, and I — our relationship kind of works really well because there's a mutual respect," Mackie said. "So a spin-off would be great, but it would be like Nick Nolte and Eddie Murphy in 48 Hours, that would be our spin-off. It would end up with us beating the crap out of each other three or four times, I know it."
There's no saying which direction Disney, Marvel, Feige, and Spellman intend to go with the Falcon-Winter Soldier series, but that Stan and Mackie have long been down to partner up — both mentioning the same movie, 48 Hours, in their pitches for a potential spin-off — seems to indicate the show will be a wickedly fun one bolstered by the lead actors' undeniable chemistry. And, perhaps most excitingly about this entire situation, the fact that such a series is in the works at all signals something major: Falcon and Bucky will likely return from the dead in Avengers 4, and survive what the Infinity War follow-up has in store. How's that for a Disney movie "happily ever after"?