Hulu Orders Four Marvel Adult Animated Series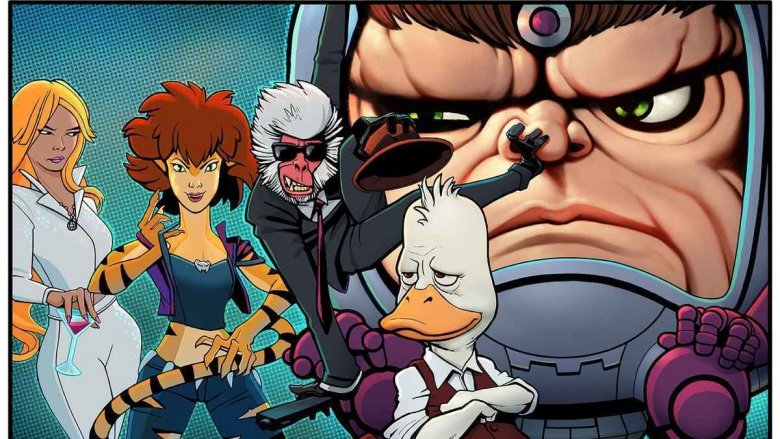 It's déjà vu all over again.
Hulu is re-upping on its Marvel content with four new adult animated series, led by Kevin Smith's Howard the Duck. The four shows will eventually cross over with a team-up special entitled The Offenders, according to a report by Deadline.
The move is indicative of Hulu's strong satisfaction with the performance of live-action Marvel series Runaways, which is thought to be headed for a third-season order. It also comes as Disney's impending acquisition of the vast majority of Fox Studios' film and television assets looms on the horizon; the House of Mouse already owns 30% of Hulu, and will have a controlling interest in the streamer with 60% once the Fox deal is complete. With several live-action, MCU-set miniseries in the works for the forthcoming Disney+ streaming service, the media giant looks to be exploring other avenues with which to maximize its stewardship of Marvel's properties, and Hulu has been tapped to run point on this slate of animated offerings.
Perhaps the most interesting of the announced new series is Howard the Duck, based on the infamous character that spawned one of the very worst films ever made in the '80s and who popped up in brief cameos in the Guardians of the Galaxy flicks. The comic book was one of Marvel's quirkiest titles of the '70s (which is really saying something), featuring the titular character "trapped in a world he never made" after being transplanted to Earth from a home world populated by sentient ducks. It saw him crossing paths with other offbeat characters such as Man-Thing and Bessie the Hellcow, and doing battle with his arch-nemesis, the bell-helmeted Doctor Bong. (Interestingly, Marvel nearly faced a lawsuit from Disney in the '70s over Howard's resemblance to Donald Duck, which is the reason Howard wears pants.)
Smith is an inspired choice to head up Howard's series, being a comedy filmmaker with a lifelong love of comics and authorship of several books for both Marvel and DC under his belt. He'll produce the show along with Marvel TV head honcho Jeph Loeb (who will fill the role on all four series and the crossover) and Dave Willis, a man with plenty to bring to the table. He's served as a writer, producer, director, and voice actor on animated shows such as Squidbillies, Space Ghost Coast to Coast, Aqua Teen Hunger Force, and Sealab 2021, to name a few.
Also on tap is Marvel's Tigra and Dazzler Show, which will be executive produced and co-written by comedian Chelsea Handler. The series will pair the cat-powered Tigra with Dazzler, a disco-themed heroine capable of turning sound into energy who came about as a result of Marvel's desire to get into popular music in the late '70s (A planned tie-in album with the character's book never materialized). Also serving as a writer and producer on the series will be Erica Rivinoja, who as a staff writer during South Park's early seasons contributed to some of that show's most memorable episodes, including "Professor Chaos," "Asspen," "How to Eat With Your Butt," and "Towelie."
Next up is Marvel's Hit-Monkey, which hails from the writing/directing team of Josh Gordon and Will Speck (Blades of Glory). The character is as it sounds: a Japanese Macaque monkey with human intelligence and a prodigious skill for the art of assassination, Hit-Monkey has crossed paths with the likes of Spider-Man and Deadpool (but, strangely, not Rocket Raccoon). Rounding out the lineup is Marvel's M.O.D.O.K., which will present a humorous take on the iconic Marvel villain as he struggles to rein in his super-ego while dealing with family life. (In case you're wondering, it stands for "Mental Organism Designed Only for Killing," which probably seemed a whole lot more badass when the character was introduced in the late '60s.) That series will be executive produced and written by beloved comedian Patton Oswalt along with Jordan Blum, who has worked on series such as Community and American Dad!
Then, much like the films of the MCU and Marvel's Netflix series before them, the four shows will cross over with The Offenders, in which the characters must team up (although, according to Hulu's press release, "nobody asked them to, and we'd be better off if they didn't") to take on a mysterious threat which jeopardizes the world and "parts of the universe." The one-off special currently has only Loeb attached as a producer, with other talent yet to be announced.
If it seems like Mighty Marvel is intent on reaching into every last corner of our entertainment lives, well, you're not too far off. In addition to the three theatrical releases Marvel Studios has planned this year (Captain Marvel, Avengers: Endgame, and Spider-Man: Far From Home), there are currently series based on its properties across four major platforms (ABC, Freeform, Netflix, and Hulu) with a fifth (Disney+) poised to enter the fray. Netflix will soon be left out in the cold, however: its series Daredevil, Iron Fist, and Luke Cage all got the axe last year, with holdovers Jessica Jones and The Punisher thought to be following soon. 
Marvel's current TV outings have sported an interesting mix of textures and tones, with some leaning toward the dark and gritty (like the Netflix series), others aiming squarely at the teen audience (Runaways, Cloak & Dagger) and the seemingly unstoppable Agents of S.H.I.E.L.D. sticking as closely as possible to the feel of the films of the MCU. This new batch of series will be Marvel's first crack at adult animated comedy, and with all of the amazing talent on board, fans have a lot to be excited about. It's only a matter of time before casting news starts to roll in, and when it does, we'll be all over it.