Jason Momoa Cast In Dune Remake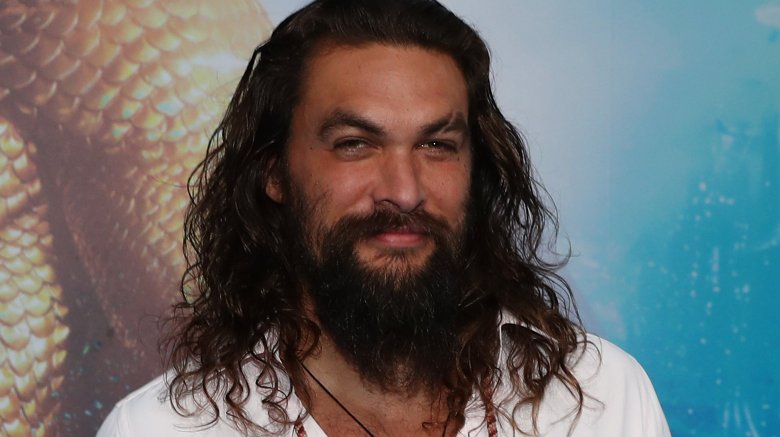 Getty Images
We've said it before, and we'll say it again: it seems like everyone who's anyone in Hollywood is joining the Dune remake. 
The newest A-lister to board the epic (in both senses of the word) sci-fi refresh is Jason Momoa, the actor known to certain sections of fandom as Khal Drogo from Game of Thrones and as the sassy, splashy, half-human fish boy Arthur Curry from Aquaman. 
As detailed by Variety on Thursday, February 14, Momoa is in negotiations with Legendary and director Denis Villeneuve of Arrival and Blade Runner 2049 for the new Dune movie, a remake-slash-reboot of the 1984 film helmed by renowned filmmaker Ridley Scott. The ink on the deal is expected to dry almost immediately. 
Momoa will presumably spend most of his time shooting Dune with current Star Wars trilogy star Oscar Isaac and Call Me By Your Name and Beautiful Boy actor Timothée Chalamet. Let us explain: Momoa is set for the role of Duncan Idaho, a man who serves as the swordmaster of the house of Atreides. Chalamet leads the Dune remake as Paul Atreides, the heir of his family who governs a desert planet called Arrakis, also referred to as Dune (hence the title of the property). Isaac is attached to portray the father of Chalamet's character, Duke Leto Atreides. The final piece of the puzzle is that Momoa's Duncan is the "right-hand man" to Duke Leto. Get it? Got it? Good. 
Just as the '80s Dune film, a box office flop and a critical disaster that found its audience and grew to gain cult fame in the years following its release, rooted itself in the lore of the 1965 sci-fi novel by Frank Herbert, so too will the forthcoming remake. The story takes place in "the distant future" — not specified in either the novel or the movie from the past — and centers around Paul after his family is betrayed. You see, the Atreides family doesn't just control Arrakis — by proxy, they also have governance over the highly sought-after and incredibly addictive substance known as spice melange. The most valuable commodity in the universe, spice melange grants its users heightened senses, increased vitality and awareness, a longer life expectancy, and even prescience that allows for interstellar travel. Pricey and addictive, "the spice" proves fatal to those who once had a taste but can no longer obtain it, as withdrawal effects are lethal. 
All those literally spicy facts considered, it's no surprise that another noble family stabbed the Atreides clan in the back — or why Paul is so gung-ho about sparking a rebellion to see his family re-seated on the throne of Arrakis. Dune chronicles exactly this mission, following Paul as he flees into the "desert wastelands" of Arrakis and teams up the nomadic tribes that live there, and employs "enhanced mental abilities" to position himself as the leader and convince the nomads to believe "he is there messiah." Ultimately, he "leads an army to overthrow the empire" with a little help from his mother, Lady Jessica, played by Mission: Impossible – Fallout actress Rebecca Ferguson, who aids in Paul's efforts to made the people of Arrakis see him as a savior. 
In addition to starring alongside Isaac, Chalamet, and Ferguson for Dune, Momoa joins Dave Bautista (Guardians of the Galaxy) as Glossu "Beast" Rabban, the "sadistic nephew" of Arrakis overseer Baron Vladimir Harkonnen; Stellan Skarsgård (Thor, Avengers: Age of Ultron) as the Baron Harkonnen; Javier Bardem (No Country for Old Men) as Stilgar, the head of one of the nomadic tribes that assists Paul on his mission; Charlotte Rampling (Hannah, Red Sparrow) as Reverend Mother Mohiam, a woman who is capable of "divine intentions," detecting lies, and manipulating "people's emotional states on behalf of the emperor"; and Josh Brolin (Avengers: Infinity War, Deadpool 2) as the nefarious Gurney Halleck, a "troubadour-swordsman loyal to the family who is instrumental in the wakening of Atreides' cosmic powers, which will start a revolution." Zendaya, who returns to the Marvel Cinematic Universe this summer in Spider-Man: Far From Home, is in talks to play a strong and independent woman named Chani, to whom Paul is deeply connected.  
Momoa is definitely on a hot streak as of late, helping bring over $1.12 billion into Warner Bros. and DC Entertainment with Aquaman, the superhero standalone that reigns supreme as the highest-earning entry in the DC Extended Universe to date, based on worldwide revenue. The actor can currently be heard voicing Aquaman in The Lego Movie 2: The Second Part, and will soon be seen in Apple's sci-fi streaming series See. (Say that seven times fast.)
As we mentioned in our coverage of Brolin's casting in Dune, that Legendary and Villeneuve have selected Momoa for the Dune remake should draw in millions of fans of the DCEU. Like Marvelites will watch the new Dune to see what Brolin gets up to, like Call Me By Your Name and Lady Bird lovers will flock to theaters to see Chalamet lead the feature, and like Guardians and Spider-Man franchise fans will want to witness Bautista and Zendaya in the sci-fi flick, those who adore the DC movie world will likely support Dune simply because Momoa is in it. More viewers means more revenue, and that's always the end goal for film studios. All about the Benjamins, gang. 
Described by the man behind the helm himself as "Star Wars for adults" and promised by Chalamet to be an "intelligent" take on the source material that won't suffer from any "green screen-isms," the Dune remake doesn't yet have a set release date. It's expected to arrive in theaters sometime in 2021, but we will surely update you as soon as Legendary makes an official announcement.