Dune Reboot Casts Guardians Of The Galaxy Star Dave Bautista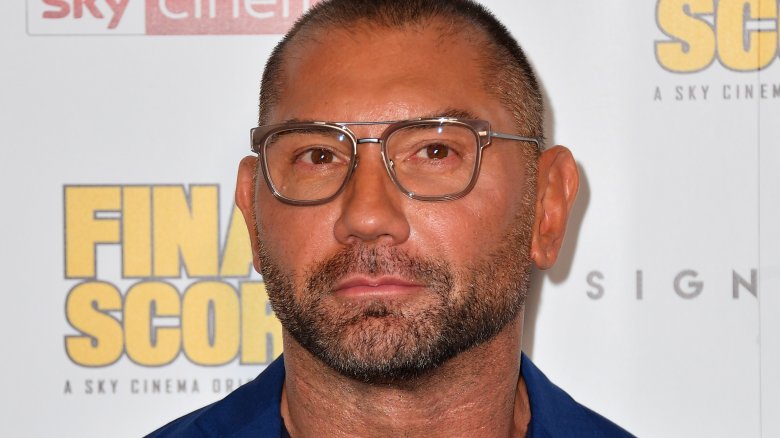 Getty Images
A Guardians of the Galaxy star jumping from superhero fare to a famous sci-fi franchise? It's a Dune deal. 
As Variety announced on Monday, Dave Bautista has been cast in Legendary Entertainment's forthcoming Dune reboot. 
Known for portraying the blue-skinned bounty hunter Drax the Destroyer in Marvel's Guardians franchise, as well as in last year's super-sized ensemble effort Avengers: Infinity War, Bautista joins Call Me By Your Name actor Timothée Chalamet and Mission: Impossible – Fallout star Rebecca Ferguson for the film, which has Denis Villeneuve attached as director and co-writer. 
Though Variety didn't immediately reveal which character Bautista will play in the Dune reboot, which refreshes the 1984 Dune film written and directed by Twin Peaks visionary David Lynch, The Hollywood Reporter did. 
The outlet confirmed that Bautista is stepping into the role of "Beast" Rabban, the "sadistic nephew of a baron who oversees Arrakis" — the baron being Baron Vladimir Harkonnen and Arrakis being the desert planet also known as Dune. 
Chalamet is set to portray Paul Atreides, the heir of the aristocratic Atreides family that governs the far-off planet Caladan and seizes control over Arrakis, the only place in the known galaxy that produces the highly valuable spice melange, an addictive drug that grants its users increased vitality, boosted awareness of themselves and their surroundings, prescience, the ability to embark on interstellar travels, and a longer life. Maintaining jurisdiction over Arrakis is incredibly difficult, as so many noble families want to rule, and eventually Paul and the Atreides family are betrayed. As the original Dune novel by Frank Herbert and the '80s flick reveal, once Paul faces such harsh duplicity, he sparks a rebellion in efforts to see his family re-seated at the head of Arrakis. 
In the Dune reboot, Paul is described as such: "The son of the ruler of the family, who is forced to escape into the desert wastelands and partner with its nomadic tribes. Using enhanced mental abilities, he eventually rises to become their ruler, with the nomads believing he is their messiah, and leads an army to overthrow the empire."
Opposite Chalamet, Ferguson will play Paul's mother, Lady Jessica, who "escapes with him into the desert and helps him become a savior in their eyes."
By boarding the new Dune movie, Bautista has officially reunited with Villeneuve. The two recently collaborated for 2017's Blade Runner 2049, in which Bautista starred as Nexus-8 Replicant, combat medic, and protein farmer Sapper Morton alongside Ryan Gosling's K and Harrison Ford's Rick Deckard. That they have past experience working with one another should create a solid rapport between Bautista and Villeneuve, making for a smooth journey shooting the Dune reboot.
Bautista is undoubtedly the right man to portray "Beast" Rabban, what with his background as a mixed martial artist and professional wrestler, and will certainly do right by the character. We're confident that Chalamet, whose work in the biographical drama Beautiful Boy has industry insiders anticipating that he'll receive an Academy Award nomination in the next few weeks, will lead the Dune reboot with fervor and dynamism, as will Ferguson. 
On the other hand, Villeneuve has something big to prove with the film. The director did score big with his complex and absorbing suspense drama Prisoners, his "taut, tightly wound thriller" Sicario, and his Amy Adams-led, Oscar-winning sci-fi flick Arrival, but Blade Runner 2049 didn't fare as well financially as his past efforts did, or as wonderfully as everyone expected it to. Against its $150 million production budget, Blade Runner 2049 only managed $259.2 million during its theatrical run — a scant $92 million of which came from the domestic box office. Granted, response from both critics and general moviegoers was great — it sits at an 87/81 percent approval rating from each side on Rotten Tomatoes — but a lot of the time, studios look at the facts and figures rather than people's feelings about a movie. Blade Runner 2049 flopped at the box office, and that past face-plant could prove troublesome for Villeneuve as he works on the Dune reboot. 
Like Blade Runner 2049 effectively rebooted the Blade Runner property, following 35 years after Ridley Scott's 1985 original film, Villeneuve's Dune is meant to breathe new life into the long-established fantasy world. History has shown that Villeneuve strikes gold in his original works, but strikes out (in terms of revenue, at least) in attempting to present his own spin on well-known IPs. And this is where an issue arises: Dune will be split into two movies. If the first one, intended to cover the first half of Herbert's novel, turns out a total disaster, chances are that the second one will get scrapped. Suffice to say, there's a ton riding on Villeneuve turning out something incredible with Dune.
Villeneuve's plans for Dune sound interesting (he once described the film as "Star Wars for adults"), so we have our fingers crossed in hopes that the reboot flick will be commercially and critically successful — and will make up for the hugely divisive original Dune from the '80s.
Ahead of his appearance in the Dune reboot, Bautista will make turns in Stuber, My Spy, and, of course, Avengers: Endgame. 
Legendary hasn't set a release date for the new Dune movie.