Captain Marvel Tracking For $100M+ Opening Weekend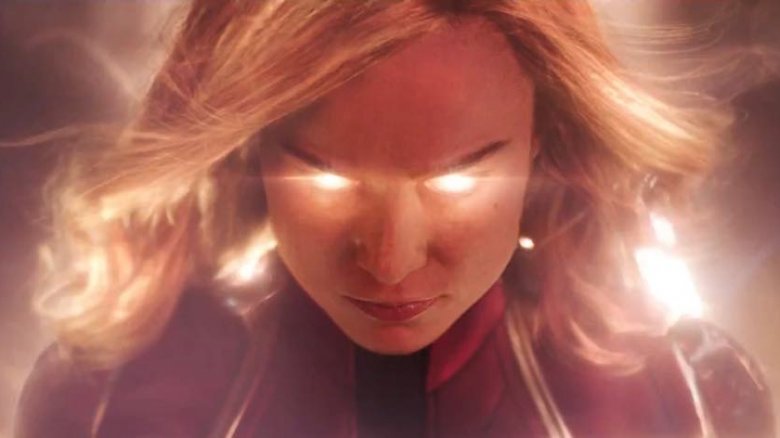 Fire up the Mighty Marvel Money Machine.
Captain Marvel has landed on the radar of industry analysts, who are predicting that the 21st installment in the Marvel Cinematic Universe is on course for an opening weekend in the neighborhood of $100 million dollars. (via Variety)
March has not typically been a stellar month for blockbuster openings. Only four films have surpassed the $100 million dollar mark during the month in their debut frames, although all four were released within the last decade: 2017's live-action Beauty and the Beast remake, 2016's Batman V. Superman: Dawn of Justice, 2012's franchise-starter The Hunger Games, and 2010's Tim Burton-helmed live-action adaptation of Alice in Wonderland. 
That being said, Captain Marvel has a number of things going for it which could help to propel it comfortably past the threshold. First, the obvious: it is a Marvel movie, and those are synonymous with "bonkers box office." No fewer than ten of the twenty films released thus far have posted nine-figure opening weekends, and three more came extremely close. 
Captain Marvel is also the MCU's first solo feature to be headlined by a woman, which many fans feel to be long overdue. As Marvel begins to explore stories not centered solely on white men, we can look to another recent release as a possible indicator of what might lay in store for Captain Marvel: last year's Black Panther, which was the studio's first feature to focus on a black hero and which clobbered all comers at the box office on the way to becoming Marvel Studios' top domestic grosser (not to mention a Best Picture Oscar nominee). That film, incidentally, was released in February — also not traditionally a red-hot month for ticket sales.
Captain Marvel has also enjoyed a lengthy and extensive advertising campaign, with a multitude of trailers, a behind-the-scenes featurette, and a gaggle of character posters all helping to keep the film's visibility high. To top it all off, the flick will almost certainly benefit from what can be called the "Avengers Effect." This can be illustrated most plainly by taking a look at Iron Man 3, which became the first film in that character's franchise to crack a billion dollars at the worldwide box office largely by virtue of being the first MCU release to follow the massive crossover success of The Avengers. Last year's Avengers: Infinity War is (so far) Marvel's all-time international box office champ, and while Captain Marvel is not following it directly — last summer's Ant-Man and the Wasp was released in the interim — Infinity War's post-credits sequence strongly teased the good Captain's importance, as issuing a request for her assistance was the last action of Nick Fury (Samuel L. Jackson) before the erstwhile S.H.I.E.L.D. director crumbled to dust in the wake of the Decimation. Marvel Studios head honcho Kevin Feige has gone on record stating that Captain Marvel is the most powerful character to appear in the MCU to this point, and it stands to reason that she'll have a key role to play in the ultimate defeat of the Mad Titan Thanos in Avengers: Endgame, which arrives in theaters in May.
To all of this, you can add the fact that the film itself looks freakin' amazing. We have Academy Award winner Brie Larson bringing depth and nuance to the complex title character, the long-awaited introduction of the shape-shifting alien race known as the Skrulls, a digitally de-aged, two-eyed Nick Fury, the promise of eye-popping interstellar battles, and — of course — the adorable Goose the cat in a key supporting role. There is literally nothing not to like here.
Set in the mid-'90s, the film follows former Air Force pilot and current Kree warrior (sorry, "warrior hero") Carol Danvers as she returns to Earth in pursuit of an invading force of Skrulls. She must attempt to piece together the mystery of her previous life while assisting Fury in dealing with the Skrull threat and tangling with a mentor (Jude Law's Mar-Vell) who may not have her best interests at heart. In addition to Larson, Jackson, and Law, the film also stars Ben Mendelsohn (Rogue One: A Star Wars Story) as the Skrull warrior Talos, Gemma Chan as Kree Starforce member Minn-Erva, four-time Oscar nominee Annette Bening in an undisclosed, Kree-centric role, and — reprising his Guardians of the Galaxy turn — Lee Pace as the budding Kree zealot Ronan the Accuser.
MCU fans are always awaiting each new release with open arms and wallets, but we'll find out in short order if Captain Marvel packs the kind of paradigm-shifting wallop that Black Panther provided last year. The flick hits the big screen on March 8.