Fandango: Captain Marvel Poised For Stellar Opening Weekend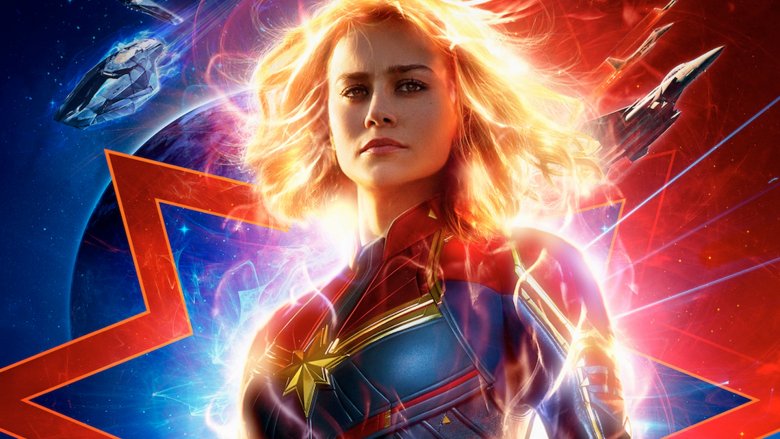 Captain Marvel looks ready to rocket right into the stratosphere.
Online box office Fandango reports that first-day sales of tickets for the upcoming flick, which went on sale yesterday evening, are outpacing all but two of the Marvel Cinematic Universe's previous efforts, according to Deadline. Only last year's Black Panther and Avengers: Infinity War sold more tickets in their first day of availability. 
This may have something to do with the fact that Marvel Studios put together a significant marketing blitz for the Brie Larson-starrer in just the last week. We got a new trailer, a throwback set of new posters, and a behind-the-scenes featurette in the two days leading up to the commencing of online sales, and the strategy appears to have paid off in spades. Not that Captain Marvel  was necessarily hurting for such a push; the first Marvel solo feature to be headlined by a woman has been hotly anticipated since its announcement, and interest in the character has spiked since her arrival was teased in Infinity War's infamous post-credits sequence, in which (...spoiler?) Samuel L. Jackson's Nick Fury puts out a distress call to the hero mere seconds before Thanos' finger snap reduces the superspy to so much dust in the wind.
As pointed out by Deadline, advance ticket sales aren't typically the strongest indicator of opening weekend performance — unless we're talking about Marvel movies. When Black Panther's first-day sales surprised everyone by outpacing those for 2016's Captain America: Civil War (an Avengers flick in all but name, which featured the long-awaited debut of Tom Holland as the MCU's version of Spider-Man), analysts warned that only time would tell if Panther's box office would stay in line with the trend. Of course, those analysts were eating their words when the picture scored an opening weekend north of $200 million dollars on its way to posting the highest domestic gross of any Marvel Studios release. Likewise, Infinity War became Marvel's international box office champion after nearly breaking Fandango with its advance sales, so it's safe to say that Captain Marvel is looking at an opening weekend comfortably beyond the $100 million dollar mark. 
Also, we'd be remiss not to call attention to the fact that the picture doesn't hit theaters for another two months, and as visible (and awesome) as its promotion has been, it's not like we've seen the last of it. Marvel Studios is sure to pull out all the stops in keeping Captain Marvel front and center in the hearts and minds of fans leading up to its release, at which point we can expect the Avengers: Endgame promo machine to crank up in earnest. There's also the fact that Captain Marvel herself is destined to play a hugely important role in Endgame, the nature of which is nearly certain to be teased in detail in her solo effort. Put bluntly, if Captain Marvel doesn't contain a post-credits sequence which leads directly into the events of Endgame, we will personally show up at your house to give you a nice foot massage, a glass of finely aged Cabernet, and a crisp hundred dollar bill.
It frankly boggles the mind that Captain Marvel has outsold the first-day take of not only Civil War, but of such titles as Guardians of the Galaxy Vol. 2, Thor: Ragnarok,Spider-Man: Homecoming, and the first two Avengers films in its first day. Fandango's Erik Davis, for his part, released a statement that revealed the ticket seller's distinct lack of surprise. "We're seeing fantastic advance ticket sales for Captain Marvel because it's a historic film for Marvel Studios, one that fans have been waiting to see for a decade. As the studio's first female-driven superhero film, Captain Marvel is a benchmark moment for the genre, for the Marvel Cinematic Universe, and for star Brie Larson, who will play the most powerful Marvel superhero to date."
The high-flying flick hits the big screen on March 8, 2019; we'll be there with bells on, and we're guessing that you will be, too.