Spider-Man: Far From Home Wraps Filming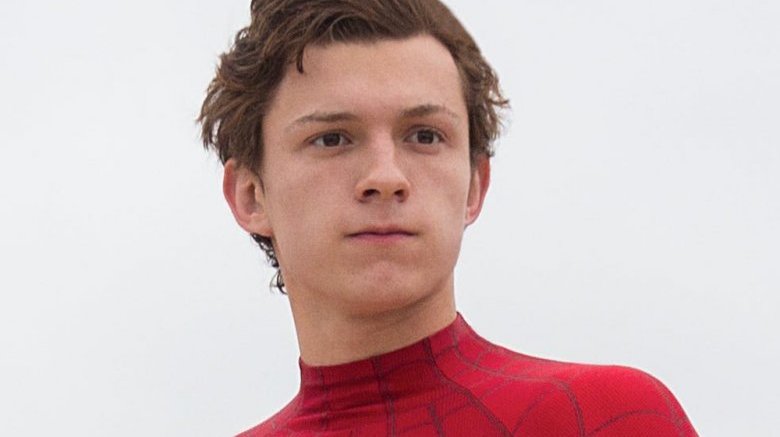 Spider-Man has officially finished weaving his second web. 
Marvel Cinematic Universe star Tom Holland revealed on Tuesday, October 16 that Spider-Man: Far From Home wrapped filming. 
Taking to Instagram, Marvel's Crown Prince of Spoiler-Leaking successfully avoided inadvertently spilling any plot details in his announcement post, simply sharing a photo of himself suited up as Spider-Man and his co-star Zendaya in character as Michelle "MJ" Jones. 
"THATS A WRAP #farfromhome," Holland captioned the snap, which features him in a slick new black-and-red Spidey suit and Zendaya wearing cropped black denim jeans, high-top Converse shoes, and a white tee with an illustration of Joan of Arc displayed on the front. (Could that choice of shirt be a subtle nod to the Joan of Arc-inspired look Zendaya rocked the 2018 Met Gala?) The dynamic duo are seen standing outside what looks to be either a restaurant or a hotel (peep the TripAdvisor sticker in the window), with their feet shoulder-width apart and their arms folded across their chests. They look powerful AF, guys. 
Like we said before, this photo doesn't reveal a whole lot about the upcoming Spider-Man sequel, but that's actually A) understandable considering Peter Parker disintegrated into space dust at the end of Avengers: Infinity War and fans still have to find out what happens to him in Avengers 4 before Far From Home, and B) a good thing given Holland's track record of letting his loose lips sink a few of Marvel's proverbial ships. 
But just because Marvel is continuing its tradition of keeping story specifics under tight wraps doesn't mean we know absolutely nothing about Spider-Man: Far From Home. 
For starters, Marvel president Kevin Feige previously revealed that the film will pick up right after the events of Avengers 4, telling Slashfilm that the untitled ensemble pic will bleed directly into the Spidey sequel. 
"So much happens in [the third and fourth Avengers movies], as you can imagine, and so much is affected by it, that we felt what better person to hold your hand and lead you into the next incarnation of the MCU, in a grounded, realistic manner, than Peter Parker?" said Feige. "So, coming out two months after Untitled Avengers, [that's what] much of what the next Spider-Man film will be about."
Feige added in a separate interview with io9 that both Avengers: Infinity War and Avengers 4 will "greatly inform" Spider-Man: Far From Home. He told the outlet, "The way Civil War and the fact that he went to Leipzig Airport and then has to go back to school, informed Homecoming, the two Avengers films that precede [the sequel] will greatly inform, probably even more so, the next movie."
Far From Home is said to take Peter Parker global, centering on the up-and-coming Avenger's international adventures in the summer between his second and third year of high school. That considered, it sounds like we'll probably (hopefully) see Spider-Man kicking major backside and saving the world in Avengers 4 before watching him head back to his more "normal" teenage life in the web-slinging sequel. 
Additionally, we know that Michael Keaton and Marisa Tomei are returning as Adrian Toomes (better known as Vulture) and Aunt May, respectively. Cobie Smulders and Samuel L. Jackson will make appearances as well, reprising their roles as Maria Hill and Nick Fury. Stepping into the MCU for the first time ever with Far From Home is Jake Gyllenhaal, who is set to play the film's central villain, Mysterio. Of course, fans will also get to see Jacob Batalon back as Peter's best friend Ned, Tony Revolori as Eugene "Flash" Thompson, and Hemky Madera as the kind bodega owner Mr. Delmar. 
According to longtime Marvel film editor Dan Lebental, all these story elements and characters will come together to create a hilarious and impressive sequel that will blow fans away. "I can't say much about the new Spider-Man, but I will offer up that it will be both grander in scale and even funnier than the last one," Lebental revealed to The Hollywood Reporter in July. "The rest of the story will have to wait."
Directed by Jon Watts, Spider-Man: Far From Home will swing into theaters on July 5, 2019.