Why Michelle From Spider-Man: Homecoming Looks So Familiar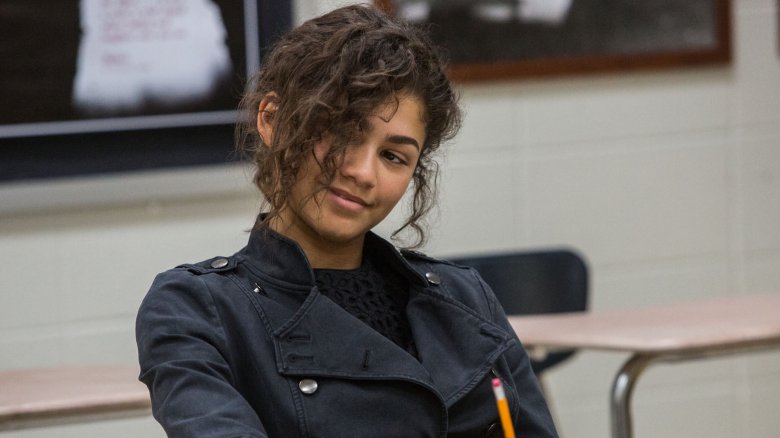 Spider-Man: Homecoming's biggest stars might technically be 50-somethings like Robert Downey, Jr. and Marisa Tomei, but the film is easily the youngest skewing Spider-Man ever made. The story surrounds Peter Parker (played by Tom Holland, a real-life teen when he landed the role) with a crowd of fresh-faced characters that includes Michelle, played by Zendaya. 
Michelle's a relatively minor addition to the franchise in most of Spider-Man: Homecoming, although a revelation late in the film signals the possibility that she could take on a much bigger role in the eventual sequel. If you feel like you've seen Zendaya before, you're probably right—she's been pretty busy over the last few years, and her star seems all but certain to rise even further in the future. In other words, now's the perfect time to familiarize yourself with the former Disney star who's turning heads in the MCU.
​Shake It Up!
If you know Zendaya from anywhere, it's almost certainly this musical sitcom that ran from 2010-2013 on the Disney Channel. In her breakout role as Rocky Blue, she starred alongside Bella Thorne (who played the equally distinctively named CeCe Jones) as background dancers on a local dance series. A big hit for the channel, Shake It Up! spawned several music videos, turning Zendaya and Thorne into household names (at least in households including pre-teen girls with an affinity for Disney). Along with the flagship series, the show's run included extended special episodes like 2012's Made In Japan, as well as crossovers with other Disney series of the era such as Good Luck Charlie. Shake It Up! ended in 2013, but it was only the beginning for Zendaya's career.
​Her Disney music videos
Long before Zendaya broke big in the Marvel Cinematic Universe, she made music as a teenage Disney Channel star alongside her Shake It Up! co-star Bella Thorne. The duo were partnered on everything from TV shows to specials, and shared more than a few music videos during their tenure at Disney. If you happened across the Disney Channel over the past decade, there's a decent chance you may have caught videos for Zendaya's tunes "Fashion Is My Kryptonite," "Watch Me," and "Swag It Out." Aside from increasing her profile among the channel's legions of viewers, these songs served as a precursor to Zendaya's burgeoning music career to come.
Frenemies (2012)
Along with starring in Shake It Up!, Zendaya and Thorne also anchored the 2012 Disney Channel made-for-TV movie Frenemies, which focused on three stories that eventually tied together, zeroing in on the misadventures of teens who are feuding with everyone from their best pal to their pet dog. Viewed by more than four million people upon its premiere, the film proved there was plenty of demand for Zendaya outside her hit series.
Her debut album (2013)
The same year Shake It Up! ended its run, Zendaya stepped out as a solo artist, releasing her self-titled debut LP through Disney's music imprint, Hollywood Records. Although the album wasn't a blockbuster hit, it performed respectably, peaking at No. 51 on the Billboard chart and earning critical praise from outlets like AllMusic, who deemed it a "streamlined, self-assured first effort." Zendaya's promotional efforts were highlighted by the Swag It Out Tour, which ran from the summer of 2012 through the fall of 2014, and a Today Show appearance in 2013 to perform her Top 40 hit "Replay."
Zapped (2014)
Zendaya got a chance to headline her own Disney Channel original film in 2014 with Zapped, which tells the story of a teen who realizes her phone is suddenly able to control all the boys at her school. Zaniness ensues, although it all sticks with the Disney tradition; eventually, of course, Zendaya's character learns a valuable lesson about how to treat people. The broadcast gave the budding star another hit for the channel: it was viewed by nearly six million people following its premiere, ending up as the most-watched cable broadcast of the night.
Taylor Swift's 'Bad Blood' video (2015)
She's made plenty of her own music videos, but in 2015, Zendaya made a high-profile cameo for another artist: Taylor Swift. One of many guests enlisted for the pop megastar's "Bad Blood" video, she shared screentime with Selena Gomez, Kendrick Lamar, Jessica Alba, Lena Dunham, Hayley Williams, Cindy Crawford, Cara Delevingne, and others in the acclaimed clip, directed by Joseph Kahn. Zendaya plays a character dubbed Cut-Throat, and if you're among the millions who saw the video in 2015, it might be one reason you thought she looked familiar in Spider-Man: Homecoming.
Her award wins
Though she's only now breaking into blockbuster films, Zendaya racked up her share of awards during her time as a Disney star, including the Teen Choice Award for Candie's Choice Style Icon in 2014 and a 2016 Kids' Choice Award for her work in K.C. Undercover. Along with those wins, Zendaya also boasts nominations from the BET Awards, Image Awards, and Young Artist Awards over the past several years. Even if you don't watch Disney shows, odds are good you've seen her take a couple of trips to the podium.
Black-ish (2015)
In 2015, Zendaya appeared in ABC's hit dramedy series Black-ish as a guest star during the episode "Daddy's Day." Her character, a woman named Resheida, complicates an emotional tug-of-war between Dre (Anthony Anderson) and his daughter Zoey (Yara Shahidi). Though she's obviously a known commodity thanks to her Disney Channel tenure, this Black-ish role put the young star in front of a whole new group of potential fans outside the Disney bubble.
​K.C. Undercover (2015)
After sharing the spotlight in Shake It Up, Zendaya took center stage in her own Disney Channel sitcom with K.C. Undercover, which premiered in 2015. Focusing on high school student K.C. Cooper (Zendaya), who learns her parents are actually spies, the hit series balances the usual family wackiness with high-stakes spy missions. And although it might have seemed like a bit of a step back to return to her cable roots just as her big-screen career was poised to take off, she definitely had some compelling reasons. 
As Zendaya told Marie Claire, "A big reason why I wanted to come back to Disney is because I saw a lack of diversity on the channel. To see a black family, to see a young girl with these adorable Afro puffs...little things like that are so important." With a leading role that allows her to explore multiple alter egos, she's accomplishing that goal and more—and with broader horizons beckoning in the MCU and beyond, we've only seen the start of this young star's potential.
Beyonce's 'All Night' video (2016)
Zendaya's good luck streak with music video cameo appearances continued in 2016, when she was asked to film a part for Beyoncé's "All Night." Aside from the thrill of working with a global superstar she claimed she'd been "obsessed with" since birth, Zendaya told People she felt like she got to be "a part of music history" on the shoot, which helped round out the visual album Beyoncé crafted for her acclaimed Lemonade LP. The video obviously isn't one of Zendaya's starring roles, but it's been watched more than 45 million times—an impressive number even when you put it alongside a worldwide box-office smash like Spider-Man: Homecoming.