Aquaman Swims With The Sharks In Official Film Poster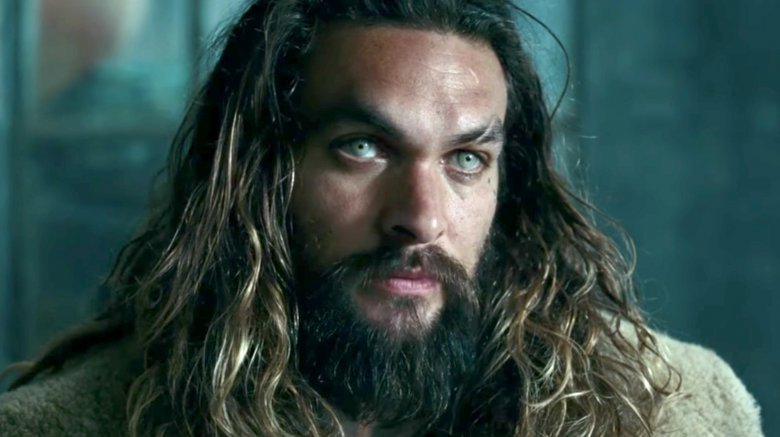 Arthur Curry? He's with the fishes now. 
In preparation for the film's presentation at San Diego Comic-Con this weekend, Warner Bros. dropped the first official poster for Aquaman, the James Wan-directed, Jason Momoa-led superhero flick that's been billed as a "swash-buckling action-adventure" and akin to a Star Wars movie set under water. 
Taking a gander at the poster, shown below, it looks like Aquaman will live up to both those ambitious descriptors. 
Momoa's Aquaman stands shirtless in the center of the poster, tattoos on display and trident in his hand, as sharks, whales, dolphins, stingrays, turtles, and various other fish swim around him. It's like Mr. Ray scene from Finding Nemo, with all the little aquatic creatures swirling around a powerful dude, only a lot more badass. Stamped at the top of the one-sheet is the phrase, "Home is calling," hinting at Arthur Curry's return to his kingdom of Atlantis. 
Following the divisive Suicide Squad, which fans seemed to enjoy but critics turned their noses up at, and Justice League's stumble-and-fall outing at the box office, not to mention what happened with Batman v Superman: Dawn of Justice, the DC Extended Universe has been struggling to reach the same level of success the Marvel Cinematic Universe has. However, last year's record-breaking Wonder Woman marked a turning point for DC's corner of the comic book movie universe, demonstrating that the smartest move to make in turning things around is to focus on just one character instead of trying to build the framework for an entire franchise ahead of time. This is something Avengers: Infinity War writers Christopher Markus and Stephen McFeely once said would actually fix the DCEU entirely. 
With Aquaman, it appears Warner Bros. is aiming to patch up the problems of the DCEU, bringing in some much-needed lightness — both in terms of a less serious tone and a bold, blue-soaked color palette — and pushing the tides in a better direction. If this poster is in any way indicative of how fresh, fun, and really, really, ridiculously cool Aquaman will be, the studio just might succeed in that endeavor. 
Also starring Amber Heard, Patrick Wilson, Nicole Kidman, Yahya Abdul-Mateen II, and Djimon Hounsou, among others, Aquaman will swim into theaters on December 21.