Fantastic Beasts: The Crimes Of Grindelwald Photo Shows Off Young Newt Scamander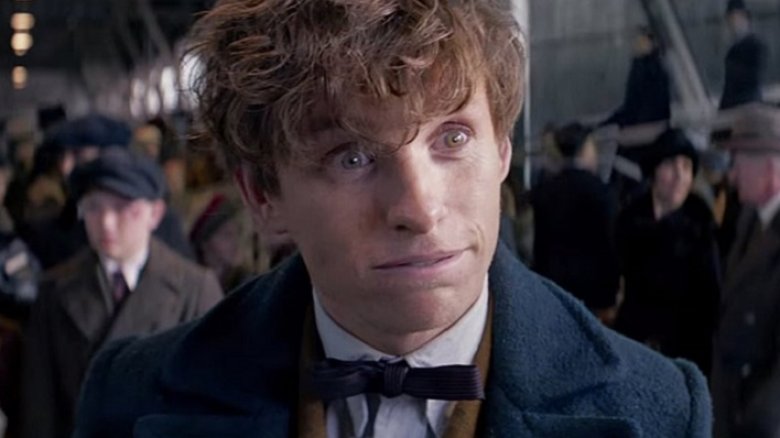 Fantastic Beasts: The Crimes of Grindelwald will turn back the clock and feature a flashback scene involving a young Newt Scamander. Now, thanks to an exclusive reveal by Entertainment Weekly, we know exactly how the famed Magizoologist looked in his early days – before he was kicked out of Hogwarts, of course.   
The outlet released a new still from the upcoming Fantastic Beasts sequel, featuring Joshua Shea dressed up in Hogwarts robes as he takes a lesson from Professor Albus Dumbledore, played here by Jude Law. 
There's not a whole lot going on in the photo, just Shea's Newt pointing his wand at something off screen as he and Law's Dumbledore stand in front of a group of students, but fans of the film series should find comfort in seeing that Shea looks a lot like Eddie Redmayne, the man behind the adult Newt Scamander. 
In the Harry Potter extended universe, in which the growing Fantastic Beasts franchise thrives, it was explained that Newt began his studies at Hogwarts in 1908. After "endangering a human life" in an accident involving a magical beast, as Colin Farrell's Percival Graves stated in Fantastic Beasts and Where to Find Them, Newt was ousted from the respected institution. 
Could this picture be depicting that very incident? There's a good chance, but it's also important to recall that Newt's relationship with Leta Lestrange, played by Zoe Kravitz, influenced his expulsion as well. Leta and Newt had "great love" between them, according to Redmayne, and we all know the kind of stupid, reckless things we often do for love. It's likely that what happens in the moments after this shot was taken might involve Leta — and a whole lotta trouble. 
With Fantastic Beasts: The Crimes of Grindelwald about four months away from release, studio Warner Bros. is bound to start kicking the film's marketing campaign into overdrive soon. Unfortunately for some, however, no amount of exclusive sneak-peek snaps or trailer drops can distract from the fact that The Crimes of Grindelwald stars Johnny Depp as the evil wizard Gellert Grindelwald. 
After the first cast photo from Fantastic Beasts: The Crimes of Grindelwald confirmed Depp's involvement (he briefly appeared in the first film and fans didn't know if he would be back), there was a public outcry. Many rallied for him to be fired from the film, pointing to the allegations of domestic abuse and assault against his ex-wife Amber Heard as reason to can Depp and recast Grindelwald. (He's the title character and the main villain, so this wasn't a simple try-to-ignore-it cameo situation.)
Since then, both Fantastic Beasts: The Crimes of Grindelwald director David Yates and Harry Potter series author J.K. Rowling have staunchly defended Depp's casting in the film. "Honestly, there's an issue at the moment where there's a lot of people being accused of things, they're being accused by multiple victims, and it's compelling and frightening," Yates said at the time. "With Johnny, it seems to me there was one person who took a pop at him and claimed something ... Whatever accusation was out there doesn't tally with the kind of human being I've been working with."
Depp's Grindelwald was missing from the first teaser trailer for the Fantastic Beasts sequel, and he clearly isn't featured in this newly released photo either, but he can't stay in hiding forever, as Fantastic Beasts: The Crimes of Grindelwald is set to open on November 16.