Harry Potter Fans Are Outraged Johnny Depp Is Still In The Fantastic Beasts Sequel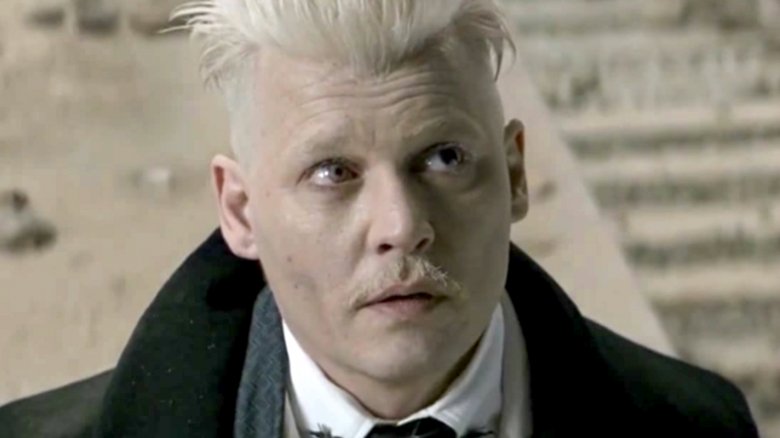 Warner Bros.
Lots of Harry Potter fans think the alleged crimes of Johnny Depp are potentially as bad as the crimes of Gellert Grindelwald.
Earlier today, Warner Bros. released the first cast photo from the sequel to Fantastic Beasts and Where to Find Them, along with the official title of Fantastic Beasts: The Crimes of Grindelwald. But the announcement wasn't met with unanimous joy. 
The photo confirms that Johnny Depp is still set to play the villainous wizard Grindelwald in the Harry Potter prequel, and that doesn't sit well with many people. Back in June, Depp's ex-wife Amber Heard released shocking photos with bruises around her eye (via Daily News), claiming that Depp repeatedly assaulted her. Heard said Depp smashed his iPhone against her face the month before. 
Depp briefly appeared near the end of the first Fantastic Beasts movie after it's revealed that he's actually been hiding as the character played by Colin Farrell. It's believed that the upcoming films in the franchise will revolve around Grindelwald's rivalry with a young Albus Dumbledore, played by Jude Law. 
But some folks want Warner Bros. to take action similar to how Christopher Plummer was tapped to replace Kevin Spacey in Ridley Scott's already-finished All the Money in the World. Vanity Fair deputy editor Katey Rich tweeted, "It really isn't too late to replace Johnny Depp, guys."
But it isn't just the casting that's proving to be problematic; it's also the title. It's difficult to hear The Crimes of Grindelwald without thinking of the potential crimes of Depp, and fans made that abundantly clear on Twitter. 
Take a look at some of the tweets below. Fantastic Beasts: The Crimes of Grindelwald, is scheduled for release on November 16, 2018, which means there's still plenty of time for the executives at Warner Bros. to change their minds about Depp's involvement.
The Harry Potter franchise is keeping Johnny Depp AND naming the next movie, "The Crimes of [Johnny Depp's Character]"? Okay. https://t.co/WAjs0vd4fe

— Gavia Baker-Whitelaw (@Hello_Tailor) November 16, 2017
1- johnny depp has a long history of violent behavior
2- amber heard divorced and accused johnny depp of physically & emotionally abusing her throughout their relationship
3- depp's ex managers confirmed amber's accusation on legal docs & said his employees knew it was happening https://t.co/Xg0MeRd9vn

— mari is ALL IN (@meraheard) November 16, 2017
If Ridley Scott can fire Kevin Spacey, after filming an entire movie with him and voluntarily reshooting it a month before release, then y'all can do the same thing w Johnny Depp bc you still have a year to go #FantasticBeasts pic.twitter.com/yaK93VMgc1

— manda is ALL IN (@amxndasantino) November 16, 2017
It's not too late to call Christopher Plummer, WB. #FantasticBeasts pic.twitter.com/sjWPtgjGHW

— Kristy Puchko (@KristyPuchko) November 16, 2017
The real crime of Grindelwald is taking Colin Farrell away from us in favor of Johnny Depp.

— Rebecca Pahle (@RebeccaPahle) November 16, 2017
FANTASTIC BEASTS: THE CRIMES OF JOHNNY DEPP pic.twitter.com/ZaPgfhgJiD

— rafa (@rafaelkjls) November 16, 2017