The Untold Truth Of The Jamie Foxx Show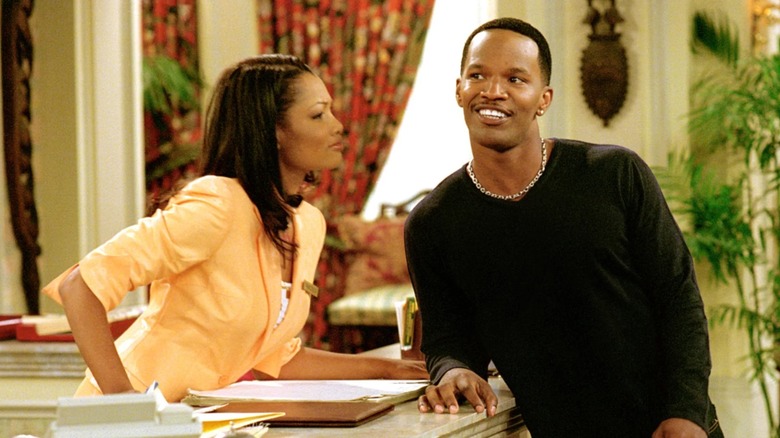 The WB
Stop us if you've heard this one before; hailing from small-town Texas, an aspiring star named Jamie King arrives in L.A. with dreams of celebrity, but little in the way of solid achievements. While working toward his big break, he helps his Aunt Helen and Uncle Junior with the once-grand but now-aging King's Tower. Charming but not quite in step with the flow of the hotel, his charisma and genuine love for his family might be what brings the Tower back to greatness as he continues his own climb to the top. Still, that doesn't mean there aren't going to be a few bumps along the way.
Premiering on The WB in 1996, "The Jamie Foxx Show" tapped into a familiar sitcom setup to introduce audiences to Jamie Foxx, but there was always a bit more to the show than met the eye. Using the tried and true comedy scenarios established by series like "The Fresh Prince of Bel Air," "Seinfeld," and "Martin," it was clear from the jump that this was going to be a series uniquely its own. This is due in no small part to the charming supporting cast, propping up its hero's more chaotic aspirations and mishaps. Yet, at the center of it all is the man with his name on the marquee. For a lot of audiences, this was their first glimpse of what Foxx was capable of, and throughout its five seasons, it did not disappoint.
Foxx wasn't yet a household name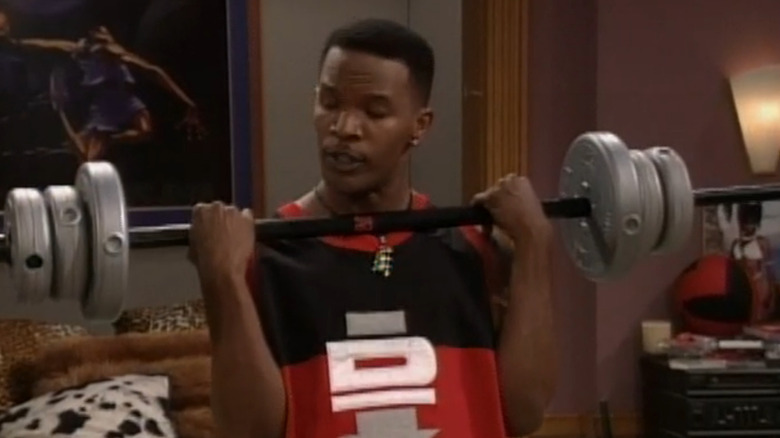 The WB
Today, we know Foxx to be one of the most versatile performers on the stage and screen, able to believably step from memorable roles like the hero of "Django Unchained" to the villainous Electro in "The Amazing Spider-Man 2," all apparently without breaking a sweat. Yet, once upon a time, he was a promising up-and-comer without much of a resume to speak of outside of a handful of memorable but short-lived roles in shows like "In Living Color" and "Roc." That is until he developed "The Jamie Foxx Show," a WB sitcom that began airing in 1996 and lasted until 2001 with Foxx playing a character not so unlike himself.
Looking back, Foxx's star power is evident from the get-go, but it took some time to develop into the leading man we know him as today. "The Jamie Foxx Show" played a huge role in his trajectory from guest star to man of the hour, allowing him to flex his talents as a performer. This would lead to breakout roles, such as his turn as the problematic football star of Oliver Stone's "Any Given Sunday" and the unlucky cab driver of "Collateral," which got him a best supporting actor nomination at the Oscars. From there, the rest is history, as Foxx continued to turn out great performances in a number of iconic films. He might have accomplished all of this without "The Jamie Foxx Show," but having his name on one of the era's comedy sleeper hits couldn't have hurt.
The WB in the '90s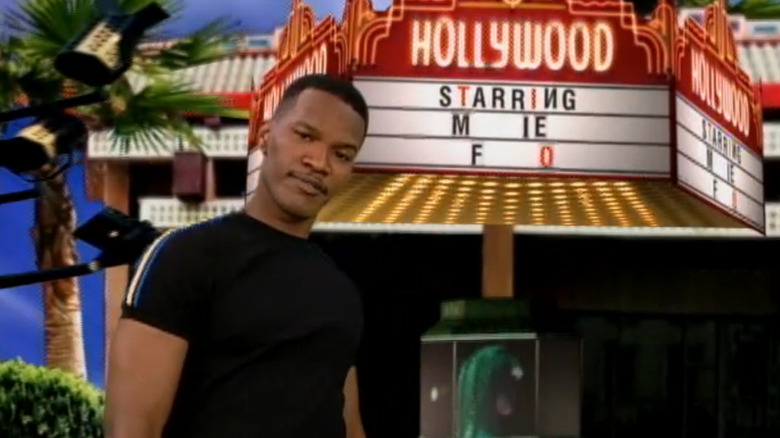 The WB
Much the same as other staples of the time like JNCO Jeans and Beanie Babies, The WB has gone by the wayside, but there are still plenty of fond memories to be had for anyone with a love for the era's sitcoms. Kicking off in the early '90s, The WB served as a sort of counterpart to Fox, which had found success through introducing comedy series with a lean toward working-class protagonists, as well as UPN, which similarly came into being at a time of shifting regulations around media and syndication. Though it got off to a relatively slow start, it's hard to argue that it has had staying power in the public consciousness.
Featuring the "Merrie Melodies" deep cut Micheal J. Frog as its mascot, The WB's first program was "The Wayans Brothers," starring Foxx's fellow "In Living Color" alum, Shawn and Marlon Wayans. More comedies were added to the slate, like the short-lived "Unhappily Ever After," "The Parent 'Hood," "7th Heaven," "The Steve Harvey Show," and a whole line of shows aimed toward kids titled Kids' WB. Although these shows were seldom referred to as especially successful in the ratings category, they all had dedicated fans, and many of them managed to stick around long enough to make an impact. While "The Jamie Foxx Show" might never have been a ratings smash, it was in good company on a programming slate that allowed it to stand out.
He co-created and produced through his company Foxxhole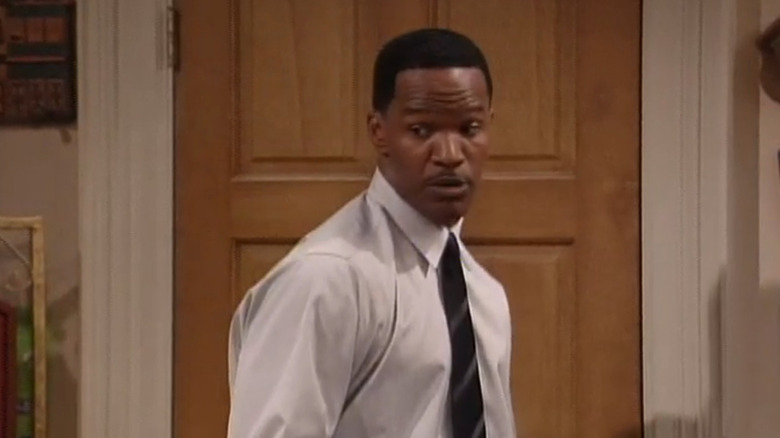 The WB
Although it's well-known to most Foxx fans that he was supported in his interest in the arts by his grandmother, that isn't to say his climb to the top was totally straightforward. After getting a music scholarship, he took a surprise turn into comedy when urged by his girlfriend of the time to take the stage during a show. While music was moving slowly, comedy took off for Foxx, and he soon landed his gig on "In Living Color" in 1991. This in turn led to a number of guest spots on sitcoms like "Moesha" and "Hanging With Mister Cooper," as well as small but noticeable roles in films like "Toys," leading to a starring role in the comedy classic, "Booty Call."
While Foxx made his debut in supporting roles, it's also true that when we look back over his early days in the entertainment industry, nothing stands out quite so much as a clear desire to succeed on his own terms. In that vein, "The Jamie Foxx Show" is very much a Foxx brainchild, co-created and produced through his production company, Foxxhole. While the company itself isn't overly active today, the title was used for Foxx's Sirus radio station, which featured comedians alongside hip-hop and R&B music selections. As the creation of Foxx, alongside Bent Outta Shape producer Bentley Kyle Evans, the series is very much a Foxx spotlight, catering to his unique talents.
Garrett Morris comeback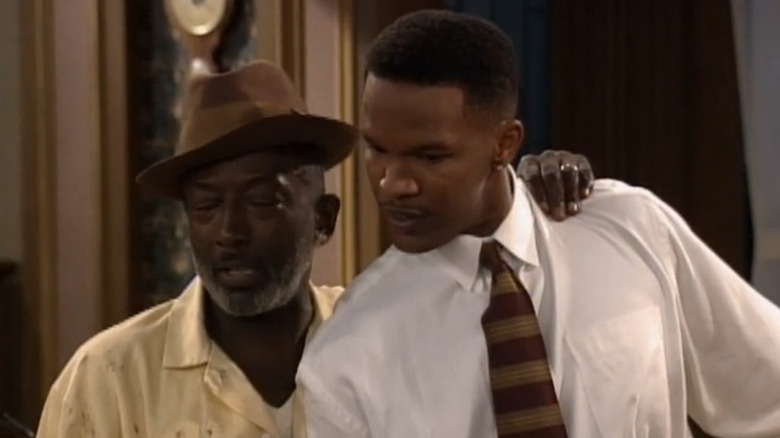 The WB
While it would be hard to argue that Foxx is very much the star of the show, that's not to say that he's not working with a stellar cast of supporting actors. One of the most notable is "Saturday Night Live" alum, Garrett Morris, who became comedy royalty in the 1970s as one of the original cast members of the show that would go on to change TV history. By the mid-90s, Morris had been primarily appearing in the series, "Martin," playing one of Martin's bosses, until he was shot by a mugger in 1994. Necessarily written out of the series due to his hospitalization, Morris' next role was as Junior, the gambling-obsessed but full-of-advice uncle of Foxx's Jamie King.
Morris is a clear standout for his long history in the industry, but he wasn't the only actor doing great work counterbalancing Jamie King's more chaotic personality traits. "Coming to America" and "Real Housewives of Beverly Hills" star, Garcelle Beauvais, plays the perfect love interest and foil for Jamie as Francesca "Fancy" Monroe. As every series of the time needs a straight-laced rube for our hero to bounce off of, actor Christopher B. Duncan did wonders as Braxton P. Hartnabrig. Finally, Ellia English played Jamie's loving Aunt Helen, overjoyed by her nephew's talent and charm, but seldom falling for his attempts to pull the wool over her eyes. Any member of this cast could have headed up their own show, but as supporting players, they shine.
It was an early glimpse at Foxx's talents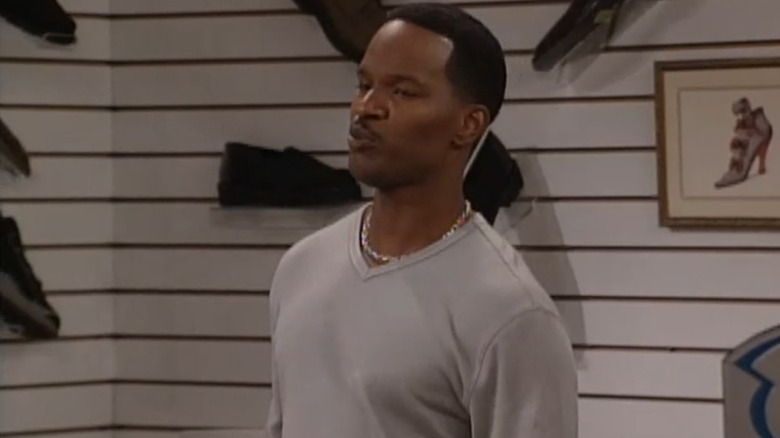 The WB
Foxx may have become famous due to his top-notch comedic delivery, but that humor is entrenched in a genuine love for entertainment in all its many mediums. Lest we forget that Foxx has a history as a serious musician, he is able to show off his love for music regularly throughout the series. This begins as early as the first episode, in which he gently teases his aunt for the lobby of the hotel having fallen into shambles. She chides him, noting that all of the greats have performed there, which leads to Foxx jumping into a top-notch series of impressions. The two break into song, singing Nat King Cole's hit, "Unforgettable," before descending into laughter.
This is far from the end of the many musical nods that Foxx makes during the series, with more impressions popping up before the first episode wraps. Perhaps equally important is his ability to show surprising depth even in otherwise lighthearted moments, with his adoration of his aunt and uncle and his at first unrequited love for Fancy occasionally delving from standard sitcom fare into something much more genuinely felt. That knack for showing a more sensitive soul under a stream of wisecracks isn't something that just anyone can pull off. Throughout his career, we've seen Foxx transform what might have otherwise been lightweight roles into something hard-hitting and memorable, and that all starts here.
Character growth and life lessons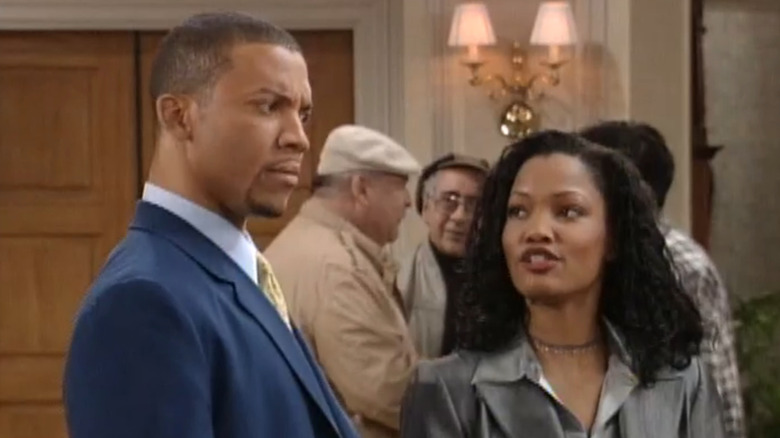 The WB
While we tend to expect some level of emotional growth even for the irreverent protagonist of a sitcom, one of the great features of "The Jamie Foxx Show" is that its whole cast isn't just likable; they all come across as real people with their own unique experiences and dreams. Foxx's character goes through a whirlwind of highs and lows with his career, but he's not the only one. His love interest, Fancy, goes through her fair share of ups and downs along the way, even nearly leaving the hotel at one point to pursue a career elsewhere before ultimately deciding that she can follow her dreams anywhere.
While Fancy is initially annoyed by Jamie's immaturity, she ultimately realizes that she has her own bouts of immaturity to deal with. The two of them grow together and become a mutually understanding couple through open conversation and understanding, which eventually leads to marriage, although the lead-up to the wedding is just as full of mishaps and misunderstandings as one might guess.
Likewise, the rest of the supporting cast steps into their own trajectories, with Junior ultimately deciding to retire with Helen. Perhaps most impressively, the snobbish Braxton is repeatedly encouraged to grow outside of his high-end standards. When he feels heartbroken at the thought that he'll have to eventually move on from the hotel, it makes him a stronger man in the end as he discovers a larger sense of community with the Kings.
It had staying power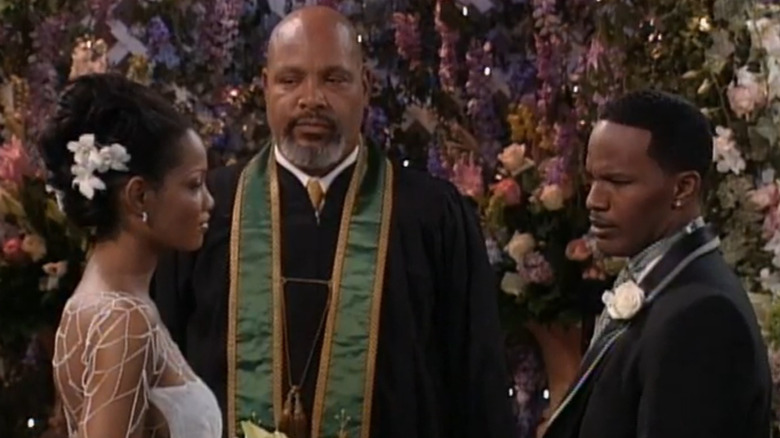 The WB
As with most of The WB sitcoms of the time, "The Jamie Foxx Show" isn't what would be referred to as a ratings smash, but it had impressive staying power. Running for five seasons and ultimately calling it a day with its 100th episode, this series had a solid run from 1996-2001. Plenty of other sitcoms of the time faded long before a fifth season, so it's hard to deny that audiences showed up for this show, even if they did so in relatively small numbers. Today, the series is rarely directly referenced, but it served as a vital launching pad for many of its stars. While there might not be a reboot anytime soon, its writing and performances still made an impact.
The fifth season of the series is short, with only twelve episodes compared to the 20+ episodes of prior seasons. By this time, other acting opportunities were calling, and the main story arcs of the central characters were running their course, making for a good time for the cast to move on to other projects. The series has never been released on home media in full, although there are out-of-print DVD releases of Seasons 1-4 available for those willing to hunt them down. For streaming enthusiasts, the show can be revisited via a few services, even if The WB itself is no more, having drawn to a close in 2006, long since merging with UPN to become The CW.
The cameos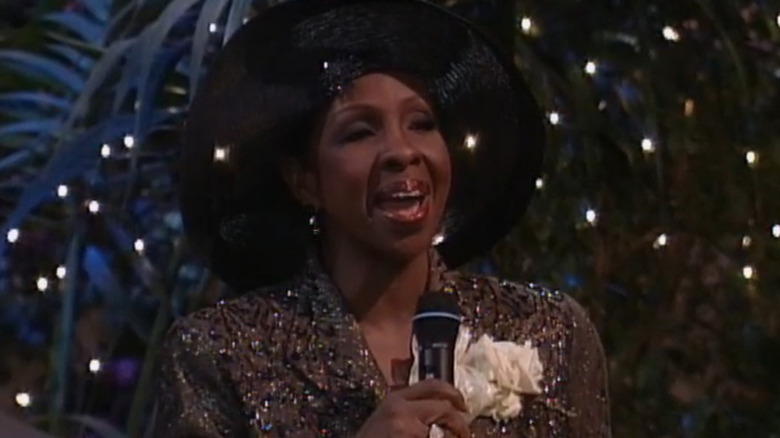 The WB
Of course, no sitcom of the mid-90s would be complete without a stellar list of guest stars and celebrity cameos, and "The Jamie Foxx Show" was no different. Names like Phil Morris, Gary Coleman, and Bill Bellamy graced the credits over its five years on the air, with many more recognizable names popping in throughout the show's run. Season 1's "Westside" shows Jamie competing with none other than Ice Cube for Fancy's affection after promising his aunt and uncle that he won't throw any wild parties in their absence. In Season 2, Anthony Michael Hall pops in as a Hollywood agent in the comically named "Do the Write Thing."
One of the most memorable guest stars remains the great singer and entertainer Gladys Knight, who plays the part of Jamie's mother, Janice King, Helen's glamorous sister and an elegant performer in her own right (also played by Jo Marie Payton in Season 3). That is far from the end of the musical cameos of the show, however, with Mary J. Blige starring as a reverend's daughter who prefers playing in Jamie's band to working with her father, as well as Method Man and Red Man, who appear in Season 4 to help Jamie write a jingle but end up hoping to court Nicole (Rhona Bennett) with Jamie's help. The main cast is great, but these guest spots make for an added sense of fun during a rewatch.
A show clip became Pi'erre Bourne's producer tag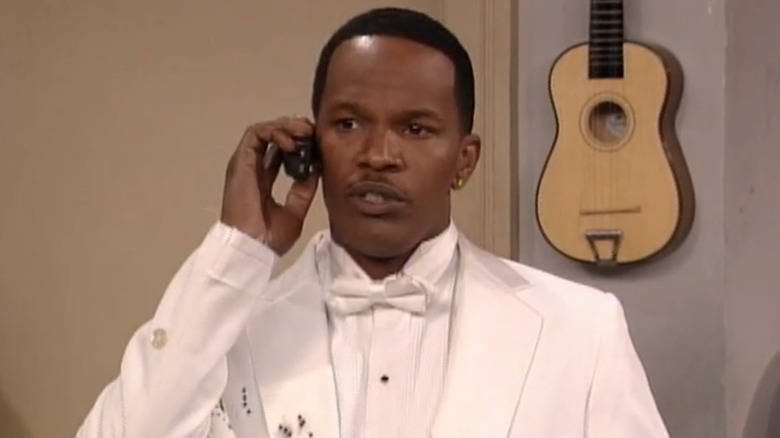 The WB
Perhaps one of the more surprising callbacks to "The Jamie Foxx Show" doesn't occur in a Jamie Foxx property at all, but rather through an apparently throwaway line becoming the producer tag of engineer and beatmaker, Pi'erre Bourne. Most famously appearing on Playboi Carti's "Magnolia," Foxx's unmistakable voice can be heard saying, "Yo Pi'erre, you wanna come out here?" The tag is also on Playboi Carti's "dothatsh*t!," UnoTheActivist's "Free Smoke," and Trippie Redd's "No Way" and "B*tch Go." The tag quickly became an internet meme and helped boost Bourne's rising star, going on to work with rappers like Lil Yachty and Young Thug.
This quote is sampled from the fourth episode of Season 1, "Who's Da Man?" in which Jamie attempts to help the uptight Braxton heal from rejection and heartbreak by giving him some fairly questionable dating advice. The quote itself is taken from a scene in which Jamie is waiting tables in the hotel restaurant, comically explaining that the French toast they serve is actually from France. He yells back to the kitchen, "Yo Pi'erre, you wanna come out here?" unintentionally making music history. On the show, Pi'erre doesn't actually exist, which makes it all the more fitting that Bourne ultimately stepped into the role, albeit many years removed and in a completely different context.