Why The Rose Bearer Priestess From Coming 2 America Looks So Familiar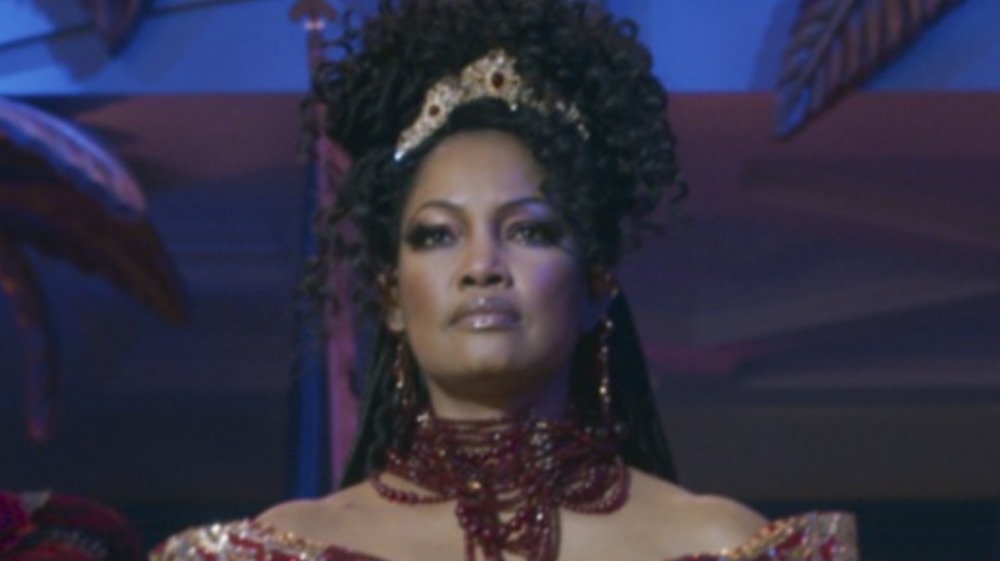 Amazon Studios
A full 33 years after its original release, Coming to America is getting its sequel. The 1988 romantic comedy stars Eddie Murphy as Akeem Joffer, the heir to the throne of the wealthy (and fictional) African nation Zamunda. Akeem's parents want to set up an arranged marriage for him, but Akeem is put off by the idea of someone marrying him because he'll someday be king, rather than because they love who he is. Taking matters into his own hands, he, along with his best friend Semmi (Arsenio Hall), take off to America — Queens, New York, to be exact — to look for a genuine love connection. Fans of the film know that Akeem, of course, does find true love with Lisa McDowell (Shari Headey); Akeem and Lisa marry at the end of the film, making Lisa the future queen of Zamunda.
In Coming 2 America, the sequel released on March 5 by Amazon Studios (acquired from Paramount, its original distributor), Akeem discovers another reason to return to America. Just as Akeem is about to become king, he discovers he has a son, Lavelle (Jermaine Fowler), whom he never knew about. Encouraged by his dying father, who wants Lavelle to become the new crown prince, Akeem and Semmi set off for America once again.
While watching, you may have noticed the actress playing a small, supporting role — the Rose Bearer Priestess. She is played by Garcelle Beauvais, a Haitian-born actress who has been acting since the mid-1980s, appearing in an abundance of roles you may be recognizing her from.
Garcelle Beauvais was in the first Coming to America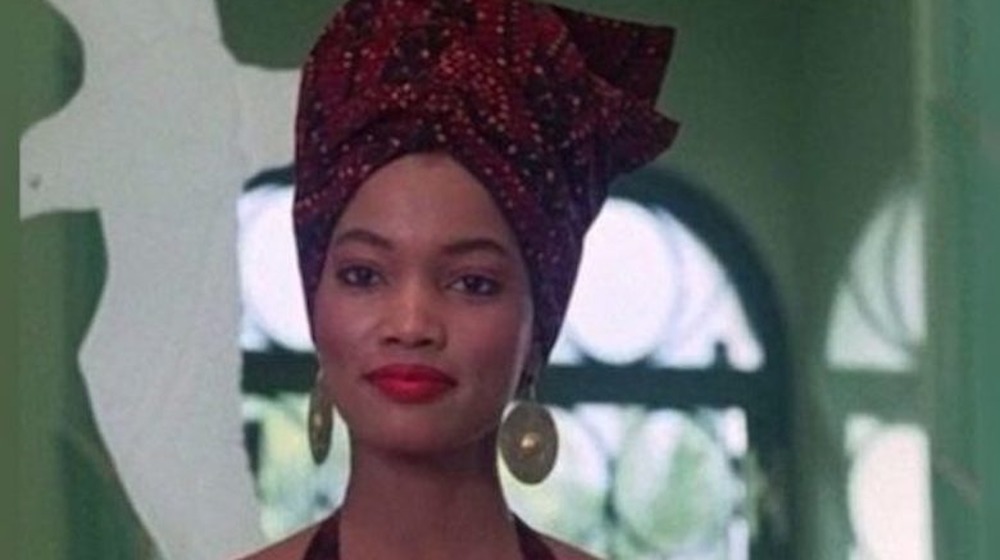 Paramount
This is the most obvious choice for fans of the new film who may be recognizing her. Garcelle Beauvais, in one of her earliest roles, appeared as the Royal Rose Bearer in Coming to America. Seeing as it was one of her earliest on-set experiences, it feels fitting for her to return to the sequel.
Beauvais recently spoke with Glitter Magazine about her experience with the film franchise. She explained that she was in New York working as a model when she decided to audition — but for the part of Lisa. She continued, "I had no business doing that because I knew nothing and luckily, John Landis, the director, called my agency and said, 'Listen, she's not getting that part. But there are other parts that we need and if she really wants to get into film and television work, this would be a great experience for her.'"
Beauvais also confided that one of her favorite parts about the production of Coming to America was being around "so many Black faces working on a movie." She added, about coming back for the sequel, "It's a gift that keeps on giving."
Garcelle Beauvais has a prominent film role in Spider-Man: Homecoming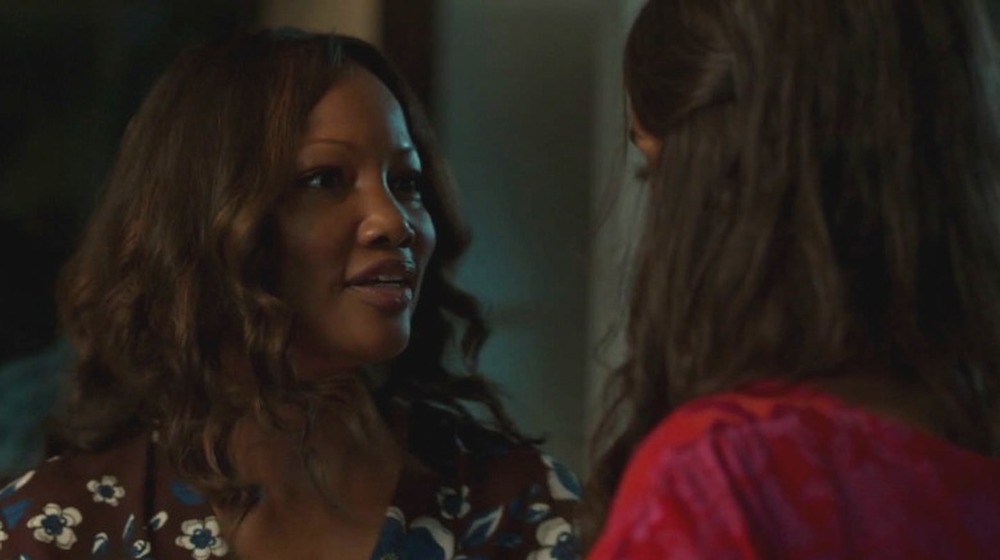 Sony Pictures
Avid Marvel fans might recognizing Garcelle Beauvais from her supporting role in 2017's Spider-Man: Homecoming. Beauvais plays Doris Toomes, the wife of Adrian Toomes — aka the main antagonist, better known as Vulture — portrayed by Michael Keaton. In the end, Doris and her daughter Liz (Laura Harrier), Peter's initial love interest and classmate, move to Oregon after Adrian is arrested.
Beauvais talked about her role in Spider-Man during an interview with Repeating Islands, a site about Caribbean culture. She spoke of her enthusiasm about the project, calling it "surreal and exciting." She continued, "I mean, just to be a part of the movie was just sort of like unbelievable, and the fact that I got offered the role and didn't have to even audition for it. The fact that my kids can actually see something that I'm in that they're excited about is just icing on the cake."
Garcelle Beauvais has had several main cast TV roles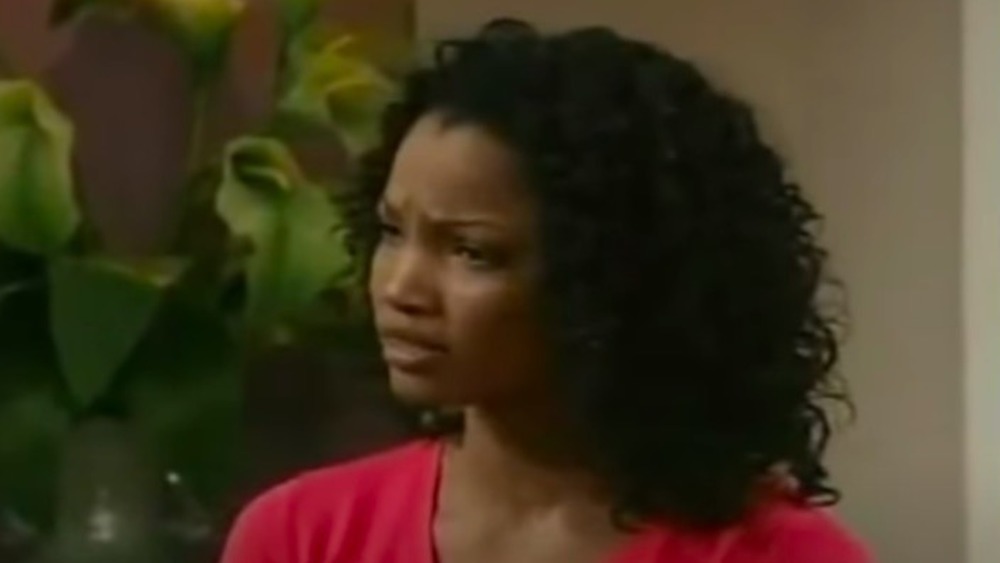 BET
Garcelle Beauvais' acting career doesn't just stop at film — she has had quite the prolific career in television in her time working as an actress, including multiple lead roles. Her first lead role was fairly early on in her career, in the soap opera Models Inc. The show focused on a modeling agency in Los Angeles, run by Hillary Michaels (Linda Gray). Beauvais played Cynthia Nichols, a model suffering with bulimia. As a model herself, this role was likely the perfect fit for Beauvais' first main cast gig.
After she wrapped up on Models Inc. in 1995, she landed another lead role with The Jamie Foxx Show the following year. Foxx played an aspiring musician, Jamie King, who moved to LA from Texas to pursue his career. He works at his family's hotel to support himself and finds himself interested in the hotel's front desk clerk, Francesca, played by Beauvais. She played the role through the show's entire run of five seasons.
Later on, she pivoted to crime drama with Eyes, a short-lived ABC show that aired in the mid-2000s. The show follows Judd Risk Management, a firm that pushes the boundaries of the law to investigate cases that fell through the cracks of law enforcement, led by Harlan Judd (Tim Daly). Beauvais played Nora Gage.
Garcelle Beauvais has also had plenty of TV guest arcs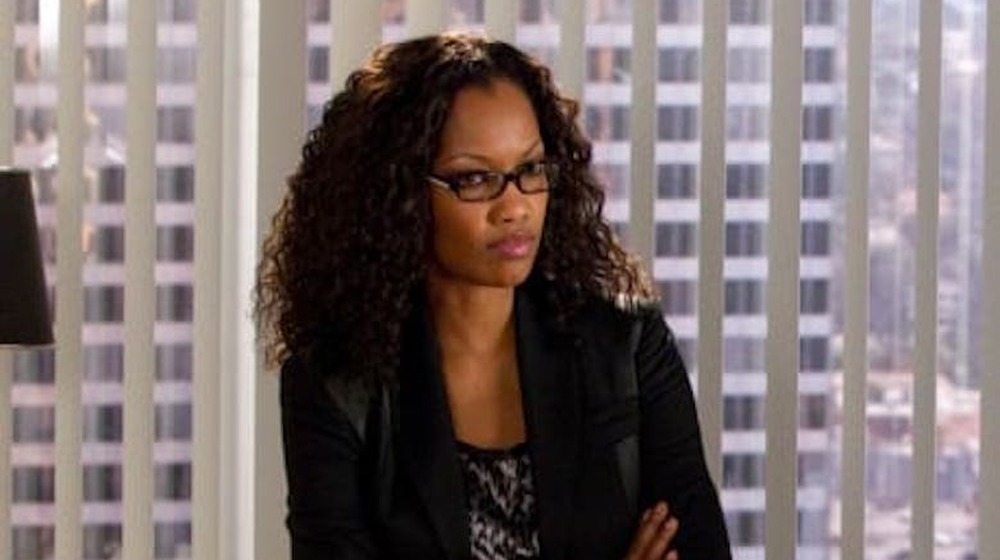 TNT
Along with her regular TV roles, Garcelle Beauvais has also appeared on a ton of well-known shows in guest roles. She made several appearances on the famous sitcoms The Fresh Prince of Bel-Air and Family Matters. On both shows, she played different characters for different episodes, as sometimes happens with minor characters on shows.
In 2001, Beauvais began a recurring arc on NYPD Blue, a crime drama about the homicide department in a New York City precinct. She played Assistant District Attorney Valerie Heywood, who, at first, butts heads with many of the detectives but eventually develops a more harmonious rhythm with them. She was written out of the show after season 11.
More recently, in 2011, she had a 20-episode arc in the TNT comedy-drama show Franklin & Bash, starring Breckin Meyer as Jared Franklin and Mark-Paul Gosselaar (of Saved by the Bell fame) as Peter Bash, two best friends and legal partners. Beauvais played Hanna Linden, another lawyer, for the first two seasons before leaving the show. Other TV appearances include The Magicians, Siren, and Tell Me a Story. It seems that Garcelle Beauvais keeps busy.