Jamie Foxx's Most Memorable Roles, Ranked
Universal Pictures
Actor, comedian, and musician Jamie Foxx is the kind of multi-talented star that Hollywood doesn't see much anymore. Born Eric Marlon Bishop, he adopted his famous stage name early in his career, inspired by the legendary comic Redd Foxx. He used it to gain notoriety on the comedy circuit first, then as a cast member of "In Living Color" in the early 1990s before his transition to the big screen.
In addition to his on-screen performances, though, Foxx has also released several albums of his own music, the first of which landed on the Billboard Hot 100 in 1994. His movie career took a little longer to take off, but his day finally came after a string of well-reviewed performances in the mid 2000s. After winning an Academy Award, Foxx established himself as one of the most well-respected and talented actors in Tinseltown. 
A versatile actor who can impress playing just about anyone, Foxx has had roles in gritty crime dramas, soulful biopics, and bombastic superhero movies. But which are his most memorable? Read on to find out.
14. Tubbs in Miami Vice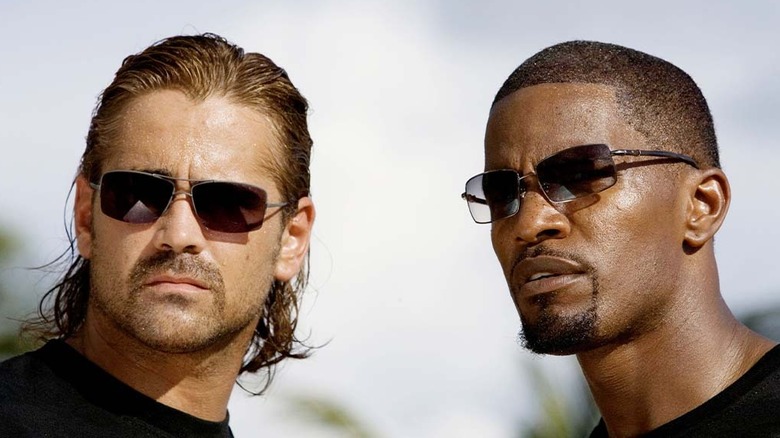 Universal Pictures
Sometimes a role is memorable because of an impressive performance, or its place in a hit film or a critical darling. Other times, it's simply the result of being an iconic character, and that's exactly the case with Jamie Foxx's role as Florida-based Detective Ricardo Tubbs in the 2006 big screen adaptation of the 1980s TV series "Miami Vice." 
In the film, Foxx is paired with Irish-born star Colin Farrell, who plays Detective James 'Sonny' Crockett, in a story that updates the hit series for the 2000s. As undercover cops, the pair's newest assignment sees them posing as drug runners to get close to a dangerous cartel, but things take a dark turn when Crockett becomes romantically involved with Isabella (Gong Li), the lover of the cartel's leader.
A fairly standard crime drama, "Miami Vice" may have failed to capture the colorful fun of the original TV series, but with acclaimed director Michael Mann behind the camera, it's a slick, well-made adventure. Worth watching for Farrell and Foxx, "Miami Vice" may not win any awards, but it's hard to deny that it's a heck of a good time.
13. President Sawyer in White House Down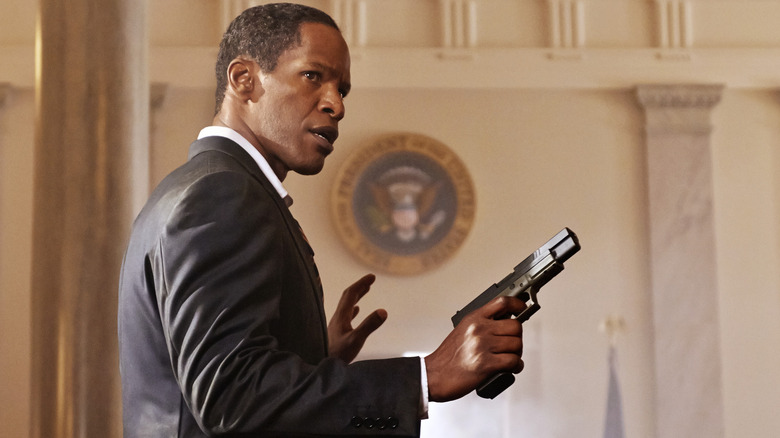 Sony Pictures
"White House Down" may not have won the battle for best Presidential action movie of 2013, but it wasn't because of its cast. While "Olympus Has Fallen," the similar movie released the same year, featured Oscar-winner Morgan Freeman as the President of the United States, "White House Down" had its own award-winner playing the leader of the free world, and it was Jamie Foxx.
As President James Sawyer, Foxx comes under attack from terrorists and is only saved thanks to the efforts of Capitol police officer John Cale (Channing Tatum). Together and on their own, President Sawyer and Cale must fight back and retake the White House — and the nation — from terrorist control. 
A classic old school action movie, "White House Down" is held aloft by Foxx, who brings a coolness and swagger that you might not expect from the President of the United States. Noted critic Roger Ebert gave Foxx high praise, calling his version of the U.S. President "lot of fun ... expressing a deeply humane political vision, yet with a true politician's common touch." Noting that the resemblance — physical and otherwise — to then-current President Obama was anything but coincidence, he cited the cast as the reason to watch the otherwise ordinary action movie.
12. Curtis Taylor Jr. in Dreamgirls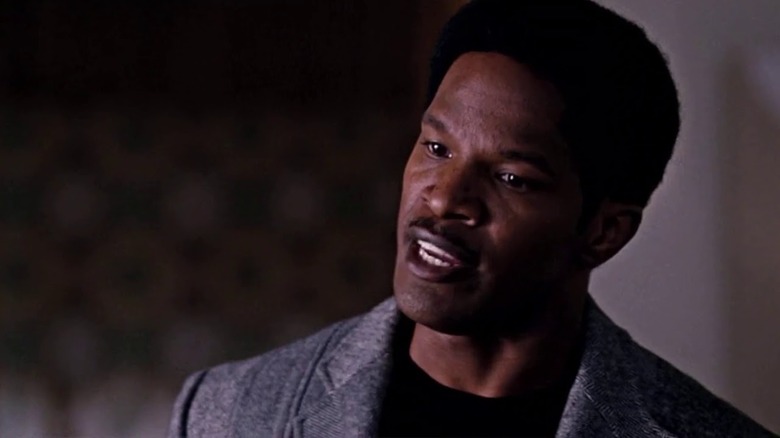 Paramount Pictures
Inspired by the early career of the iconic Motown group The Supremes and based on the Broadway musical of the same name, "Dreamgirls" was a musical drama starring Jamie Foxx, Beyoncé Knowles, Eddie Murphy, Jennifer Hudson, Danny Glover, and Anika Noni Rose. Released in 2006, "Dreamgirls" put Foxx into the role of Curtis Taylor Jr., a car salesman and hustler who discovers a trio of young singers called the Dreamettes, and becomes their manager. 
After Taylor signs the Dreamettes to become the backing group to a major star, though, trouble begins brewing within the group as one of the girls finds herself the star attraction. Driven by themes of friendship, loyalty, and the price of fame, "Dreamgirls" received strong reviews from critics for its impressive ensemble cast and dazzling musical numbers. 
As Taylor, Foxx plays the man with the golden touch who always seem to know exactly how to get results for his stars. He's a slick, ambitious go-getter who uses the Dreamettes to achieve his own dreams of fame and fortune. A big hit in theaters, "Dreamgirls" didn't just make money, it was nominated for eight Academy Awards. Jennifer Hudson took home a trophy for Best Supporting Actress, but some felt Foxx was snubbed for not receiving a Best Actor nom himself.
11. Walter McMillian in Just Mercy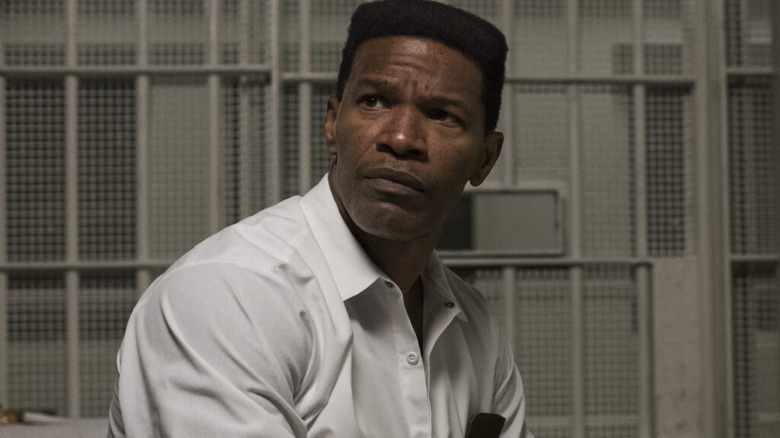 Warner Bros.
"Just Mercy" seemed to come and go with all too little fanfare when it arrived in 2019, which is something of a mystery considering its cast. At the top are Michael B. Jordan and Jamie Foxx, and they're joined by Brie Larson, Tim Blake Nelson, and O'Shea Jackson, Jr.. Foxx takes the role of a real life figure — one of many he's played in his career — in this dramatic true story of a wrongfully convicted man whose only help comes from a young upstart lawyer fighting to save his life in court.
Directed by Destin Daniel Cretton ("Shang-Chi and the Legend of the Ten Rings"), the film tells of civil rights lawyer Bryan Stevenson, a young but dedicated advocate for social justice who sets up a small law firm to service minority communities. Looking for new clients, Stevenson meets Walter McMillian (Foxx), a death row inmate who's been found guilty of murder, and who professes his innocence while serving a sentence passed against the jury's own recommendation.
Led by Jordan and Foxx, "Just Mercy" soars as a powerful statement on racism and the failures of the legal system, as well as the cost of fighting for what's right. Spotlighting an overlooked civil rights figure and a lesser-known case of real-life injustice, "Just Mercy" may be one of the most underrated gems in Foxx's impressive filmography.
10. Bats in Baby Driver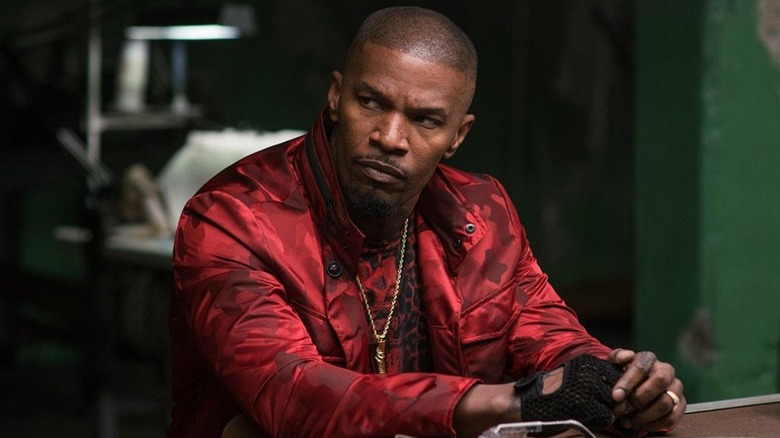 Sony Pictures
If an actor makes an appearance in an Edgar Wright movie, it's almost guaranteed to become one of their most memorable roles. So when Jamie Foxx appeared in Wright's ensemble heist film "Baby Driver," it instantly catapulted his part as Leon "Bats" Jefferson onto this list. Released in 2017, the film starred Ansel Elgort as "Baby," while Lily Adams, Jon Hamm, Kevin Spacey, Jon Bernthal, and Eiza Gonzalez rounded out the all-star cast. 
Foxx plays henchman to a vicious crime lord named Doc (Kevin Spacey). Bats is a terrifying and deranged villain with no qualms about killing, and according to Foxx, the actor actually based his performance on a friend of Mike Tyson's who he met while performing at an L.A. comedy club decades before. Thanks to that inspiration, and with one of the most stylish looks he's ever sported on-screen (and that's saying something), Foxx plays up his darker side in "Baby Driver."
Though he isn't the star of the film, Foxx makes his mark in a way that few stars could, and it remains one of the highest-rated films in his catalog, too.
9. Jamie King in The Jamie Foxx Show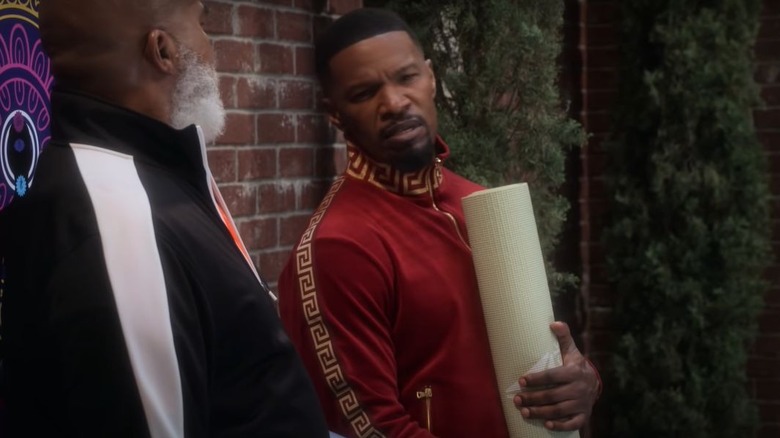 The WB
Early in his career, Jamie Foxx was a successful stand-up comic, and later was a main cast member of the sketch comedy show "In Living Color." As the career path back in the '80s and '90s typically went for successful comedians looking to take the next step, Foxx was chosen to front his own sitcom, "The Jamie Foxx Show," which debuted in 1996. There he played Jamie King, a small-time Texas musician who relocates to Los Angeles for his shot at the big time, taking a job at the hotel owned by Aunt and Uncle.
With a successful five-season, 100-episode run, "The Jamie Foxx Show" didn't just help make the actor a household name, but also helped put nascent network The WB on the map. Loosely inspired by elements of Foxx's own life (he grew up in the same Texas town as King), the show also gave Foxx the chance to show off not just his acting and comedic chops, but his musical talent as well. Often seen playing and singing himself, Foxx was able to show that he was an incredibly versatile entertainer.
While the show never achieved much mainstream success, "The Jamie Foxx Show" has long been a cult favorite, and played a huge part in making him the Hollywood force he is today.
8. Willie Beamen in Any Given Sunday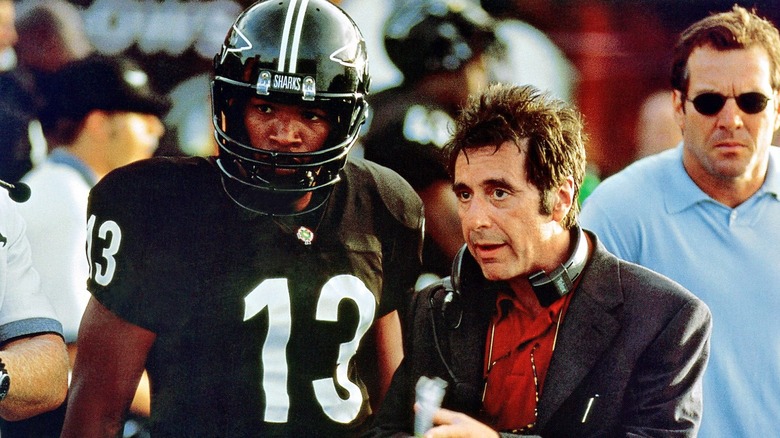 Warner Bros.
One of the films that helped push Jamie Foxx to big screen stardom was "Any Given Sunday," a sports drama starring Al Pacino that was produced while Foxx was leading his own TV sitcom, "The Jamie Foxx Show." Released in 1999, the film centered on pro football coach Tony D'Amato (Pacino), who is constantly at odds with the team's ownership. The supporting cast included Cameron Diaz, Dennis Quaid, and LL Cool J, while real life NFL players Lawrence Taylor and Jim Brown also play prominent roles.
Jamie Foxx, however, stars as Willie Beamen, the team's third-string quarterback, a troubled player who has faced plenty of problems throughout his career. A maverick who doesn't get along with teammates when he's unexpectedly elevated to starting quarterback, Beamen constantly locks horns with D'Amato when he wants to do things his own way.
Directed by Academy Award winner Oliver Stone, "Any Given Sunday" became Foxx's first big box office hit, and has been hailed as one of the best football movies ever made. And Foxx is at the center of the action, too, proving himself a superstar-in-the-making by holding his own against acting heavyweight and Hollywood legend Al Pacino.
7. Sgt. Sykes in Jarhead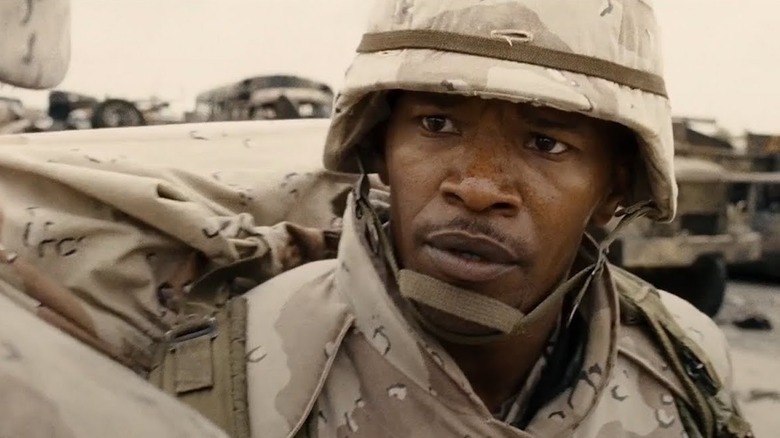 Universal Pictures
Another true story, 2005's "Jarhead" is based on the memoir of U.S. Marine Anthony Swofford, and recounts his training and service through the Persian Gulf War in the early 1990s. It was directed by Sam Mendes (whose later war movie "1917" would get him his fourth Oscar nom), and starred Jake Gyllenhaal, Peter Saarsgard, Chris Cooper, and Lucas Black, with Jamie Foxx playing Staff Sergeant Sykes, who recruits the young trainee into Scout Sniper school.
In the middle of their training, however, the war breaks out in Kuwait, and eventually, Sykes and Swofford's unit is sent into action. Released at the height of the second war in Iraq in 2005, the film's message was obvious, as "Jarhead" takes a hard look at the psychological toll of war. Antithetical to the types of jingoistic wartime action-adventures that Hollywood used to regularly churn out in decades past, or even classic anti-war thrillers, the film focuses more on the everyday life of soldiers as they work through the loneliness and frustration that's often glossed over in modern big screen war stories.
6. Bundini Brown in Ali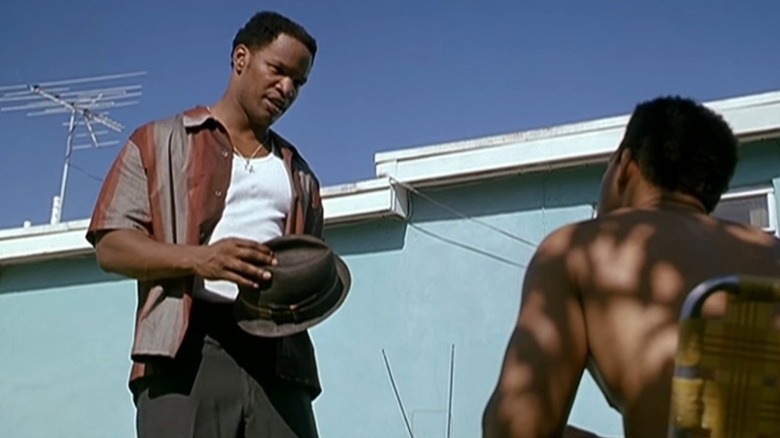 Columbia Pictures
In 2001, Jamie Foxx joined Will Smith in the biopic of legendary boxer Muhammad Ali, playing Drew Bundini Brown, cornerman, friend, and mentor for the People's Champ. Another Foxx classic directed by Michael Mann, the film also starred Jon Voigt, Mario Van Peebles, and Jeffrey Wright, and was one of the first films that made audiences stand up and take notice of Foxx's big screen presence.
The film, which chronicles the boxer's rise to fame, rests almost entirely on the shoulders of the relationship between Ali and Brown. The difficult and complex brotherhood between the two men is at the heart of the drama, as much as any of Ali's bouts in the ring, and it's only thanks to Foxx's impressive talent that the film is able to rise to the heights that it does.
While it would be Smith and Voight who'd be nominated for Academy Awards, Foxx earned his fair share of praise, too, with Roger Ebert calling him "engaging and appealing." The New York Times, meanwhile, called out Foxx as a highlight of the biopic, saying, "Mr. Foxx, who plumped up like a Ball Park frank, makes Brown a fascinating, open-faced display of vulnerability and machismo." The Times further labeled his turn as Brown "the performance of a lifetime."
5. Nathaniel in The Soloist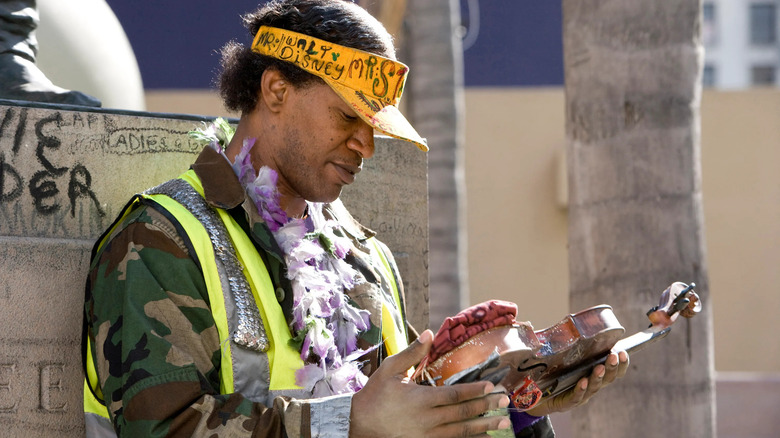 Paramount Pictures
In 2009, "Atonement" director Joe Wright enlisted the services of two of Hollywood's biggest stars — Robert Downey Jr. and Jamie Foxx — for a film that dramatized the true story of a musical savant who lived on the streets of Los Angeles. His name is Nathaniel Ayers, and he struggled with mental illness all his life, while becoming a genius on the violin. In 2005, while homeless and playing for change in L.A., Ayers was discovered by Los Angeles Times journalist Steve Lopez, who made him the subject of his book, "The Soloist: A Lost Dream."
As it turns out, Ayers was no mere vagrant, but a well-trained musician who had once attended Juilliard. It was only after a mental health crisis that he fell into poverty and found himself on the fringes of society, struggling to survive, with little more than the clothes on his back and his old broken-down instrument.
Jamie Foxx plays Ayers in the film, and brings the perfect touch of heart, soul, and charm that make Ayers' unique struggles universally relatable.
If you or someone you know needs help with mental health, please contact the Crisis Text Line by texting HOME to 741741, call the National Alliance on Mental Illness helpline at 1-800-950-NAMI (6264), or visit the National Institute of Mental Health website.
4. Electro in Amazing Spider-Man 2 and Spider-Man: No Way Home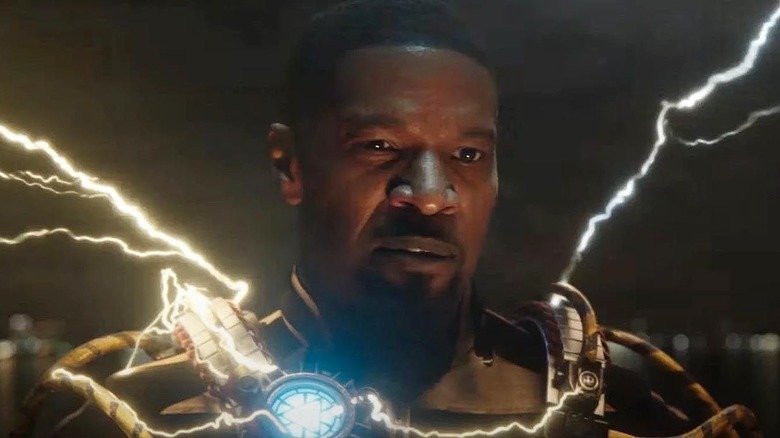 Sony/Marvel Studios
By the 2010s, Jamie Foxx was one of the most well-respected A-Listers in Hollywood and an Academy Award-winner, the kind of star who could pick and choose his own projects. So it may have raised some eyebrows when in late 2012 he had signed on to play the villain Electro in the sequel to the rebooted "Amazing Spider-Man" which had released earlier that year. In the 2014 sequel, Foxx played unlucky Oscorp engineer Max Dillon, who is granted electrical powers after an accident, and becomes obsessed with taking down the webbed wallcrawler.
Though "The Amazing Spider-Man 2" was a critical dud and a disappointment at the box office, no one faulted Foxx, who gave a dynamic performance as both the nebbish Dillon and the power-hungry Electro. But audiences were in for an even bigger surprise nearly a decade later when Foxx reprised the role in the MCU, returning to join Alfred Molina, Willem Dafoe, Thomas Haden Church, and Rhys Ifans as their respective villains in the generational crossover "Spider-Man: No Way Home."
Ultimately, Electro might not be Foxx's best performance, or even his best role, but coming in a pair of widely-seen superhero films — one of which grossed nearly $2 billion dollars — it's easily one of his most memorable.
3. Max in Collateral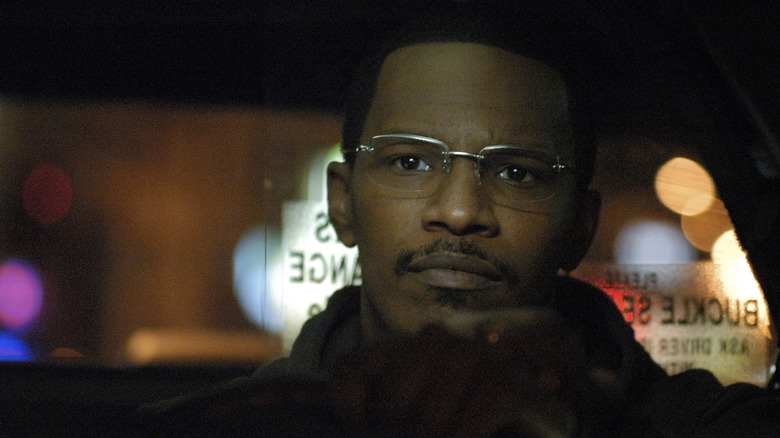 DreamWorks Pictures
The second of three films to team Jamie Foxx with "Heat" director Michael Mann, "Collateral" also unites him with Tom Cruise, Jada Pinkett Smith, Mark Ruffalo, and Javier Bardem. The film begins with Foxx playing a Los Angeles cabbie named Max Durocher, whose quiet evening is interrupted by an enigmatic passenger named Vincent (Cruise). The suave, well-dressed stranger offers Max a large sum to ferry him around the city to a series of destinations. 
Agreeing to what feels like a deal too good to be true, Max realizes that it is: Vincent is a contract killer, and now Max finds himself swept up in his dangerous, bloody scheme to bump off the witnesses to a crime. As the night unfolds and the danger escalates, Max becomes an unwitting pawn in Vincent's deadly mission. 
A fast-paced neo-noir action drama full of taut, nail-biting suspense and expertly executed chase sequences, "Collateral" is one of the finest thrillers of the decade. Cruise impresses as the cold, calculating hitman, while Foxx plays opposite him as the ordinary man desperate to act as the conscience of a killer. 
2. Ray Charles in Ray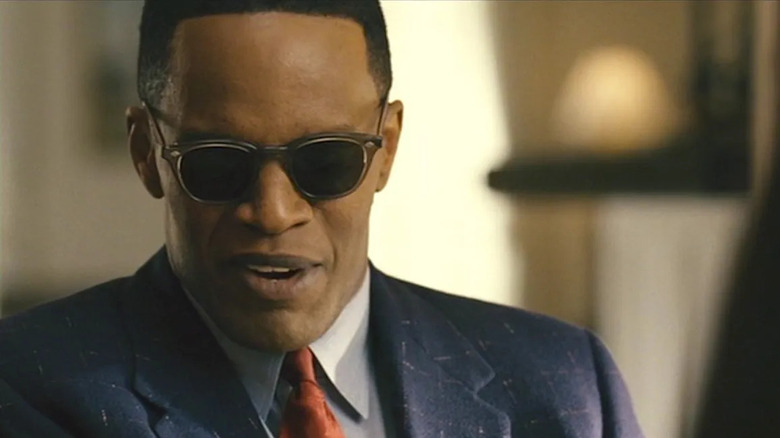 Universal Pictures
Jamie Foxx had a banner year in 2004, releasing two of his best films within mere months of each other. Not long after "Collateral," Foxx returned to the big screen in one of the best musical biopics ever made, delivering what many would call his absolute finest performance. Based on the life of piano player Ray Charles, "Ray" saw Foxx not just playing the blind musical legend, but becoming him, in body and spirit, even performing all of the piano numbers himself.
Though "Ray" featured a phenomenal cast, the film is really all about its star. In fact, after seeing him in the role it's hard to imagine anyone else coming close to capturing the soul of the great Ray Charles, with all the nuance and detail that he does. As good as the film is — and it's a delight, following the life and struggles of one of the music industry's most towering talents — Foxx alone makes the movie, and that didn't go unnoticed by critics or his peers.
Amazingly, at the 2005 Academy Awards, Foxx was nominated for two Oscars – Best Supporting Actor for "Collateral," and Best Actor for "Ray." Ultimately it would be "Ray" that would net him a trophy, beating out the likes of Johnny Depp, Don Cheadle, Clint Eastwood, and Leonardo DiCaprio.
1. Django in Django Unchained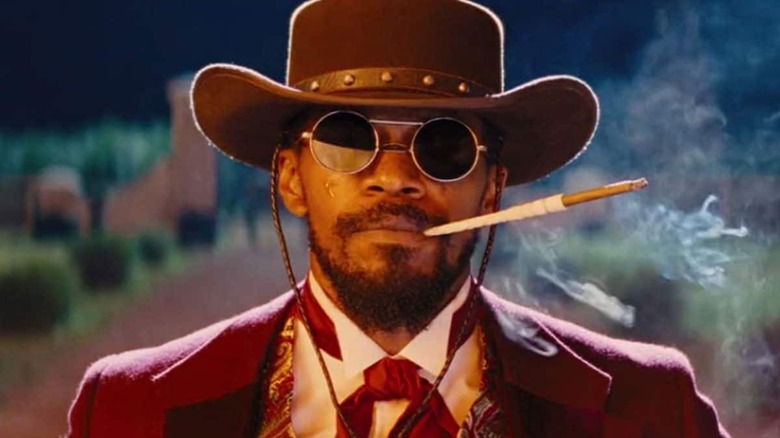 The Weinstein Company
It takes a special actor to be chosen by Quentin Tarantino to lead one of his films. In 2012, the auteur writer-director of such iconic films as "Pulp Fiction" and "Kill Bill" chose Jamie Foxx to star in the title role of his homage to spaghetti Westerns, "Django Unchained." The story of a former slave turned gunslinger and vengeance-seeker in the years leading up to the American Civil War, it was another Tarantino classic, and his biggest box office hit to date, a record it still holds. 
The action picks up with German bounty hunter Dr. King Schultz (Christoph Waltz), who frees the slave named Django (Foxx) to help aid him in his quest to collect the sizable reward for the fugitive Brittle Brothers. But when the deed is done, it's Schultz who decides to help Django on his own mission to find plantation owner Calvin Candie (Leonardo DiCaprio), the man who now owns Django's lost love Broomhilda (Kerry Washington).
In typical Tarantino fashion, "Django Unchained" is a no-holds-barred, gratuitously blood-spattered drama. But it's also a daring and stylish new take on the Western genre, a stark exploration of revenge and injustice. And Foxx's Django, with a brashness and bravado that only he could bring, elevates the film in ways wholly unexpected.