Facts You Might Not Know About Django Unchained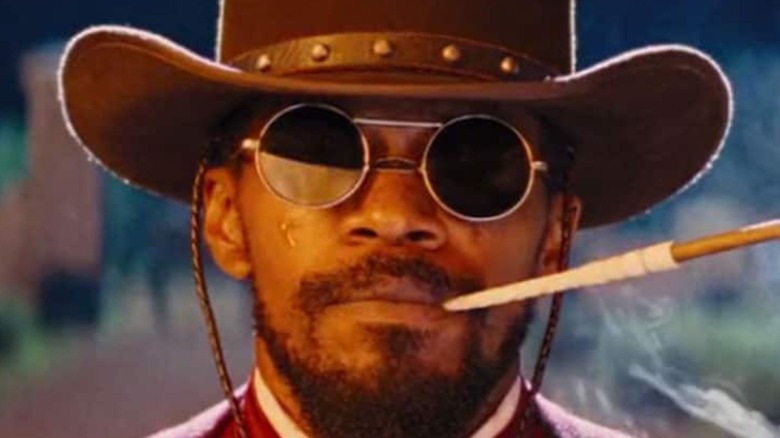 The Weinstein Company
One of the most critically acclaimed and successful directors of all time, Quentin Tarantino is one of the few true auteurs in Hollywood. Nearly every film in his oeuvre has been lauded by fans and critics alike, exploring a wide range of themes and ideas across genres that include crime drama, black comedy, and even Spaghetti Western. Wielding graphic violence, dark humor soundtrack needledrops and memorable quotes like vivid paints splattered across a canvas, he has developed many hallmarks of his style — and they all came together brilliantly in his biggest box-office hit (so far), 2012's "Django Unchained."
Featuring Jamie Foxx alongside Tarantino regulars Christoph Waltz, Leonardo DiCaprio, and Samuel L. Jackson, the film charts the story of former slave Django (Foxx) after he is freed and joins with Dr. King Schultz (Waltz) as a bounty hunter on a quest to find his wife. Not only did the film gross more than $400 million at the box office, but it also received a number of awards and nominations from the Academy Awards, Golden Globes, and BAFTA.
Tarantino fans love to watch his films again and again — but no matter how many times you've seen "Django Unchained," there are many hidden secrets and Easter eggs you likely missed. With that in mind, here are some little-known facts from Tarantino's revisionist Western that might surprise you.
Leonardo DiCaprio Genuinely Cut His Hand Open During A Scene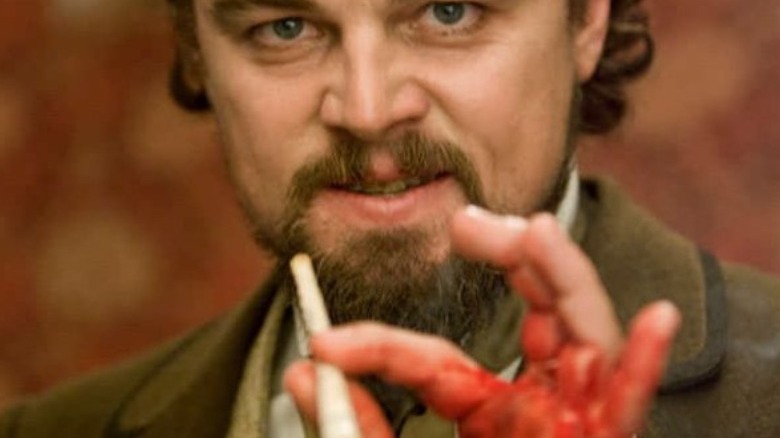 The Weinstein Company
In a pivotal scene near the end of the film, Calvin Candie (DiCaprio) is explaining the pseudoscience of phrenology after discovering that Django and Schultz are attempting to trick him into releasing Broomhilda (Kerry Washington). In his anger, the character smashes his hand on a table. 
In real life, DiCaprio accidentally sliced his hand open on a small piece of broken glass during the take you see in the film. Despite his bleeding hand, the actor continued with the scene.
"Leo had slammed his hand on the table countless times and he moved his hand further and he crushed a crystal cordial glass," producer Stacey Sher told Variety in 2012. "Blood was dripping down his hand. He never broke character. He kept going. He was in such a zone. It was very intense. He required stitches."
According to Sher, when the scene was over, the cast and crew gave him a standing ovation.
"Not because he cut himself," Sher explained. "Because in that scene he had pages and pages of monologue. His performance was masterful. His level of commitment is extraordinary."
Apparently, the shocking sight of blood resulted in an intensity that Tarantino thought was ideal for the scene. That, in turn, inspired a moment later in the scene where we see Candie wipe blood on Broomhilda's face. This story beat was filmed separately, however, allowing for fake blood to be employed.
Will Smith Turned Down The Chance To Play Django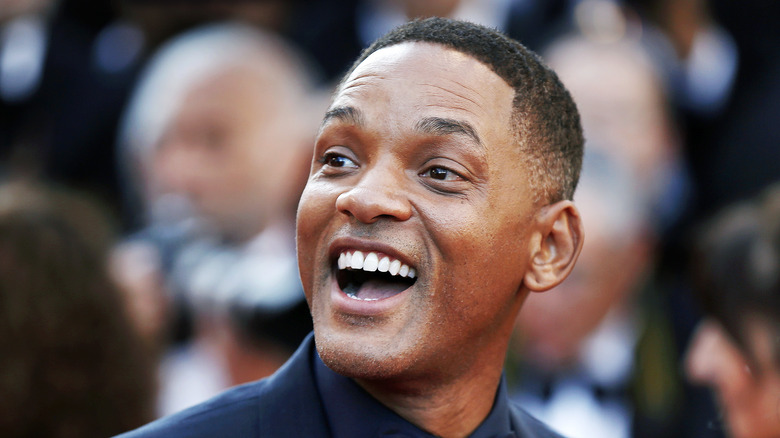 Andrea Raffin/Shutterstock
When Tarantino was writing the script for "Django" he had a number of actors in mind; at the front of the pack was Will Smith, who he met up with in New York while the A-lister was filming "Men in Black III," eager to discuss the possibility — but was turned down.
"I've always avoided making films about slavery," Smith told GQ in 2021, partially explaining his decision. "In the early part of my career ... I didn't want to show Black people in that light. I wanted to be a superhero. So I wanted to depict Black excellence alongside my white counterparts. I wanted to play roles that you would give to Tom Cruise."
In a 2015 interview with The Hollywood Reporter, Smith addressed "Django" itself. "It was about the creative direction of the story. To me, it's as perfect a story as you could ever want: a guy that learns how to kill to retrieve his wife that has been taken as a slave. That idea is perfect. And it was just that Quentin and I couldn't see [eye to eye]," he explained. "I wanted to make that movie so badly, but I felt the only way was, it had to be a love story, not a vengeance story."
After he passed, Tarantino put several other name actors through his unique casting process before settling on Foxx. 
"I met six different actors and had extensive meetings with all of them, and I went in-depth on all of their work," Tarantino told Playboy in 2012. "Idris Elba, Chris Tucker, Terrence Howard, Michael K. Williams and Tyrese. They all appreciated the material, and I was going to put them through the paces, make them go off against one another and  put up an obstacle course. And then I met Jamie and realized I didn't need to do that."
Controversial Django Unchained Action Figures Were Pulled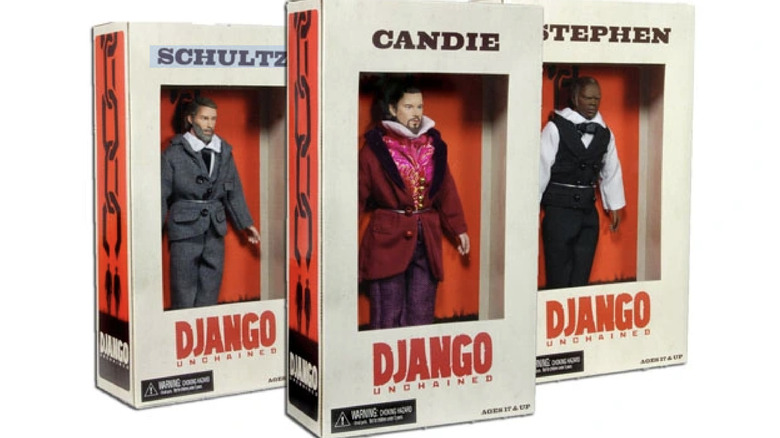 Django Unchained toys/Hollywood Reporter
Following the film's release, National Entertainment Collectibles Association began producing a series of six action figures based on "Django" characters — Django, Broomhilda, Dr. King Schultz, Calvin Candie, Stephen, and Butch Pooch dolls, each costing about $30 at retail.
While collectors' toys have made action figures out of R-rated films for decades, the "Django" themes of slavery and extreme violence didn't help the cause. The National Action Network and Project Islamic Hope both announced boycotts for the collectibles, condemning them as offensive; others criticized the action figures for making play toys about slavery.
"Selling this doll is highly offensive to our ancestors and the African-American community," Rev. K.W. Tulloss of the National Action Network said to the NY Daily News. "The movie is for adults, but these are action figures that appeal to children. We don't want other individuals to utilize them for their entertainment, to make a mockery of slavery."
Soon after the controversy began making headlines, The Weinstein Company asked that production of the dolls be stopped — as Christoph Waltz told TMZ. Some 1000 dolls had already been sent to stores before the cancellation, though, allowing fans to get ahold of them. You can currently find them on auction sites like eBay, where they appear to be selling for several hundred dollars each.
Jamie Foxx Rode His Own Horse In The Movie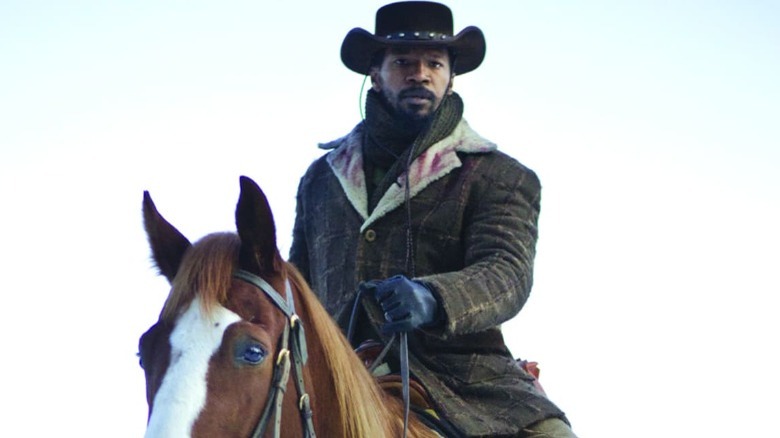 The Weinstein Company
Before landing "Django," Foxx was already an accomplished horse rider and owner of several steeds. Four years before filming the movie, Foxx had been given a horse named Cheetah as a birthday present, which he subsequently learned to ride.
"I always say great projects like [Django] parallel your life," he told Total Film in 2012. "About four and a half years ago, I got a horse for my birthday and I started riding, and the next thing you know, I run into this cinematic genius, I call him, 'Quentin Tarantino.' He says he has a Western and I said, "Well, I happen to have my own horse ... like I said, great things like that happen."
Cheetah was renamed "Tony" in the film, and gave a wonderful, majestic performance. Despite Foxx doing the occasional rodeo, he still found some moments terrifying while filming. At one point he had to ride without a saddle, with the horse galloping at 28 miles per hour. Things got worse when Tarantino needed another take, forcing Foxx to go through the frightening ordeal again.
Tarantino Cut Back On Some Violent Scenes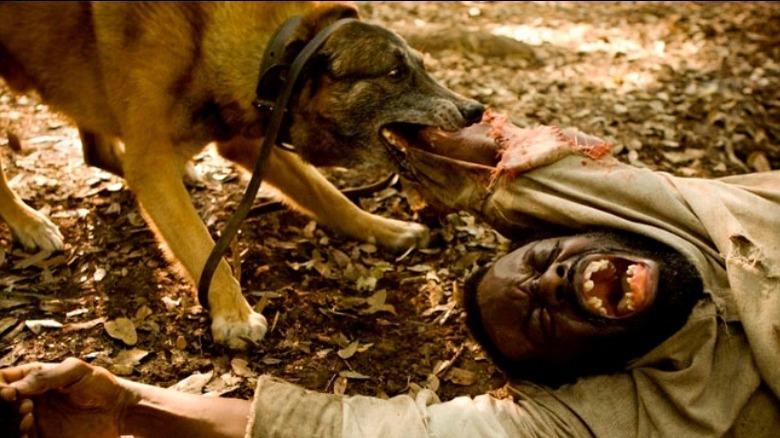 The Weinstein Company
Tarantino's movies are, of course, well known for their stylized, often brutal violence. Movies such as "Inglourious Basterds" contain horrific acts of torture, maiming, and savage deaths, "Reservoir Dogs" has the ear scene, "Pulp Fiction" has the scene in the pawn shop, and the Crazy 88 sequence from "Kill Bill" is itself a study in how to make violence look both hauntingly gory and hypnotically balletic. So, it didn't come as a huge surprise when "Django" displayed significant savagery through much of its runtime. Yet, the violence in the Western might have been a lot worse, if Tarantino hadn't decided to pull back on some of his more extreme inspirations — largely because he didn't want to traumatize the audience too much.
"It had to be modulated, and it was something that was done through editing. There's a painful section in the movie: It's almost like, Django and Schultz going to the gates of hell. When they enter Greenville and pretty much until they get to Candyland, those are the three rings of hell they have to pass through," he said to Grantland in 2012. "Initially the sequence with the mandingo fight was even stronger than it is now, and the scene with the dogs was even tougher. There's a bunch of different emotions that I'm trying in this movie: comedy, action, suspense, and ultimately a big triumph. And when I watched it with an audience I realized that I had traumatized them too much to go where I needed them to go. It's like I cut their heads off. They grew another head, but they were still a little too traumatized to cheer with the vigor and gusto that I wanted them to. I had to modulate the sequences back."
Nevertheless, Tarantino told The Wrap that same year that because of the unfortunate truths of slavery, going further would likely have been more accurate.
Original Django Actor Franco Nero Has A Cameo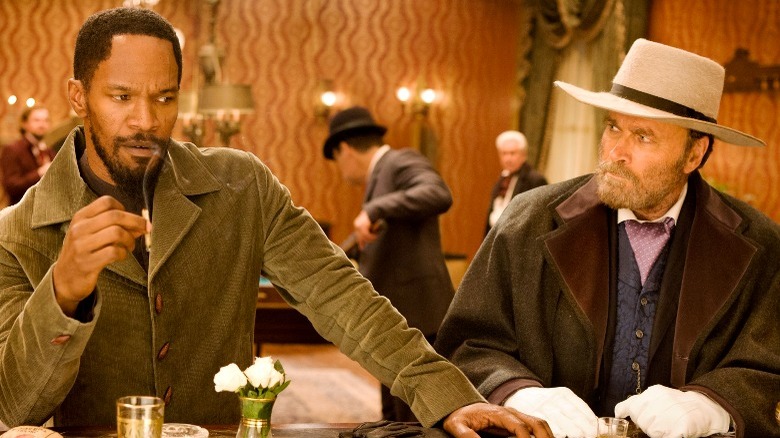 The Weinstein Company
Tarantino is a big fan of Italian director Sergio Corbucci and many of his Spaghetti Westerns were important influences for "Django Unchained." One movie, in particular, was influential and that was the 1966 film "Django." This movie starred Franco Nero as the title character, with him seeking revenge for the murder of his former lover. This was the actor's breakthrough role and established him as a star in both Hollywood and Italy.
In a nod to the original "Django" and the actor himself, Nero has a brief cameo in "Unchained." During the bar scene when Django and Schultz first meet with Candie, Foxx's character drinks and talks with a man. This mysterious man asks what Django's name is and he confirms it before saying that "The D is silent." Nero's character replies with "I know" before walking off. It's a small part, but a clever tribute to the film's Spaghetti Westerns antecedents.
A Django/Zorro Crossover Comic Was Created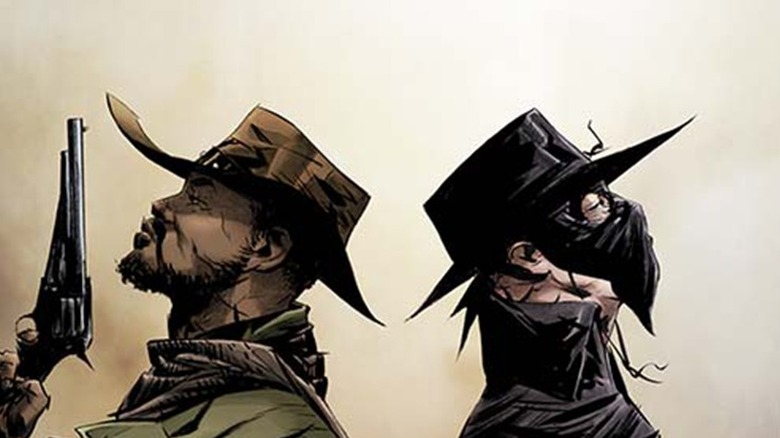 DC Comics
In the wake of "Django Unchained," there was clamor for more tales from these characters, and even some talk of a potential sequel. With Tarantino stating publicly on repeated occasions that he'll only be making one more film, it seems highly unlikely at this point that it would revisit "Django"; the director did, however, team up with animator Matt Wagner in 2014 to write a series of comics telling the story of Django some ten years after the events of the movie. 
In the story, he meets up with none other than the legendary masked fighter Zorro, teaming up with the masked man.
"Django/Zorro" ran for seven issues in total and proved something of a cult hit. It was released as a joint venture between Dynamite Entertainment and DC Comics. In recent years there have been suggestions that a potential film based on the comics could be made, with Tarantino taking a role in writing and producing the project. Whether Foxx would return to once again portray Django is unknown — and Tarantino seems unlikely to go anywhere near Zorro while friend/frequent collaborator Robert Rodriguez is overseeing a gender-swapped TV series about the character.
Jamie Foxx Gave Christoph Waltz A Special Saddle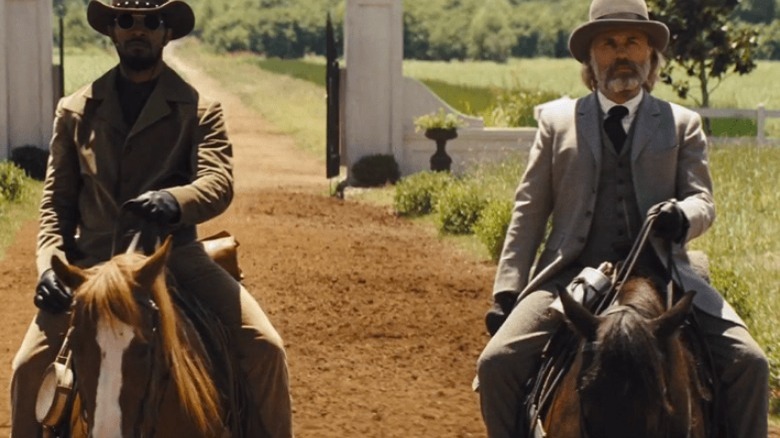 The Weinstein Company
Like many Westerns, "Django Unchained" features a lot of horse riding. Django and Schultz are often seen on horseback, using their trusty steeds to get around as they collect bounties. While stuntmen did some of the riding, it was necessary for Foxx and Waltz to get on the horses often for filming purposes. But while Foxx had his riding experience to fall back on, the same wasn't true of Waltz, who admitted he was initially afraid of getting on the horse during filming.
"It was not only uncomfortable, I admit I was a little scared. A horse is very big and I'm sort of a regular person," Waltz told Conan O'Brien on a 2012 episode of "Conan." "So the first canter, the first gallop, I was afraid of. But then I had these wonderful teachers and trainers and friends helping me, supporting me."
While preparing for the role, Waltz fell from a horse on set, breaking his pelvis and requiring a plate and screws to recover. As a joke gift when he returned to set, Foxx gave Waltz a special saddle.  
"[Foxx gave me] a big beautiful saddle and there was a seatbelt on with a buckle and everything," he explained, adding that he'll always carry with him a reminder of his "Django" adventure. "I got a plate and screws, the works. I'm bionic ... now, I beep at airports." 
Calvin Candie Is The Only Villain Quentin Tarantino Actually Hates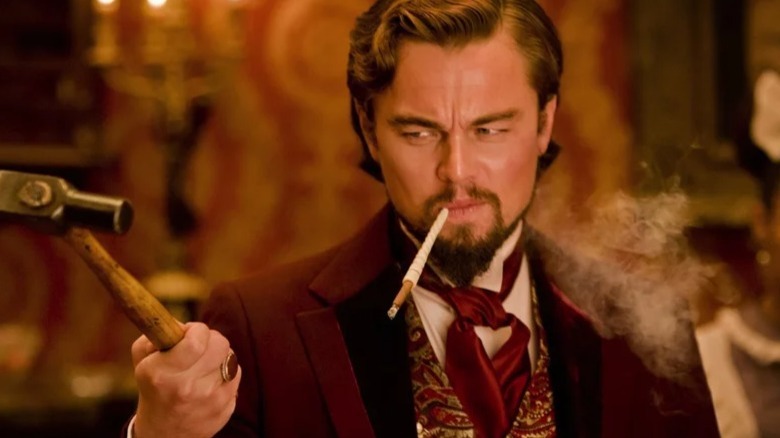 The Weinstein Company
One thing common throughout all of Tarantino's movies is that there is always at least one really vicious bad guy. In fact, many of his films feature multiple villains who can give the worst of the worst from Hollywood a run for their money. There's Hans Landa (Christoph Waltz) from "Inglourious Basterds," Bill (David Carradine) from the "Kill Bill" series, Daisy Domergue (Jennifer Jason Leigh) from "The Hateful Eight," and Marsellus Wallace (Ving Rhames) was "Pulp Fiction." While each of them is reprehensible and evil in their own ways, they all have some redeeming qualities or justification for what they do.
That isn't the case with Calvin Candie — at least not according to Tarantino himself. Speaking in Playboy, the director said that Candie is "the first villain I've ever written that I didn't like." He went on to explain that he "hated Candie" and "normally like[s] my villains no matter how bad they are." It seems like the character inspire hatred in both viewers and filmmakers.
Frank Ocean Wrote A Ballad For The Film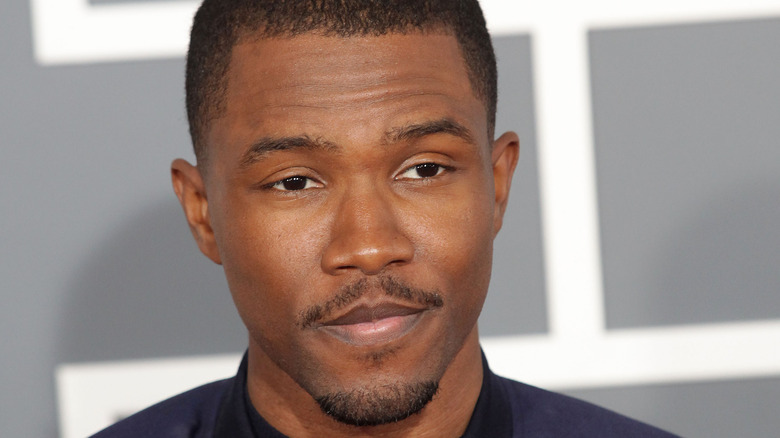 DFree/Shutterstock
Like many other Tarantino films, "Django" features an original score mixed with existing music. Part of this is because the director feels uneasy about giving one person responsibility for creating the entire soundtrack. Speaking in 2009, Tarantino said: "I just don't like the idea of giving that much power to anybody on one of my movies. I would much rather work with a music editor than a music composer." The film features a mix of classical music, original tracks from the legendary Ennio Morricone, and popular music from the likes of James Brown and 2Pac.
"Django Unchained" was set to feature a ballad from Frank Ocean. The musician went as far as writing and recording the song, but Tarantino rejected it when he couldn't find a place to include the track in the movie. He later released a statement explaining what had happened, saying that "Frank Ocean wrote a fantastic ballad that was truly lovely and poetic in every way, there just wasn't a scene for it."
Django's Glasses Are Based On Those Worn By Charles Bronson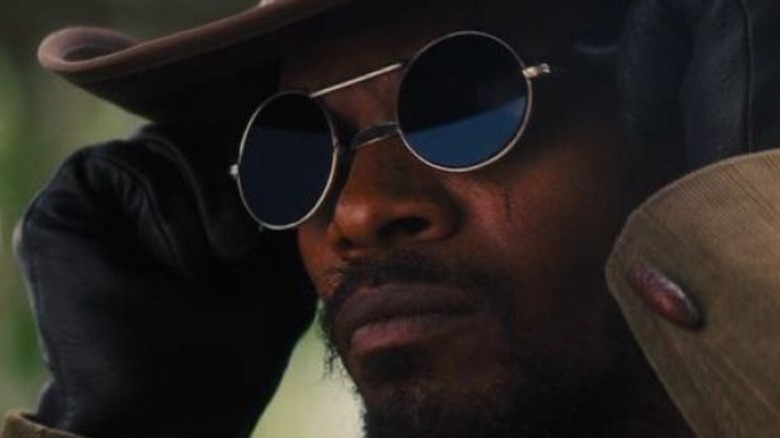 The Weinstein Company
As a Spaghetti Western, "Django Unchained" had a lot of influences from classic Westerns, including shows such as "Bonanza." Costume designer Sharen Davis worked with Tarantino to examine old films and television series to get ideas for the kind of outfits that the characters in the movie should wear. As the protagonist, getting the look of Django was arguably the most important aspect of the costume design and the pair settled on a "rock-n-roll take on the character" according to Davis.
One of the big influences for Django's costume was from a painting called "The Blue Boy." This artwork was created by Thomas Gainsborough and inspired the distinctive blue valet costume that Django chooses for himself. His sunglasses, meanwhile, were based on the ones worn by Charles Bronson's character in the fantasy western film "The White Buffalo." Inspiration for other costumes came from "Blood for a Silver Dollar," "Miami Vice," and "Kojak."
Jonah Hill Almost Had A Much Bigger Role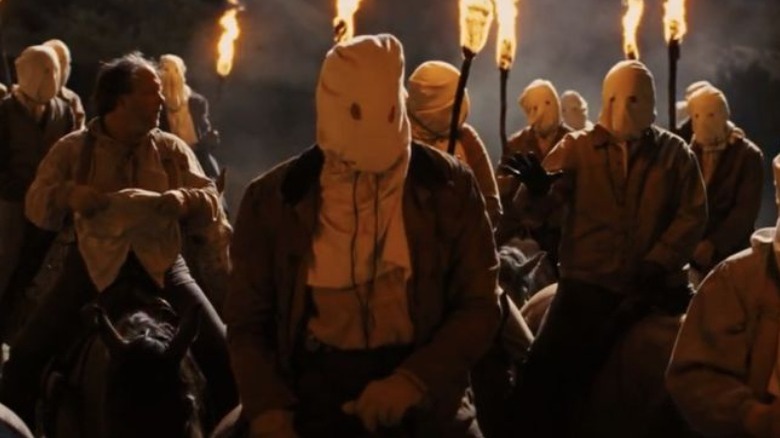 The Weinstein Company
Those who have seen "Django" might recall a brief cameo from Jonah Hill. The actor plays a bumbling member of the Ku Klux Klan who attempts to kill Django and Schultz at night in an ambush with his father and workers. Hill met with Tarantino in 2010 after the director had made positive comments about the film "Cyrus." The actor thanked Tarantino at an award show and the two got talking about the possibility of Hill appearing in a future movie.
Despite agreeing to take the part, Hill almost had to back out of the project completely because of scheduling conflicts. But the director was able to switch some dates around to ensure that the actor would be able to appear after receiving a letter from him. Hill later explained: "I wrote him a letter saying how sad I was, which ended up moving him to move the dates for me because he was moved by my letter, that was very personal, about how much his films mean to me."
The audience might have been treated to an even bigger role from Hill if things had gone to plan. Tarantino had originally intended to include a storyline explaining how Broomhilda had ended up in the possession of Candie. This would have involved a character named Scotty Harmony who would lose her in a card game to the villain. Both Hill and Sacha Baron Cohen were considered for the part, but the scenes were cut as they negatively impacted the flow of the film.
Tarantino Considers The Movie A Prequel To Shaft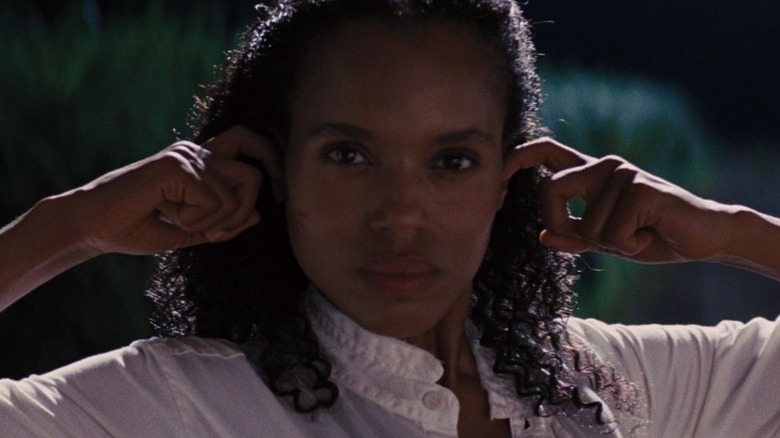 The Weinstein Company
"Shaft" is a classic of the blaxploitation genre, making a star out of Richard Roundtree and offering 1971 audiences the extremely rare opportunity of seeing an unapologetic Black man kicking butts, romancing women, and generally sticking it to the man. After Roundtree revisited the character for a couple sequels, the original flick was remade in 2000 starring Samuel L. Jackson in the title role, and in 2019 a sequel cast Jackson and Roundtree alongside Jessie T. Usher, telling a tale of 3 generations of Shafts risking heir necks for their brother man.
What does this have to do with "Django"? When Tarantino was promoting the film in 2012 at Comic-Con, he mentioned that he considers his slave revenge tale to be a quasi-prequel to "Shaft."
According to a Deadline report: "[Tarantino] says Kerry Washington's character [Broomhilda] von Shaft is, in his mind, an ancestor of John Shaft — [which then] prompted QT to start singing the theme song out loud."
Kerry Washington and Jamie Foxx Have Played A Married Couple Before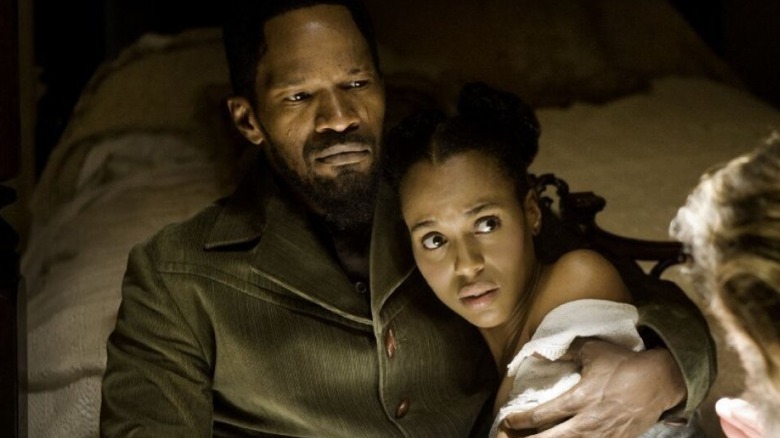 The Weinstein Company
Kerry Washington and Jamie Foxx play Broomhilda and Django in "Django Unchained," the two lovers who are separated as slaves after they attempt to escape from their previous master. The love story between them is central to what happens across the entire movie, and finding her once again is what motivates Django to join with Schultz and become a bounty hunter. The two share a great chemistry and make a believable couple.
Part of that is because Washington and Foxx already knew each other when it came time to film "Django Unchained." The pair had previously worked together on "Ray," the Oscar-winning biographical movie that focused on the life of Ray Charles; Foxx played the musician while Washington portrayed his wife Della Bea Robinson. 
As for their second time together on screen, Washington praised Foxx for the support he gave her during filming, saying that she could "spend the rest of my life thanking Jamie for all the love and support he showed me in the process of making this film and it would never be enough."