Jamie Foxx: The Untold Truth Behind One Of Hollywood's Biggest Stars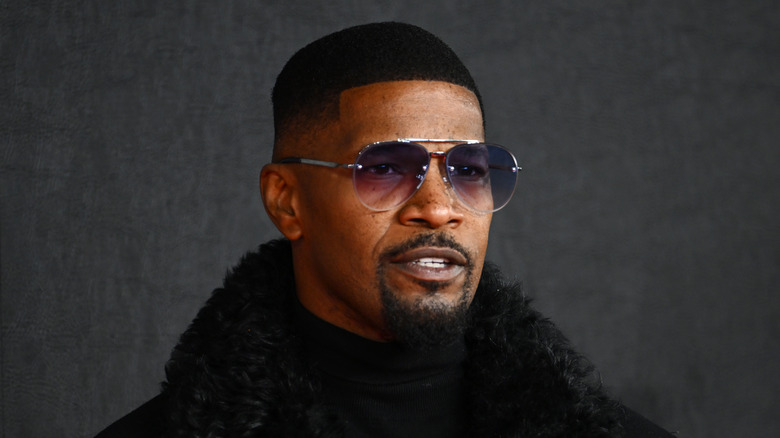 Joe Maher/Getty Images
Jamie Foxx isn't just one of the biggest stars in Hollywood; he's one of the hardest-working and most versatile. In fact, it's entirely possible that Foxx has fans who appreciate his work in one field but who don't even know he works in another. As a comedian, actor, musician, host, producer, and business owner, he wears a lot of hats and juggles a lot of responsibilities, and he makes it all look effortless. 
But fame, fortune, and acclaim didn't just fall into his lap. From early adversity and a strict upbringing to thwarted dreams and personal conflicts, being Jamie Foxx wasn't always easy. But he has made the most out of being Jamie Foxx. In an era of Nepo Babies and social media influencers who are famous for being famous, he's the real deal. Foxx comes from humble beginnings, got discovered based on pure talent, and made smart and sometimes unexpected decisions at nearly every step along the way that showcased his unique abilities and artistic range. In the process, he's conquered nearly every corner of the entertainment industry, and he's done it on his own terms. 
He was raised by his grandmother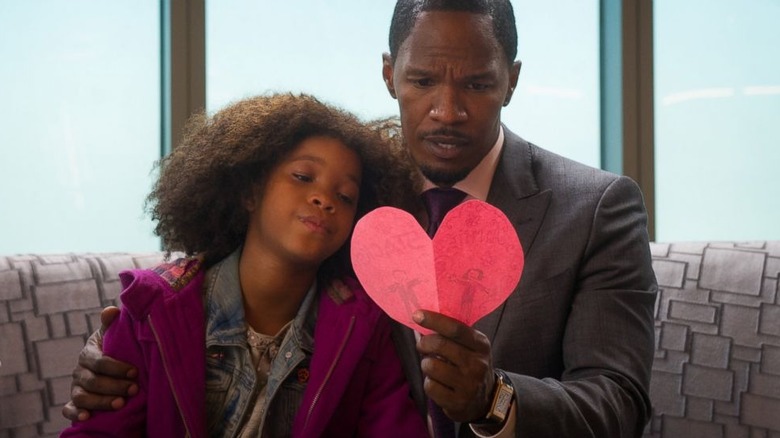 Sony Pictures Releasing
In 2014's "Annie," Foxx starred as Daddy Warbucks, the tycoon who adopts the titular orphan. It's a topic he knew something about. As he recounted to Oprah Winfrey, Foxx himself was adopted by his grandparents, Mark and Esther Marie Talley, after his birth parents split when he was just seven months old. Foxx's mother, Louise, had been adopted by Mark and Esther as well and lived nearby but rarely saw her son. His father, Darrell Bishop, converted to Islam, changed his name, and stayed out of the picture. The would-be star wondered why throughout his childhood and young adulthood, but he didn't want for love. He had an extremely close bond with his grandmother, whom he credited with making him a success. She passed away in 2004. 
The Talleys raised Fox in Terrell, Texas, a rural area that was still plagued by the ugly legacy of segregation and institutionalized racism. Early experiences of hearing slurs or being on the receiving end of racist jokes convinced Foxx that he needed to dream bigger than his hometown. His grandmother's influence along with the Baptist church prepared him for everything that came next. Though he describes his own spirituality as "religious spackle," his strict Christian upbringing and church community prepared him in more ways than one for his extremely multifaceted career. 
Foxx did eventually reconcile with his birth parents and even shared a home with them as recently as 2020 in an effort to get to know them better. 
His talent was apparent early on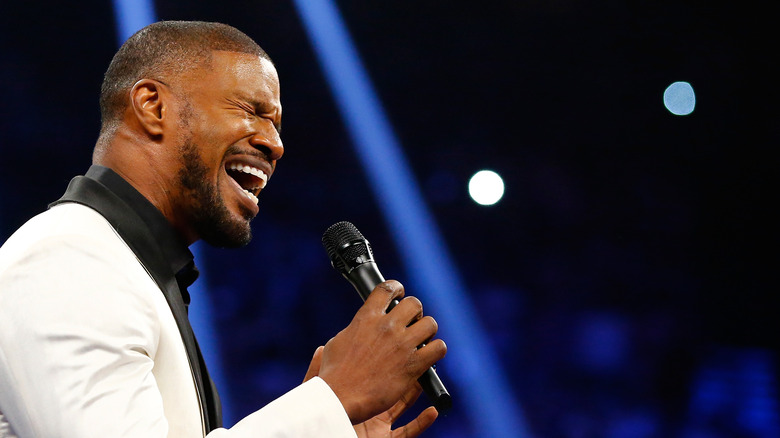 Al Bello/Getty Images
In his interview with Oprah, Foxx guessed that his grandmother nurtured his love of music because she thought of it — in particular, classical and religious music — as a way for him to move up in the world. Esther saw talent in Foxx and believed that he was destined to do something special with his life, so she enrolled him in piano lessons at age of five. He showed promise as a classical pianist and singer, and it wasn't long before he went from practicing and playing at church to performing professionally. When he was a young teenager, he was already making a respectable living from paid gigs. He also served as his church's choir director as a 15-year-old. 
But as his fans well know, Foxx's talents extend far beyond tickling those piano keys. He's been quoted as saying, "Comedy is preaching," and credits the church for honing his comedic skills, too. His affinity for telling jokes could've been a problem, but his grandmother made a deal with his third-grade teacher, Mrs. Reeves. At first, Foxx was given the stage for 10 minutes on Fridays as a reward for good behavior throughout the week, and to get his love of the spotlight out of his system. But his elementary sets were so strong, his peers wanted more, and his stand-up act became a treat for the whole class. 
He could've played football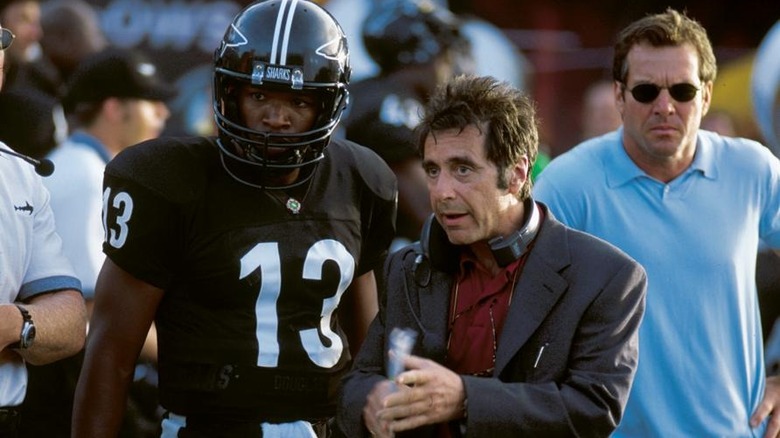 Warner Bros.
In the 1999 Oliver Stone film "Any Given Sunday," Foxx plays Willie Beamon, a promising but problematic third-string quarterback who changes as he's given an opportunity to lead the team. Again, the actor had real-life experiences to draw from. Foxx was a star quarterback at Terrell High School, where he was the first Terrell Tiger ever to throw for 1000 yards. That would've made Foxx popular at any high school in America, but it really elevated his status in pigskin-loving Texas, despite the racism that he still often faced. 
He aspired to play in college with the ultimate goal of being drafted by his favorite team, the Dallas Cowboys. Unfortunately, despite his athletic prowess, it wasn't to be. At 5 feet, 9 inches tall, Foxx's relatively small size compared to his elite competition kept him from a career in professional sports. He may not have made money with his passing arm, but in addition to getting rave reviews for his portrayal of the fictional Beamon in "Any Given Sunday," he did eventually cash in as a spokesperson for BetMGM online gaming. And while his 1000-plus yards passing record was certainly a feat for the history books, his high school chose to honor their hometown hero by renaming the performing arts center after him. 
But he won a music scholarship instead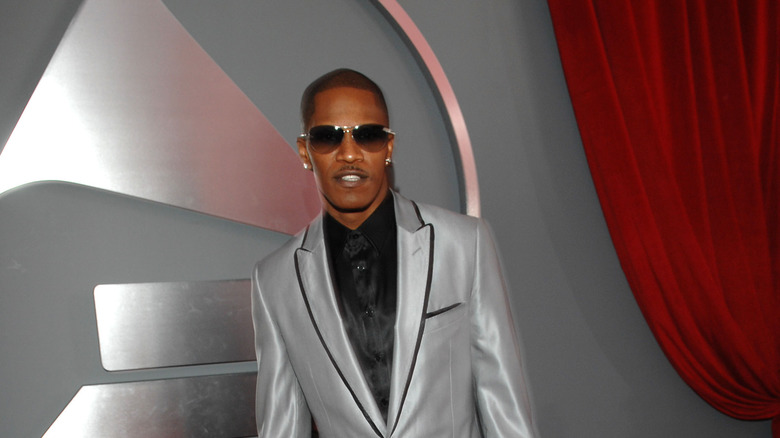 L. Cohen/Getty Images
Lucky for Foxx, his multitude of talents meant that he had multiple backup plans when his dream of becoming an NFL quarterback fell through. His good grades and prodigious musical abilities earned him a scholarship for classical piano and music composition at the United States International University in San Diego. That was just as well, since Foxx had always loved music just as much as sports. Going to school in California was a turning point in the performer's life. According to Foxx, there were people from 81 different countries at USIU, and he'd never been around that kind of diversity before. He was doing what he loved and had high hopes of establishing himself as a singer. 
But overnight success in the music industry just wasn't in the cards. During his two years at USIU during the 1980s, he still experienced bigotry. He told comedian Sarah Silverman that he was asked to sing backstage during a campus musical because the cast needed a tenor, but not a black actor. He also struggled to find work as a performer and snag a coveted record deal, though he made frequent trips to Los Angeles. So Foxx turned his attention to his third love: comedy. But he'd have the last laugh. Foxx has released five studio albums, and was nominated for nine Grammy Awards. He took home the trophy for the track "Blame It," recorded with T-Pain. 
Jamie Foxx is a stage name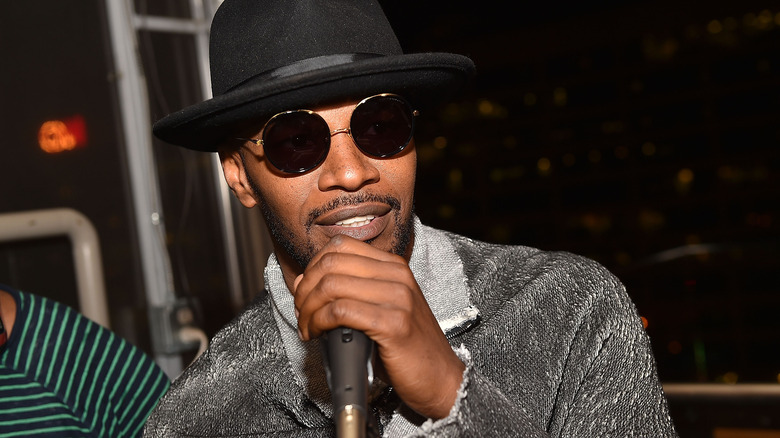 Paras Griffin/Getty Images
Jamie Foxx became Jamie Foxx in 1990. Until then, he was known by the name he was born with on December 13, 1967: Eric Marlon Bishop. After Bishop failed to gain traction in the music industry, he tried his hand at stand-up comedy. In 1989, a girlfriend dared him to take the stage during an open mic night, and when that went well, he decided to quit school and pursue comedy full-time. Comedians on the rise have to make the most of every opportunity they get, and for Bishop, that meant trying to get five minutes here and there at open mic nights in venues across Los Angeles. He noticed that club owners and MCs gave priority to female comedians, so Eric Bishop changed his name to the gender-ambiguous Jamie so that the folks running the shows wouldn't know whether a man or woman was about to grab the mic. Foxx was a tribute to the groundbreaking actor and comedian Red Foxx, best known for starring on the sitcom "Sanford and Sons." 
Foxx didn't remain a nobody for long on the comedy circuit. In particular, he demonstrated a knack for impressions that would continue to impress in Hollywood as he became a leading man and A-lister. That first night, he mimicked Bill Cosby and Jesse Jackson to a crowd that laughed so hard, they spilled their drinks. The performer, with his brand new stage name, was quickly plucked from obscurity and given a much larger platform from which to do those uncanny impersonations.  
He got his big break with In Living Color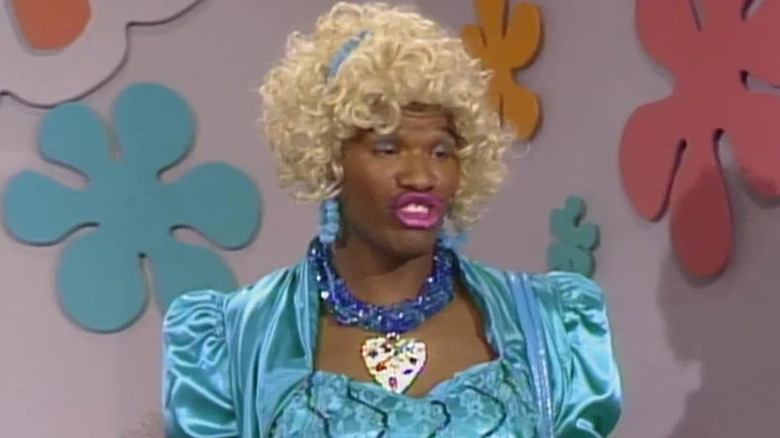 20th Century Fox Television
Within a year of beginning his amateur comedy career, Jamie Foxx found himself a cast member on one of the most influential television series in America. Foxx joined the mostly Black variety show, "In Living Color," as a featured player in 1991. The sketch comedy series, which also launched the careers of the Wayans brothers, David Alan Grier, Jennifer Lopez, and Jim Carrey, ran for five seasons in total. Foxx was promoted for the fifth and final season, which aired from 1993-1994. "In Living Color" was best known for satirizing the state of popular culture, politics, and race relations in the early 1990s — and it is very much a product of its time.
Foxx's breakout character was Wanda, an enthusiastic, confident, and overly made-up drag character who's unaware she's supposedly ugly. But because "In Living Color" was a variety show, Foxx also got to show his more serious side and even sing on occasion. Just as the series was winding down, Foxx's star was rising. He appeared in the half-hour comedies "Roc," "Hangin' with Mr. Cooper," and "Moesha," before getting a sitcom of his own, "The Jamie Foxx Show," which ran on the WB from 1996 to 2001. The film industry came calling, too. Foxx was offered roles in the 1992 Robin Williams movie "Toys" and 1997's "Booty Call." 
High profile roles followed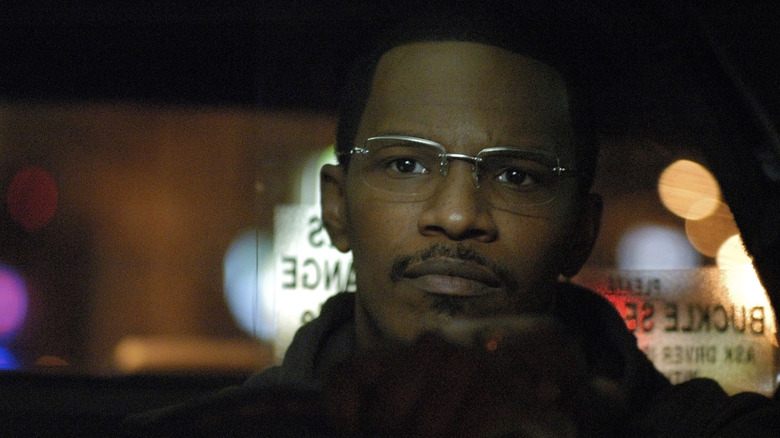 Dreamworks Pictures
A career in big-screen comedies seemed like the logical next step for someone coming off two successful television shows. Instead, Foxx switched gears — and hard. While many of his fellow comedians — Jim Carrey, Adam Sandler — eventually took on more challenging roles in awards-worthy films, Foxx skipped straight to working with auteurs and spent the next several years of his professional life making high-profile prestige dramas. 
The first director to see something different in Foxx was Oliver Stone, who — despite some misgivings that made Foxx a more resilient auditioner — cast him in a key supporting role in "Any Given Sunday." Next, he played second fiddle to Will Smith's boxing legend in Michael Mann's 2001 biopic "Ali." Mann and Foxx had a better rapport, and the director sought him out for his next film, 2004's "Collateral," co-starring Tom Cruise (though that relationship would sour a bit with their next collaboration, "Miami Vice"). "Collateral" earned Foxx his best reviews to date, as well as an Academy Award nomination for best supporting actor. Roger Ebert called him "a revelation" and practically apologized for thinking of him strictly as a comedian.  
In 2005, he starred in Sam Mendes' war movie "Jarhead," and in 2006 he starred opposite Beyonce, Jennifer Hudson, and Eddie Murphy in the well-received film adaptation of the musical "Dreamgirls." He earned rave reviews and several awards nominations for his portrayal of the title character in Quentin Tarantino's 2012 revisionist slave western "Django Unchained." And he did it all while recording albums and starring in the occasional comedy ("Horrible Bosses"), action movie ("White House Down"), and superhero flick ("The Amazing Spider-Man 2").  
Ray made him an Oscar winner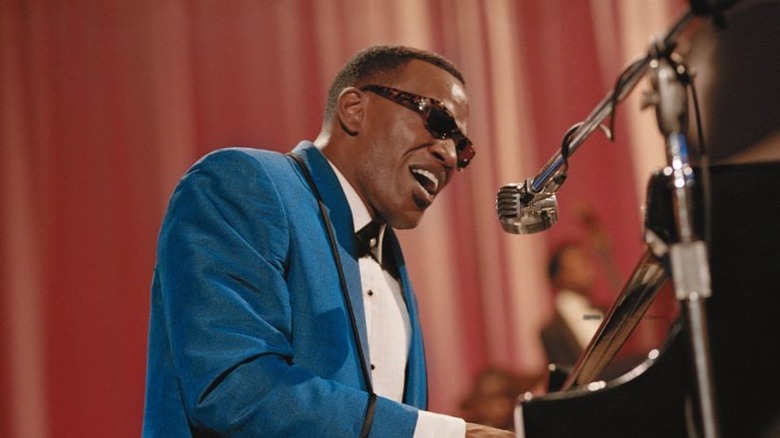 Universal Pictures
The pinnacle of Jamie Foxx's career came in 2004 with the release of "Ray," the biopic about the musician Ray Charles, who passed away that same year. The role tapped into all of Foxx's strengths as a performer. He had always been gifted at playing the piano, singing, and doing impressions, and in the early 2000s, he'd proven that he could convincingly hold his own in an adult drama. But "Ray" was his first true lead role in such an anticipated project. The stakes were high ... especially when it came time to meet the man himself and win his approval. 
To become the rhythm and blues legend, Foxx had to lose 30 pounds and sit through hours of makeup a day. Prosthetics were applied to make him better resemble Charles, including eyelids that made him feel like his eyes were glued shut. Foxx did play the piano in the film, but he didn't provide the majority of the vocals, despite his infamous ability to mimic celebrities. He also avoided spending too much time with the real Charles so his on-screen performance wouldn't be influenced by the musician in his old age, since Foxx was primarily playing him from his teenage years through his 40s. 
"Ray" was a hit, critically and commercially, and garnered six Oscar nominations, including one for Foxx for best actor. As Foxx cleaned up on the awards circuit that year, it didn't come as much of a surprise when his name was announced as the winner. It's worth noting, though, that Foxx was nominated for best supporting actor for his role in "Collateral" that same year, putting him in a rarified group of just 13 performers. 
He's been a multi-hyphenate mogul for decades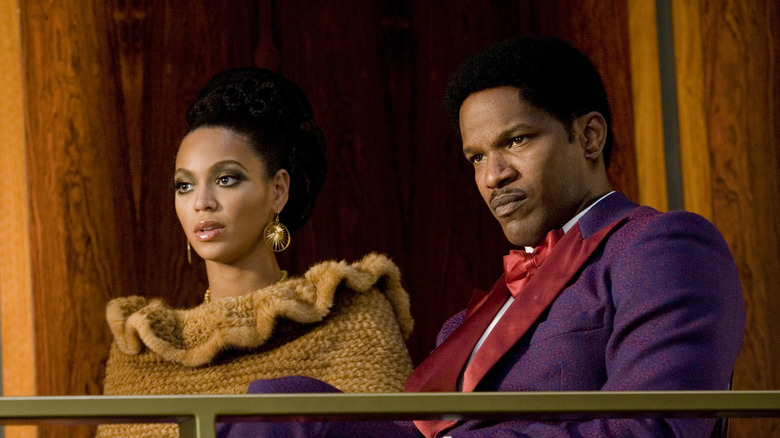 Paramount Pictures
In "Dreamgirls," Foxx plays Curtis Taylor Jr., a car salesman who becomes a record label executive. That character's hustle's got nothing on Foxx. In addition to making a name for himself in comedy, prestige drama, and pop music, Foxx has been busy expanding his business empire into fields both related to the entertainment industry and not. Given his gift for impersonations, it only makes sense that Foxx would excel as a voice actor. He's provided vocals for "Rio" and "Rio 2," as well as Pixar's "Soul." As he gained clout, Foxx began working as a producer as well, shepherding to the screen everything from documentaries like "Thunder Soul" to films such as "Day Shift" under the umbrella of his Foxx King Entertainment production company. He started his own radio network with Foxxhole on Sirius XM, and his own game show with "Beat Shazam." 
Need stylish eyewear? Foxx has you covered with Privé Revaux, his line of designer glasses and shades. Want to bring a classy beverage to a party? He's also the owner of Brown Sugar Bourbon. And if you're curious about how Foxx became such a renaissance man and a mogul, you can pick up his memoir, "Act Like You Got Some Sense (And Other Things My Daughters Taught Me." 
His love life has been tabloid fodder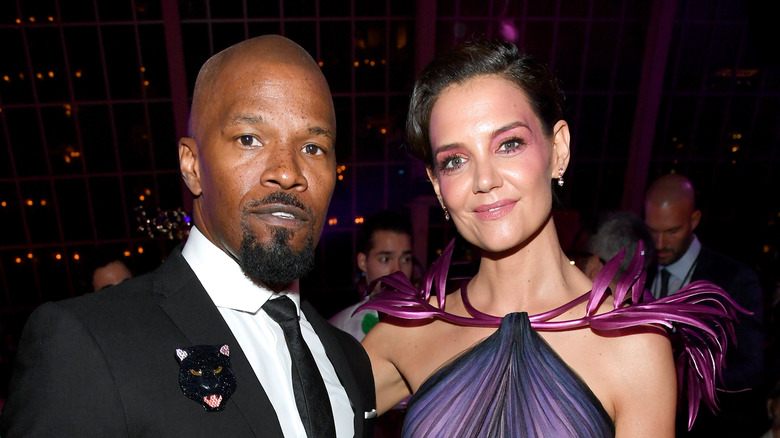 Kevin Mazur/mg19/Getty Images
Though he's arguably one of the most famous men in Hollywood, Jamie Foxx has been able to keep his private life surprisingly private. He has two daughters from two previous relationships. Foxx had Corrine in 1994 with his ex Connie Kline. She's an aspiring actor in her own right and co-hosts "Beat Shazam" with her father. Foxx had Anelise (who uses the last name Bishop) with his former partner Kristin Grannis. She's 14 and, like her father, plays the piano. 
Because he's tight-lipped about his love life, his fans are left to speculate. Foxx has unofficially been linked to celebrities like his "Booty Call" co-star Vivica A. Fox, Lil' Kim, Stacey Dash, Christina Milian, and Olivia Munn. But if the public knows anything about Foxx's love life, it's that he's long been rumored to have dated Katie Holmes in the wake of her divorce from his former "Collateral" co-star Tom Cruise. The couple never went public with their romance, but gossip columnists and paparazzi kept track of their whereabouts from their first dance together in 2013 to their suspected break-up in 2022. 
He's had his share of personal ups and downs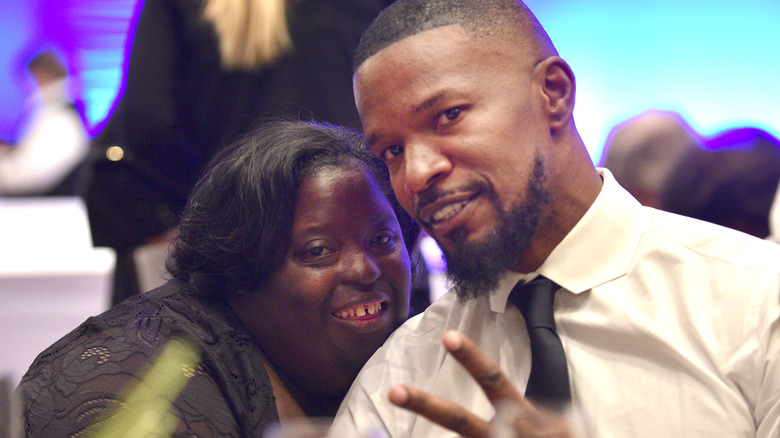 Tom Cooper/Getty Images
In Jamie Foxx's storied life, he's been both the hero and the villain. Like many celebrities, he's used his fame and fortune for good causes. Foxx has supported numerous charities that focus on issues such as voting rights, music education, HIV/AIDs, cancer, and Down Syndrome. The Global Down Syndrome Foundation in particular has a special place in Foxx's heart. His younger sister, DeOndra Dixon, was born with the condition and died in 2020. Foxx has also risked his own safety to be a hero in real life. In 2016, he rescued a man who'd been driving at high speed under the influence from his turned-over pickup truck that had caught fire. 
But Foxx has also had moments that don't put him in such a glowing light. He's had his fair share of groan-worthy comments and on-set feuds. He butted heads with L.L. Cool J. while making "Any Given Sunday" and he and Colin Farrell didn't mesh well during their time filming "Miami Vice." He's run afoul of the law, too. Foxx received probation and had to pay a fine after he got into a fight at Harrah's New Orleans Casino in 2003. In 2018, a woman came forward with a disturbing story about a sexual assault she says occurred between her and Foxx in 2002. The actor has emphatically denied the allegation. 
He suffered a medical emergency in 2023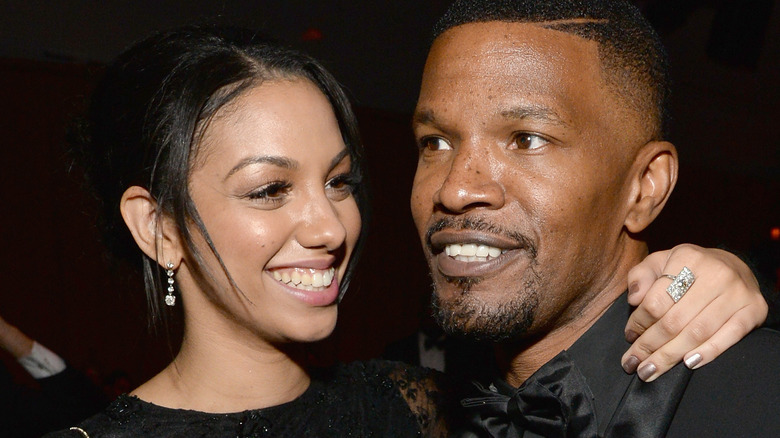 Michael Kovac/Getty Images
Jamie Foxx has had such an impressive, varied, and lasting career for so long, his fans might have thought of him as superhuman. But on April 12, 2023, his oldest daughter Corrine took to Instagram in a now-deleted post to tell the world that her father had suffered a "medical complication" and was receiving treatment, though she assured fans that he was "on his way to recovery." Weeks passed without an update about the actor's health, but news did break that the film he was making with Cameron Diaz, "Back in Action," was still in production and was scheduled to wrap up in about a week. 
What's ailing Foxx remains a mystery. Fans feared the worst when friends and family began asking for prayers on social media accounts the morning of May 3rd. Then Foxx spoke out via his Instagram story and thanked everyone for their support. "Appreciate all the love!!! Feeling blessed," he wrote, and added, "see u all soon."