Jurassic World: Fallen Kingdom Tops Weekend Box Office Again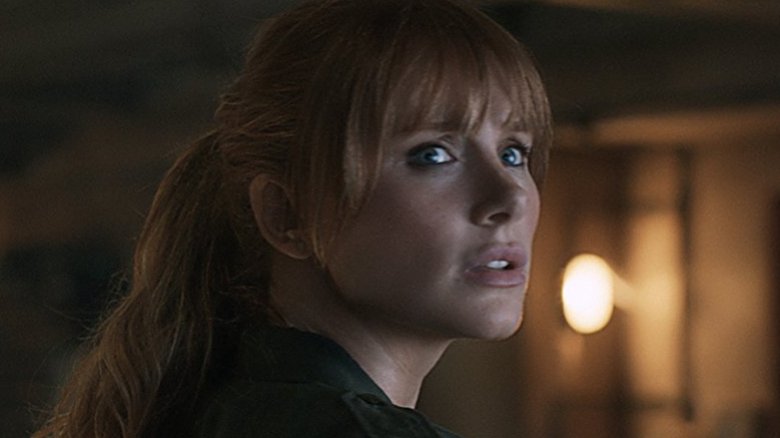 It was another box office victory for Jurassic World: Fallen Kingdom, which topped new releases Sicario: Day of the Soldado and Uncle Drew. The dinosaur flick fell 59.5 percent in its second weekend to take in another $60 million, bringing its domestic total to $264.7 million. The movie's total take is currently spiraling towards the $1 billion mark, with the film sitting at $932.2 million worldwide.
Jurassic World: Fallen Kingdom brings back Chris Pratt's Owen and Bryce Dallas Howard's Claire to the island of Isla Nublar, where the dinosaurs are being threatened with extinction thanks to an active volcano. The government is still debating what to do about the creatures, but Owen and Claire set out on a mission to save them. Although the film did not do as well as the first movie in its opening, it still brought in a solid $148 million.
Rafe Spall, Justice Smith, Daniella Pineda, James Cromwell, Toby Jones, Ted Levine, B.D. Wong, Isabella Sermon, Geraldine Chapman, and Jeff Goldblum also star in the film, which was directed by J.A. Bayona (A Monster Calls) based on a script from the first film's Colin Trevorrow and Derek Connolly. The movie has received mixed reviews from critics, with a 51 percent on Rotten Tomatoes, although it has done better with audiences, earning an A- CinemaScore.
Second place went once again to The Incredibles 2, which opened with a massive $180 million, easily the biggest opening for an animated film of all time, and the fifth biggest opening for a superhero film. The film brought in $45.5 million in its third weekend, putting its domestic total at $439.7 million. The Incredibles 2 brings back the Parr family, first introduced in 2004's The Incredibles. The movie features Elastigirl (Holly Hunter) getting recruited by a company looking to use her as the new face of superhero-dom in a bid to make supers legal again. 
This leaves Mr. Incredible (Craig T. Nelson) home with the kids, including the angsty teen Violet (Sarah Vowell), the hyper speedster Dash (Huck Milner), and the especially difficult baby Jack-Jack. Bob Odenkirk, Jonathan Banks, Catherine Keener, Sophia Bush, and Brad Bird also lend their voices to the film, which Bird wrote and directed. The film has been a favorite with critics and viewers, earning a 93 percent on Rotten Tomatoes and an A+ CinemaScore.
Sicario: Day of the Soldado topped the weekend's new releases with $19 million, good for third place and an over-performance against $12 million expectations. The movie stars Josh Brolin as FBI agent Matt Graver, who teams up with the mysterious Alejandro Gillick (Benicio del Toro) to stop Mexican drug cartels from smuggling terrorists across the U.S. border. When Alejandro kidnaps a top drug kingpin's daughter (Isabela Moner) to ratchet up tensions, the young girl is at the risk of becoming collateral damage, leading Graver and Gillick to question what they are really fighting for.
Jeffrey Donovan, Manuel Garcia-Rulfo, Catherine Keener, Matthew Modine, and Shea Whigham also star in the film, which is directed by Stefano Sollima (Suburra) based on a screenplay for Taylor Sheridan, who penned the screenplay for the original 2015 film. The movie has received moderate reviews from critics with a 62 percent on Rotten Tomatoes and got a B CinemaScore.
Just under Sicario: Day of the Soldado in fourth place is the basketball comedy Uncle Drew, featuring NBA star Kyrie Irving as the character he originated in Pepsi Max commercials. The film follows Lil Rel Howery as Dax, a streetball team manager who decides to recruit the mythical Uncle Drew and the rest of his aging old basketball squad to defeat his rival (Nick Kroll) in a tournament.
Shaquille O'Neal, Chris Webber, Reggie Miller, Nate Robinson, Lisa Leslie, Erica Ash, J.B. Smoove, Mike Epps, Aaron Gordon, and Tiffany Haddish also star in the film, which was directed by Charles Stone III (Drumline) based on a script from Jay Longino (Skiptrace). The movie also received mixed reviews, with a 67 percent on Rotten Tomatoes, but received an A CinemaScore, which might be part of the reason why it performed above $10 to $13 million expectations with a $15.5 million opening.
You can view this weekend's full box office results (via Box Office Mojo) below. 
Top 10 Weekend Box Office Gross
1. Jurassic World: Fallen Kingdom: $60,000,000 (-59.5 percent), $264,787,335 Total Domestic Gross   
2. Incredibles 2: $45,546,000 (-43.3 percent), $439,729,514 Total Domestic Gross  
3. Sicario: Day of the Soldado: $19,015,000 (–- percent), $19,015,000 Total Domestic Gross   
4. Uncle Drew: $15,500,000 (–- percent), $15,500,000 Total Domestic Gross 
5. Ocean's 8: $8,035,000 (-30.4 percent), $114,707,181 Total Domestic Gross
6. Tag: $5,635,000 (-31.7 percent), $40,887,808 Total Domestic Gross   
7. Deadpool 2: $3,450,000 (-34.6 percent), $310,349,858 Total Domestic Gross   
8. Sanju: $2,550,000 (– percent), $2,550,000 Total Domestic Gross   
9. Solo: A Star Wars Story: $2,293,000 (–49.1 percent), $207,279,115 Total Domestic Gross   
10. Won't You Be My Neighbor?: $2,290,000 (+25.7 percent), $7,488,082 Total Domestic Gross