Jurassic World: Fallen Kingdom Roars To $150 Million Debut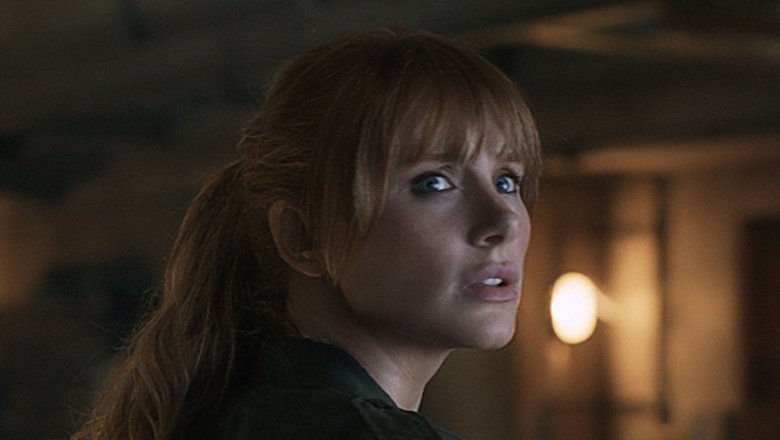 Jurassic World: Fallen Kingdom has scared up a $150 million opening weekend. The movie, the only major new release this weekend, easily beat out the second weekend of Disney and Pixar's box office juggernaut The Incredibles 2, which took in $80.9 million.
Jurassic World: Fallen Kingdom, which has already grossed upwards of $561.5 million internationally, brings back Chris Pratt's Owen and Bryce Dallas Howard's Claire to the island of Isla Nublar, where the dinosaurs are being threatened with extinction thanks to an active volcano. The government is still debating what to do about the creatures, but Owen and Claire set out on a mission to save them.
Rafe Spall, Justice Smith, Daniella Pineda, James Cromwell, Toby Jones, Ted Levine, B.D. Wong, Isabella Sermon, Geraldine Chapman, and Jeff Goldblum also star in the film, which was directed by J.A. Bayona (A Monster Calls) based on a script from the first film's Colin Trevorrow and Derek Connolly. The movie has received mixed reviews from critics, with a 50 percent on Rotten Tomatoes, although it has done better with audiences, earning an A- CinemaScore.
Second place went to The Incredibles 2, which opened last weekend with a massive $180 million, easily the biggest opening for an animated film of all time, and the fifth biggest opening for a superhero film. The Incredibles 2 brings back the Parr family, first introduced in 2004's The Incredibles. The movie features Elastigirl (Holly Hunter) getting recruited by a company looking to use her as the new face of superhero-dom, in a bid to make supers legal again. 
This leaves Mr. Incredible (Craig T. Nelson) home with the kids, including the angsty teen Violet (Sarah Vowell), the hyper speedster Dash (Huck Milner), and the especially difficult baby Jack-Jack. Bob Odenkirk, Jonathan Banks, Catherine Keener, Sophia Bush, and Brad Bird also lend their voices to the film, which Bird wrote and directed. The film has been a favorite with critics and viewers, earning a 94 percent on Rotten Tomatoes and an A+ CinemaScore.
The rest of the top ten was filled with holdouts, including the Sandra Bullock-starring heist film Ocean's 8, which took third place in its third weekend in theaters, and the Ed Helms-starring bro comedy Tag, which dropped 45.1 percent in its second weekend in theaters. Deadpool 2 rounded out the top five, while Solo: A Star Wars Story, Hereditary, Superfly, Avengers: Infinity War, and the Mr. Rogers documentary Won't You Be My Neighbor? filled out the top ten.
You can view this weekend's full box office results (via Box Office Mojo) below. 
Top 10 Weekend Box Office Gross
1. Jurassic World: Fallen Kingdom: $150,001,000 (– percent), $150,001,000 Total Domestic Gross   
2. Incredibles 2: $80,928,000 (-55.7 percent), $350,374,690 Total Domestic Gross  
3. Ocean's 8: $11,650,000 (–38.6 percent), $100,385,760 Total Domestic Gross   
4. Tag: $8,200,000 (–45.1 percent), $30,367,545 Total Domestic Gross 
5. Deadpool 2: $5,250,000 (-39.5 percent), $304,150,321 Total Domestic Gross
6. Solo: A Star Wars Story: $4,045,000 (-59.6 percent), $202,176,870 Total Domestic Gross   
7. Hereditary: $3,809,000 (-44.4 percent), $35,000,966 Total Domestic Gross   
8. Superfly: $3,350,000 (-51.2 percent), $15,266,395 Total Domestic Gross   
9. Avengers: Infinity War: $2,482,000 (–54.4 percent), $669,466,449 Total Domestic Gross   
10. Won't You Be My Neighbor?: $1,875,000 (+87.0 percent), $4,129,778 Total Domestic Gross